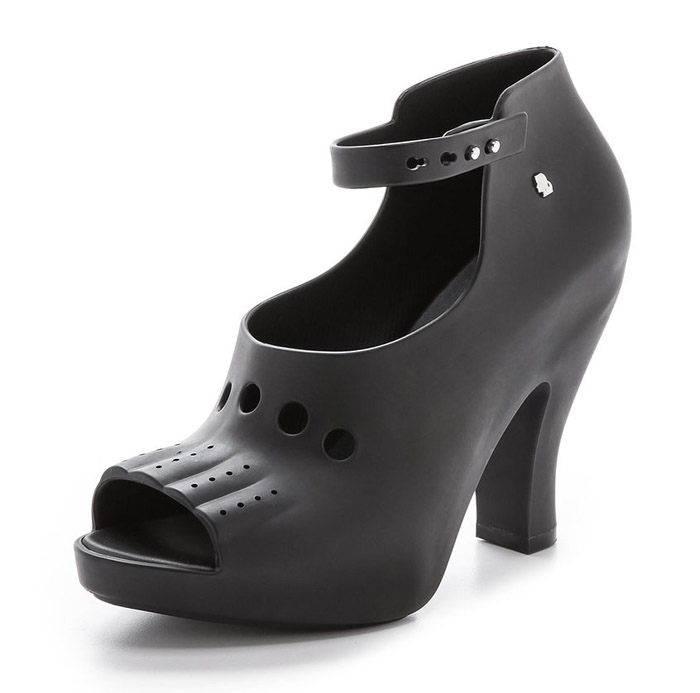 When I come across ugly shoes, it makes me sad. When my eyes cross paths with ugly designer shoes (such as these black plastic "Glove" pumps by Karl Lagerfeld for Melissa) it just makes me weep. Quite literally. And even more so in this case, because this particular black footwear atrocity bears a striking resemblance to Crocs (if you're unfamiliar with the mind-numbing gardening sandal sensation, please see the image below).
Karl's version is meant to be inspired by Lagerfeld's own staple driving glove, hence the name of the shoe & the resulting aesthetic: small multi-perforations & bigger holes meant for knuckles. However, I don't buy it. I don't look at this peep-toe pump & automatically think "Glove, Yes!". I just think "Crocs. Hell No!".
Sorry, Uncle Karl, but these designer pumps are clearly & ever so logically inspired by the classic (yes, "Classic"!) black sandals confiscated by many a fashion police member. Maybe Mr. Lagerfeld ran out of ideas. Or this may be his take on twisted designer irony that none of us will ever quite fully understand. I do, however, know very deep within my cynical & critical heart that this shoe is far too similar to a simpleton Croc to be ignored. Well, except for the heels & such. Listed below is my vaguely academic reasoning for thinking such impure footwear thoughts…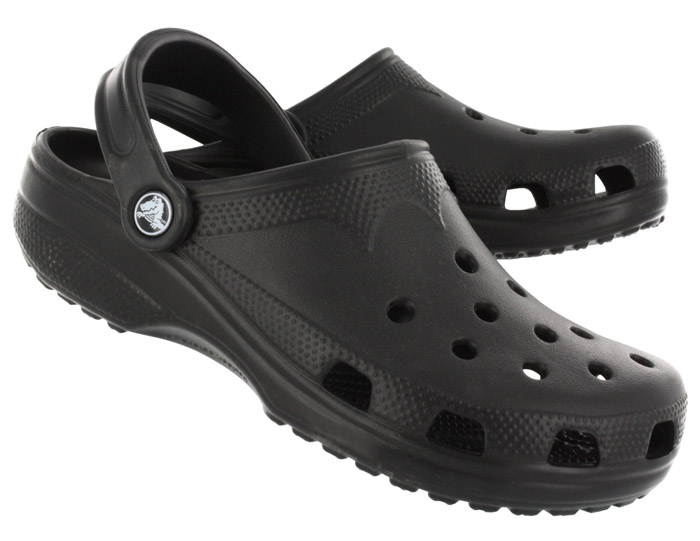 5 Reasons Karl's Black Sandals Might as well be Designer Crocs:
Large Perforations: not only reminiscent of those found on Classic Crocs, but also suspiciously the same size. Things that make you go hmmm…
Plastic Material: how many plastic shoes have you seen in your lifetime? Aside from…you got it. Crocs!!??
Matte Material: and how many of those plastic shoes happen to be MATTE. And BLACK? Answer: not too bloody many!
Ankle Straps: Crocs have an ankle strap. Karl Lagerfeld "Glove" pumps have an ankle strap. Coincidence? Possibly. Not.
"D" Shaped Holes: Crocs might have smaller & multiple ones, but they are strikingly similar to the peep-toe on Karl's version & on both version just happen to be at the front bottom edge.
I may be the only fool to not "understand" these designer heels & for all I know, others may even find them inspiring (avialable from Shopbop & Nordstrom for those of you. You know who you are!!). Suffice to say that there is a huge Crocs following out there & I will likely be outnumbered in my disgust of Karl's Crocs-like creation. I'm honestly just shocked that no one else has made the connection sooner.
So the man who designs Chanel has created designer Crocs. I will remain horrified for quite some time.
That is all.
xo Cristina M.
Photo Credit: softmoc.com, google.com