Every woman has at least one pair of "sitting shoes". Sitting shoes are your ever-so-cute & stylish shoes made special for non-walking or non-standing activities. And they take a good shot for the 'gram 😉
In short, they look pretty. But feel terrible!
If you're ready to transform your sitting shoes into actual shoes, read on to find out how to make heels more comfortable. We've compiled a list of the top shoe hacks to show you how to wear heels comfortably.
And you can use these shoe & high heel hacks on the shoes you already own. All of your shoes, not just your heels!
If these tips don't hack it (heehee, see what I did there!?), we've put together some shopping tips in order to get you into the most comfortable heels you can slip your pretty feet into!
How To Make Heels Comfortable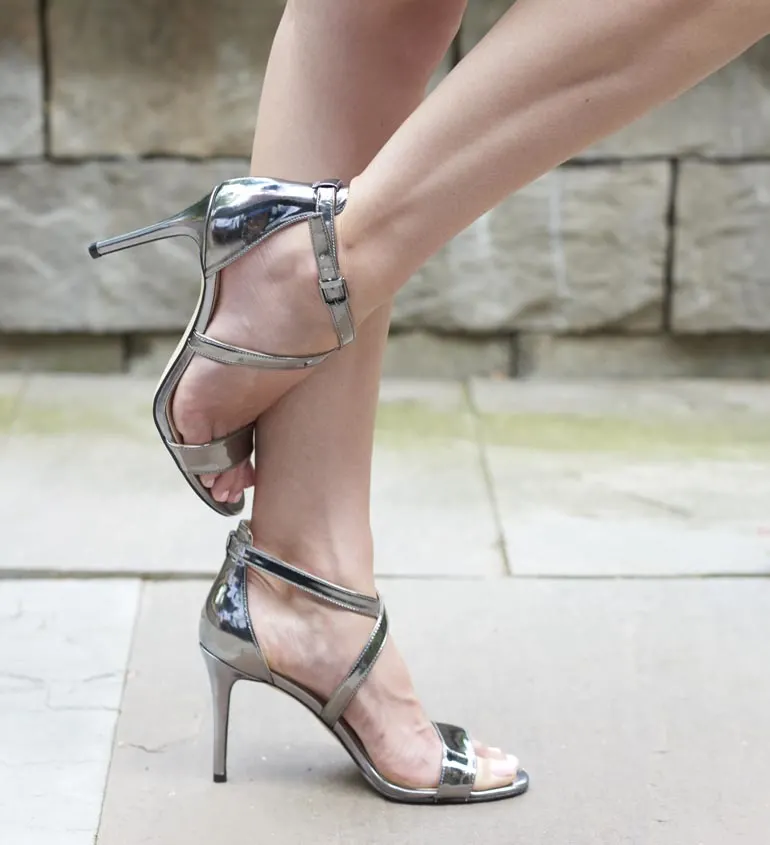 Maybe you're just not ready to give up on your favorite pair of heels just yet. After all, you spent a decent chunk of change on them.
Your cutest and most painful shoes deserve a second chance with these next few tricks! But thankfully there are so many hacks to make heels comfortable.
And let's not forget the many different types of high heels to choose from that you can choose to work best with your feet!
1. Use Padded Inserts
The easiest way for how to make heels more comfortable is by using a padded insert in your shoes. There are many different types, shapes, and sizes available depending on where your feet need the most comfort & padding.
From ball of foot cushions to arch support to heel pads, these handy shoe accessories will make all the ouchey areas, virtually pain-free! Especially if your shoes are too big.
There's a whole rundown on padded insert in my post about how to make shoes smaller!
A personal favorite shoe-insert brand is Dr. Scholl's: an amazing & popular brand for anything foot pain related. Padded inserts work by creating a padded barrier between a hard shoe and your soft feet. Think of it like a mattress topper for your shoes!
---
Shop ball of foot cushions, arch support inserts & heel pads:

---
2. Tape Your Toes
This goes into the weirder high heel hacks on how to make heels not hurt, but taping your toes together works!
By taping your "ring" & middle toes (so the third and fourth toes), you should be able to run a marathon in your heels. Well, maybe a marathon is excessive, but you get my drift 😉
But how does taping your toes to make heels more comfortable, actually work? Because it takes pressure off the nerve that tends to cause foot pain in heels. Here are some tapes you can purchase use to your tape your toes & more, below:
---

---
3. Break In Your Shoes
Perhaps the most obvious way how to make heels comfortable is by breaking them in. Brand new shoes have yet to conform to your specific foot shape, which is why this period of foot-to-shoe adjustment usually happens.
Especially with high heels! And how to break in shoes is no easy feat, that's why I've written a whole post about it.
Of course, this works best with natural suedes, leathers & fabrics such as canvas and silk. Because these materials have the most give in them to conform to your foot.
You can stretch our pain-causing areas of your shoes by simply wearing socks with your heels for your first few wears, or using these handy, portable shoe stretchers.
Combined with some shoe stretching spray, this shoe stretching method is the quickest to break in your shoes.
Looking for more tips & tricks on how to make shoes bigger? Check out my post on how to stretch shoes!
Every foot is different and sometimes shoes require a few wear times to get to know them properly.
When out shopping for new shoes, always keep in mind that your feet will be larger & more swollen later on in the day, which makes evenings the perfect time to shop for shoes!
4. Use Anti-Blister Sticks or Deodorant
Another — likely most bizarre — trick on how to make high heels comfortable, is deodorizing your feet. It can work, folks! Using gel deodorant can stop chaffing when used beneath any uncomfortable straps or too tight shoe backs.
It will prevent your feet from sweating & rubbing on your shoes. This type of chafing can result in painful (and unsightly!) blisters.
If you don't use gel deodorant & want something more portable, blister sticks work wonders! They act in the same way as a deodorant does, but is more easy to apply & keep in your purse.
---
Check out some fave blister sticks below:

---
5. Seek Aid with Blister Treatments
Another way to keep your feet happy is with anti-blister treatments. Of course, this really only works after a night out with uncomfortable heels & when blisters have already formed.
But these treatments (such as Band Aid Hydro Seal medicated pads) help with your blisters & heal them faster. So you can get to walking in your favorite shoes again!
Of course, you can always use them as a preventative measure in heels that give you blisters in specific areas.
A great product to always have on hand in Molefoam, a padded, multipurpose band aid of sorts that you can cut & place anywhere that needs love.
These bandaids aren't medicated, but a great product to keep in your bag for any sort of mini-emergency!
---
Shop blister treatments, below:

---
6. Walk Properly in Your High Heels!
Not exactly a high heel hack, buuut….the best advice we can give you about how to make heels not hurt, is by walking in them properly. Knowing how to walk in high heels properly & comfortably, however, isn't as obvious as one might think!
And the whole concept of walking properly may sound ridiculous. You have been walking since you were a 1-year old, after all.
But as heels aren't always designed with comfort in mind, the simple adage of one foot in front of the other, doesn't quite cut it. Meaning that walking in heels requires a whole new lesson in walking!
Here are 3 steps (pun intended lol) on the best way to walk in heels to maximize comfort and minimize pain:
A) Walk Heel-Toe
This may seem silly as mostly everyone walks from heel-toe. But if you're known for stomping rather than stepping, then this tip is for you!
The motion of walking in heels properly is placing your heel down first & then stepping forward to place your toes down.
It's important to remember that the walking motion in high heels is different from wearing flats. When wearing flats, you can go from heel to whatever part of your foot & not lose balance. In heels, you have to go heel-toe. Or you might fall!
One hack that might help with walking in stiletto heels is using heel caps. These, usually used to help with walking on grass & cobblestones in heels also work for making walking easier.
Because they not only protect your heel points, but also add more surface area to your heels, hence, making your stiletto, much less..well…stiletto-ey! And easier to walk in.
I've listed some faves heel tips in my post about the best high heel protectors, but you can shop a few good ones, below:
---

---
B) Take Small Steps
Save the long strides for the runway models! One of the tricks to walking with heels (and doing so comfortably) is to take smaller steps. Why? Because wearing heels shortens your stride.
With smaller steps, you are more in control of your balance. Meaning that falling down, tripping & hurting your foot is less likely to occur.
C) Posture, Posture, Posture!
Wearing heels changes your center of gravity meaning slouching is a no-go. Bring your shoulders back & keep your head high!
Just imagine a string that's connected from the base of your spine all the way to the tip of your head. Keep that string straight & you'll walk like a pro in no time!
Take a look at the video below for further instructions, or check out our most comprehensive post about how to walk in heels!
How to Buy Comfortable High Heels
So you've decided that none of your shoes are hackable. That's incredibly sad, but at least it gives you a chance to buy some new shoes! Here are our tips on how to make heels comfortable & won't make your feet sing. Like, in a bad way.
7. Wear a Shorter Heel Height
Stick to a heel height of 3.5 inches MAX if you value your feet. Anything higher and you might have to do a walk of shame home. (Also known as walking barefoot across city streets). Take a look at some of the cute options below!
---

---
8. Purchase Comfort Shoes (That don't Look it!)
Contrary to popular belief, there are some heels that are built specifically for comfort & walkability in mind. Some of the most well-known brands for comfortable heels are: Naturalizer, Geox, Clarks & Cole Haan.
We've added some styles from these brands for you to shop, below!
---
Shop Comfortable High Heel Shoes:

---
9. Buy the Correct Shoe Size
This is one thing bras & shoes have in common: we often buy the wrong size! And this may seem like the most obvious way to make your heels more comfortable, but it's not always as obvious as it would appear.
As you use your feet throughout the day, they swell (get bigger!). So, as your shoes feel tighter due to swollen feet in the evening, that makes it the perfect time to get your feet measured & purchase a pair of comfy heels. In the correct size!
10. Buy a Comfortable Shoe Style
While those stiletto pumps might be super cute, they're not great in terms of comfort or walkability. Ok, we talked about heel height, but there are many more comfort elements to look out for.
When buying shoes, look for thicker, chunkier heels & platforms as they take pressure off of the ball of your feet. Look for buckles & straps as well, which help unload on the soles of the feet.
---
Final Words on How to Make Heels Comfortable
We hope that you can now finally transform your sitting shoes into shoes that you can conquer your day with. (Or buy new ones that fit the bill! Almost literally, HA.
Because while footwear should be fashionable, it should also be comfortable. Your back, feet & legs will thank you for it in the short — and long — run!
We'd love to hear what you think of these shoe & heel hacks on how to make high heels comfortable. Do you have any tricks/heel hacks on how to make heels not hurt? Let us know, in the comments, below!
xo ShoeTease
-Photography by: Joel Gale