Leopard Print Boat Shoes by LAMO Footwear
More often than not, I'm wearing flats & just like my high heels, they'd better be comfortable! Now, boat shoes have been all the rage this season when it comes to casual footwear, but I haven't been the biggest fan until I spotted these sand-coloured canvas & leopard print shoes from LAMO Footwear, called "Cruiser".
Now I have a history with this brand, reviewing these thong sandals & these red, beaded mocassins & all styles, including these leopard print boat shoes, are nothing short of extremely comfortable! Which comes as no surprise, really, as they do specialize in slippers & comfy boots. These particular leopard boat shoes have a great, cushy insole, steady rubber outsole & the unexpected vibrant leopard print just gives what is usually a dull-looking dowdy shoe, a bit of pizazz. Which, let's face it, is what most shoeaholics look for when shopping for a new pair of shoes! These leopard print flats also come in a dark canvas/leopard combo & plain 'ol canvas (for the more faint-of-heart). Perfect to pair with yellow-gold accessories, denim & neutral tones. Or all black. But that wouldn't be very summer 2014 now would it?! 😉
Photography by Leonard Chen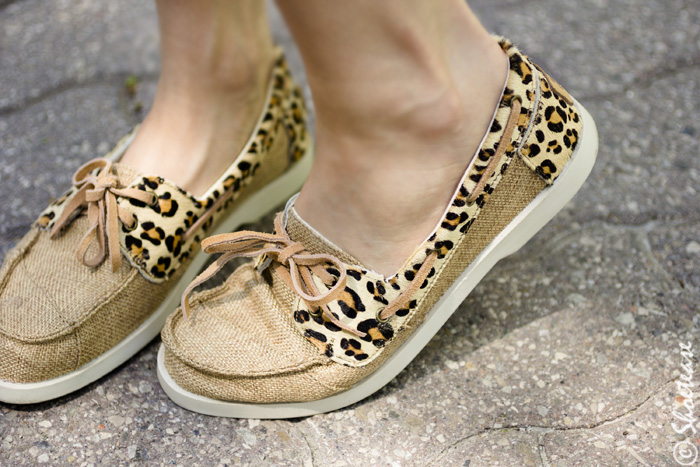 Boat Shoes: "Cruiser" c/o Lamo Footwear (similar here + here). Denim Shorts: Gap. Lace Top: Vanessa Bruno (similar here + here). Fringe Purse: Winners (similar). Daisy Necklace: Joe Fresh (similar). Leopard Sunglasses: Vans.
xo Cristina