This past winter, my OTK boots took me to a fabulous beauty event to get pampered & discover new products at Murale.
Melina in her leopard print heels & I reunited with our blogger gang to attend the Murale by Shopper's Drug Mart Spring 2018 beauty product preview. Here are the product highlights (and my new beauty staples)!
Murale by Shoppers Drug Mart – Fave Spring 2018 Products

Some makeup & skincare has already hit stores, but may are new for Spring 2018. Of all the products I went home with, I ended up loving many & now many of those are empties! I adore how a handful of these beautifying products are natural & organic (my fave kind of beauty!).
Below are 8 wonderful skincare & makeup products that I have been using on the regular and would recommend to friends, family & my lovely ShoeTease readers, in a heartbeat!
Patchology Flashpatch – Wink & Kiss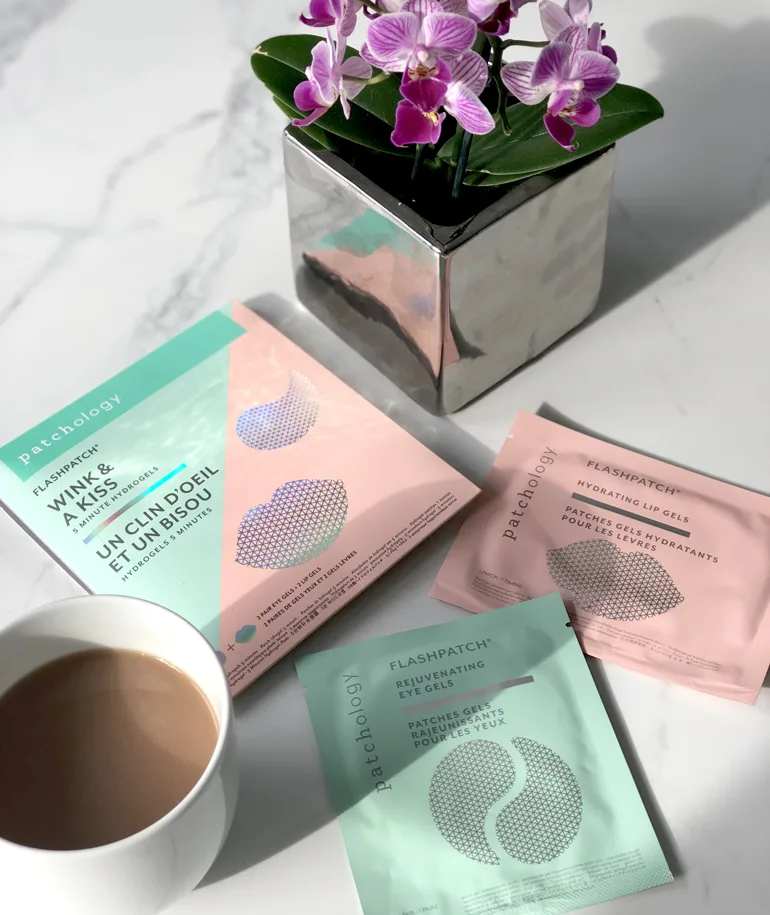 I love a good facemask & what makes Patchology's gels amazing is that you specify the area you'd like to help: eyes and/or lips. Quick & easy to use, these collagen patches really perked up my eyes with their cooling sensation & hydrading ingredients.
I noticed in 10 minutes of wear (yeah, 5 mins is recommended, but I wanted more results!) my under eye area was softer, less puffy & my skin was smoother. My lips, cracking somewhat from winter dehydration felt plumper & definitely more kissable. All in all, I looked more rested (which I definitely was not at the time!).
And although the results were fabulous, I have to say that what I enjoyed most was the lovely peach scent. Give yourself 5-10 minutes with these one while lying down & you can fake the relaxation & look of a full facial from a spa! Patchology products are cruelty-free.
Lava Magik – Cleanser, Scrub, Mask

Of all the products I'm talking about today, this is my absolute fave from the Murale Shopper's Drug Mart collection! I could go on and on about this one, but I'll get to the point! The Skin Co.'s Lava Magik is a 3-in-1 scrub/cleanser/mask made from the finest cleansing volcanic lava (yes, lava!) from France.
I've never met a scrub with such fine particles, making it feel like it's really scrubbing inside every pore & crevace! It has a delicious citrus orange scent that refreshes & relaxes.
Since my skin doesn't take to every day exfoliation I have used this products every 2-3 days for weeks on end as a scrub & mask. After I've cleansed my face, I scrub a pea drop amount on my face & neck (a little goes a loooong way!), leave in on for 10-15 minute & voilà!
My skin literally glows, feels less greasy & nourished. Definitely the best face scrub I have ever met! I just found out they have a new travel size, too, which I will be surely bringing along with me on my next vacation 🙂
Juice Beauty – Signal Peptides Firming Serum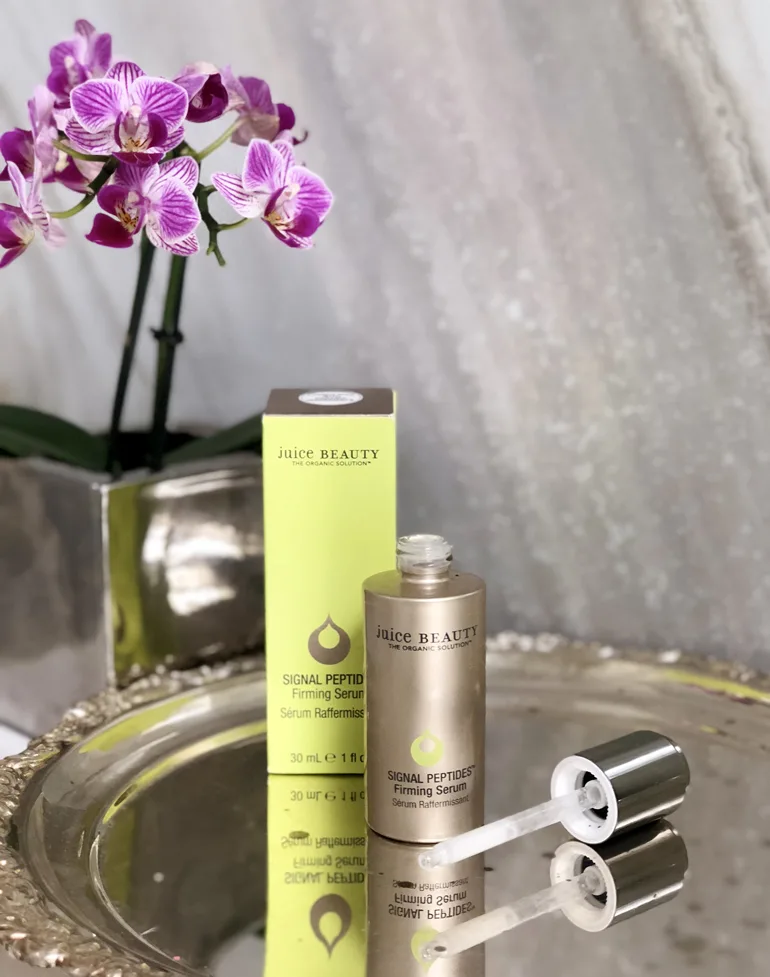 I had just finished my go-to algae serum, so this Juice Beauty anti-ageing serum came at a great time. I was already drawn to the brand itself, being not only made of natural ingredients, but is certified organic as well. Powered by organic plant lipids, this serum is very light, yet moisturizing & is absorbed in the skin in seconds. No greasy/sticky formula here (perfect for my greasy-normal skin type).
Its a subtle scent & fast acting formula did not irritate my skin or make it break out. I found it hydrating but in no way oily. Best of all, the bottle's cap self-doses it's eyedropper every time you close the bottle. So nifty! Love it so much that I used the whole bottle & can't wait to get my refill! Juice Beauty products are also cruelty free.
Veneffect – Anti- Aging Lip Treatment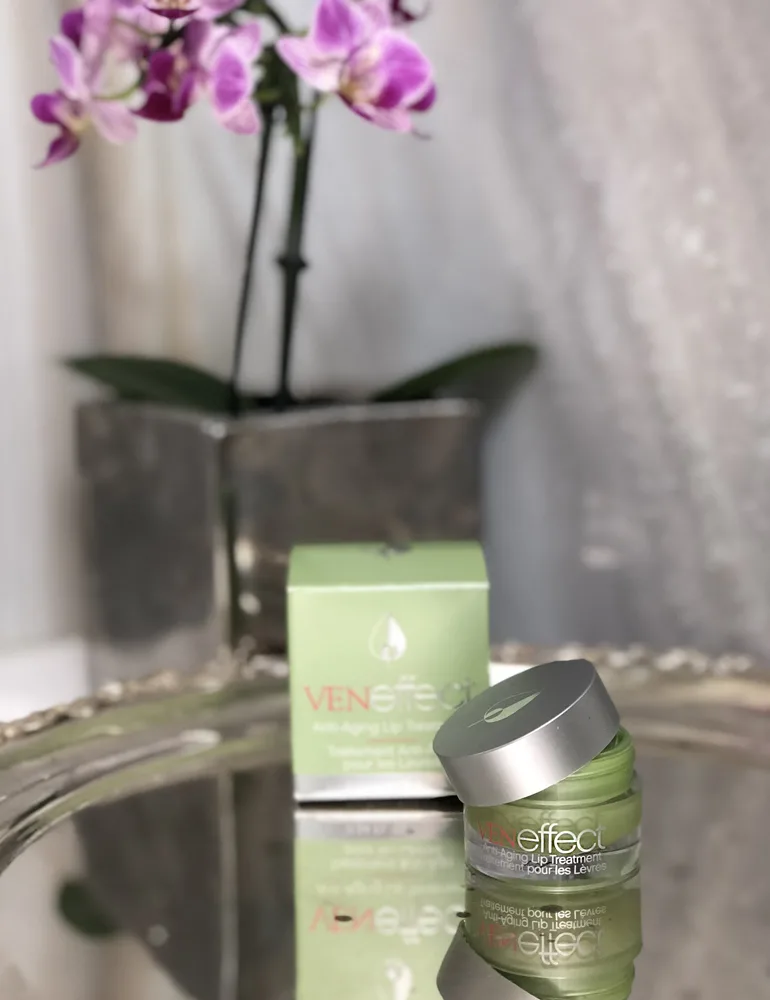 When we think of anti-ageing a lot of us don't think about our lips. Since I don't smoke & my lips are naturally plump, I have mainly focused more of moisturizing with lip balm. I never thought the need to use a lip treatment — until now!
Now I use Veneffect's daily Anti- Aging Lip Treatment once to twice a day. Why? Because it feels great, has a slight cooling sensation & has certainly helped me maintain the softness of my lips during the past harsh Canadian winter. And who wants fine lines around their lips anyways?
Ugh, getting old is rough, people! Thank goodness we've got some products to help us out! It also helps prevent lipstick bleed, which is a very handy feature for me, especially in the dry winter months.
Londontown – KUR Nourishing Cuticle Oil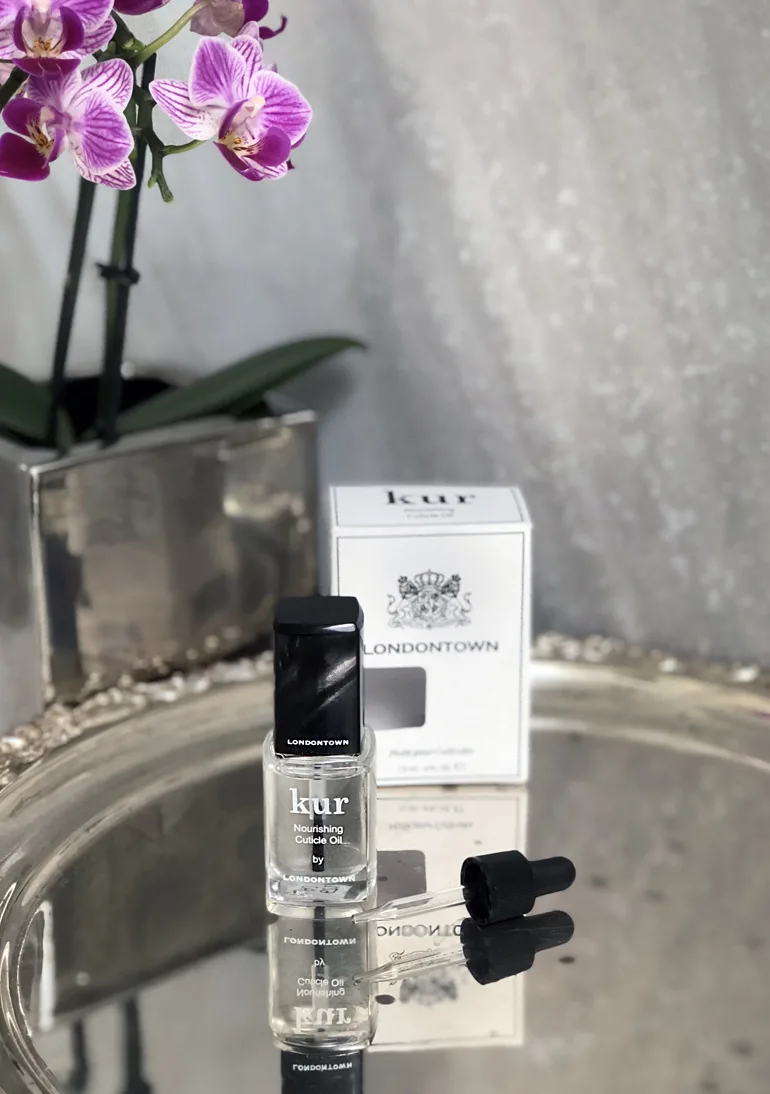 I don't know about you, but the skin around my nails gets awfully dry in the winter, or at the beach. And let's not talk about the toe nails all year round! Packed with vitamins & essential oils, Londontown's Kur Nourishing oil for nails does just that. Apply it with the nail-polish like brush or eye dropper on top of nail polish or without & you'll see & feel a difference.
When I stopped shellak'ing my nails a few weeks ago, this products made my nails recover from the damage & felt like it strengthened them too. It absorbs fabulously, doesn't leave an oily reside for long & softens the skin around the nails so well! Great to keep your mani and pedi looking fresh. I'd be interested to try their line of nail lacquers too!
Lipstick Queen – Nothing But the Nudes
I've always shied away from nude lipsticks. I always felt they made me look a little dead to be blunt. But as Melina had told me, I obviously hadn't met the right nude! I got lucky that the one I found in my bag of goodies was just that.
Richly colored with a finish that's not quite matte, not quite shiny, this Nothing But the Nudes lippy in "Beautiful Beige Nude" suit me perfectly. It's a darker than my natural lip colour and having a slight sheen really works. It pretty much looks like I'm not wearing lipstick & I love how rich and moisturizing it is.
In fact, it's enriched with natural oils, waxes and anti-oxidant Vitamin E. I like this one so much that it's one of the 3 lipsticks I brought with me on my 6 week trip to Europe!
The Brow Gal – Convertible Brow 03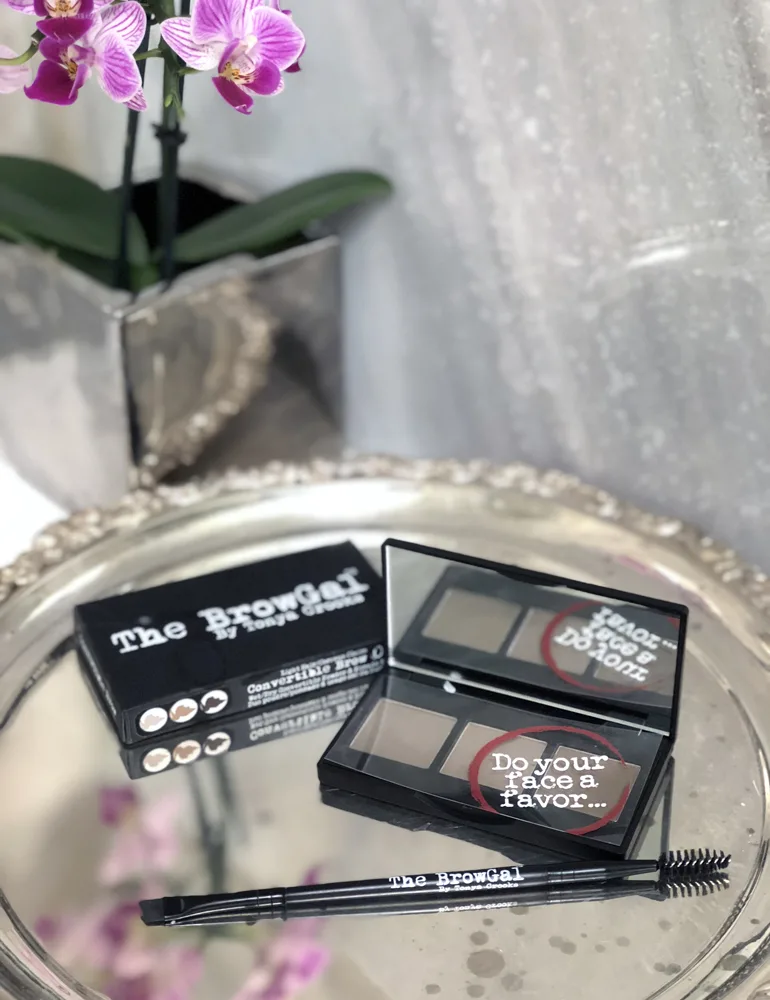 The Brow Gal, known as the IT brow brand in the US has now come to Canada! Although I had my eyebrows microbladed recently, it doesn't result in perfect brows. But it does make shaping them easier, so it's a good thing I landed on a couple new brow enhancers.
This Convertible Brow 03 tri color palette is actually for light hair, but it works perfectly for me, as my brows aren't that dark naturally & currently have blonde hair. I've used this product many times and it's best to not go overboard so that you're brows don't look too cakey.
Can be used wet or dry, but I've only used it dry thus far, because of the other product, below. There's a great how-to video from the founder of the brand that's worth a watch to see how to use this trio of brow shades.
Plume – Nourish & Define Brow Pomade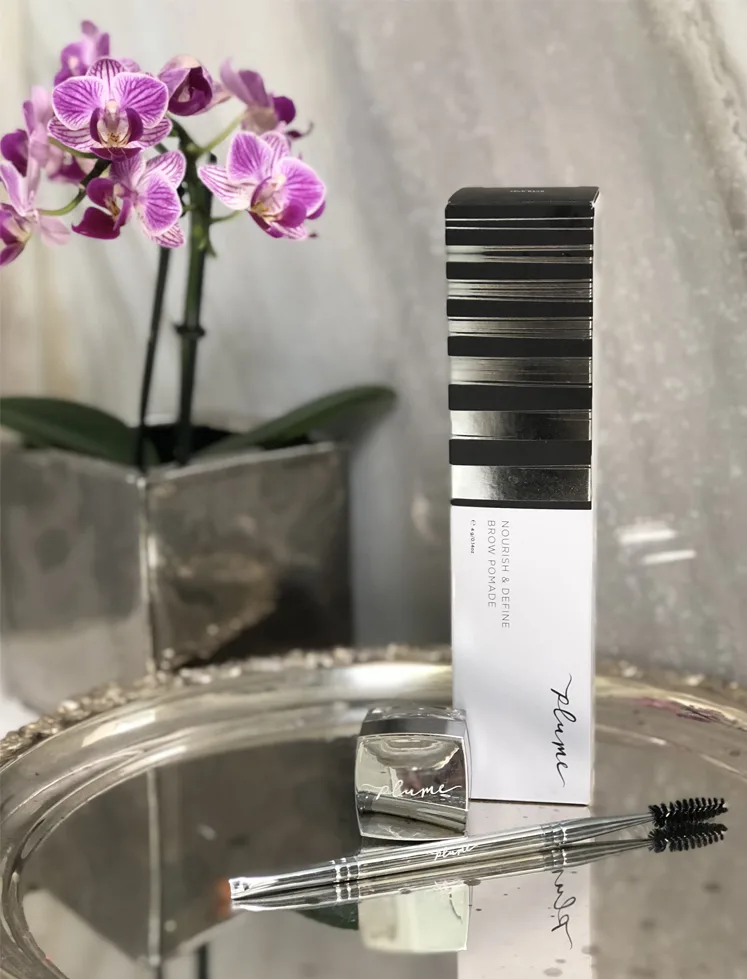 Plume's Nourish and Define Brow Pomade does exactly what it says. This is a great little product that even though is used with water, gives a really fierce brow. It has a serum in it which is great for someone like me who's been rather harsh to her brows, with all the plucking & tattooing! It comes in 5 shades & you can even mimic eyebrow hair strokes if you're so inclined 🙂
Special mention to the MyChelle sun shield SPF cream sample that I've been using on the rare sunny day to protect the microblading on my brows! It not only protects, but also nourishes the skin.
---
You can find these fabulous products at your neighborhood Murale by Shoppers Drug Mart shops. If you have or end up trying any of the above, I would love to hear how you feel about them!
xo Cristina