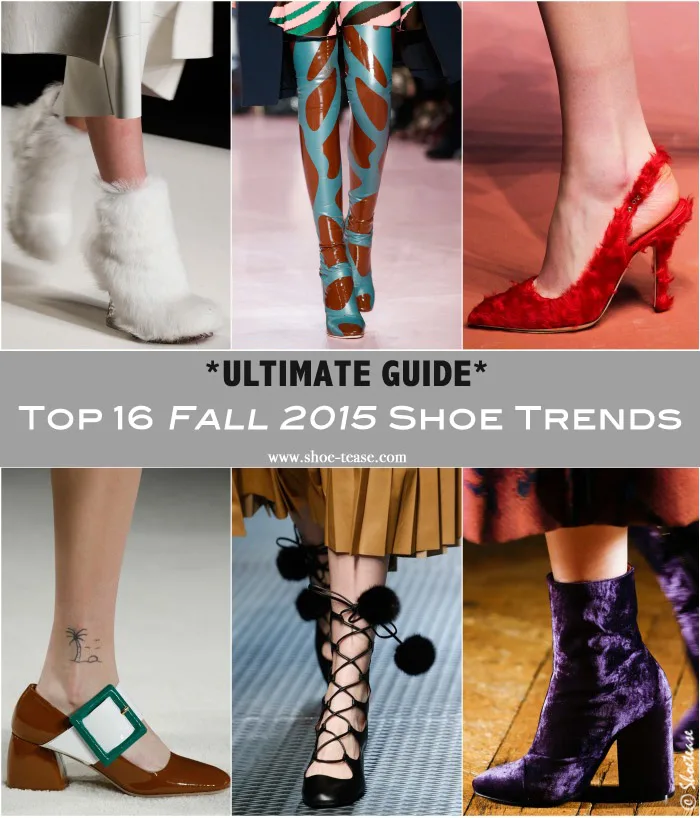 Since Spring is being a little tardy here in Toronto, Canada, let's take an in-depth look at the upcoming top Fall 2015 shoe trends, shall we? At least they'll keep us mentally warm (and really, no harm in getting a head-start on our shoe game!). We'll take a look at the 16 major trending fall shoes for women. Some are excitingly delicious. Some are just craptastically who-the-heck-would-wear-that insane! Just take a look…
I've scoured pretty much every runway from Milan, New York, Paris & London fashion week looking for the trending shapes, colors & shoe styles from the most sought out taste-makers to create an ultimate guide to the most dominant trends that will be in store for Fall 2015. From bizarre to cute fall shoes, I present you with 16 shoe trends in descending order of importance. And by "importance" I mean most prominent. There will likely be some shoes, boots or high heels that you may not like, but just remember… don't shoot the messenger!! 😉
Top 16 Fall 2015 Shoe Trends
1. Chunkier Heels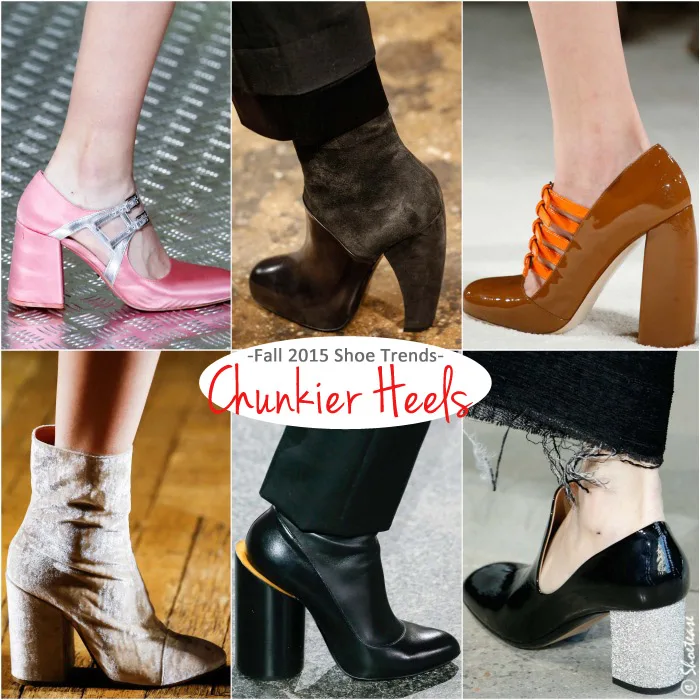 If you thought the shoes from Spring 2015 were trending chunky/blocky heels, well Fall 2015 is taking the chunkiness trend one step further! Not only are the heels chunkier many of them are look like literal cylindrical blocks stuck onto a shoe. I honestly don't think these heels could get clunkier unless presented as a full-on platform. Almost every high end fashion designer presented chunky heels in their collection. We've come a long say from the pin-thin stiletto heel (although it's not completely obsolete just yet!).
Clockwise from top left: Prada, Donna Karan, Miu Miu, Dries Van Noten, Givenchy, Calvin Klein Collection
2. Lace-Up or Corset Shoes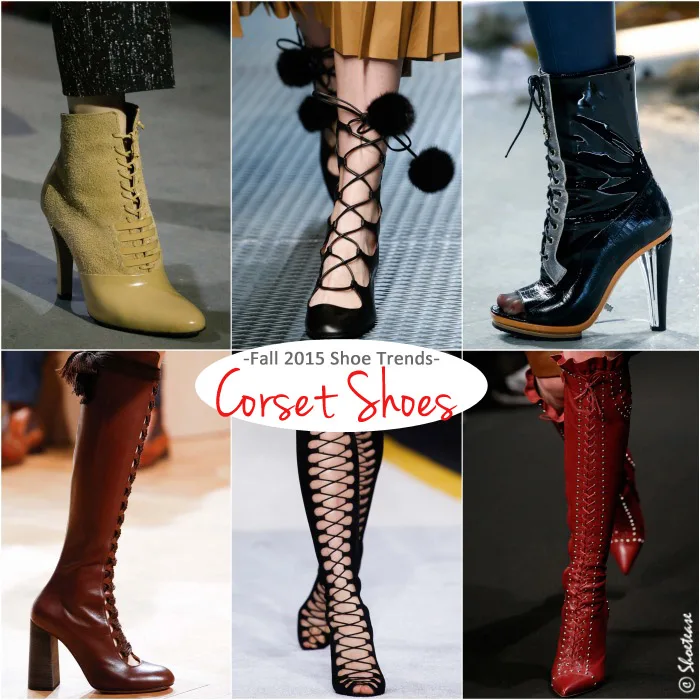 Yep, last season had its fair share of lace-up sandals, gladiators & high heels and this season is no different. From Victorian-era style lace-up thigh high boots & booties to more avant-garde corset detailing, some have even dubbed this particular shoe trend "Bondage" thanking to '50 Shades of Grey' in the process. I just see it as a shoe & boot detailing that has currently replaced our revered zippers (although really hoping there are hidden zippers at the back or sides to make the getting-into-the-shoes process a little bit simpler!).
Clockwise from top left: 3.1 Phillip Lim, Rodarte, Gucci, Chloë, Giambattista Valli, Altuzarra
3. Furry Footwear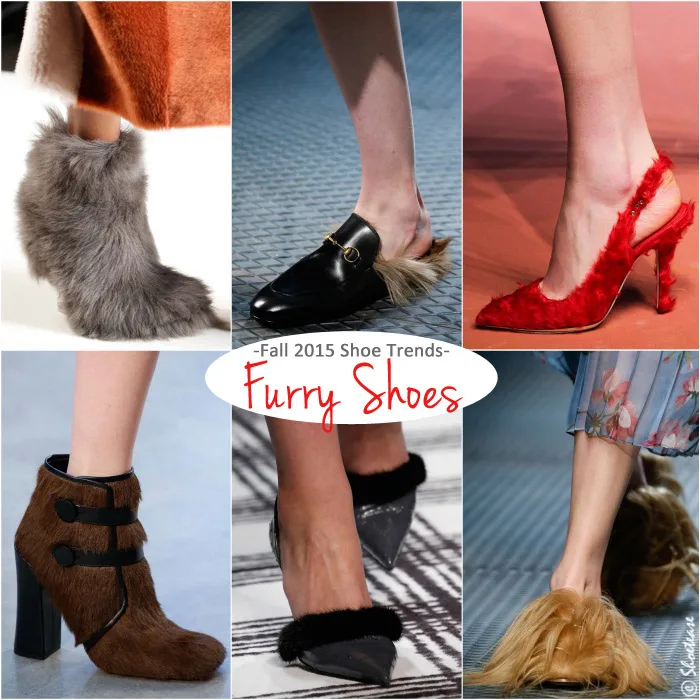 There was no shortage of teddy bear-like fuzzy wuzzy furriness to hairpiece-like ragged shoes on the Fall 2015 runways! Some designers such as Gucci added wig-like hairs onto the insoles of their shoes, while others such as Maison Martin Margiela opted for allover raggedy hair'd uppers, acting as runway mops. Even Dolce&Gabbana joined in on the trend with shaggy feathered red slingback (which might have been the tamest of the furry bunch, actually!). Love it or leave it, this trend–possibly started by Celine a few years back with their "Big Bird" pumps–has finally taken taken flight. And sometimes it's none too pretty if you ask me. I mean, I don't know about you , but I prefer NOT to wear my pets on my shoes!
Clockwise from top left: Fendi, Gucci, Dolce&Gabbana, Derek Lam, Maison Martin Margiela, Balenciaga, Gucci
4. Velvet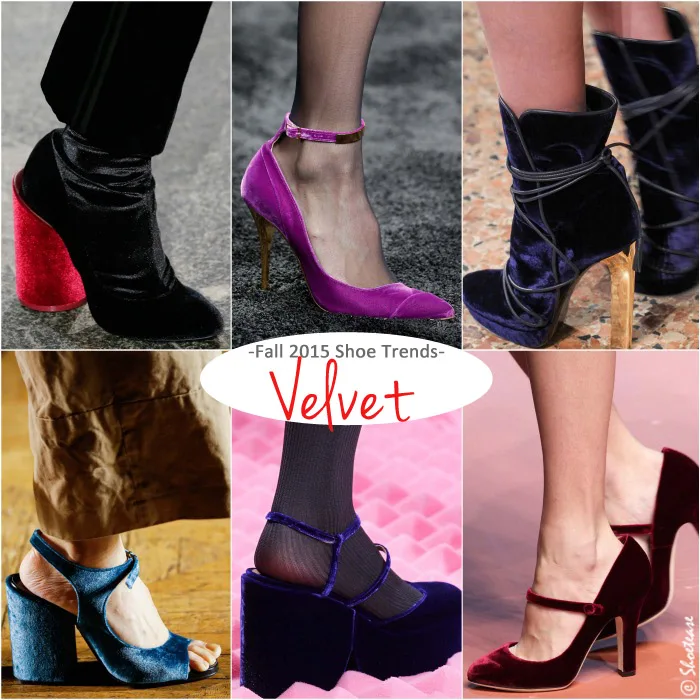 Somewhat in tune with the softness of the furry shoes, but much MUCH more tame and wearable come into play the velvet trending shoes for Fall 2015. Whether crushed or simple velvet, this is a major material Fall trend in footwear & one of my favorites: it exudes warmth & luxurious softness all in one. It's worth noting that a deep purple was seen on multiple runways, including Dries Van Noten, Roberto Cavalli & Emilio Pucci. So if you're going to pick just one velvet shoe for this Fall, I'd go for a deep violet velvet hue.
Clockwise from top left: Givenchy, Balmain, Emilio Pucci, Dries Van Noten, Mary Katrantzou, Dolce&Gabbana
5. 60s MOD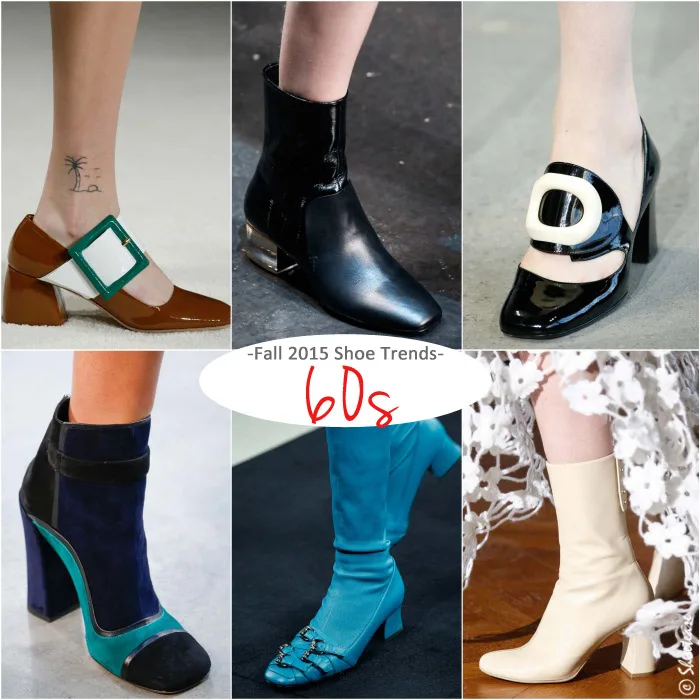 Sixties shoes, especially MOD boots were revisited for Fall 2015 on oh-so many runways. With their square toe, color blocking & chunky heels, it was a trend that was hard to miss. Love how Miu Miu incorporated a rather 70s heel into their 60s-inspired Mary Janes & liking how many designers kept their 60s-inspired shoes fresh & for the most part, easy to wear present-day.
Clockwise from top left: Miu Miu, Roberto Cavalli, Calvin Klein Colletion, Derek Lam, Bottega Veneta, Stella McCartney
6. Squared Toe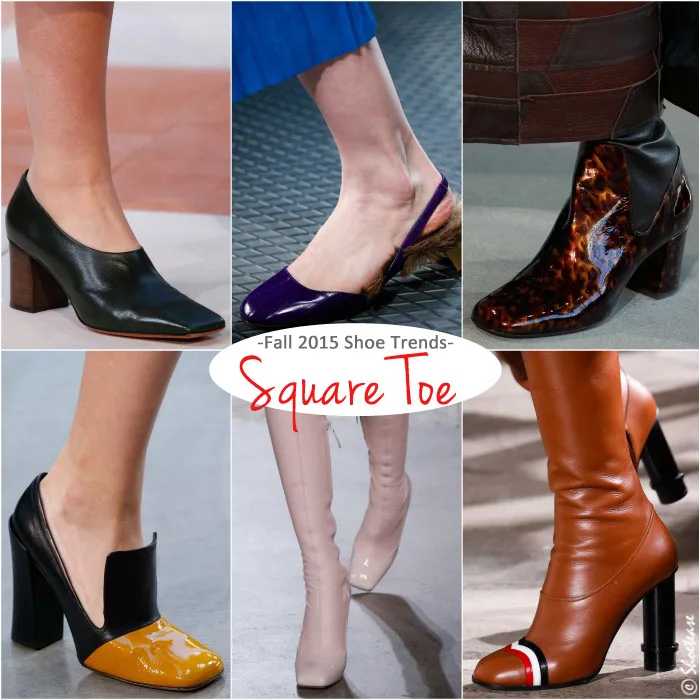 Kind of like the stiletto gave way to the block heel, the pointed toe has let the way to the square toe. Pointy toes are on their waaay out. I always told myself that if one day pointed toes were no longer fashionable, I'd be screwed. There was such a remarkable amount of square toe shoes & boots on the Fall 2015 runways, whether directly 60s inspired or not, that I guess that day has ultimately come. My shoe closet is about to become obsolete. And my life as a shoe blogger may come to a halting end. It was nice knowing you?! 🙁
Clockwise from top left: Celine, Gucci, Calvin Klein Collection, Derek Lam, Alexander McQueen, Loewe
7. Statement Thigh Highs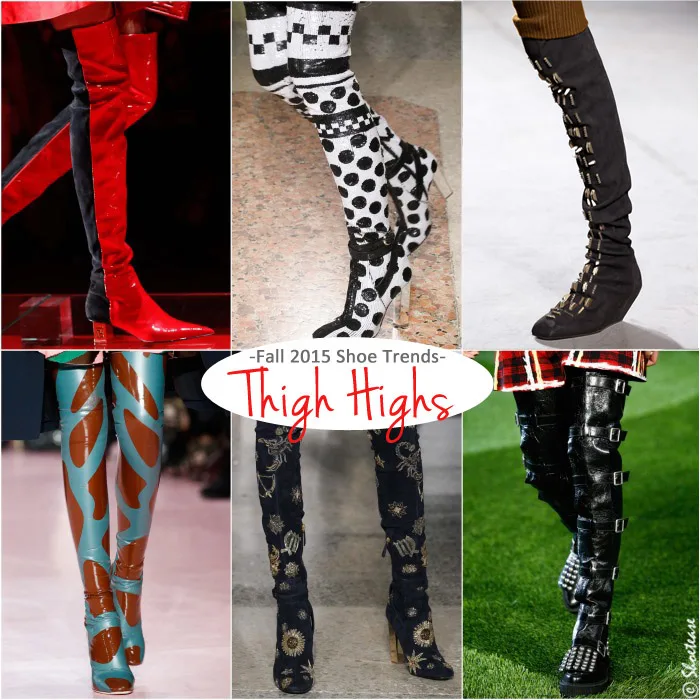 OTK boots from last year have gone one step further (in the same vein as the chunky heel) and not only become thigh-higher, but have gone completely berserk in the process! From punky VERY high boots to ones with alien-like qualities, to MOD boots gone a little nutso, there was no shortage of this type of crazy boot. There were also more tame versions of these thigh-almost-crotch-height boots, but the printed & bedazzled ones stole the show(s)!
Clockwise from top left: Versace, Emilio Pucci, Rick Owens, Emilio Pucci X2, Marc by Marc Jacobs
8. Latex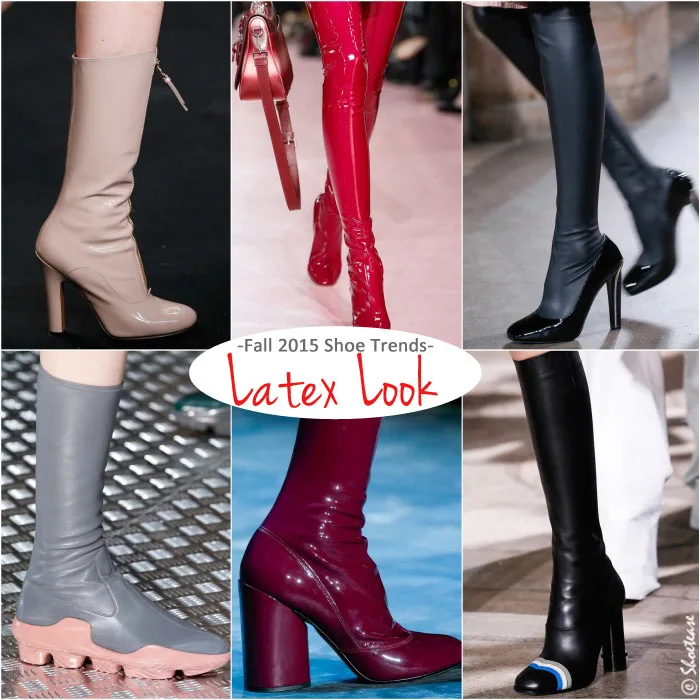 It's a slip-on, skin tight boot & it looks a lot like someone's fetish object! Another trend we can probably blame on '50 Shades' is the undeniable amounts of latex or latex-looking boots on the Fall 2015 runways. Just don't forget to put baby powder on your feet & legs so you'll be able to get these on (and off!). This proves once again that zippers are a thing of the past!
Clockwise from top left: Valentino, Christian Dior, Alexander McQueen, Prada, Marc Jacobs, Loewe
9. Statement Heels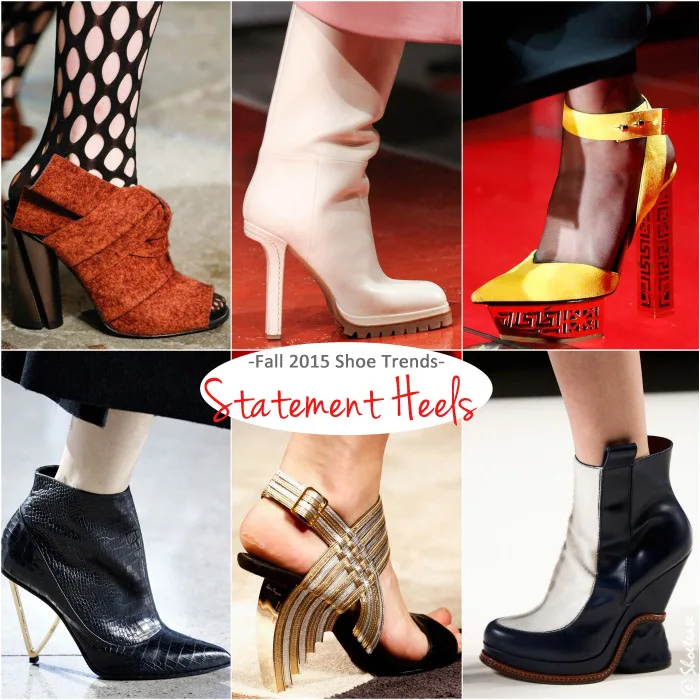 I'm talking about the actual 'heel' part of the shoe here. So many shoes had a high or low heel that was extremely original & quirky. Yes, the overly chunky heels are also part of the statement heels trend for Fall 2015, but it's worth stating that not all inventive heels on the runway were purely chunkeroos!
Clockwise from top left: Proenza Schouler, Marni, Versace, Jason Wu, Salvatore Ferragamo, Fendi
10. Red Shoes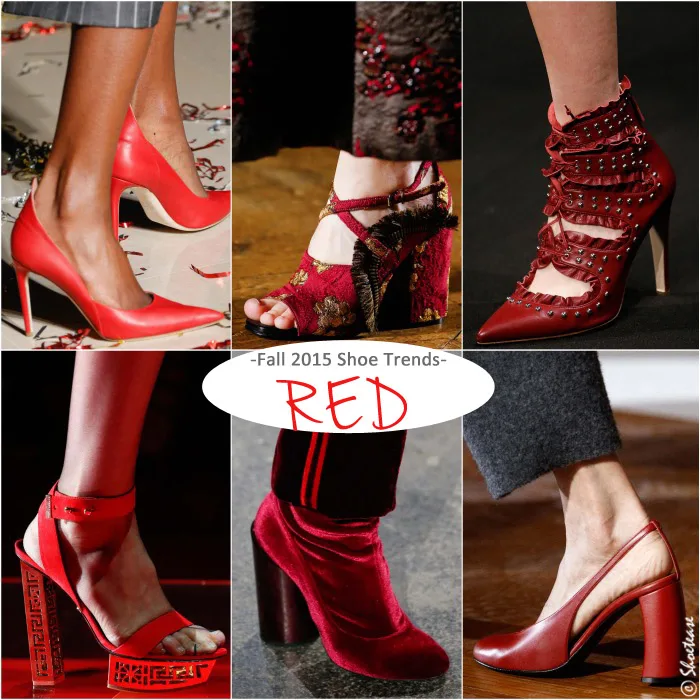 Red Red Red on so many models' feet as they paraded on the runways! And not only shades of burgundy: various hudes of crimson, poppy & marsala waltzer their way into possibly the most predominant 2015 Fall shoe color trending at the fashion shows. In every shape & form!
Clockwise from top left:Vivienne Westwood, Dries Van Noten, Altuzarra, Versace, Givenchy, Stella McCartney
11. Beaded Embellishments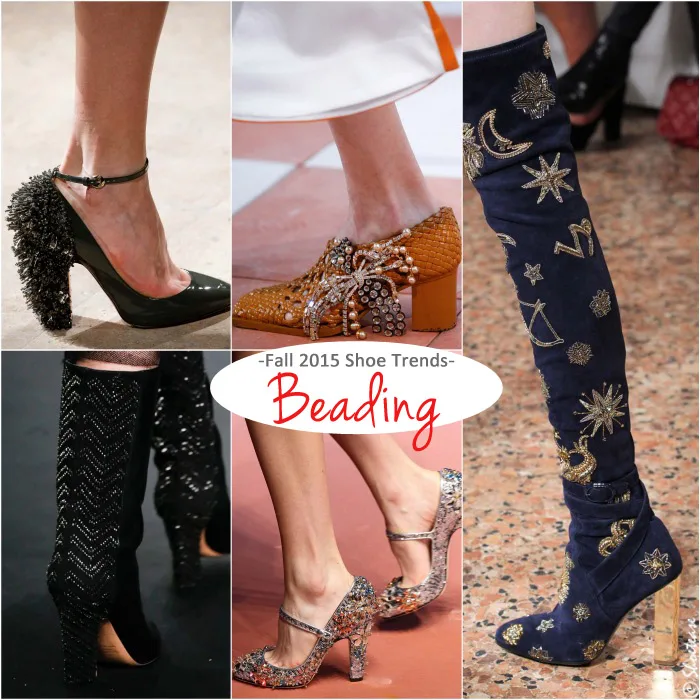 Embellishments as a shoe trend isn't new, but the various amounts of heavy beading seen at many of the designers' shows were. And we're not just talking big, rhinestone-like beads we saw previously for Spring 2015. It's the mass of teeny-tiny beads that I remember as a child, that were most impressive on the runways. As impressive as I'm sure the price-tag on these puppies is! But oh-so pretty. I love this trend, even though somewhat impractical due to their extremely delicate nature.
Clockwise from top left: Rochas, Celine, Pucci, Valentino, Dolce&Gabbana
12. Slip-on "Sock" Boots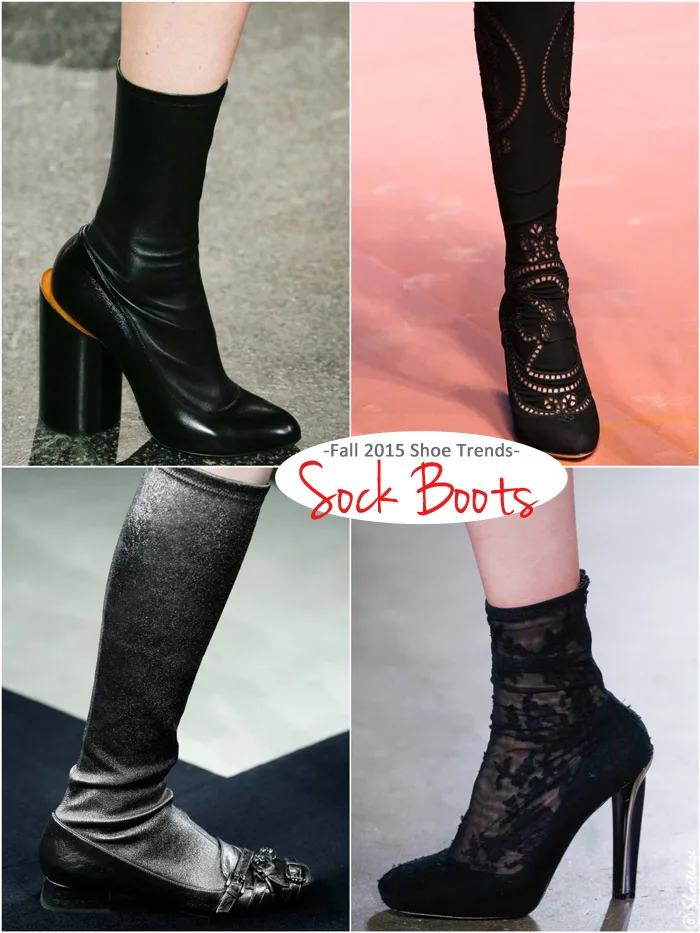 Is it a sock worn with a boot or is it a sock-boot?! We've seen this as a prominent Spring 2015 shoe trend, so really it's nothing too new, but slip on shoes/boots with incorporated socks & stretchy hose made a big statement on the runways for Fall. We haven't seen the stretchy, form-fitting boot in a long time. Not sure if I love it, especially when you throw the latex looking fabrics in the mix.
Clockwise from top left: Givenchy, Dolce&Gabbana, Alexander McQueen, Bottega Veneta, Alexander McQueen
13. Green Shoes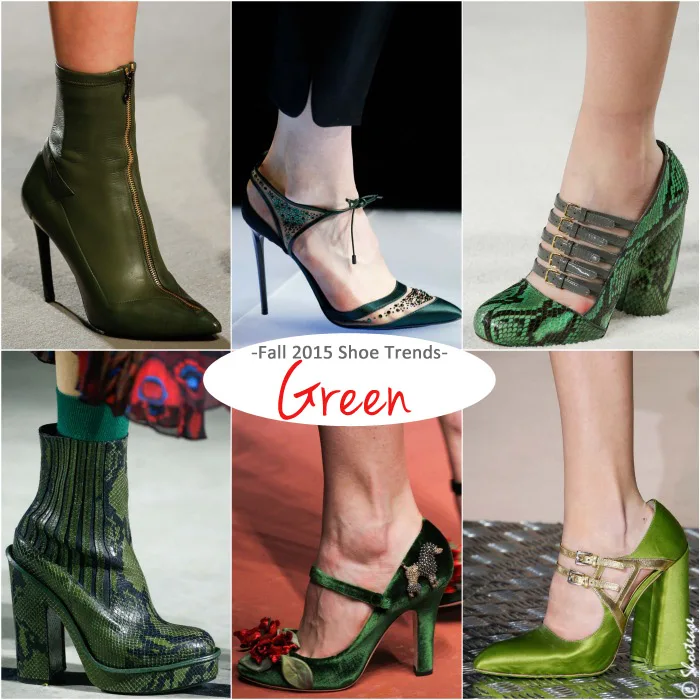 If you follow ShoeTease on Instagram too, you'll know that I'm rather green shoe smitten. It's such an unusual footwear color & I'm so happy that it's made quite the statement on the Fall 2015 runways. From bright apple greens to rich forest hues, outfits with green shoes were almost as popular as the trending red shades.
Clockwise from top left: Roland Mouret, Giorgio Armani, Miu Miu, Kenzo, Dolce&Gabbana, Prada
14. Granny Shoes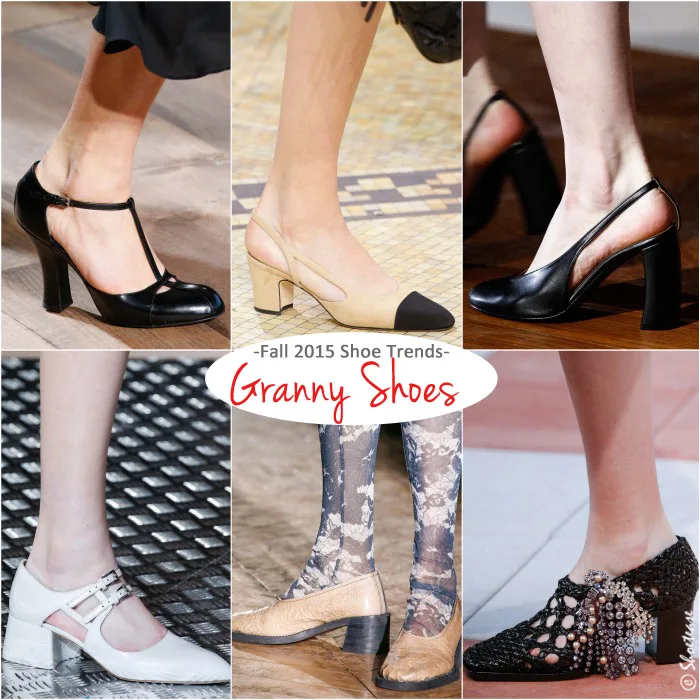 A little matronly or maybe you prefer the term 'dowdy', some with a 40s & 60s feel. Either way, your granny would approve!
Clockwise from top left:Michael Kors, Chanel, Stella McCartney, Prada, Comme Des Garçons, Céline
15. Punk Rock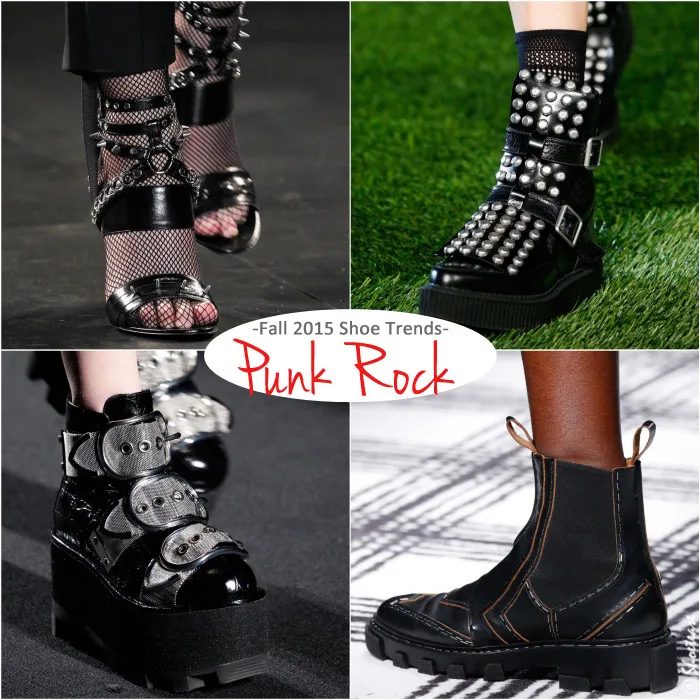 Some bad @ass boots & shoes were also proposed by some big designer labels. From heavy metal to studded & platform'd, these aren't your dainty little numbers.
Clockwise from top left: Saint Laurent, Marc by Marc, Alexander McQueen, Balenciaga
16. Plexiglass Heels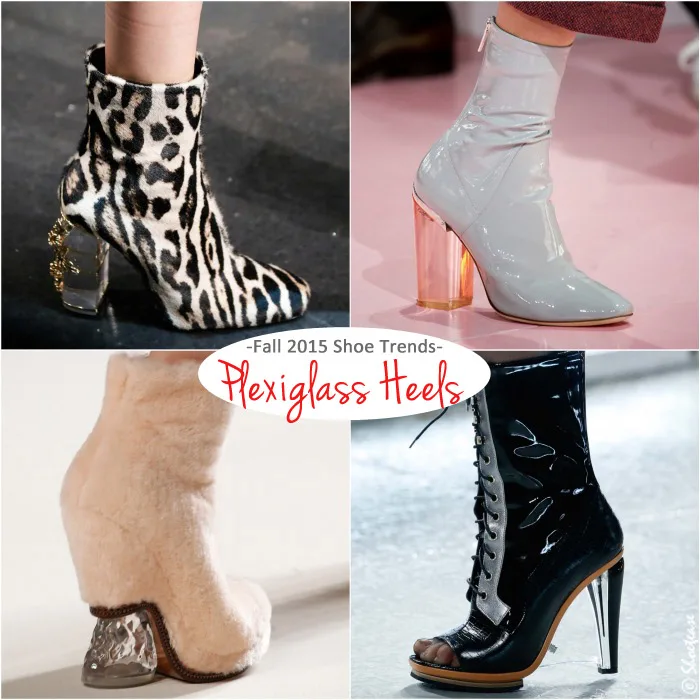 The plexiglass heel could be considered a sub-trend of the statement heel. Although transparent heels are nothing new, this time around they're anything but simplistic. They're irregularly shapes & sculpted, adorned with embellishments inside & out.
Clockwise from top left:Roberto Cavalli, Christian Dior, Fendi, Rodarte
16.2 Patchwork
Ok, so technically this would be the 17th Fall 2015 runway shoe trend, but I was on the fence about posting it until now. But although not a massive trend as many of the other, I believe patchwork detailing was a statement that should not be ignored. It's definitely something I haven't seen in a while & any sort of novelty these days in fashion & footwear is always a breath of fresh air, don't you think?!
---
So what do you think? Were the trending shoes on the Fall 2015 runways new & exciting enough for you (or was it the polar opposite: Just. Too. Much?). Either way, they're all here, packed in your complete guide to the Fall 2015 shoe trends. I'm actually glad we're seeing something a little different this time around. Almost on their way out are pointed-toe stiletto heels, although definitely still circling around, seen at a handful of runway shows such as Dolce&Gabbana and Nina Ricci.
xo Cristina M.
Photo Credits: style.com
Cristina is the chief editor, fashion & shoe expert here at ShoeTease. As a seasoned stylist and women's fashion & shoe designer, she boasts over 20 years of experience in the fashion industry. She loves crafting effortless outfits for ladies both online and off and believes that styling advice should be accessible to everyone. Whether you're a styling pro or just starting out, Cristina's here to guide you on your fashion journey! Learn more.