It's that time of year again: the in-between season where continuing to dress for summer feels a little backwards, yet it's a tad early to fully immerse oneself into Fall footwear & fashion. So why not opt for some fall sandals that are right on-trend & go from there? Like these amazing red studded sandals in red/orange/beige color-blocked suede? Chunky heeled statement shoes are a major shoe trend for Fall 2015 in case you didn't hear (& seriously helpful in the comfort department!).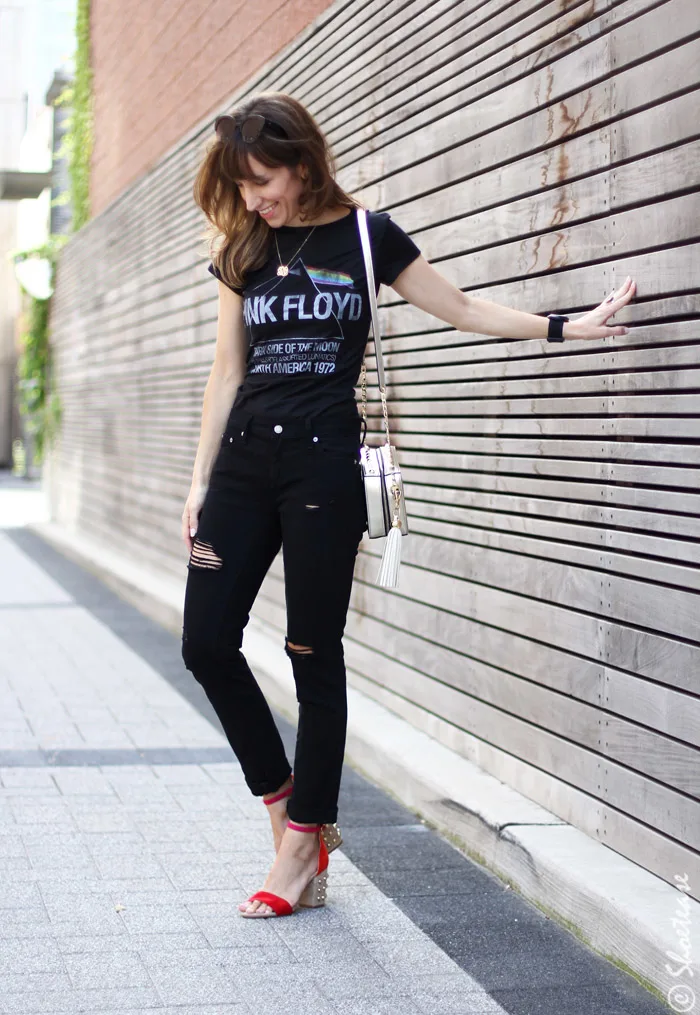 Red Studded Sandals: Isa Tapia. Purse: c/o Jeanne Lottie. Ripped Jeans: Gap. Rocker Tee: Winners. Sunglasses: Aldo c/o Dixie Outlet Mall. Tassel keychain: Chapters/Indigo (old), Watch: Swatch (old)
Statement Shoes: Rock 'n Roll Red Studded Sandals for Fall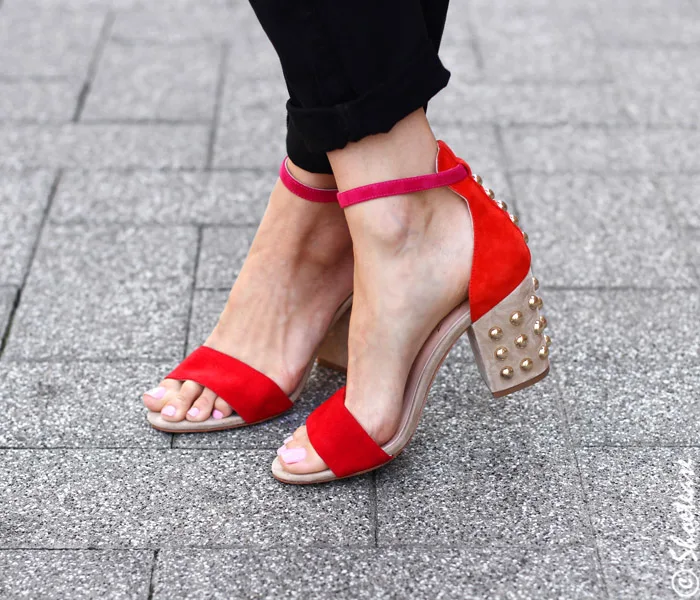 A true shoe love at first sight, I picked up these incredible pre-Fall 2015 Isa Tapia sandals from Winners Bloor Street at a fraction of the cost. The studs are beautiful, large & shiny, and no one can help but gasp at them as you pass by! Worn twice thus far, these show stoppers received a ton of compliments from friends & strangers alike. Serious hashtag shoeporn, if I may say so myself! And a great pair to flaunt some original fashion & street style on the concrete runways during fashion week world-wide!
I've never been able to touch a shoe by Isa Tapia, let alone own one. The prices of her shoes have always been rather higher. Her prices seem to have dipped (my guess is a change in production for some or all shoes from Italy to China?), but I got them well below what the likes of Shopbop & others were selling them for. Although these red studded sandals are almost sold out everywhere (scroll down the end of the post to grab the last pair!), there are a few more sizes available in the blue/green and white styles.
These sandals are made of suede, leather & gold metal studs. They are actually comfortable & fit my slim foot snugly. They do fit a half size big, so I went down a half size. I am a shoe size 8 and these are a 7.5. Thing I found a little sneaky was that the "vero cuoio" embossed on the outsole. Meaning "real leather" in Italian, it made me think they were actually made in Italy. But at a closer glance(right under the toe strap that is!), I noticed the words printed "Made in China with Love". Kinda made me feel duped, but considering I paid 1/3 of the actual retail price, I can live with that. These studded statement heels were too amazing to take back for a technicality!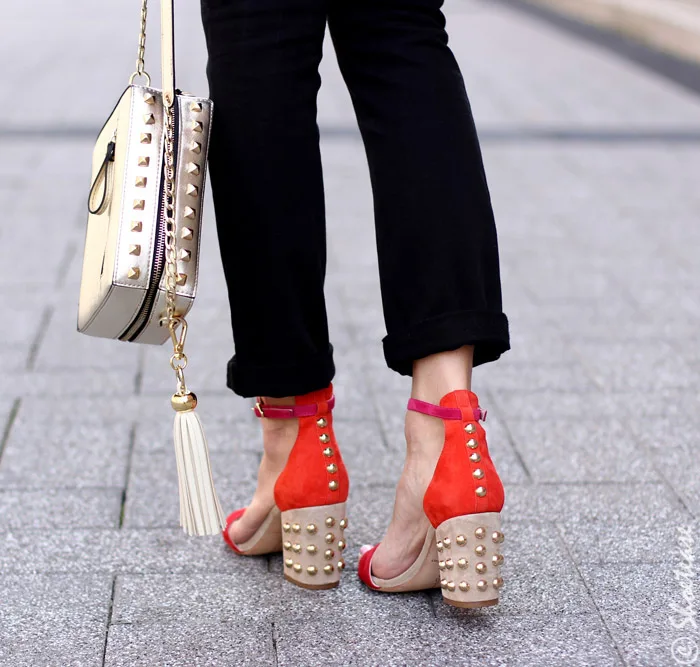 One of my fave handbag designers is Toronto-based Jeanne Lottie. Affordable, stylish, you can find a design that fits both your outfit & lifestyle. I chose to pair this shoot with a gold cross body with chain. The tone & studs complement the shoes & the style is so practical & big enough of a purse to fit more than just your bare necessities! I love how the black painted edge gives it an even more rock 'n roll feel & that the chain detail on the strap is only at the base, to avoid digging into your shoulders.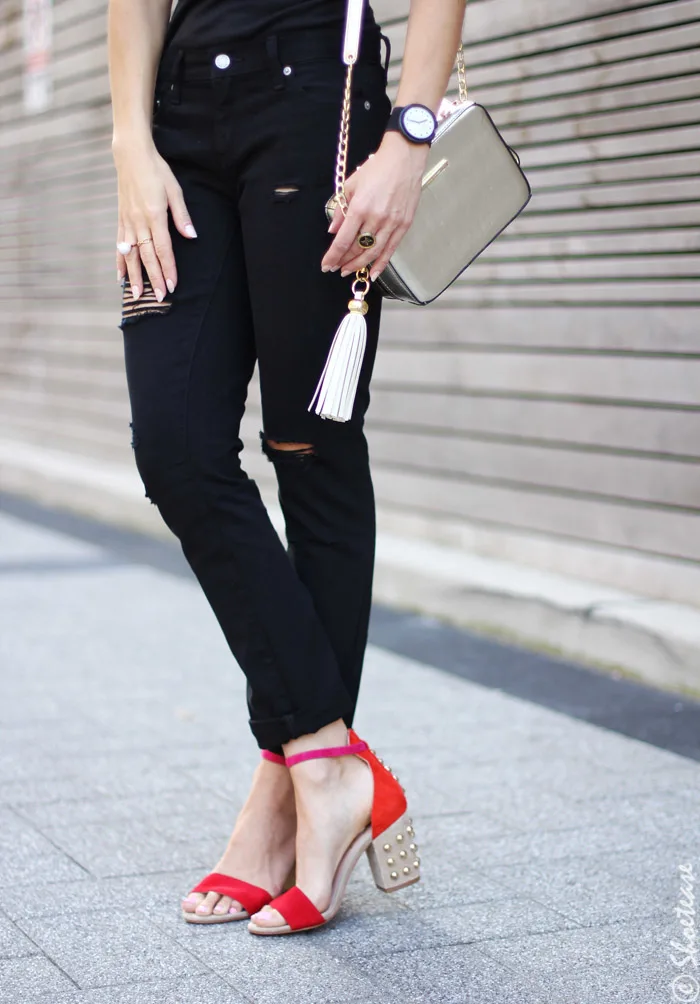 New in from Gap (where I literally buy ALL of my jeans now) are these ripped Girlfriend jeans with a straight leg. They're stretchy, comfortable & don't sit too low on the hips. I love a slim jeans that isn't too tight. A slightly "fatter" skinny jean with chunky heels is a great combo too! I'm thinking further distressing the rips with an X-Acto knife & sandpaper to mimic those $400 pairs you see around! I'll tell you how it goes 😉
Photography by Leonard Shen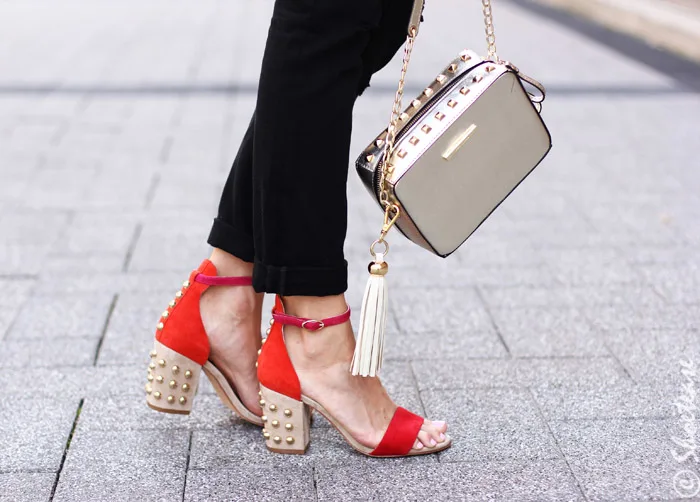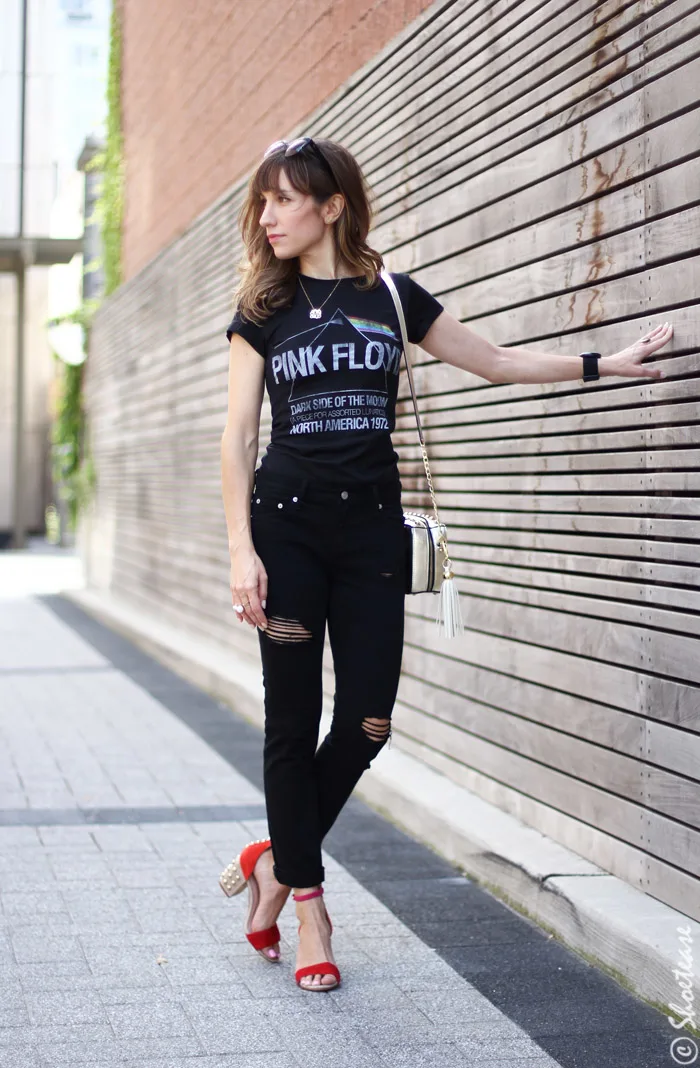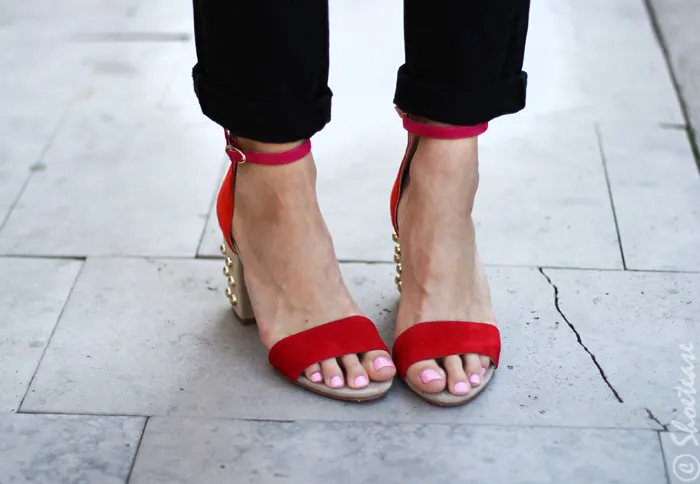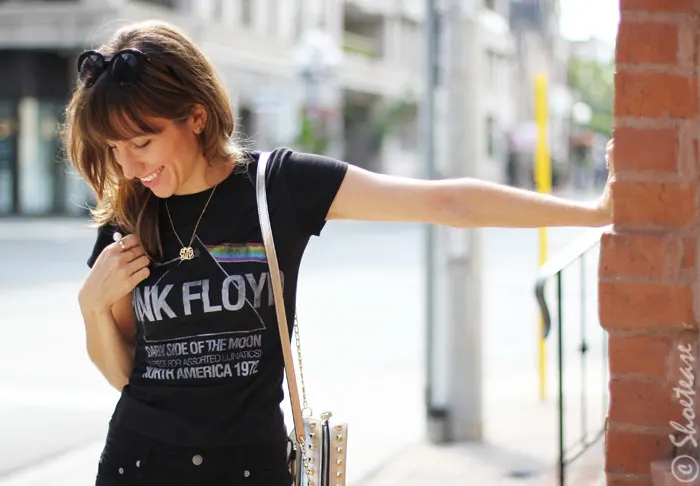 xo Cristina