This post was most recently updated on August 5th, 2015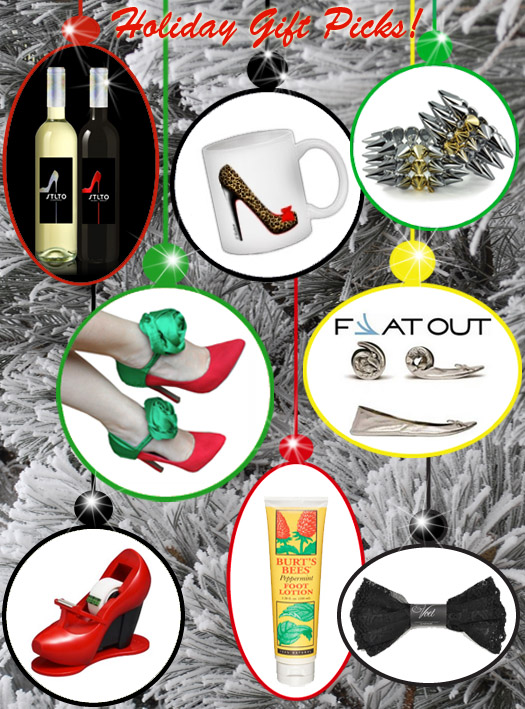 Need to stuff some stockings this holiday season, but a pair of shoes is just not gonna fit in that special shoe lover's hanging sock?! Here's a little ShoeTease help, showing you the top products that should make it onto your shoe lover holiday gift guide!
Here to resolve your dilemma are with my top picks, from foot care to shoe accessories, all available for purchase online (so you'll spend less of your precious time in line!).
Shoe Lover Holiday Gift Guide
Top, left to right:
– STLTO Wine: Glittery, sexy bottles of Chardonnay or Merlot- Stltowine.com $11.95 CnD
– SHOETEASE leopard pump with red bow coffee mug – ShoeTease Shop $13.99 US
– AVANT ROCK spike ankle cuffs by k2o by Karen Ko – Amazon $35.00 US
– HEEL CONDOMS heel decorations – Heelcondoms.com $30 US
– FLAT OUT ballerina slippers: Portable flats for your purse – Flatoutofheels.com $19.99 US
– SCOTCH MAGIC red shoe tape dispenser: an oldie, but a goodie –  $8.05 US
– BURT's BEES Peppermint foot lotion: for over-heeled feet – $14.99 CnD
– VOET Leg Bandeaux: accessorize your boots with a lace pop-out – Voet Hosiery $18.00 US
Happy stuffing shopping! See products below:

xo Cristina