If the palm motif trend hasn't cast a shadow on every other design this season, you may have noticed that pineapples are kind of a big deal in fashion at the moment. Pineapple shoes in particular, are going strong & is the exact shoe trend I'm excited to share with you today on the shoe blog!

Pineapple Shoes Trend – Spring 2017
I'm not quite sure what has us all excited about the ananas (yes, I like to talk about pineapples in French!) but there's something utterly cute & likeable about this gigantic fruit. It reminds me of summer with a caribbean twist, piña coladas & all things that are extremely appealing. To me, anyhow. I may actually be drinking the previously mentioned beverage as I'm writing the post! Seriously, don't put it past me 😉
But looking at the fruit itself; the textures, colour & funny little top hat (or crown, maybe!?), one can't deny it as a particularly darling detail sprouting in fashion & decor. Whether printed, embroidered or recreated into a 3D ornament, we can find all of them placed on various types of footwear for the 2017 Spring/Summer season.
Loads of high end designers have embarked on the pineapple shoes trend, most notably Dolce&Gabbana, Tory Burch & Gucci. These three have created some of the most incredible pineapple sandals & pineapple sneakers available this season. And if they were more affordable, I'd buy them all!
But if you're like me, fret not! I've found a few great lower end styles to suit diverse budgets, too. And if the selection below isn't vast enough, don't you worry. Next year there will be a plethora of designer copycat pineapple prints to wear on your feet, I can assure you! So keep your eyes glued to this page, as I'll be adding more pineapple footwear designs as they roll out for summer.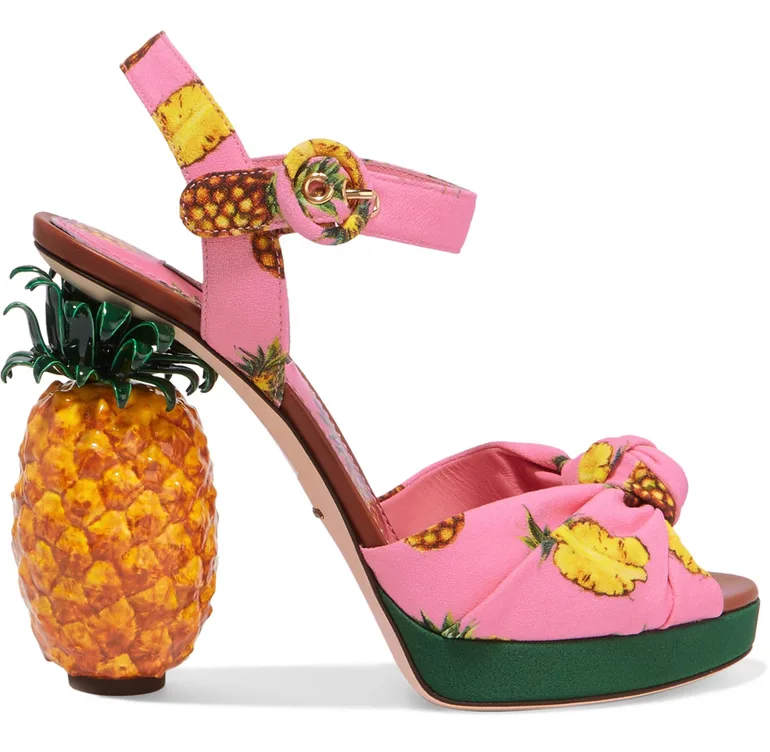 One of the most stellar examples of fab ananas shoe styling is this amazing shoe by Dolce&Gabbana. Funny enough, I thought it was a Charlotte Olympia design, due to the sculpted heel & quirky look. If anyone wants to elevate their pineapple game, these are the shoes you must have!
Be it, they come at a steep price of upwards 2K US, but they are the bees knees. Or shall I call them the fruit's feet, bwahahaha?! Dolce&Gabbana's really elevated their kitschy shoe game recently & I'm loving it.
If you're looking for something low vs a high heel, there are quite a few pineapple espadrilles & loafers to choose from too, on all sides of the price spectrum. Aquazurra makes a beautifully understated pineapple print loafer, in contrast to Romwe's bright pink loafer slip ons.
The pineapple sneakers on sale now are also pretty amazing. Like the Cougar Boots "Samba" rain shoe I featured in the first image of this post. They're like a rain boot, but look like a sneaker. Cougar sent me these, so I got to try them out.
They have been certainly coming in handy to me during these insane rain showers in Toronto! If you do like them, I would strongly suggest to size down, as they're extra roomy. You can find all of the shoes mentioned above & more of my favourite pineapple shoes, linked below:
Pineapple Sneakers, Sandals & Sporty Slides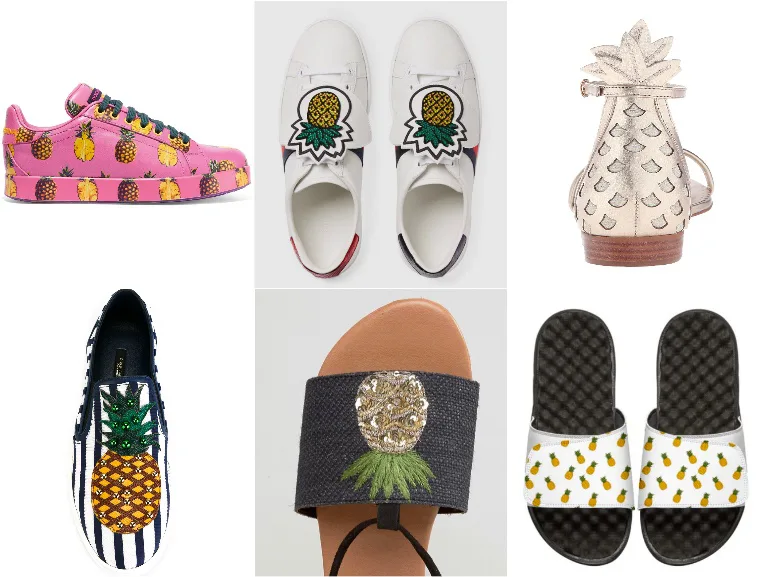 Shop the Selection, below:

Pineapple Loafers & Espadrilles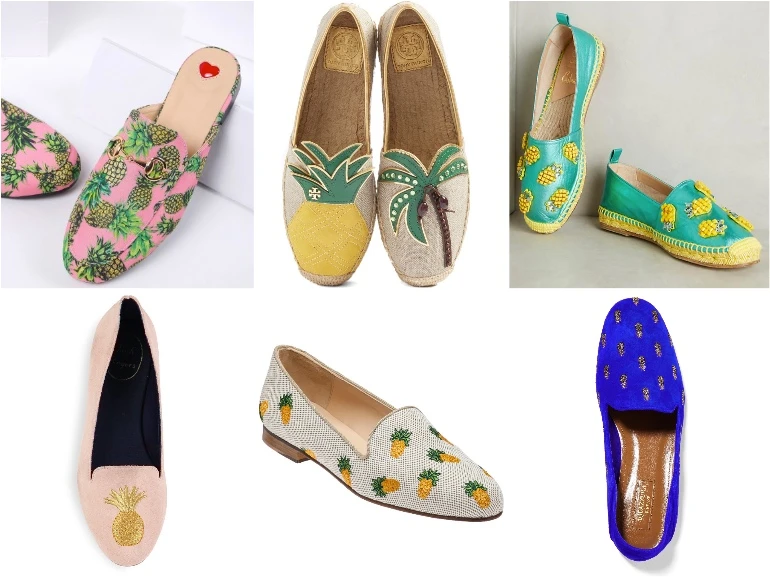 SHOP THE SELECTION, Below:

What do you think of the pineapple shoe trend: yay or nay?
xo Cristina
Cristina is the chief editor, fashion & shoe expert here at ShoeTease. As a seasoned stylist and women's fashion & shoe designer, she boasts over 20 years of experience in the fashion industry. She loves crafting effortless outfits for ladies both online and off and believes that styling advice should be accessible to everyone. Whether you're a styling pro or just starting out, Cristina's here to guide you on your fashion journey! Learn more.