What makes a girls' night out so fun? The chance to make a statement with your shoes & accessories, of course! Going out with the ladies is the perfect time take to a few fashion risks, not to mention add some extra glamorous pieces to your look.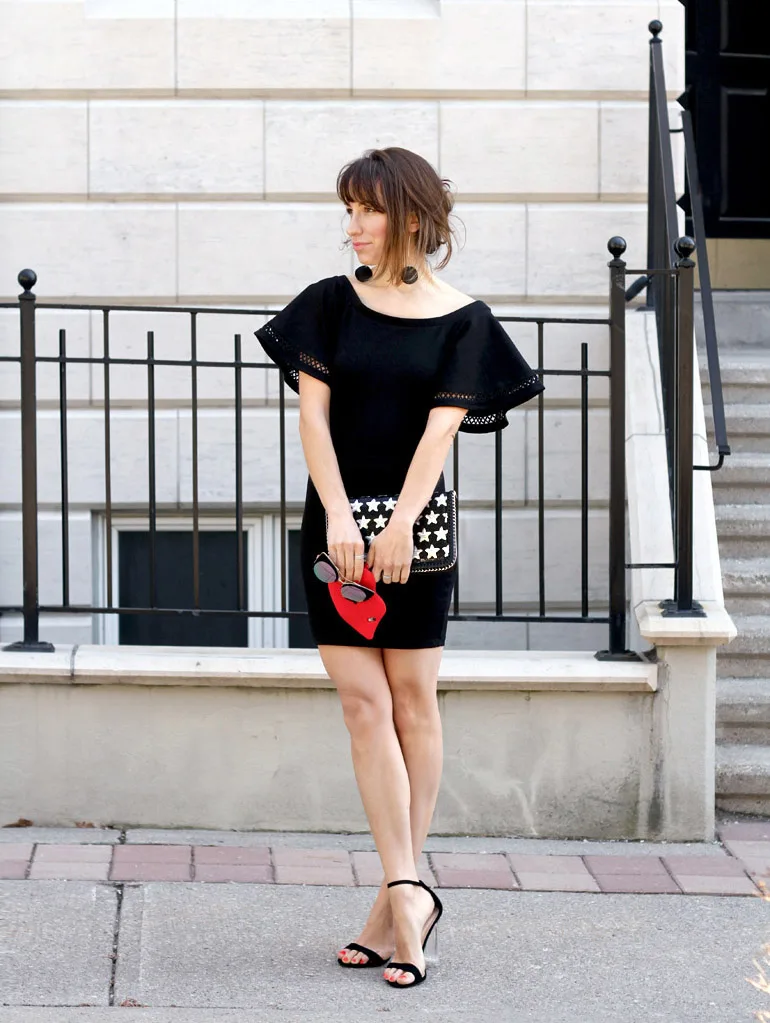 I began my girls' night out outfit shopping journey by finding the perfect pair of heels & finishing it off with these extraordinary cat eye sunnies (because who doesn't want to feel like a rock star!?). What's most amazing about this look, is that it cost just under $150. Yes!
You might be asking yourself that with such fantastic prices, I am writing another post as ambassador to Dixie Outlet Mall? You guessed right! Dixie has some über trendy stores to help you put together an outfit that shouts "life of the party"! Whether shopping for a birthday bash or bachelorette, there are a great deal of retailers to outfit you for the occasion.
Now let's start chatting about my newest party look, starting with the shoes, shall we?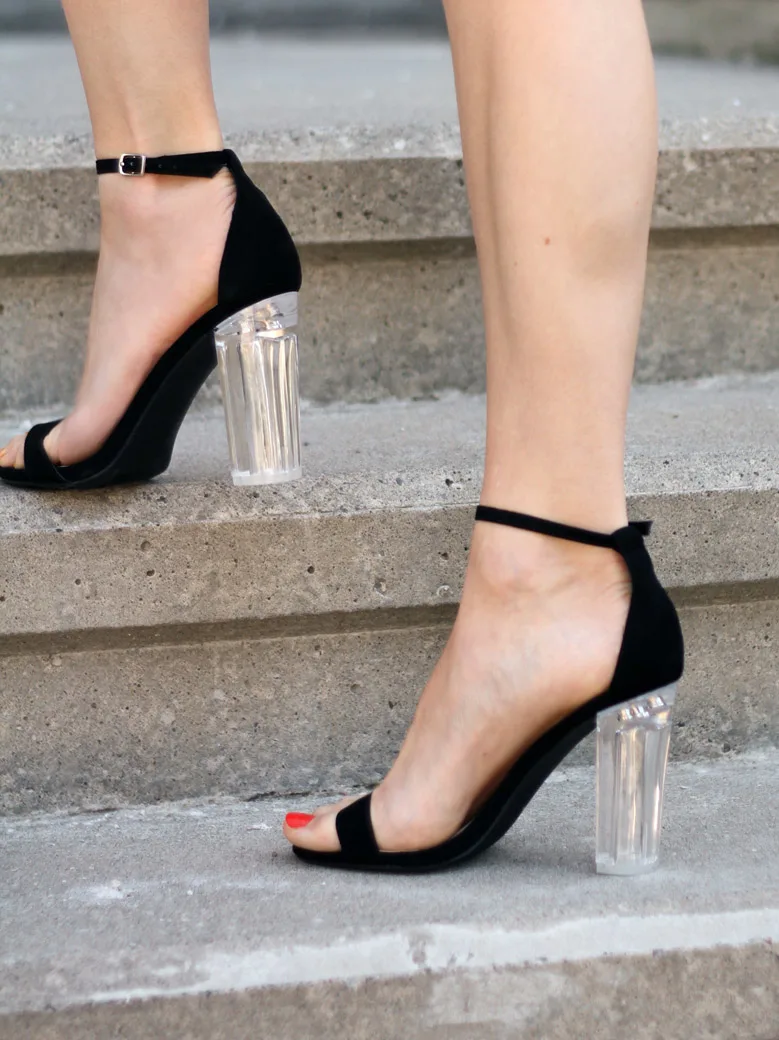 As I found such amazing flats at Sirens on my last Dixie shopping trip, I decided to pop in there again & take a look at their heels. Luckily for me, their whole wall of statement sandals & pumps was on sale for 50% off. I tried on a few styles & left with these divine strappy sandals with transparent heels.
I love how the minimal black straps keep the shoes classy & chic. I don't often say this with respect to heels, but I can actually walk in them without any strain or pain. Quite the catch for $16, am I right!?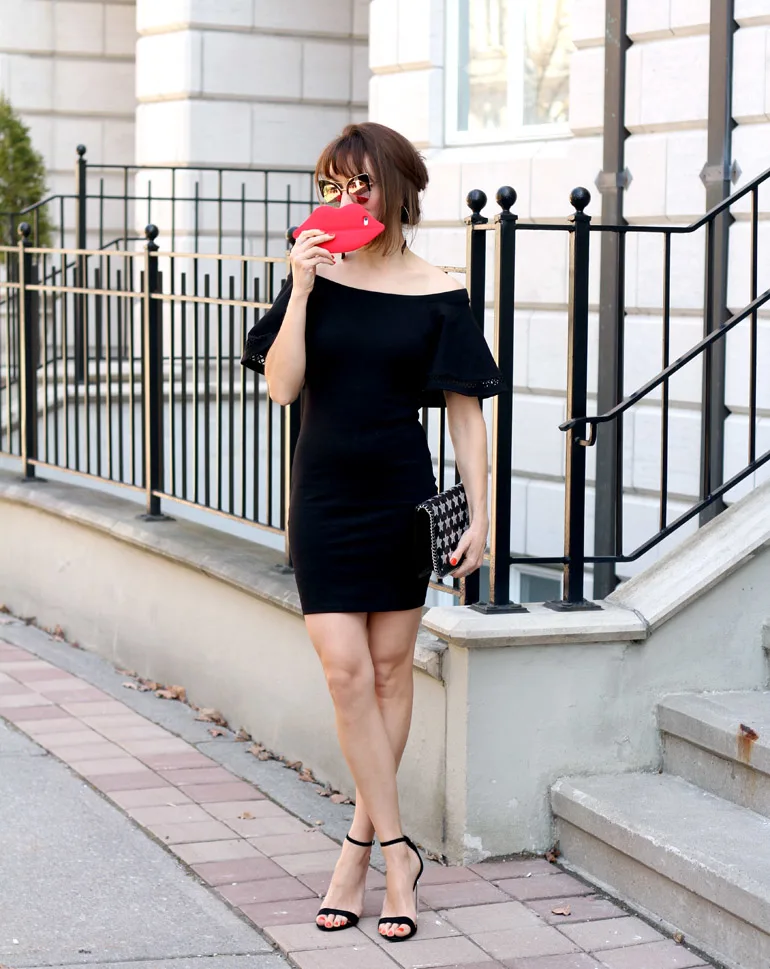 I found this wide sleeved, slightly off-the- shoulder body-con dress at Dixie's Winners. I tend to luck out at this location, always finding the perfect shoes & clothing in my size! This little black number with its show-stopping, perforated sleeves is definitely not your average LBD. And as a party dress, it should be anything but! As I'm not one to spend a fortune on items I will only wear once in a while, I was thrilled that this dress was under $30, down from $45. It certainly looks a lot more expensive!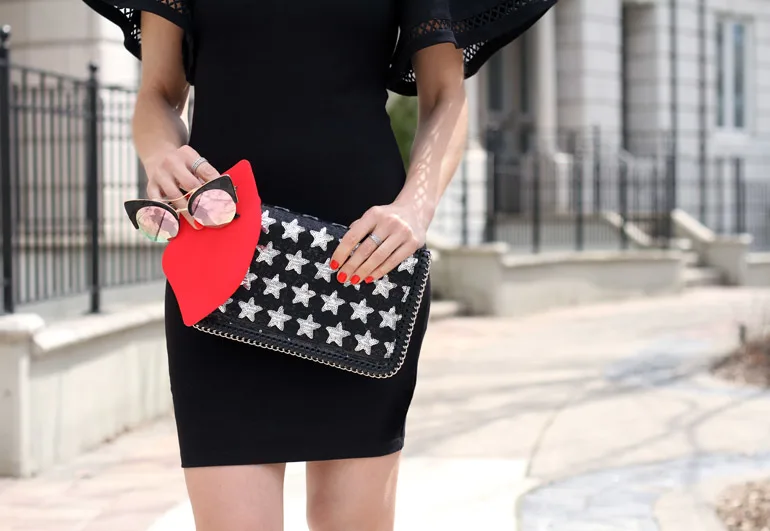 As I wanted to keep the look primarily black, this starry sequinned purse was too cute not to snag. Call it Spring has a couple of large stands with an extra 30% off the already discounted merchandise. This sparkly purse that I spotted is the perfect quirky complement to the dress. It also has a small silver chain so it can be used as a cross body purse when you want to get up & dance! Perfect for a girls' night out, right!? It ended up being half of its original price too.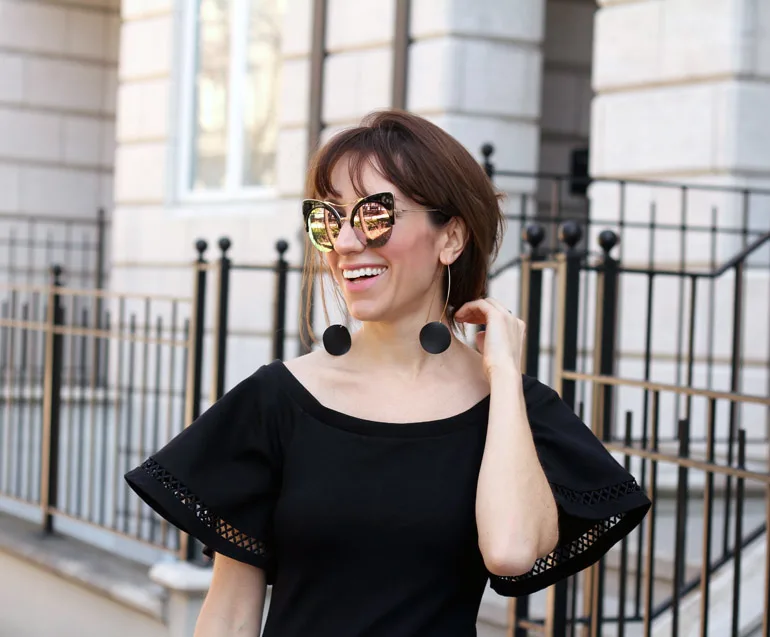 Some of the smaller accessories, I found at the Aldo Outlet. There is always a crazy clearance sale going on, so I make it a point to regularly pop in! In addition to half off their discounted shoe wall, the sunglasses & most of the jewelry were 2 for the price of 1. So, I was able to get this super cute lip-shaped phone case, mirror cat eye sunglasses & fun pendant earrings for a sweet deal!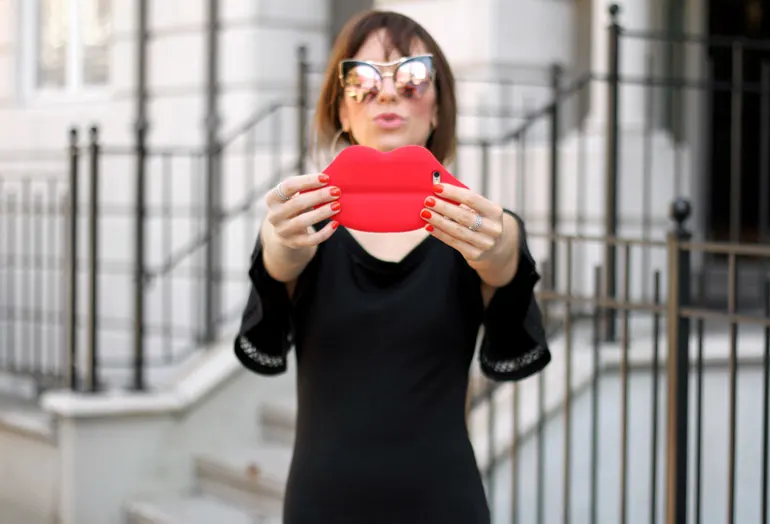 Towards the end of my Dixie Outlet Mall shopping trip, I realized some sparkly rings were in order. However, I didn't want anything too large to overcomplicate the look. So, I ventured back into Winners & found 2 sets of stunning minimal stackable rings! With one set being on serious clearance, I nabbed the whole bunch of sterling silver rings for 1/3 of their original price. Not a bad day's shopping if you ask me!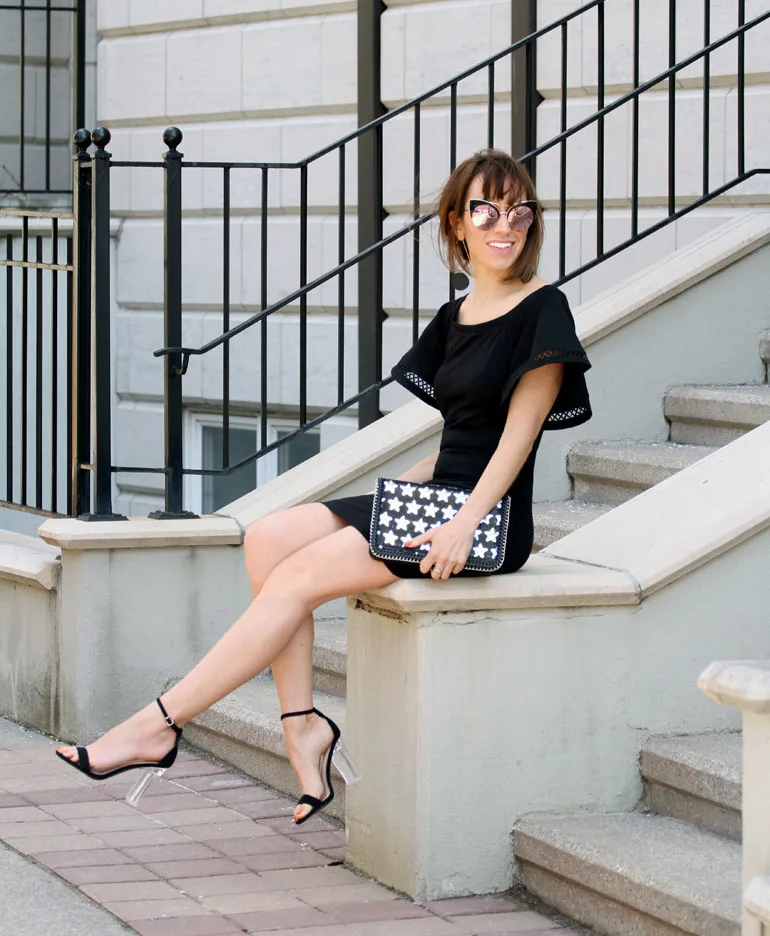 What's are your ideal girls' night out outfits? Let me know in the comments, below!
xo Cristina
*** Thank you to Dixie Outlet Mall for sponsoring this post. All opinions expressed are my own ***