Happy Mother's Day…to Me!
Scrolling through various blogs — fashion or otherwise — you've likely fallen upon many Mother's Day gift guides. This one is somewhat similar to those. Only mine has to do with what this momma wants! However, there's a high chance that these items may be what your Mom is lusting for too 😉 And it expands beyond shoes…
I love flowers & sweet cards, but I'm not gonna lie: right now I'd much prefer floral shoes & pretty notebooks to write my endless to-do lists on, instead. I would also add into the mix some cutesy (but practical) accessories to make life easier & consequently, sweeter!
So in collaboration with Dixie Outlet Mall for my latest ambassador post, I'm bringing you 5 things I truly crave for Mother's Day. So yes, consider it a little gift-giving guide from me, to me, to you & eventually to your mom. And back to you, because you'll likely indefinitely "borrow" each & every item. If mom will let you 😉
The Ultimate Mothers Day Gift Guide…to Me!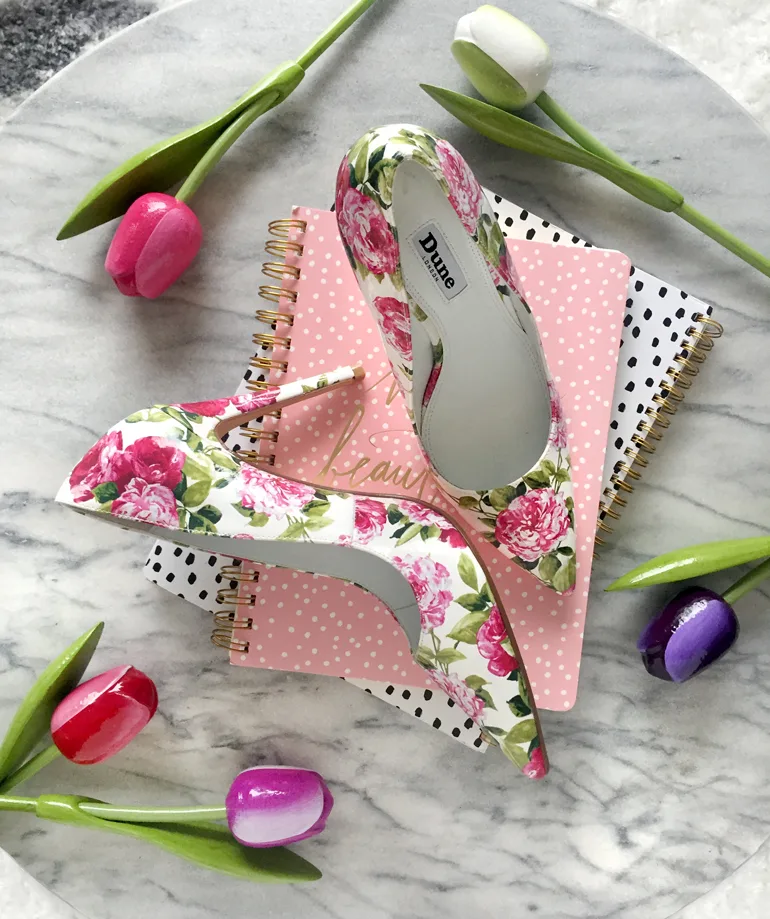 OK, so let's start off with the stars of this particular post: the Dune London bouquet pumps. If you've been on my Instagram as of late, you'll have seen the snap of a tower of pink & multi colored floral pumps. I captured the gorgeous affordable shoes at a downtown Toronto Winners location.
Many of my Insta gal pals were lusting after them, but sadly the picture was already a few weeks old. I hadn't recently seen any at that location & had to break many shoe lover hearts by announcing that they were likely all sold out…or at least I thought! Drum roll, please…
But just last Wednesday, I spotted one rosy size 8 pair at the Winners at Dixie. These babies had found their way to the outlet to be mine! And if that were not a miracle unto itself, I found them on c-l-e-a-r-a-n-c-e. I KNOW, right!? I too think it was a sign from the fashion Gods.
So to all ladies who craved these stunners, there is still hope for you to get a pair. And all for the slashed price of $52. That's almost half price, people! And yes, your mother will also love them. I guarantee it (even if just to place on a shelf & swoon over!). I mean, aren't the best Mother's Day gifts those you also want for yourself?
You know what mom will also love? The pink polka-dotted spiral notepad that will chant a golden "Hello Beautiful" to her every time she lays eyes on it. I found this discounted gem at Winners too. I do so well at this location, don't I!?
I then ventured into the Aldo Outlet at Dixie as I regularly do at this location. The extra discounted accessory shelf seemed extra sparkly, so I dove right in. That's when I picked up what looked like a belt, but on closer inspection, realized it was a bejewelled purse strap. I've been coveting one ever since I spotted them on the Fendi/Gucci/Lanvin runways.
This Aldo one has a beautiful floral motif on the underside, not unlike the one on my Dune London heels. Love at first sight + an additional 50% off the sale price = it was meant to be. A great little accessory for this mom's purse, and for yours!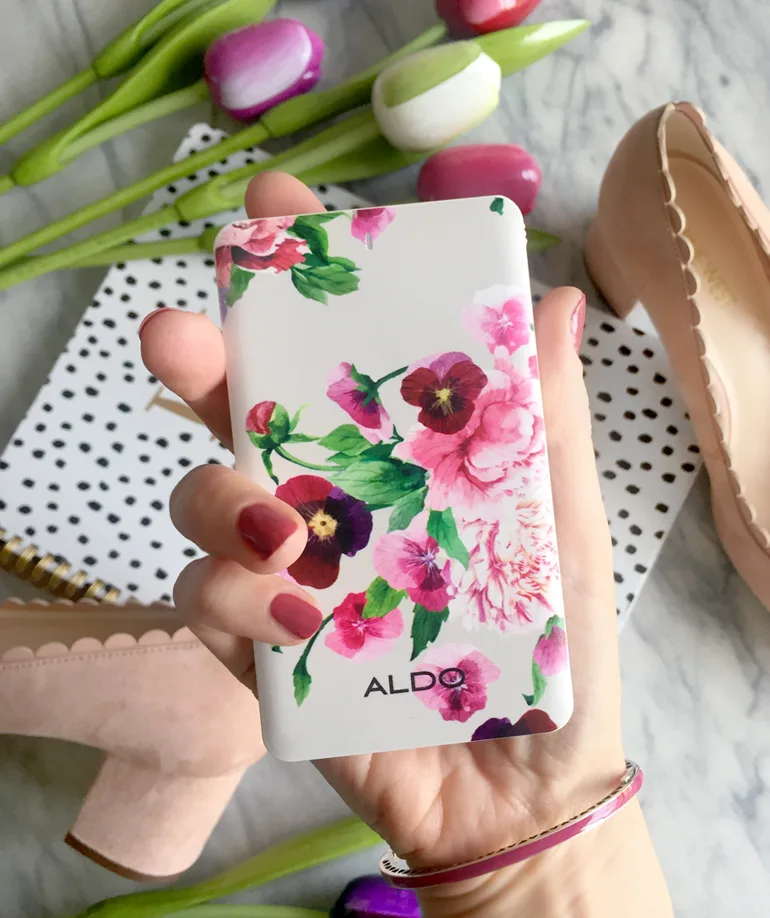 Speaking of florals, I've been in desperate need of a portable charger for my iPhone. (And yes, backup battery chargers & flowers are related, just let me get to it, will ya!?). My cell battery's been waning for the past few months, not even lasting one third of the day. Being in constant panic about finding a socket every time I leave the house is not the kind of stress I want in my life anymore.
So while cashing out my bag strap at the Aldo, the most stunning flowery charger caught my eye behind the register. And it matched my other finds! Not only was it discounted, but I realized it was already fully charged in the package. This allowed me to rest easy for the final leg of my Dixie shopping trip, while my phone charged effortlessly in my purse.
Think of how much easier (and stylish!) your mom's life will be with this device. She'll never have to worry about being left with a dead cell battery again, unable to check her Facebook feed & call you for the 20th time.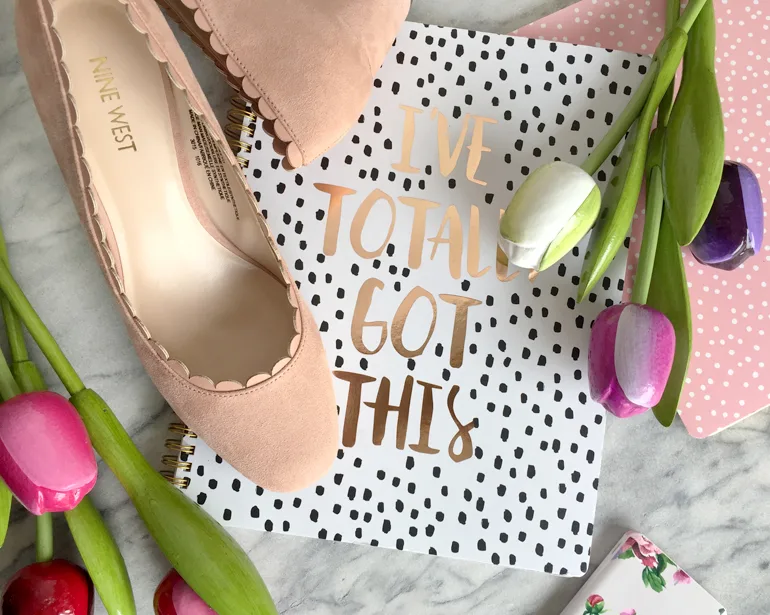 The next shop I visited was the Nine West Studio. I always take a stroll inside, because their selection is insanely vast & they always have great in-store promos. Since I've been lusting after everything blush colored lately (then again, haven't we all fallen for this rosy shoe trend?), I zoomed right in on these ballet — and Chloe — inspired scalloped pumps. And I got them! They look stellar on, are incredibly comfortable & above all, were an extra 30% off 🙂 Moms of all ages will love the chunky lower heel & neutral hue!
Although this year's Mother's Day gift guide post is of the "I want, I got" variety, my logic is this: I'm a mom. I like these pretty things. Therefore, all moms around my age (let's stretch this to roughly 18-45), will want these things too.
So go ahead, gift your mom a gorgeous pair of heels or accessories. Not only will she thank you for it, but she deserves it for all that you've put her through! Good thing you can buy her all of the above #DixieDeals from Dixie Outlet Mall for around $160. After which, you can proceed to appropriate each item from her closet/office. #YoureWelcome! Just let her use/wear them first 😉
If you missed it (and need more Mother's Day shoes inspo!) be sure to take a peek at my last shoe haul from Dixie.
xo Cristina
***Thank you Dixie Outlet Mall for sponsoring this post & contributing to my Mothers Day Gift Guide! All opinions expressed are my own**