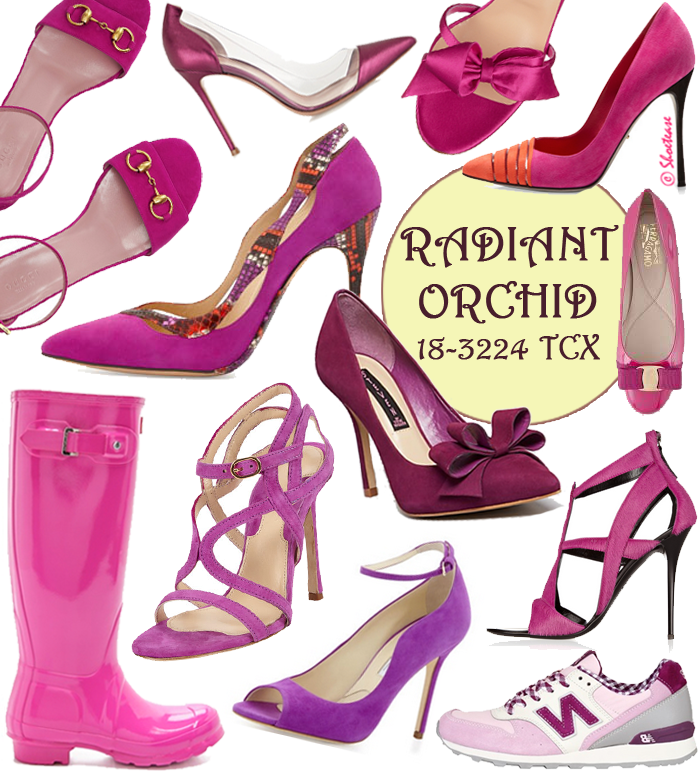 It ought to be common knowledge by now that Pantone has declared "Radiant Orchid" (18-3224 to be exact) the colour of 2014. And we all know the best & most cost-effective manner in which to implement any trend is through shoes & accessories. You can guess that the former takes priority in my books!
I've always been partial to what is now being called Radiant Orchid: that not-quite-purple yet not-quite-pink hue I like to sometimes call Magenta. There is an inviting freshness to it, with a hint of mystery which I adore: much more uplifting than purple & more subdued than fuchsia.
So here are a few pumps, sandals, boots & sneakers inspired by the newly trending colour that may catch your fancy. I could definitely use a few of these footwear designs (Hunter rain boots, New Balance sneaks & Alexander Birman two-tone python pumps topping my list!) to add a dab of colour to the the snow-laden & chilly Toronto landscape. I'm definitely feeling the winter sting & figure a little retail colour therapy could really kick up my mood a few notches!
Check out all my favourite styles in pink-to-purple shades, below. Any favourites?!
xo ShoeTease