It's been quite a while since I wanted to start showcasing what a seasonal influx of a shoe-heavy fashion blogger looks like. I mean, "how many shoes do you own" & "how many new shoes do you get" are some of my most asked questions with regards to my shoe blogging!
My New Summer Shoes for Spring/Summer 2018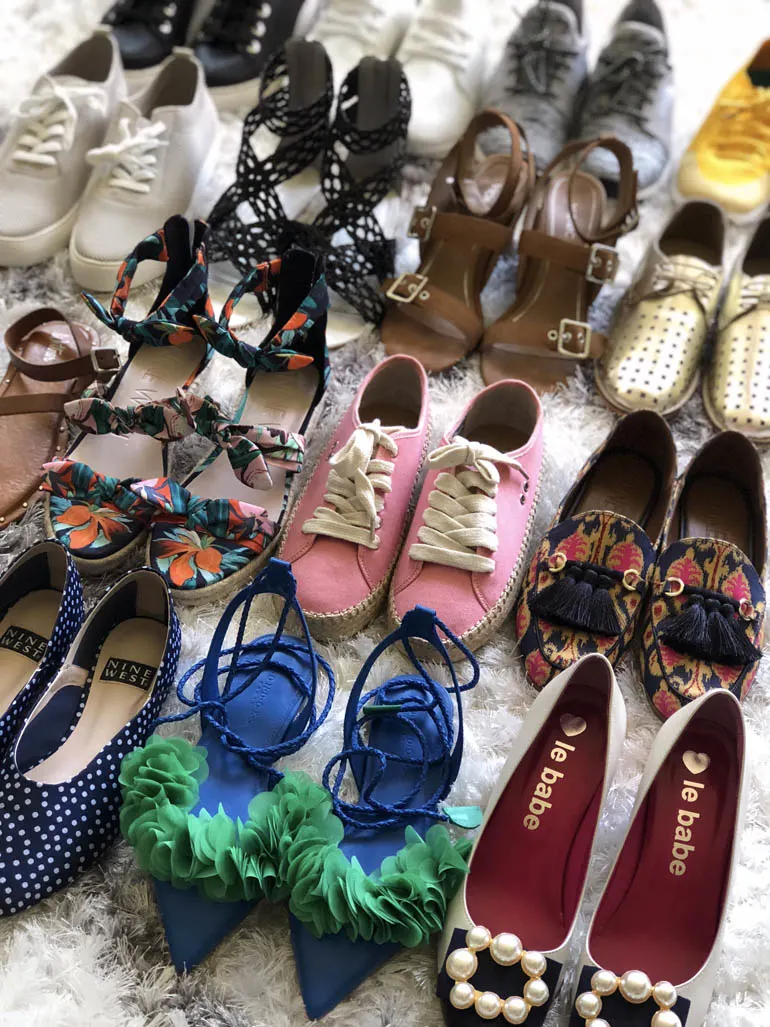 So why have I started to post about them only now? Well, it's primarily due to excuses. You know, that one more pair that still needed to arrive then that other pair right after.
And the fact that by the time most of the new season's shoes had arrived, it was time to start blogging about the next. Not to mention that I had already worn many of them & didn't deem them fit enough to photograph. So yeah, excuses!
Shop my New 2018 Summer Shoes:
---

---
But this time around I decide to just set a time for me to gather what I had so far & share the motherload. In terms of numbers, most seasons I receive anywhere from 15-25 shoes, ballpark (and buy myself maybe 1-2). A shoe blogger's life could be worse!
And we can't forget the ones I receive in between. Yep, my friends, that's a LOT of shoes! And I'm not gonna lie, I already received a few more shoes while writing this post (yikes!)! But many of the styles featured below are already on sale, so yay for that 😉
My New 2018 Summer Sandals & Heels
New heels always make me giddy, while new, walkable flats leave a perma-mark on my heart. Not to mention, flats are the shoes that I actually end up getting the most wear out of. And why you'll see a lot of these this season. I'm getting a lot more practical lol. So let's start the 18+ pair countdown with my most show-stopping new shoe styles of Summer 2018!
Shop New Summer 2018 Sandals & Heels:
---

---
1) Vionic – Carmel Heels in Saddle
Starting way on the left of the above image, are my new brown strappy Vionic Carmel sandals that I've already featured on Instagram this season & have worn a handful of times. This, btw, VERY rare, since most of my shoes get worn once, maybe thrice, in a lifetime, eek! With their block heels, adjustable straps & elevated support, these are the most comfy heels I have this season. And are on serious repeat! My wear with anything go-to heels!
2) Dondoks – Melly Sandals in Black/White
Already written up a post about these beauties in my feature about the Dondoks brand designed by Parisian showgirls/business women. These are stylish & comfortable, made fully out of leather & don't look like any other shoe on the market atm!
3) 5) Nine West Canada – Mana Heels in Blush & Black
Two of my last Nine West Canada purchases before the brand sadly left uu (insert crying-a-river emoji here!) and they're perfect. I always opted for more of their fashion shoes, but these minimal stiletto'd basics should be a staple in every woman's shoe closet.
Since they're no longer available, might I suggest Stuart Weitzman's Nudist Sandal or Steve Madden's Stecy which you I've blogged about here.
4) Nine West Canada – Floral Flip-Flops
Because plain flip-flops are boring, I opted for a very discounted NWC pair that I found at their clearance in my size. Perfect for a stylish pool entrance, yet perfectly acceptable – and altogether extra – paired with your fave easy summer outfit.
6) Wittner Shoes – Fisher Sandals in Brown
Wittner yet again, does not disappoint! My first sandal of theirs has a heavily padded insole, minimal look & lovely studded details. Straps are adjustable & are made entirely of leather (great for beating the heat & avoiding sweaty feet!).
7) Le Babe – Pearl adorned pumps
My quirkiest heels this season are a special purchase from Sanremo, Italy at a little boutique named Franco, which has some amazing AMAZING high quality Italian shoes. Le Babe made them special for the store & I snagged the last pair in my size. The sculpted, chunky red patent heels are my fave detail (well, after the pearls!).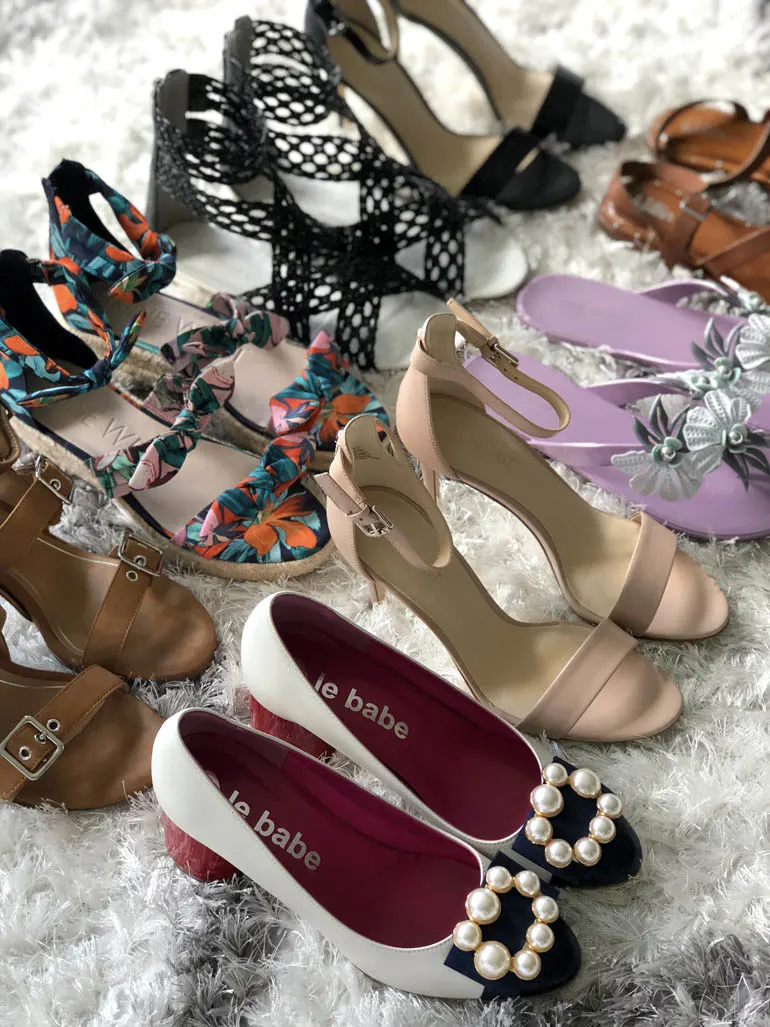 8) Nine West Espadrille Wedges
Another last pair from the NWC sale – and pictured above, left – are a tropical style pair of espadrilles with 2″ wedge & fresh summer pattern that were too cute to resist. They're a fun alternative to flip-flops or simple gladiator sandals. You can still buy them in 3 colors, on sale, here from Macy's.
New Summer 2018 Flats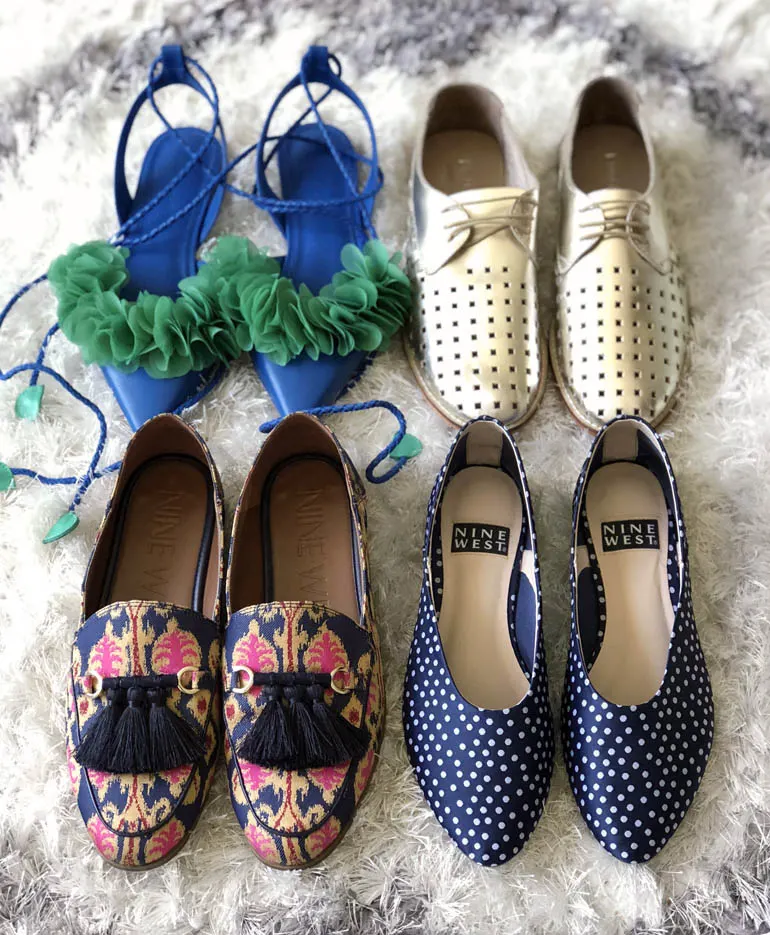 Closed toed flats are important to me for all seasons, but especially in the summers when I haven't had time for a pedicure! And I really hit the jackpot for the Spring/Summer 2018 season, because each pair is standout in its own way. Clockwise from top left:
Shop 2018 Summer FLats:
---

---
9) Dondoks, Frida Blue/Emerald flats
From the same collection as sandals #2 — and reviewed here — these Frida flats, with their floral-like embellishments are my most attention worthy shoes of the season! Currently on sale at Dondoks.com & come in a few fun and more neutral colors.
10) EMU Australia Perforated Flats
I have these same amazing, padded, all leather flats in cobalt blue from last year's EMU Australia Spring collection & I love them both equally! I haven't worn these outside yet, but the feel is exactly the same & I am sure to use (and abuse!) this pretty metallic pair all summer long.
They come in metallic silver (featured here, and yes, they do look more gold than silver in real life too) & rose gold for the 2018 Summer season. Currently on sale at various retailers, including EMU Australia's website.
11) 12) Nine West, Weslir Loafer & Flats
My last two pairs from the NWC Spring 2018 collection *le sigh* for this season. And my last ones FOREVER (cue tragic musical soundtrack). Love the Weslir tassel loafers, but the Monika polkadot retro flats, on the right — from the Nine West 40th Anniversary collection — hold a special place in my heart. They just look so darn cute!
New Summer Sneakers & Trainers for 2018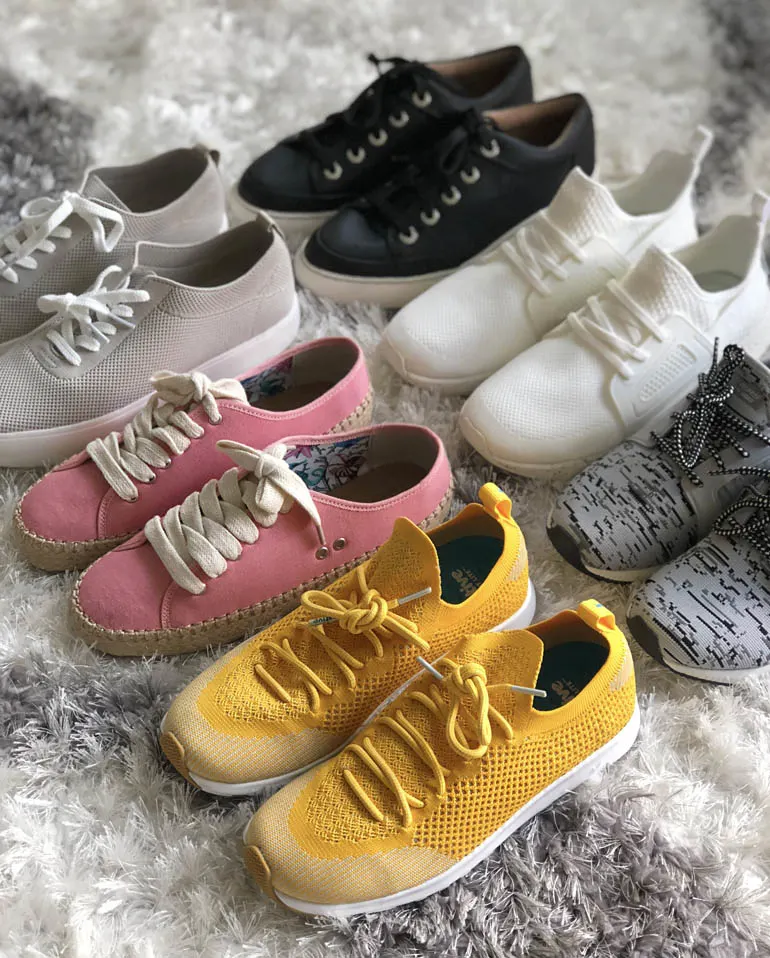 I love sneakers for summer & mesh sneakers are all the rage at the moment! As I'm currently writing a separate post about the mesh sneaker trend — featuring 4 of the above styles — I'm going to leave you with the names & links to these styles, below, but chat about the other two.
Shop New Summer 2018 Sneakers:
---

---
Pairs 13-18, clockwise from top left:
14) Cougar – Fame Sneakers in Black
These are Cougar Shoes' first foray into all leather, casual sneakers & they're great. They fit a little large like all of Cougar Shoes styles do, so I would size down. Comfortable, with a stylish almond toe, I love that Cougar is branching out into casual, non-weatherproof shoe styles. These Fame sneakers come in both black & white from cougarshoes.com. Can't wait to see what styles they come up with next!
15) Mark Nason – Dulles Sneakers, White
18) EMU Australia Espadrilles Sneakers
These EMU Australia Agonis lace-up flats in Pink Watermelon are such scene stealers! In the perfect shade of bubble gum, they will add a punch of fun to any casual outfit this summer!
---
Well that's the rundown of my new shoes for Summer 2018! Keep checking on the Shoe Blog section of my blog to take a peek at more styles coming my way.
What are your favourite shoes for the summer months?
---

---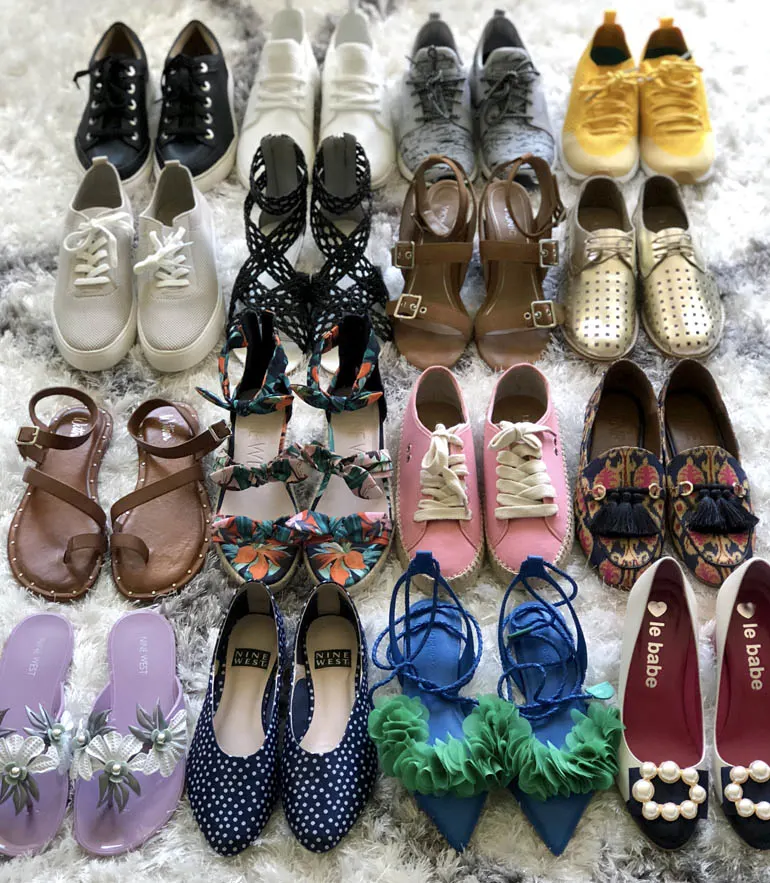 xo Cristina
Cristina is the chief editor, fashion & shoe expert here at ShoeTease. As a seasoned stylist and women's fashion & shoe designer, she boasts over 20 years of experience in the fashion industry. She loves crafting effortless outfits for ladies both online and off and believes that styling advice should be accessible to everyone. Whether you're a styling pro or just starting out, Cristina's here to guide you on your fashion journey! Learn more.