Another season & another selection of favorite EMU Australia shoes to for me to share with you! And I'm particularly excited about collection, as it offers comfort in a variety of styles.
EMU Australia Shoes – Spring/Summer 2017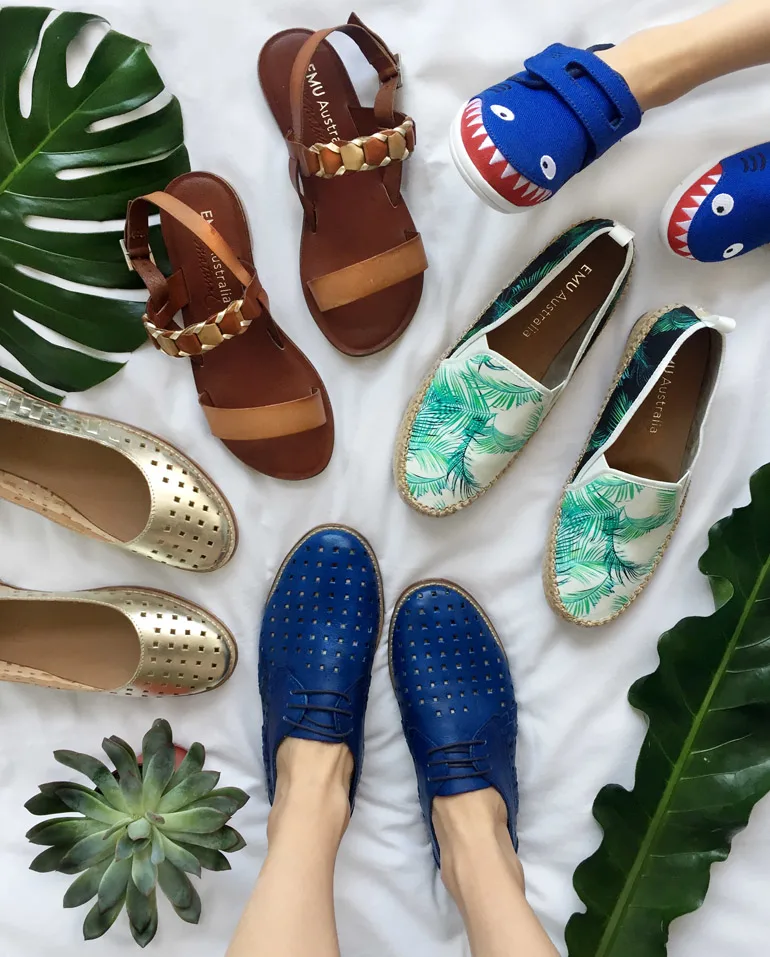 I'm most familiar with EMU Australia sheepskin boots & winter shoes, so this is my first look & feel of EMU Australia's shoes for Spring Summer. I was really excited to take a look at their current collection online.
With so many cute styles for women & children, it was hard to narrow down my favorite summer sandals, boots & lightweight sneakers. They have particularly amazing flats for women, so I opted for those.
And that's what I love the most about this entire collection this season: the shoes are light, so they won't weigh you down when the weather reaches new heights. (And hopefully it will, because we've seen enough winter in this part of Canada!).
All the styles I chose — & I expect most of their shoe do — have a leather wrapped EVA footbed, meaning that they're cushioned & soft under your feet, so you can walk further, comfortably! It's what I expect from any EMU shoe, as I've yet to find one that I didn't want to wear on a daily basis 🙂
So without further adieu, here are some of my picks from the 2017 Summer EMU selection:
Earth Tone Braided Sandals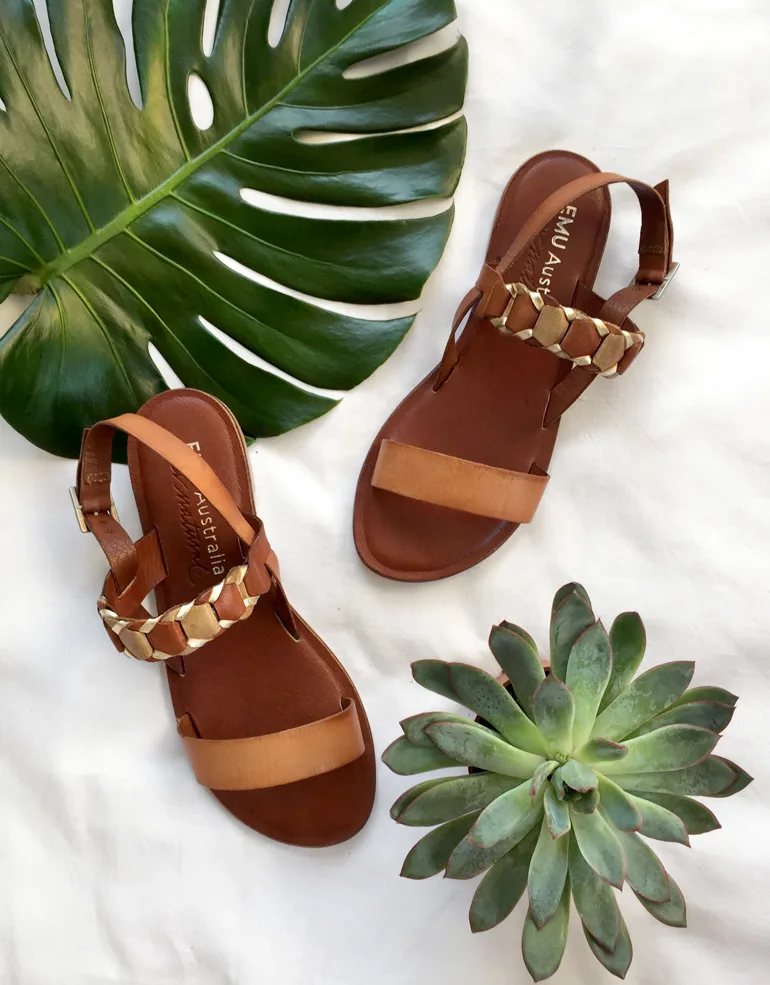 I have this wonderful little Earthy-brown purse with gold metallic hardware that I seriously wear all throughout the year. So when I saw these amazing "Fig" sandals in hazelnut from EMU, it was a match made in heaven!
I just love the metallic, two-tone weave on the upper strap. It's a simple sandal, but not too simple, if you know what I mean. These will be a casual go-to for sure, as they will pair with most of my wardrobe for the season!
Entirely made of leather, these brown & tan flat sandals fit wide, so I sized down due to my narrow foot. I'd stick with your actual size if you're foot usually fits medium-wide shoes!
Perforated Blue Oxfords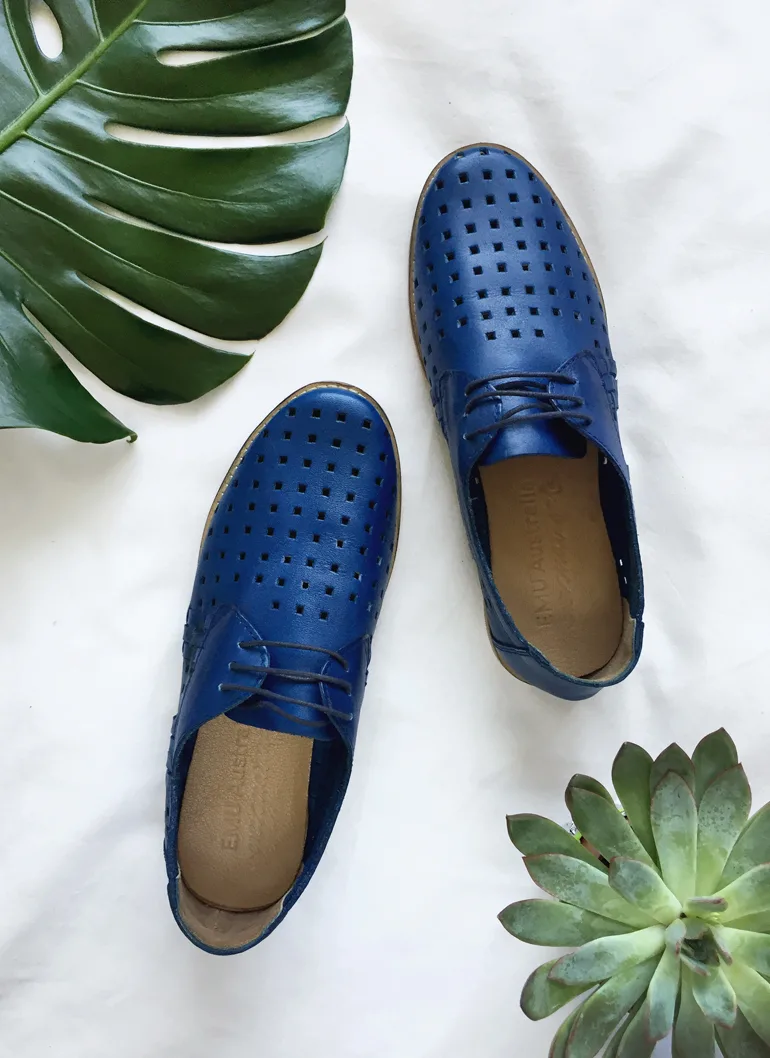 These "Lavinia" oxfords are truly amazing! They're the perfect leather closed-toe shoes for summer that allow your feet to breathe, thanks to the laser cut perforations throughout. I eyed these in metallic gold, but as they were out of my size, opted for these royal blue ones instead. And I've gotten such compliments on them so far!
You'd think the blue would be tricky to pair, but it's actually quite a great colour to wear with any color jean & most dresses, ll for a more casual look. These fit my narrow feet perfectly & are true to size. This might be the pair out of all of these EMU Australia shoes that I will wear most often, I think!
Palm Print Slip-On Sneaker/Espadrilles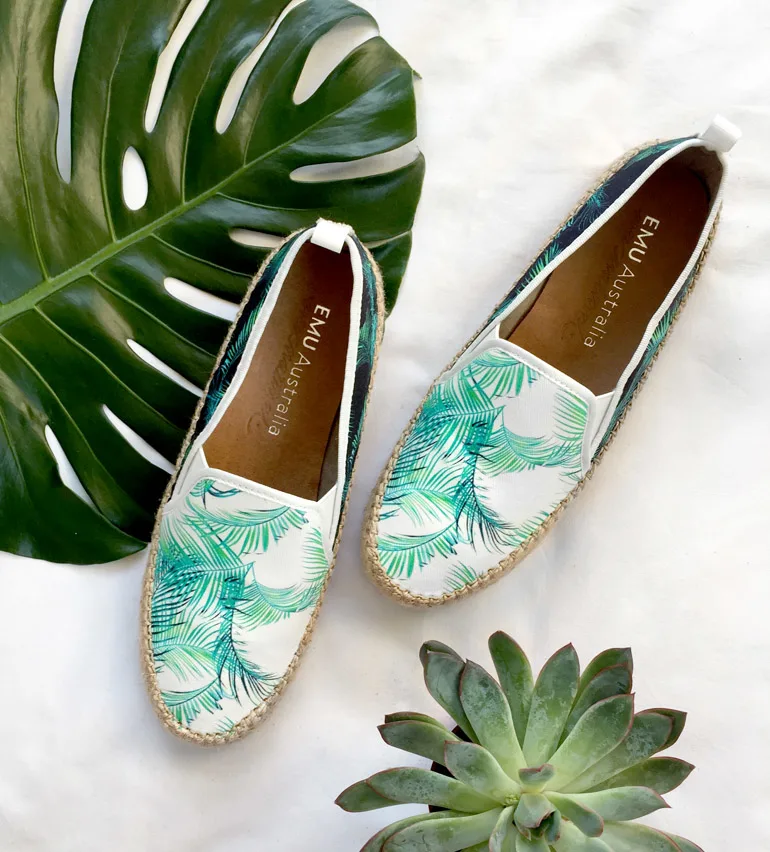 I could NOT resist a pair of these palm leaf print "Gum" shoes! They also have a dark base, lace-up version of this slip-on (called "Agonis") that I absolutely fell in love with, but I wanted something a little more practical to get in & out of when taking my kiddo to the park.
This style has a sneaker upper & rubber outsole, with the thick jute edge of an espadrilles. Espadrilles shoe hybrids have been a hit since last summer & I find them so fun & unexpected.
With these sneakers, I'm loving the light & dark palm prints used & how they are a perfect fit. Usually slip-on sneakers fit me wide, and I normally slip out of them each time I walk. Luckily these ones are not at all the case & are true to size.
You can find a 2 tone denim & all white version of this sneaker at The Bay. You can grab this style featured (along with all the others), directly from the Canadian EMU Australia site, too.
Metallic Perforated Ballerina Flats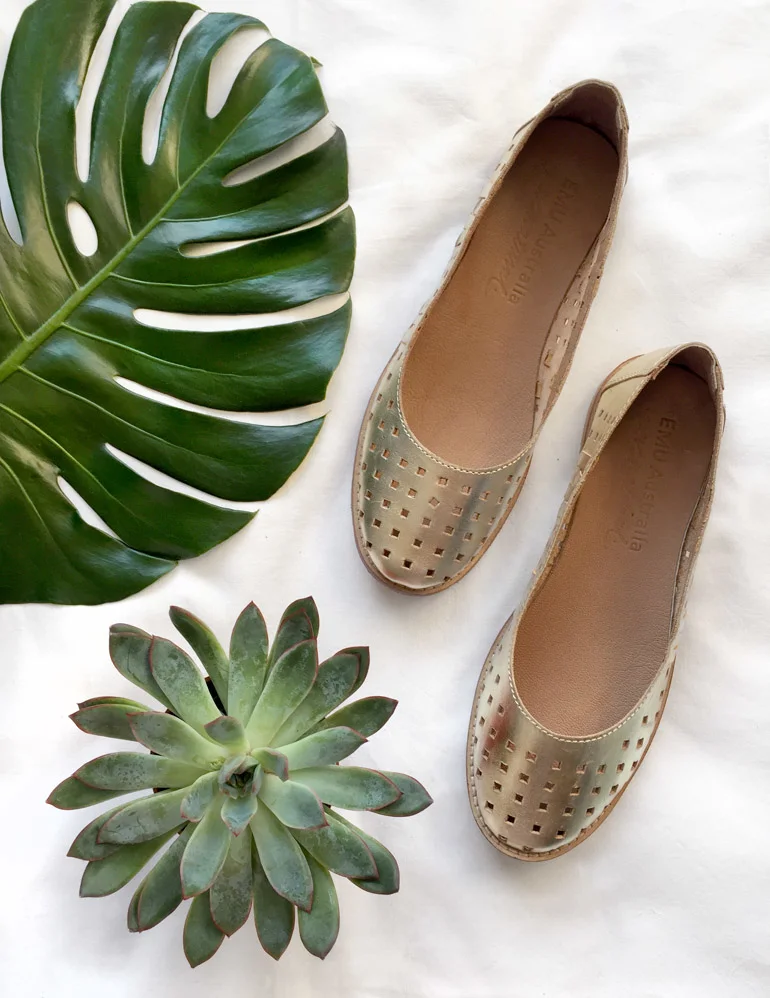 I'm always in need of a solid flat ballerina for those summer days where open-toe sandals aren't appropriate. Or when I'm in dire need of a pedi & don't want to subject anyone to my "naked" toes!
I like how these silver "Lymwood" flats have a slight gold tone to them. And yes, they are the ballerina counterpart to the "Lavinia" oxford, I featured above.
I ordered the same size as the lace-up, but this style is considerably shorter in length. I'm definitely going to use one of my making shoes bigger hacks on these! If you have a regular or larger width foot, I'd size up, or try a few ones ones. Sometimes leather shoes can vary in length & width from one pair to another.
Kid's Blue Shark Sneakers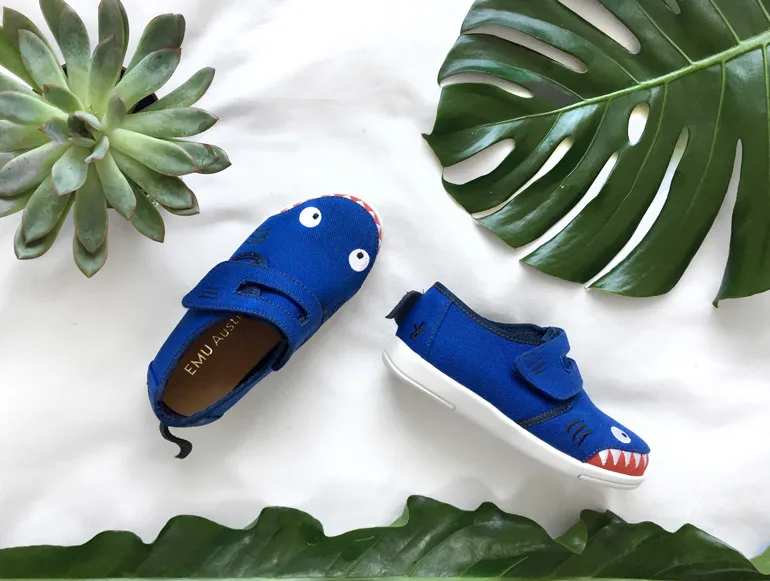 To match my oxfords with my mini, I opted for a bright blue shark sneaker for my kiddo. Actually, now that I think about it, he chose them himself from the current EMU Australia shoes little creatures catalogue!
Vibrant & fun, there's nothing not to love about these cute little shoes googley eyed, zig-zaggedy tooth baring grin & a shark tail to complete the look. With a fully cotton canvas upper & a leather lined memory foam padded insole, these adorable sneakers are a cute & practical showstopper for your little! They fit true to size.
Available in other animals for boys & girls. Check them out, below:

I love how EMU's collections each season give you a wide array of style choices in a variety of different colors. I could ease through summer with these picks, as each shoe group I need for of Spring/Summer is covered! They also have cute casual booties & high heels for the season for women. If you're into wearing boots with dresses, you should definitely check them out!
xo Cristina