I've always been hesitant about styling a dress with sneakers. And I'm talking real sneakers here (not the likes of Keds, Stan Smiths or similar athleisure styles). Which, in retrospect, has been a little silly of me, since I pretty much live in sneakers & prefer the comfort of a dress vs. pants. Especially on warmer days.
My fear was potentially looking like a skirt-suit, clunky Reebok wearing 90s commuter. Yeah, I could never pull that off. A hipster, I am definitely not!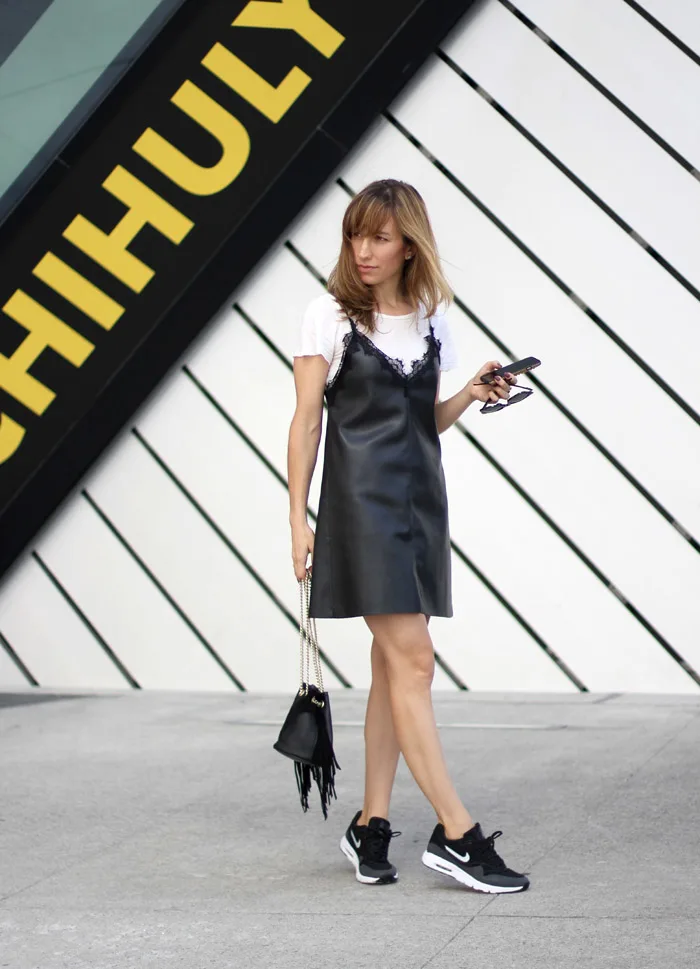 Sneakers: Nike Air Max Thea. Dress: Zara (almost identical). Purse: c/o Nine West Canada. Phone Case: Case-mate by Rebecca Minkoff c/o. Sunglasses: Rayban
---
Shop the Outfit:

---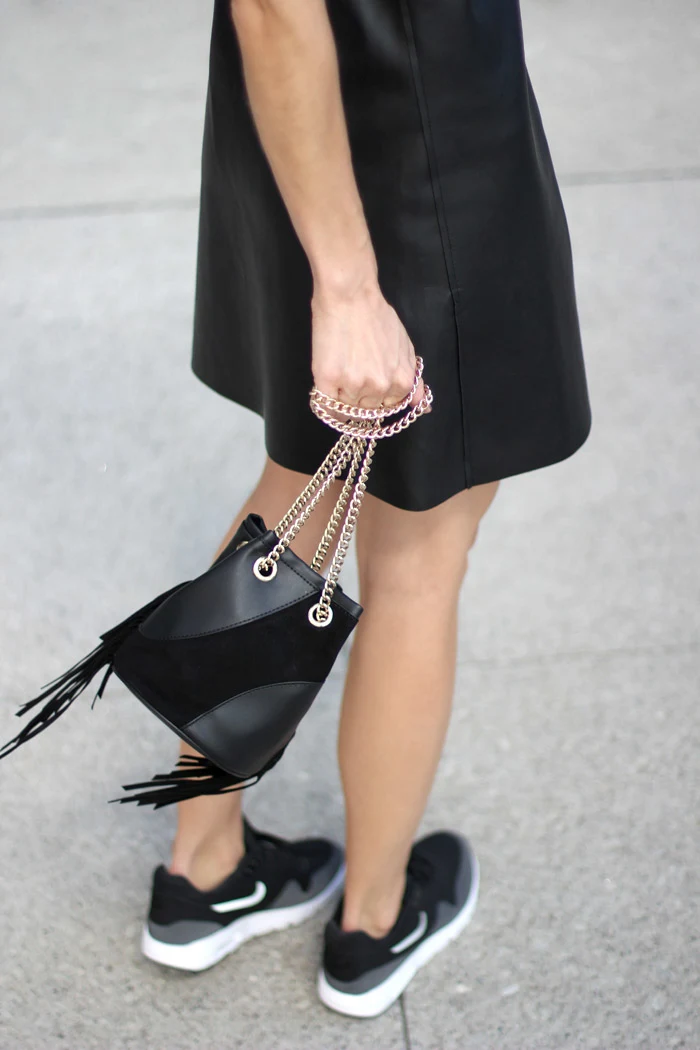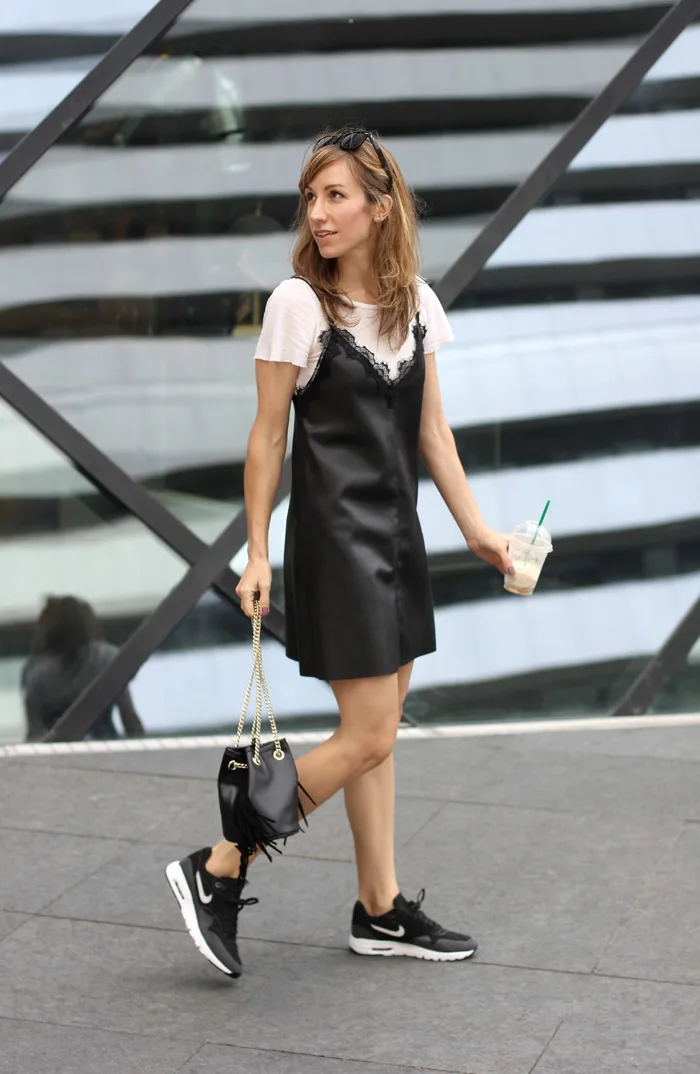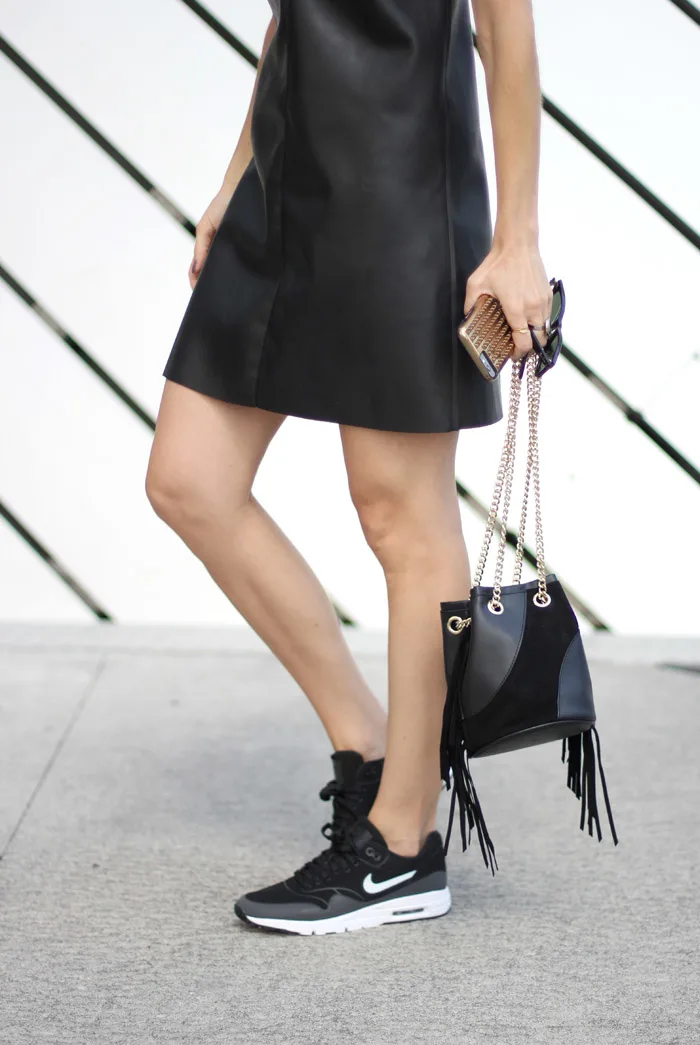 It wasn't until after I recently snagging a pair of the now deemed classics, Nike Air Max Theas, that I changed my mind about dresses with sneakers. In terms of personal styling for myself, I mean. I've always loved street style looks on others!
These might be one of the top sneakers to wear with skinny jeans, but they actually look fabulous with just about anything. Especially in a black, all white or black & white version! When in doubt, keep it simple with neutrals. Words I've definitely been living by in the last few outfit posts!
And for my first non-winter sneakers with dress post, I decided to pair my Nikes with a cute faux-leather slip dress. Just to keep things interesting! I took this little humber home from Zara last month for a mere $15 (and that's in Canadian dollars!) and thought it screamed to be paired with sneakers. Layered onto an old tee & bam, I got myself an outfit! Besides, paired with anything else, this pleather, lace-trimmed mini dress would look like something out of an S&M catalogue, don't you think?
Unless heading for a crazy night out, better keep the daytime slip dress less lingerie-like with more sporty shoes & accessories!
What's your take of pairing feminine clothing with actual running shoes?
xo Cristina
Cristina is the chief editor, fashion & shoe expert here at ShoeTease. As a seasoned stylist and women's fashion & shoe designer, she boasts over 20 years of experience in the fashion industry. She loves crafting effortless outfits for ladies both online and off and believes that styling advice should be accessible to everyone. Whether you're a styling pro or just starting out, Cristina's here to guide you on your fashion journey! Learn more.