This post was most recently updated on June 18th, 2017
Stepping away from my comfort zone with this black and white outfit, with an item as stunning as it is impractical. Not difficult to guess what piece of clothing I'm referring to, right?!
Actually, scrap that! It really depends on how much of a devout fashionista you really are 😉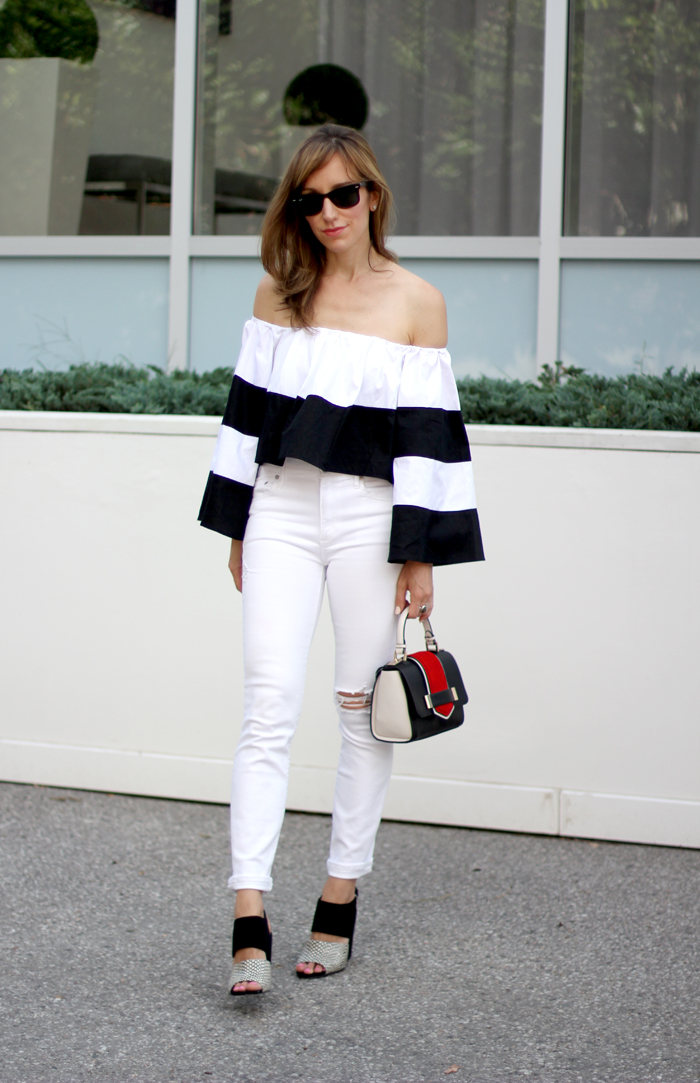 Shoes: "Oresah" block heels c/o Nine West Canada. Top: Kendall & Kylie. Jeans: GAP. Purse: Zara (Fall 2016). Sunglasses: Rayban WAYFARER. Jewels: c/o Shop for Jayu & Winners.

But before talking about all that's impractical in current a fashion, let's chat about some great items that are both useful & easily wearable, shall we? Like these amazing black and white heels with scaling/reptile print detailing from Nine West Canada. With their chunky, suede wrapped heels & many cut-outs, they're a great shoe to transition with into Fall, as they have a heavier look for the cooler season, but you don't have to worry about your feet getting toasty. Especially if your'e being subjected (and I use the term in the most thankful way!) to the insanely above-seasonal temperatures. Like we've been having here in Toronto.
These "Oresah" black and white sandals are amazingly comfortable and easily walkable, thanks to the block heels, soft materials & padded footbed.
If you prefer your accessories all matchy-matchy, check out the many two-tone handbags made with the same materials as these shoes, from Nine West. But as I tend to veer towards not-quite-so-matched items, I chose this new-in for Fall structured purse from Zara. Seriously lovely with it's red suede top & white piping. And it looks rather expensive, which makes it even better 🙂
Moving on up: my white distressed jeans have been a serious fashion godsend. They're amazingly stretchy to perfectly accommodate my crazy movements & seasonal weight fluctuations. They're also perfectly high waisted and give the best butt, ever! Seriously, I wish GAP had made them in all colors. Who needs the gym when your jeans tone your bum with no effort whatsoever?!
So finally coming to the main topic of discussion: impractical clothing. Of course, I'm referring to this Kendall & Kylie striped black and white, bell sleeve, off the shoulder top. Whoah, that's a long description! I picked it up on sale from The Bay, taking a chance on a style that I knew would merely act a show piece when I was feeling la-di-da.
I mean, I dare you to go grocery shopping or out to dinner wearing this top. Seriously, the sleeves are so full, simple movements create chaos! So. Much. Fabric. And it's actually rather cropped, so don't lift your arms too high, or you'll bare more than your midriff. Thankfully, this top is fancy & thought-out enough to have a built-in corset, to prevent any over exposure, if you will. The most practical aspect of this impractical top? It's made out of simple cotton. Love me a good natural material! And of course, the basic, but always so elegant black & white pairing.
I just love this top with it's bold lines & flouncy fabric. And bringing it all back to shoes, you can easily equate it to 5″ stilettos: they aren't good for much other than taking a couple steps to a sit-down soirée. But it's good for the soul to add a little va-va-voom in one's wardrobe every now and then, right!?
Do you often forsake practicality for fashion?
Check out more shoes to wear with black and white!
xo Cristina