Strappy Le Chateau Shoes & Black Velvet Dress Party Outfit
I haven't shopped at Le Chateau in a while, which, being Canadian & all is a little embarrassing. Even more so, considering they are now known for having amazing shoes. Yes, I'm shaking my head at myself as I write this! But I'm not one to believe all the hoopla until I experience a store or brand's product first hand. And I haven't been able to do so in a while, because I no longer live close to a Le Chateau store. Insert sulky/lazy sad face here. But after recently scouring the racks of beaded dresses & party heels on an important holiday outfit mission with two other Torontonian bloggers, I've become newly enlightened, my friends!

Sleeveless black velvet dress & strappy pumps: c/o Le Chateau. Necklace: Max&Co. Green Moto Jacket: Joe Fresh. Jewelry: Vintage.
Partying it up with Le Chateau Shoes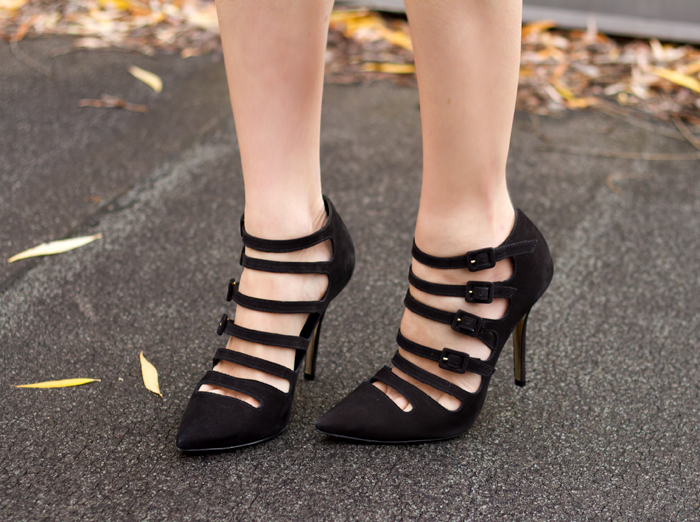 Nothing quite says you're ready to party like a festive outfit. Personally, I like to start the party with my shoes. None too surprising, I know! And although metallic heels & glittery pumps are both great choices for the holidays, having been there & having done that, I opted for something a little different. Yes, black is class & classic but is often equated with 'boring'. Especially for party season. But not this time around! I mean, how about these multi-strap pumps from the Le Chateau Luxe collection to fancy things up? With their fine straps & delicate leather covered buckles, I feel like I'm literally wearing a party on my feet! Not only are these shoes made in Brazil & out of actual leather uppers, but the gilded shimmery gold outsoles a the perfect amount of holiday shine. Talk about making a fancy entrance and exit!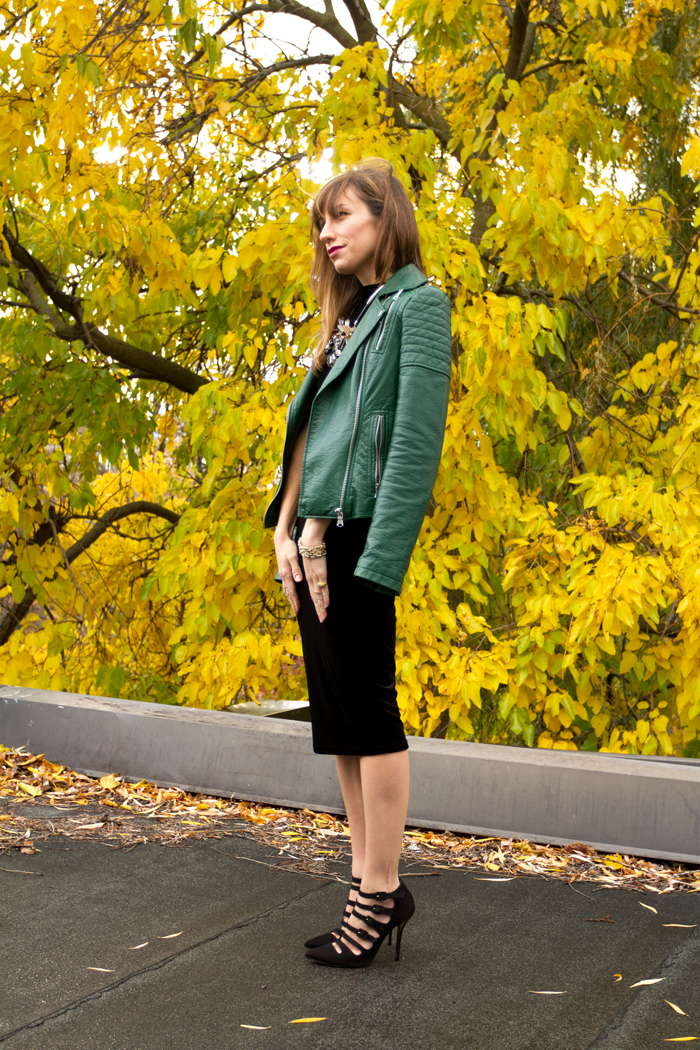 These might be the easiest 4″ stiletto heels to walk in & by far the most spectacular pair of black pumps I own. I must say I had difficulty choosing just one pair to snag from Le Chateau Shoes' section, but needless to say, this sexy style topped my list. I've been eyeing the tan colored version too, but the jewel embellished shootie & tie-front leather sandals from the current Fall 2015 shoe collection are also etched in my heart. Check them out below: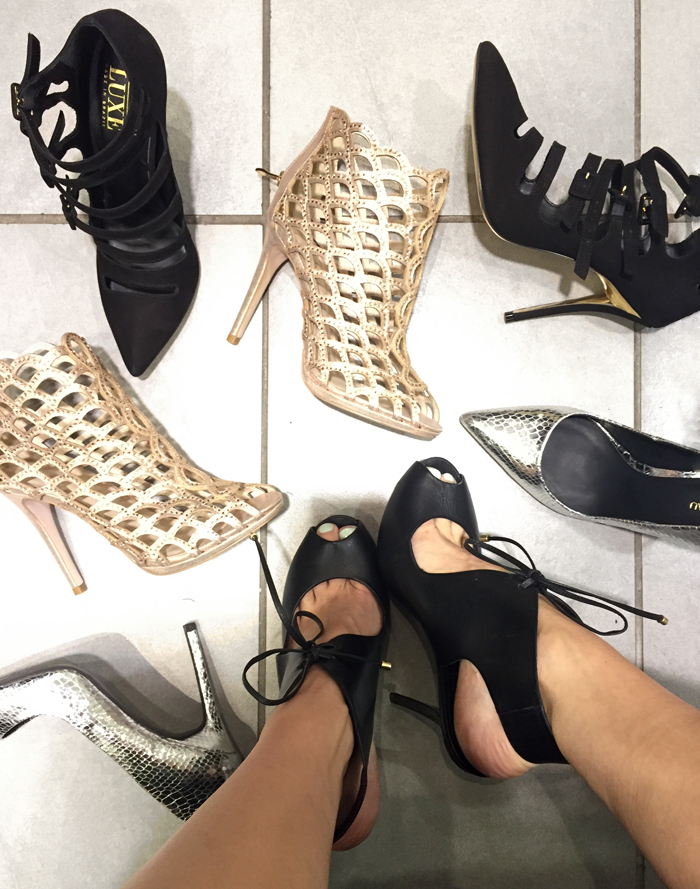 These strappy pumps can look great with any color or type of dress, as seen in last week's holiday jewelry photoshoot. But this time around, I wanted them to take centre stage. So I opted for a versatile black no-fuss dress. Less of a fit & flare dress kinda gal, I was happy to come across this bodycon made out of super stretchy black velvet material. The photos do not do this little black dress justice, but trust me when I say the texture is rich & dreamy! The perfect dress to complement a statement necklace (in a fashionable material no less) that you can easily dress up or down. And last but not least, it fits me like a glove! No alterations needed for this extremely flattering sleeveless mock neck number. It's like wearing full on Spanx dress, no joke!
Take a look at other shoes styled in the fashion & street style section of the blog. And if you love LBDs, check out the most fashionable shoes to wear with a black dress, here. Of course, these strappy Le Chateau shoes are definitely on the list 😉
xo Cristina