Nothing better to step-up your shoe game than by looking ahead, right? So why not peruse the best runway shoes from Fall 2015 & let the fashion shows inspire you months in advance!? Top tier designers showcased their best & brightest on the recent New York, Paris, Milan & London runways for the upcoming Fall shoe season.
And although it was tough, I narrowed it down to 15 shoes, boots & high heels that'll (almost!) make you wish the Spring/Summer season were about to end! So here are the best fall 2015 shoes (in no particular order of preference), from the hottest runways worldwide:
15 Best Runway Shoes From Fall 2015
1. Giambattista Valli Lace-up Boots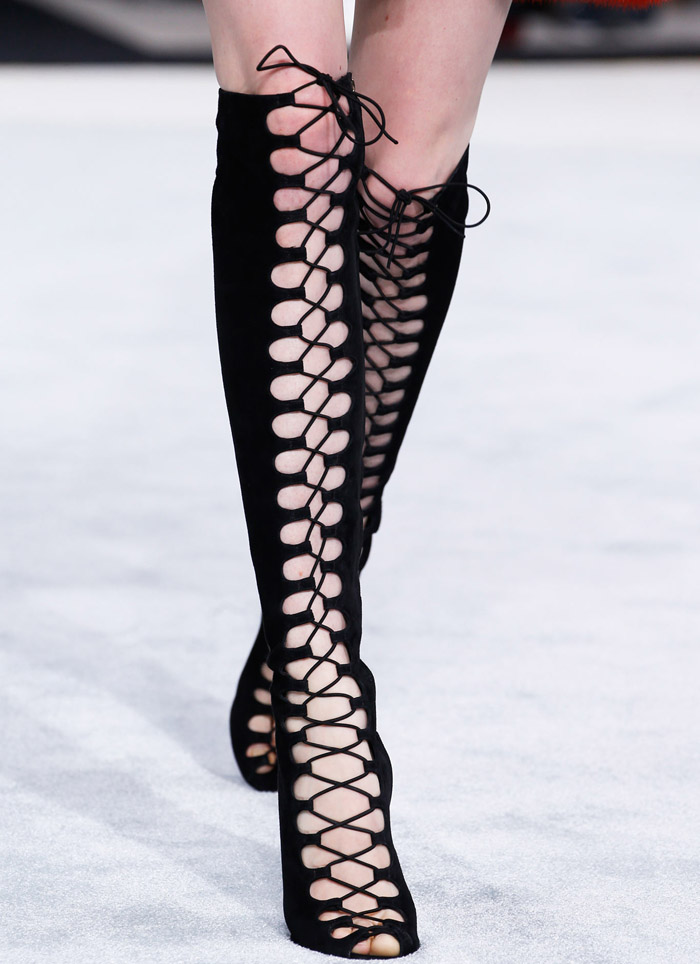 If I were to pick one designer shoe or boot from the collections to add to my shoe closet, this would be it! Sexy & beautifully proportioned, this insanely laced-up, over the knee boot with a slightly open-toe does it for me!
2. White Louis Vuitton Heels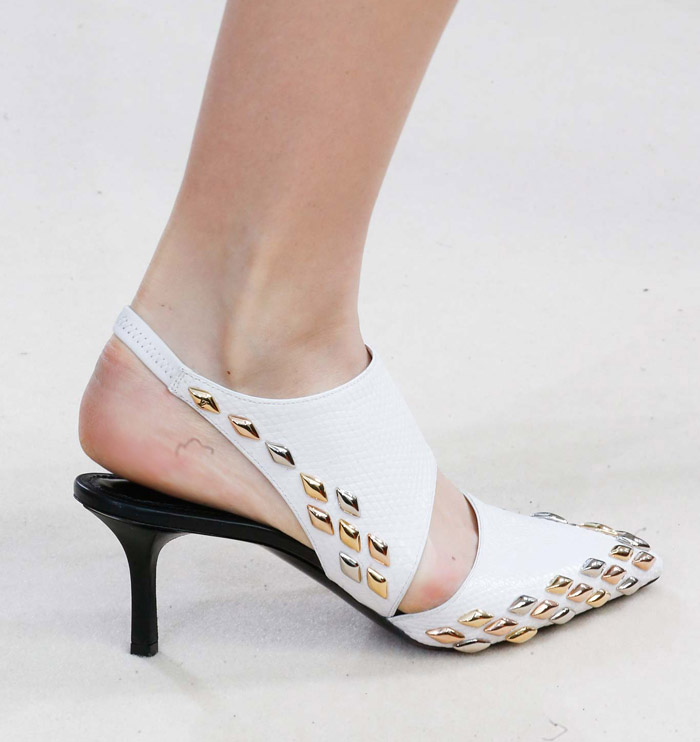 I love white shoes & this sling-back heel from Louis Vuitton with added silver & gold diamond-shaped studs is just spectacular! The contrasting black heel & outsole/insole is a nice touch. And it's also a heel height that is walkable, which adds points for me!
3. Maison Martin Margiela Fur Mules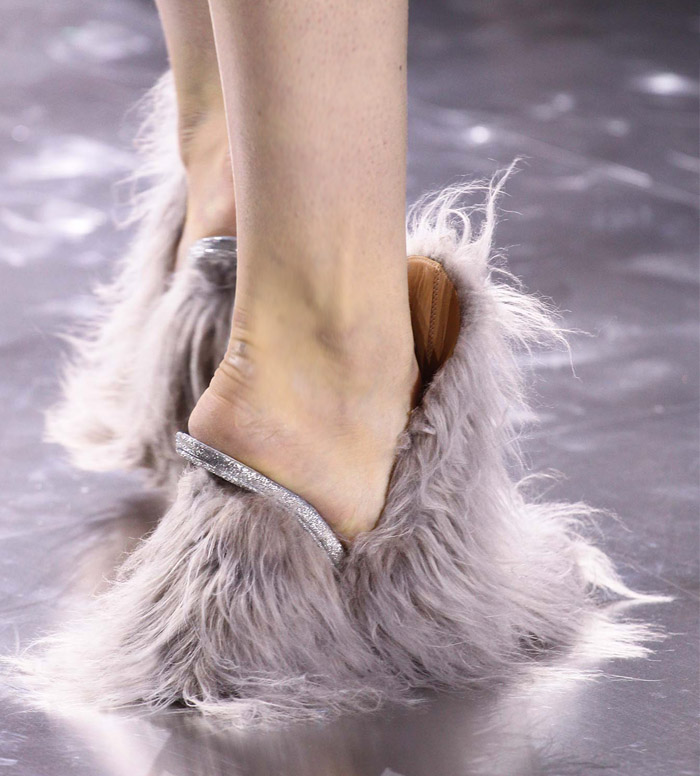 I have a history of disliking furry shoes, heels & boots. I also usually dislike Maison Martin Margiela footwear in general, which is usually frumpy & far from sexy. In this case, maybe it's the lavender or the silver glitter foot bed, but I'm actually loving these mules! I know, "what the heck" right? Maybe a few screws have come loose in my noggin', but I think these shoes are kinda cool. The remind me of Kelly Osborne's hair, which I rather like. Would I wear these fur mules in public? Probably not, but I'd proudly parade through them my home (and surely they'd keep my feet warm, right?!). Oh, and these come in mint green too. Just in case you're interested.
4. Altuzarra Embellished Heels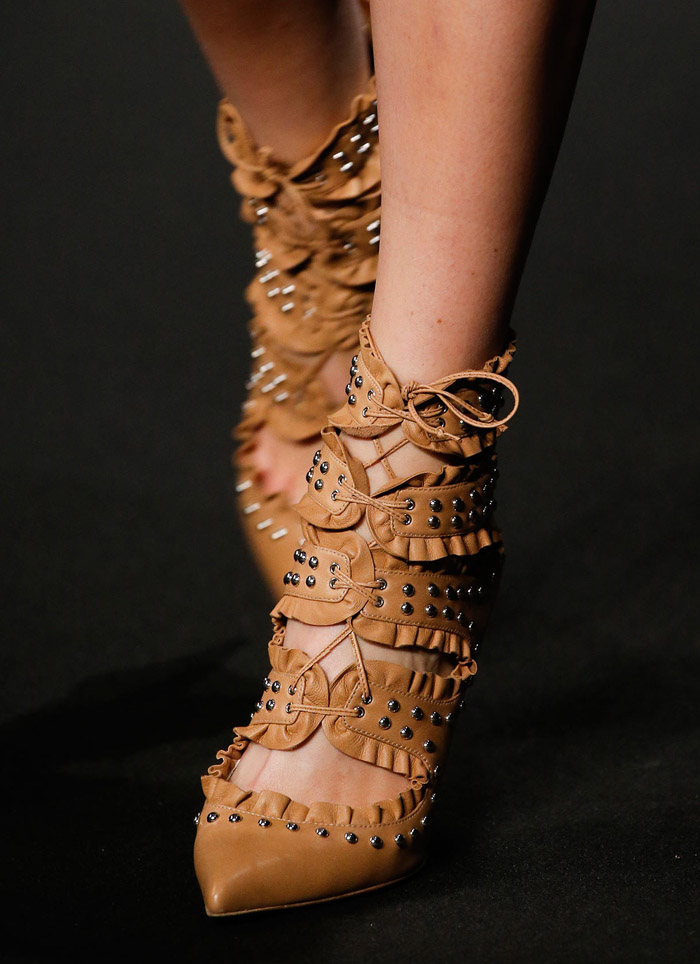 Studs+ rouched leather + laces make this shoe an unbelievable one. The details are so delicate & perfectly balanced. Flawless. I want!
5. BOSS Ankle Boots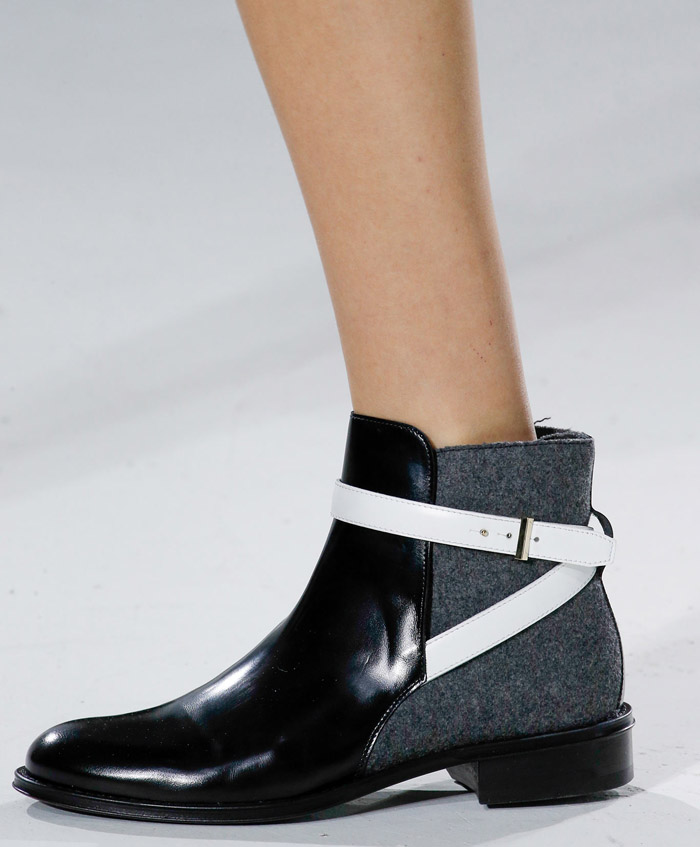 This tri-material BOSS ankle boot is a nice, demure departure from the rest of the somewhat outrageous Fall 2015 shoes with their extreme high heels & proportions. It has a great shape & the white straps add just enough flair. Love the glossy black vs. the matte grey flannel.
6. Burberry Prorsum Fringe Booties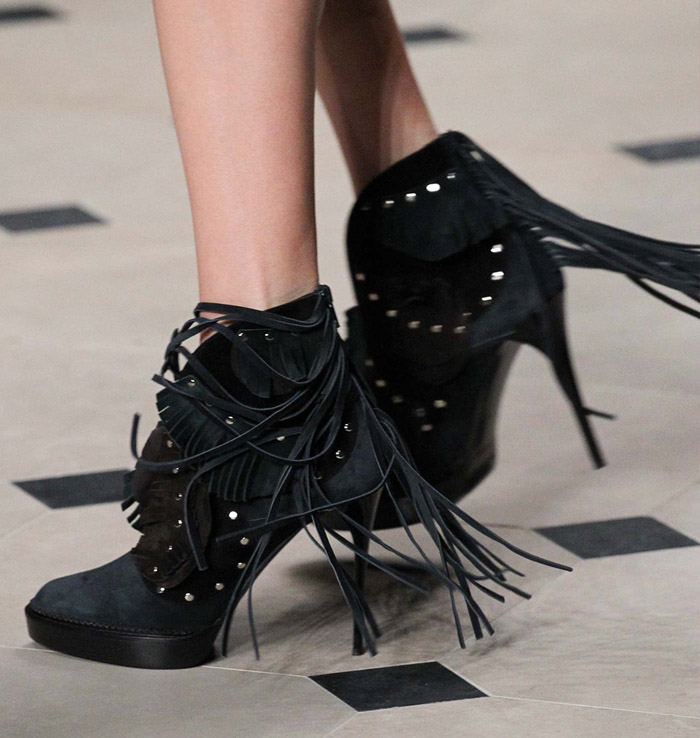 These are just wicked cool, with their double dose of fringe & whatnot. Happy the fringe shoe trend is not dead for Fall 2015! I can definitely see these on Anna Dello Russo or similar street style star, looking for photographers' attention via their statement heels.
7. Emilio Pucci Embroidered Thigh-Highs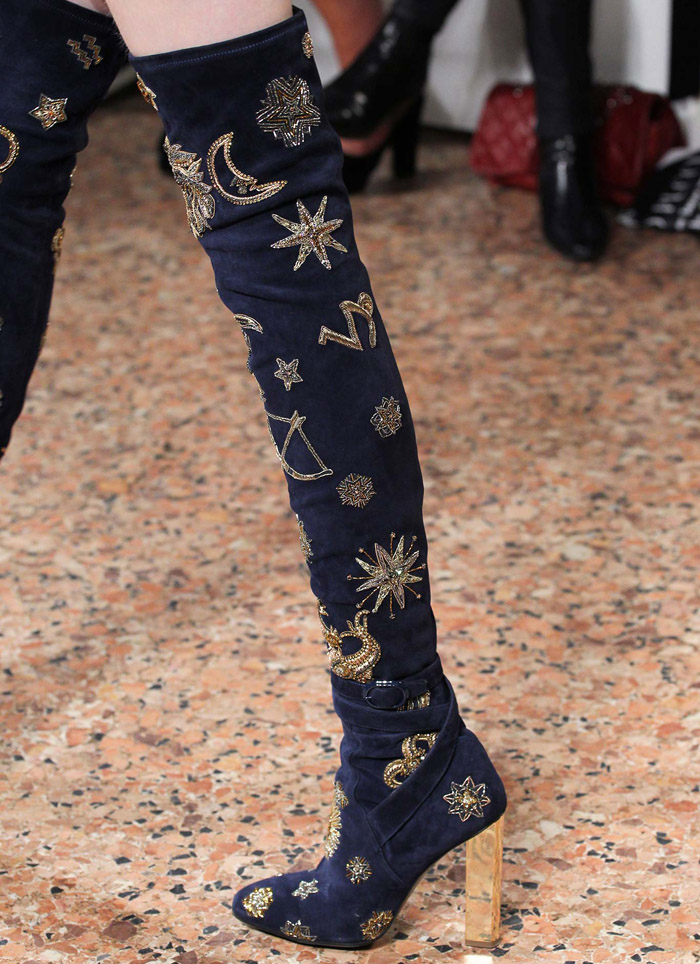 Astrological embroidered signs? Thigh height? Mirror gold chunky heels? Why, yes, yes I would!! These velvety purple & gold boots are just spectacular with just the right amount of tacky. Definite show-stoppers & right up there, on my best runway shoes from Fall 2015 list!
8. Rochas Beaded Pump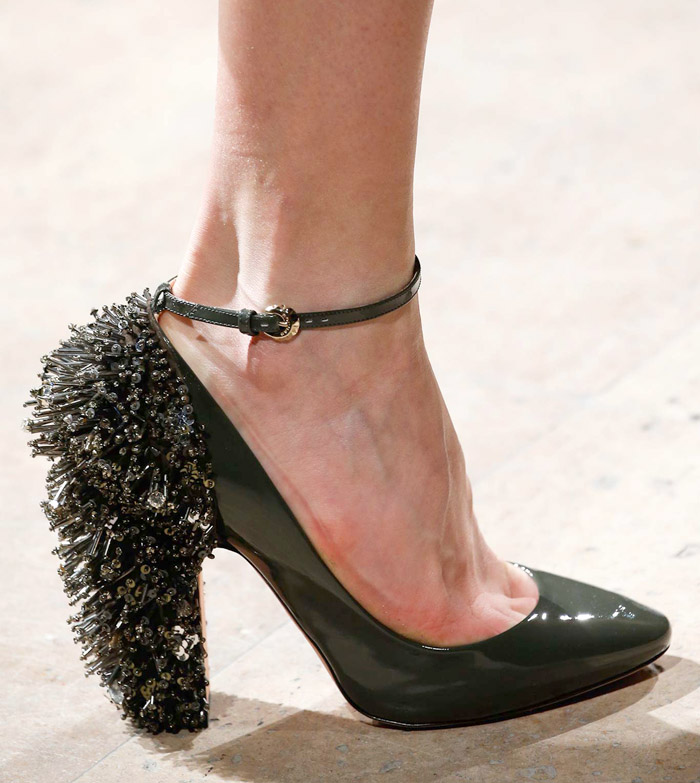 Rochas is another high end designer who usually makes the fugliest or most fantastic shoes possible. These chunky spikey heels might be a little extreme, but the subdued moss green color & balanced proportions make this a kick-@ss shoe in my books!
9. Proenza Schouler Sling-backs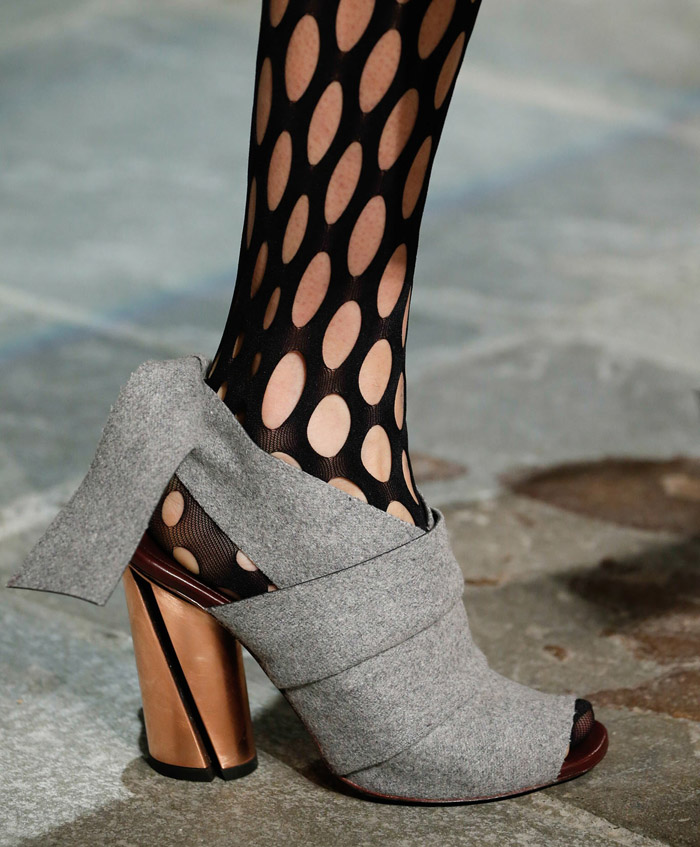 This Proenza Schouler shoes in high heel bootie/sandal form embody effortless design. From the thick wrap-around tweed fabric to the cut-out bronze cylindrical heel, these shoes seem so much simpler than they really are. I absolutely adore how they've cleverly styled the polka dot hose with them!
10. Salvatore Ferragamo Wedge Sandals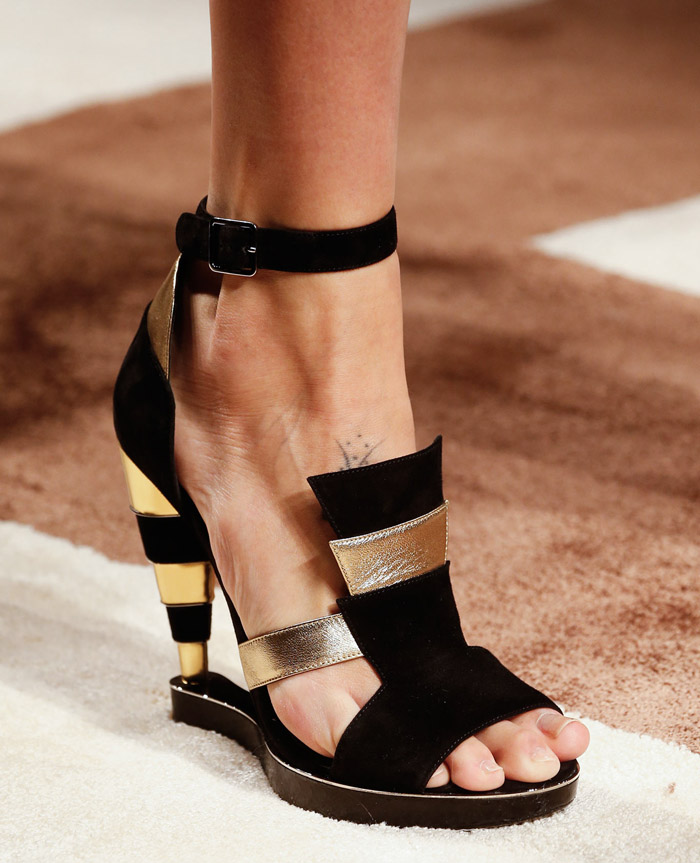 I'm unsure whether the Ferragamo team was inspired by King Tut's tomb with this high heel creation, but it's definitely got some Pharaoh-inspired flair going on. It's the quasi wedge construction & quirky stacked heel on this sandal really does it for me, though!
11. Saint Laurent Spike'd Sandals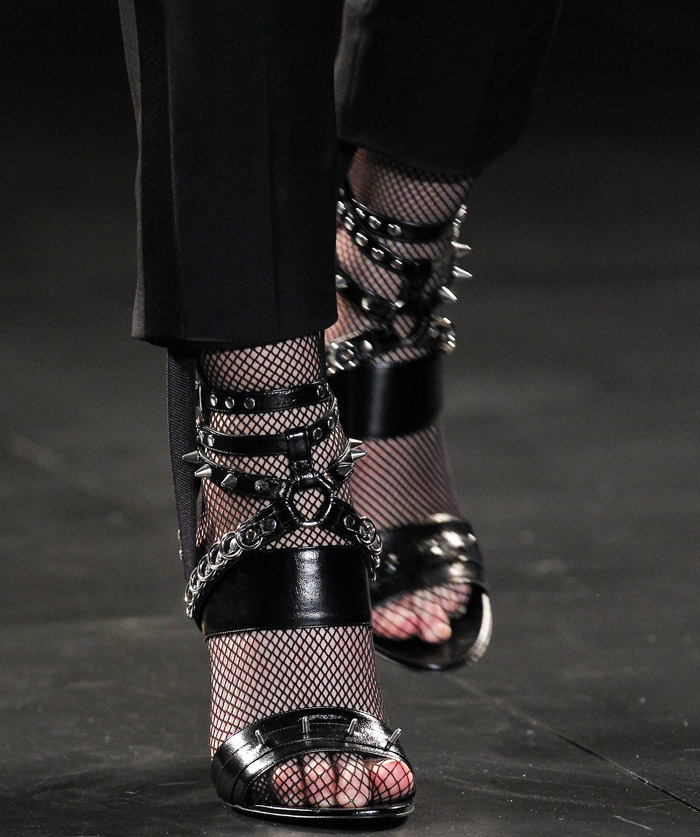 The fishnet stockings might make them a little more S&M inspired than they would otherwise be, but these Saint Laurent sandals, equipped with spikes, whips & chains are pretty fantastic looking! I can imagine them with a LBD & cartoon-colored furry coat or with skinny jeans & biker jacket for a Fall transitional outfit.
12. Dolce&Gabbana Mary Janes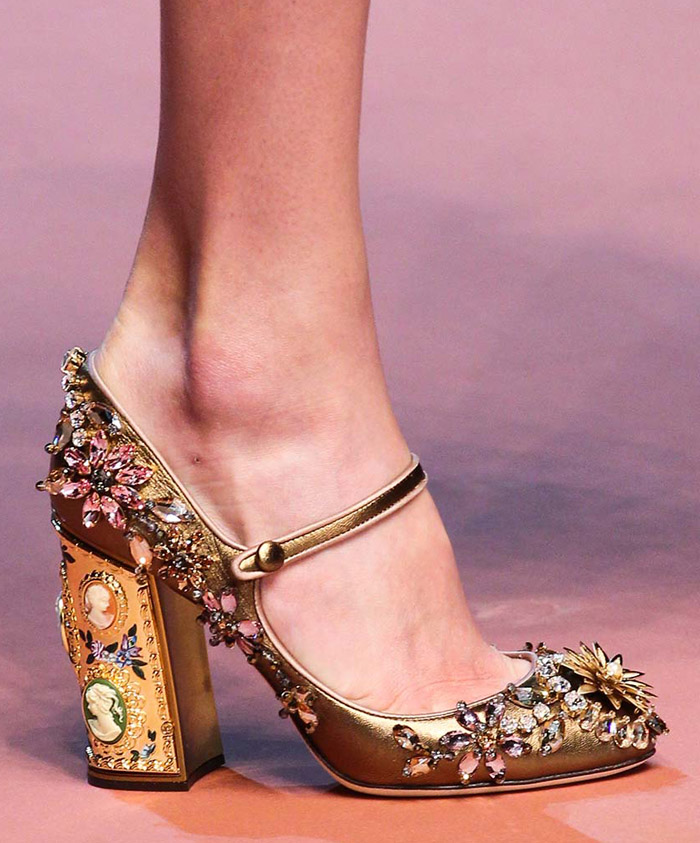 Yes, the Dolce & the Gabbana have done the block heeled, bejewelled Mary Jane for a couple of years now, but no, I'm still not over it. I'm loving how much attention there is to detail with the beading, rhinestones, jewels and the cameos placed onto a metal overlay of the heel. There is something so graceful & elegant about this shoe. Love it!
13. Rick Owens Wedge Boot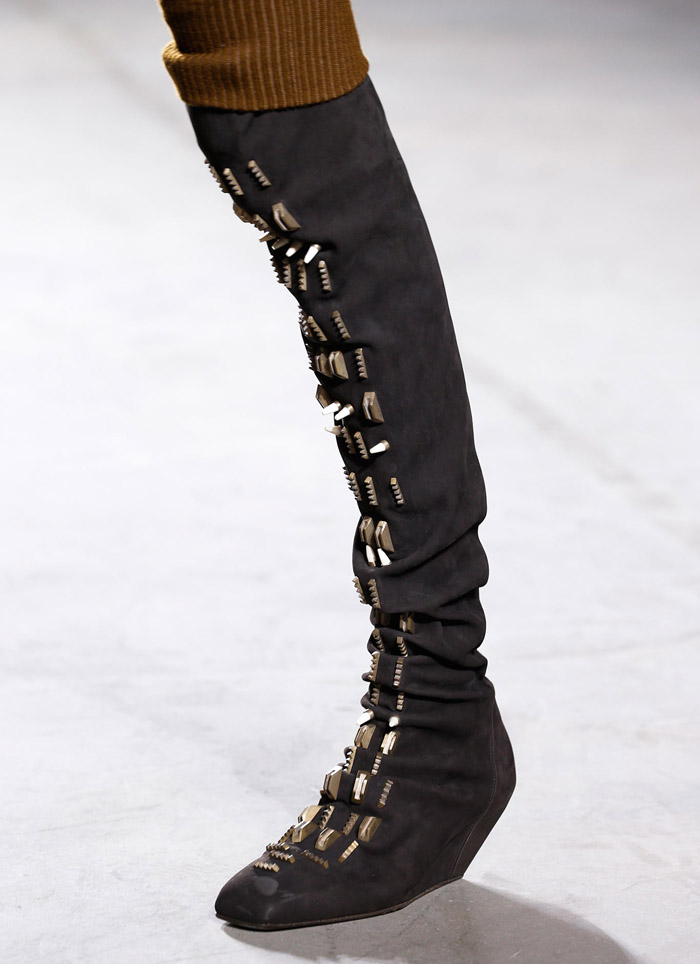 This is futuristic footwear done right! The very ornate & original studded detailing (that looks really heavy actually), with a sleek shape & wedge all created on a sock-like high knee boot makes it a little space-age, but completely in tune with today's aesthetics. Love the reverse sock happening at the top there. Can see this looking great with a black or white mini dress & floor length coat.
14. Emilio Pucci Velvet Booties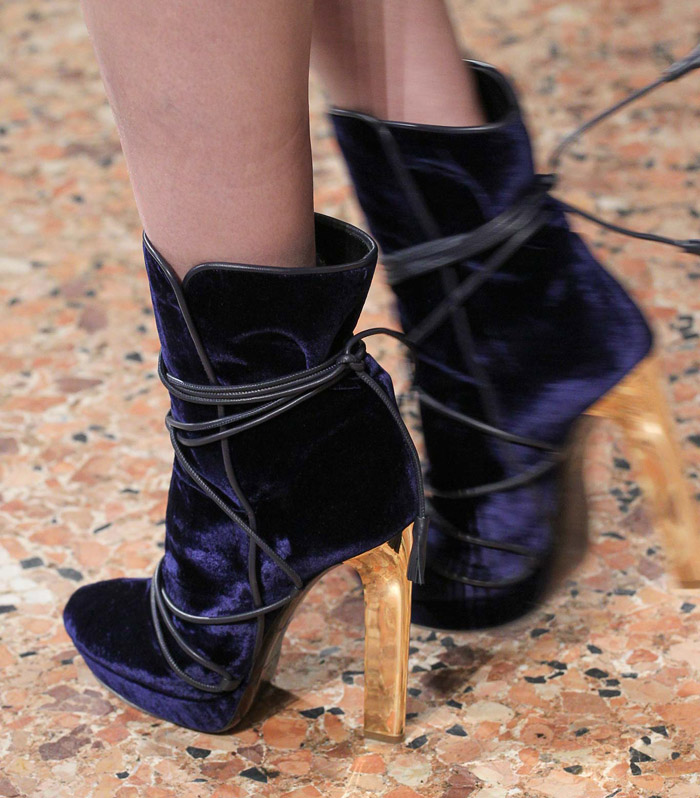 Yep, another Pucci in the 15 best runway shoes from Fall 2015! I have a soft spot for the designer's Fall collection apparently, as it is kinda incredible. I like how these boots reach above the ankle & how the thick straps really look like they're what's holding the shoe from falling off. The contrast color & shape of the heels is lovely too.
15. Oscar de la Renta Pointed Pumps
Oscar, known to embody the epitome of femininity, definitely translates sinuous grace onto the these heels for Fall 2015. Pointed toe stiletto pumps may be on their way out, but the slope of the décolleté & curve of the sling-back & perfectly placed mesh bow, gives Louboutin a run for his money. This is my kind of girly heels!
So these are the 15 top runway shoes from the Fall 2015 fashion shows, in my books. Of course, taste is relative & I personally give points for creativity & wearability when it comes to listing the best seasonal shoes. Hopefully you love these Fall shoes as much as I do & that these designer shoes have footwear-inspired you for the upcoming cooler seasons to come! Can't wait to see how high street brands translate these designs at a more affordable level.
xo Cristina M.
Photo Credits: style.com