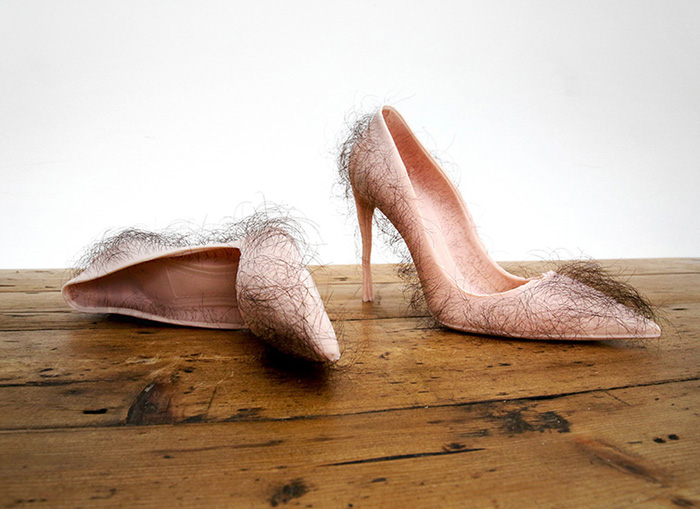 A little shock to the eyes on a Friday does a body good, does it not? Well, lucky for you all, I might have spotted the ugliest shoes ever in this pair of flesh-like hairy shoes. Talk about a FANtastic Freak-Shoe Friday feature, bwahahaha! Might I mention that these pumps, named "Babe" (for extra creepiness, surely) are made of actual human hair? But there's a reason these are far less frightful to me than those furry Guccis or freaky shoes from the designer runways. Let me explain…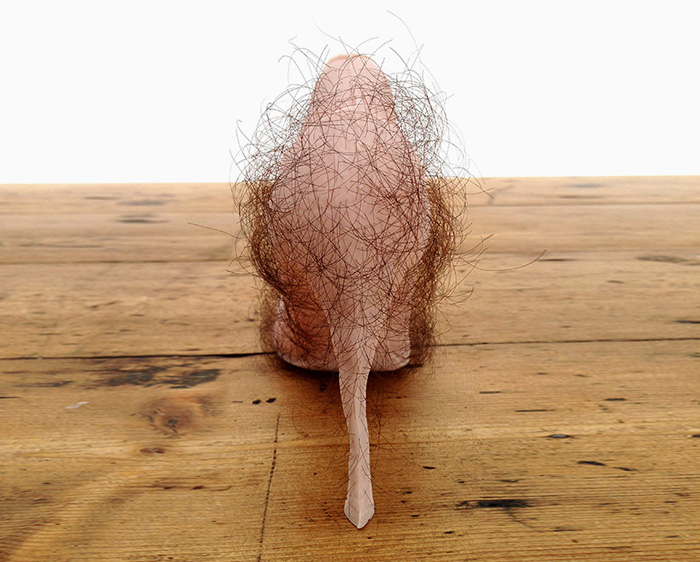 Not that these aren't run-away-and-hide horrifying (and potentially great Halloween heels?!), but thankfully they were part of an art exhibit used in one of Zhu Tian's installations. Yes, these stilettos with human hair will haunt my dreams tonight (& if I'm doing anything right; yours as well!), but there's solace in the fact that these hairy shoes aren't available on a retail shelf near you, along with an attached 3K price-tag. Don't you think?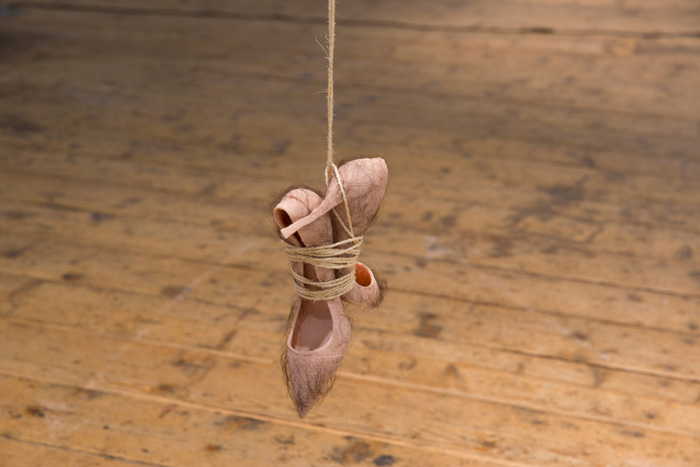 A true provocateur, Zhu Tian is a prize-winning, multidisciplinary artist, focusing on mixed media to performance art. She has a knack for not only shocking her audience, but encouraging dialogue about sex, society & everything in between.
"Babe" was showcased in China back in 2013. Each each hair on the gel-based shoe form (eerily resembling a Manolo Blahnik BB pumpy, btw) was meticulously implanted by hand to create the disturbing hairy shoes you now see before your newly tainted eyes!
Utter disgust aside, Tian successfully de-sexualizes the stiletto heel as the socially acceptable & fashionable fetish item it is. But did she really have to create what is possibly the ugliest shoe ever made to date? Considering the sacrifices we women make to look sexy in our highest pin-thin heels, I think that was the only way. Self-describing her work as a 'hiccup – to interrupt or disturb', these "Babe" heels do that & more.
What's your take on these hairy heels?
PS: If you "like" these shoes, check out more freaky shoes, like these flesh-heels and torturously ugly hoof heels here!
Photo Credits: designboom.com