I've had these pink lace up booties from Chinese Laundry since the end of last year, but haven't had much of a chance to wear them, it having been winter(ish) weather here in Toronto & all. Happy was I to pop them on for a stroll in Yorkville last week, right before the unexpected snow storms hit us hard the next day. Yeah, snow in April, folks. And you thought April showers were bad!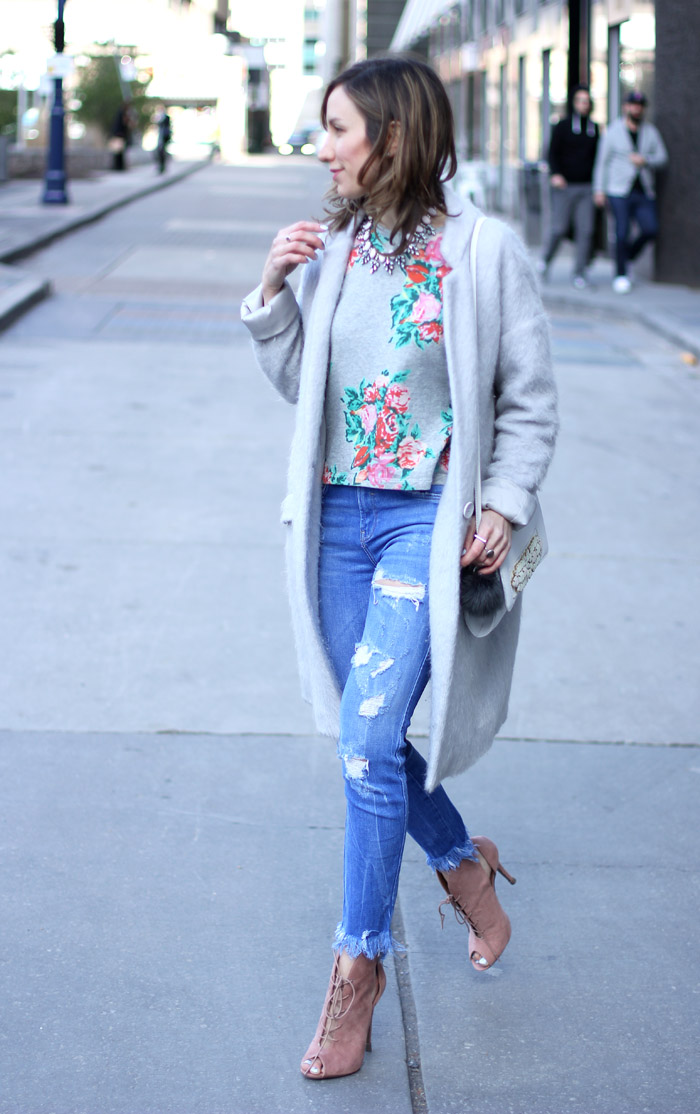 Pink peep-toes: c/o Chinese Laundry. Fringe Jeans: Zara. Coat: Max&Co. Purse: H&M. Jewelry: Winners & Shop for Jayu. Pom pom keychain: H&M. Nails: c/o Jamberry. Heel Protectors: Clickless. Necklace: SammyDress. Sweatshirt: old, similar styles below.
---
Shop the Look:

---
These Julius peep toe booties are adorable. I love the very trendy Pantone Rose Quartz shade of pink & how the tone on tone laces make this so much morefun than your average ankle bootie! But if pink shoes aren't your thing, no worries. These ankle boots come in black & also in beige!
Gotta mention that these do have over 4″ of a stiletto heel, yet I can surprisingly walk it them with enough ease to fake the fact that rarely I wear heels over 3.5″! Most high heels simply push the foot forward, so that one's whole body weight is supported on the balls of your foot. What makes these ones much more comfortable than some other 4+ inchers, is the higher than average arch. This allows my foot to evenly distribute onto the shoes (which is rare due to my already high foot arches).
It's not surprising that this is one of Chinese Laundry's bestselling shoe styles. Perfect for denim looks & fun dresses, I couldn't resist pairing them with my new fringe hem skinny jeans from Zara (same ones I styled with green heels here at Toronto Fashion Week), floral sweatshirt and yes, unfortunately a coat. Because it's still freaking cold! Spring, why don't you come already so I can wear all my pretty warm weather shoes?!
What do you think of these pink Chinese Laundry booties?
See more fashion & street style looks, here!
xo Cristina
Photography by UVStudio