Hotel staycations are getting more popular, but have you ever taken yourself – and I mean only you – on a solo staycation? There's no better way to disconnect & recharge, especially when you whisk yourself off to a visually inspiring, foodie destination such as the newly renovated Novotel in Downtown Toronto.
But how to enjoy a staycation, you ask? Here are some solo staycation ideas that will have you packing up your carry-on & checking in ASAP!
7 Fun Things to do on a Solo Staycation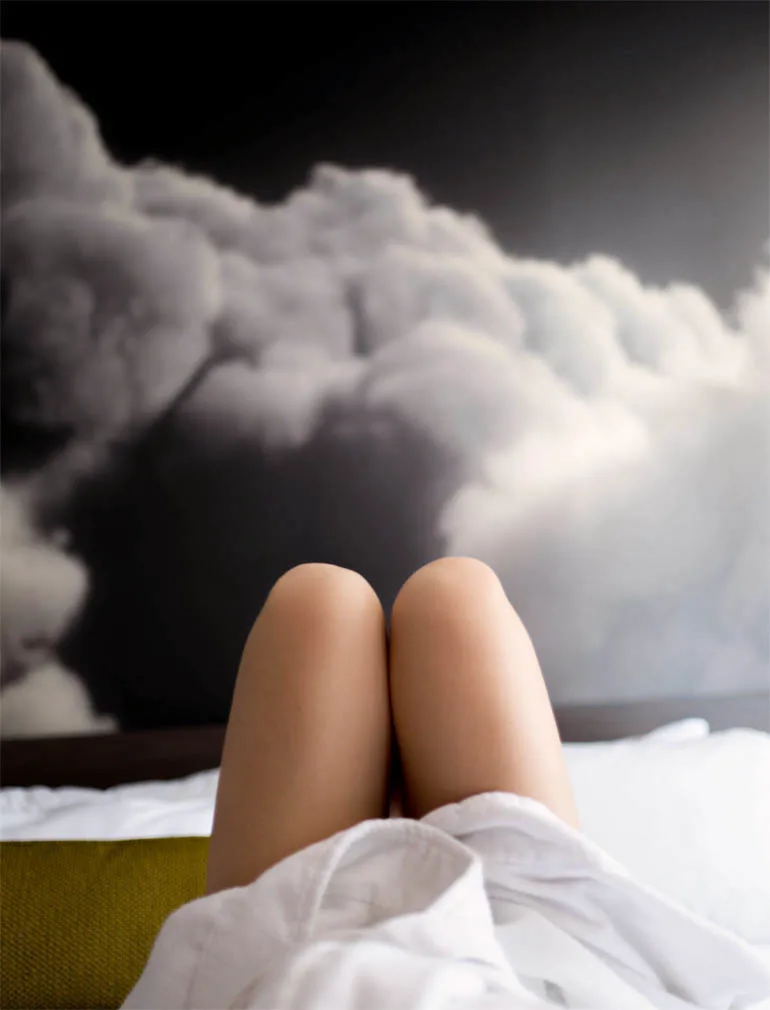 Solo staycations should never be underestimated. As we get older and our responsibilities & families grow larger, time alone becomes a precious commodity. In fact, one doesn't simply come across it, but "me time" must be skilfully carved out!
To truly decompress, a staycation at home just doesn't cut it for me. Trust me, I have tried it. I know I'll end up tempted to go on an exhausting cleaning/decluttering kick, or feel compelled to sit at my desk & work (or worse: feel guilty for not working!).
This is why a local hotel staycation is a great alternative. You don't even have to go far to enjoy the perks of a vacation away from home. You can inspire yourself with new surroundings & discover local spots, all minus the cost & hassle of travel. And the Novotel in downtown Toronto is the perfect spot to do just that!
1 – Indulge
A solo staycation away from home is the perfect time to indulge in many things. Especially those you can't or don't feel comfortable doing in front of others. For me, this includes pigging out on as many deserts as I see fit (the more, the better!) & sipping on a favorite glass of wine. And I don't even have to share!
The best part is getting to do it all in bed, wearing a fluffy robe, while watching a favorite movie or show. Bring on the judgement-free sugar rush & food coma!
The Novotel in Toronto's city centre did not disappoint with their sweets, or in-room VIP treatment of wine & macarons, for that matter! All deserts are freshly made in-house by the hotel's chef (the apple tart is baked to order & the creme brûlée torched to perfection), while the desert specials are catered by the crème de la crème in Toronto, such as Dufflet.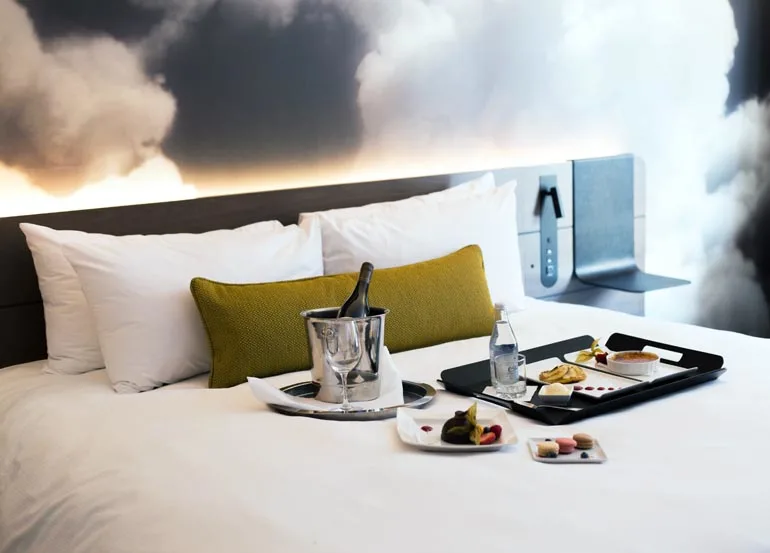 2 – Relax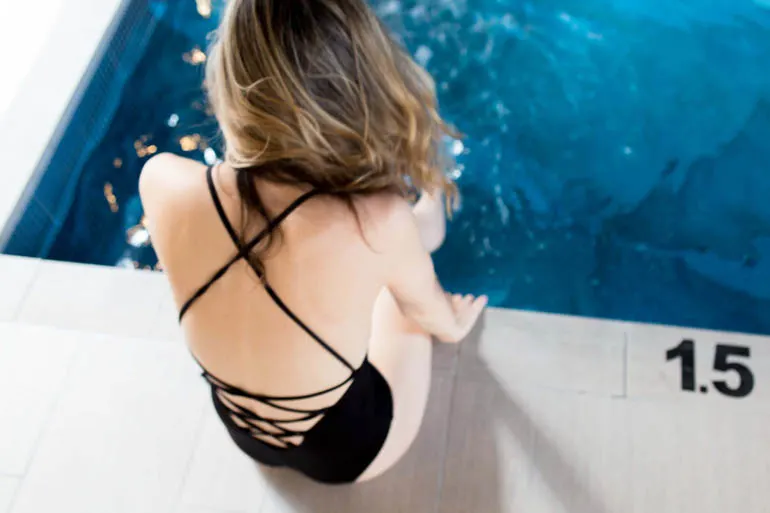 Just relax.
For many that's usually easier said than done. But being alone with no unwanted distractions is the perfect time to do something (or nothing) in order to unwind. The Novotel's pool is the perfect place to do just that.
This newly renovated area boasts gorgeous blue geometric tile, ample sunlight & everything you need, including towels, lounge chairs, fresh drinking water & change rooms. This way, you can take a swim, or soak in the hot tub without having to leave until you're ready to.

3 – Pamper Yourself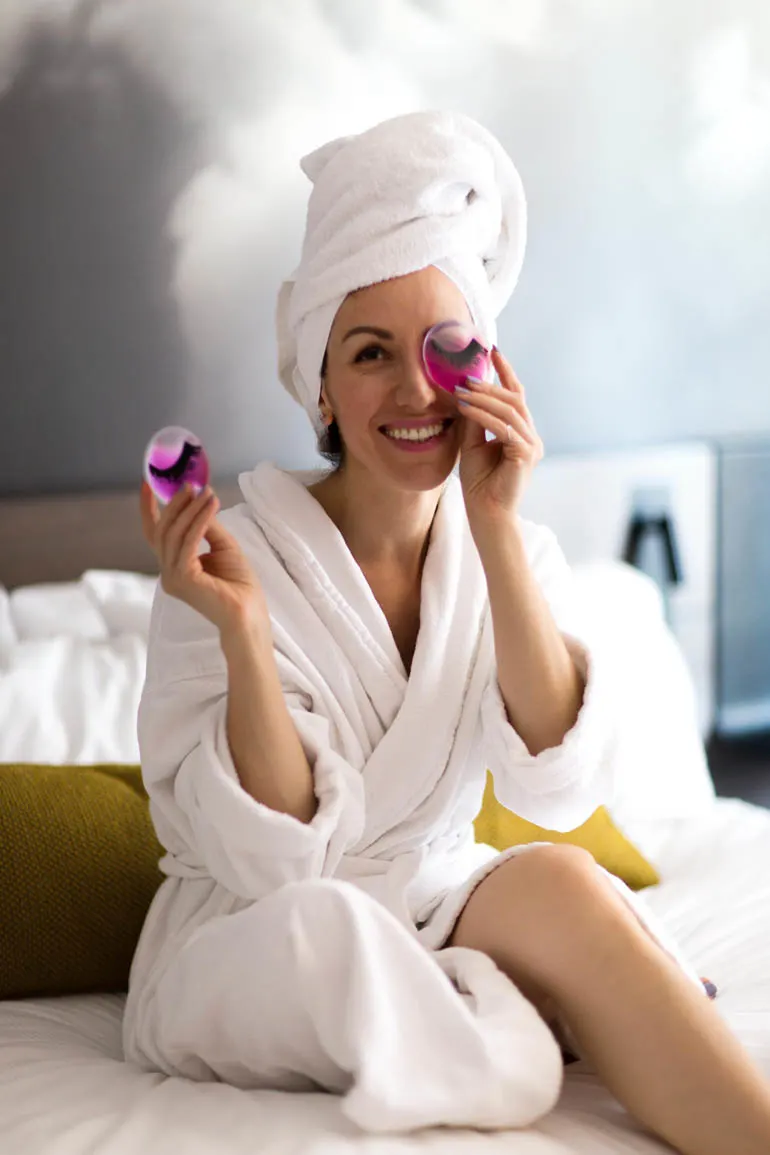 Although being able to sit back & relax is technically a form of pampering, why not extend the favor to your beauty routine? From face scrubs, eye masks to hair conditioning treatments, you now have the time to nourish those tired locks & dry skin. Self-care doesn't all have to cater to the inside, you know 😉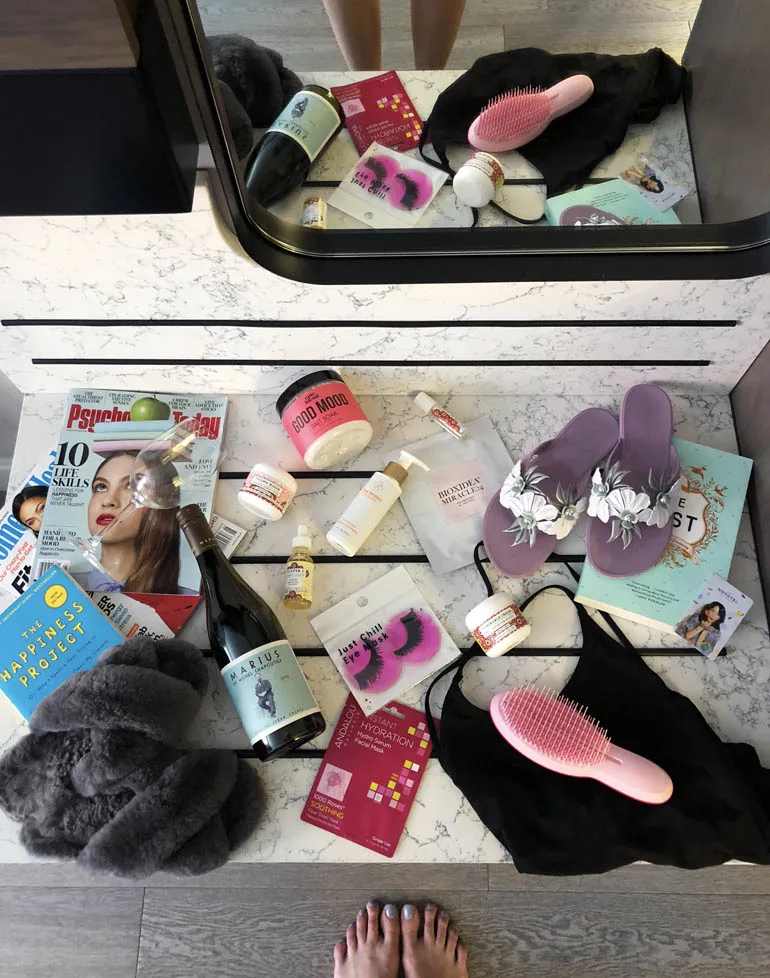 And if you forget any of your staple products, this downtown Toronto Novotel has you covered. In their new, modern washrooms, you'll find an extensive selection of fair trade products for your hair, body & more.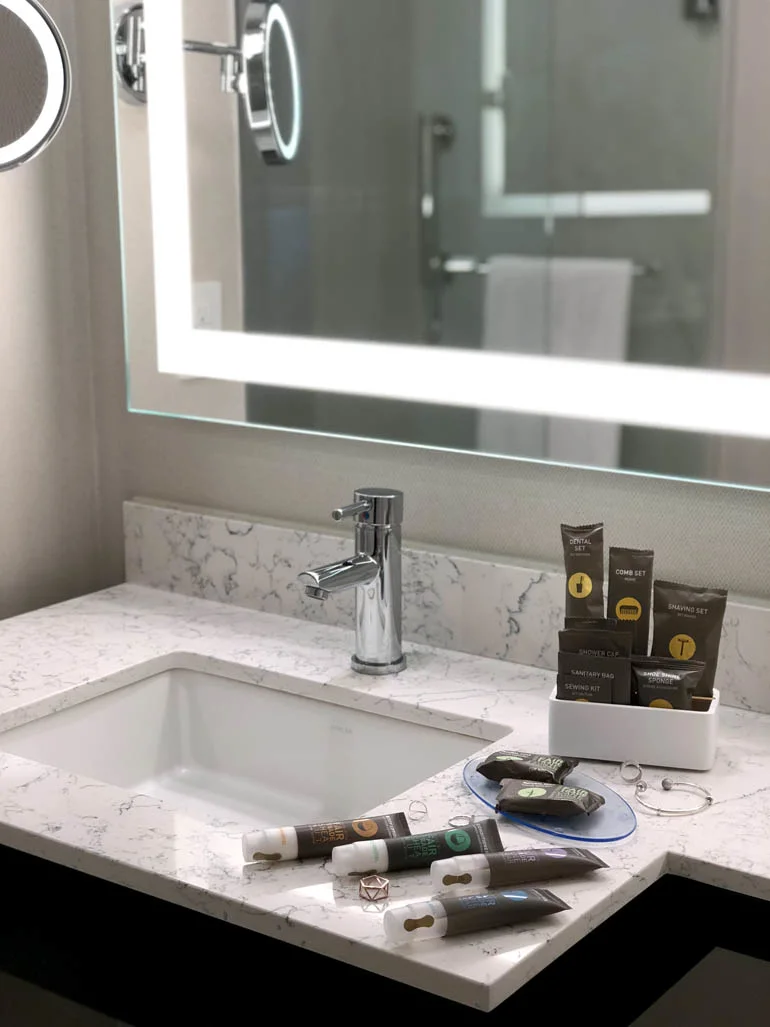 4 – Catch up on Your Reading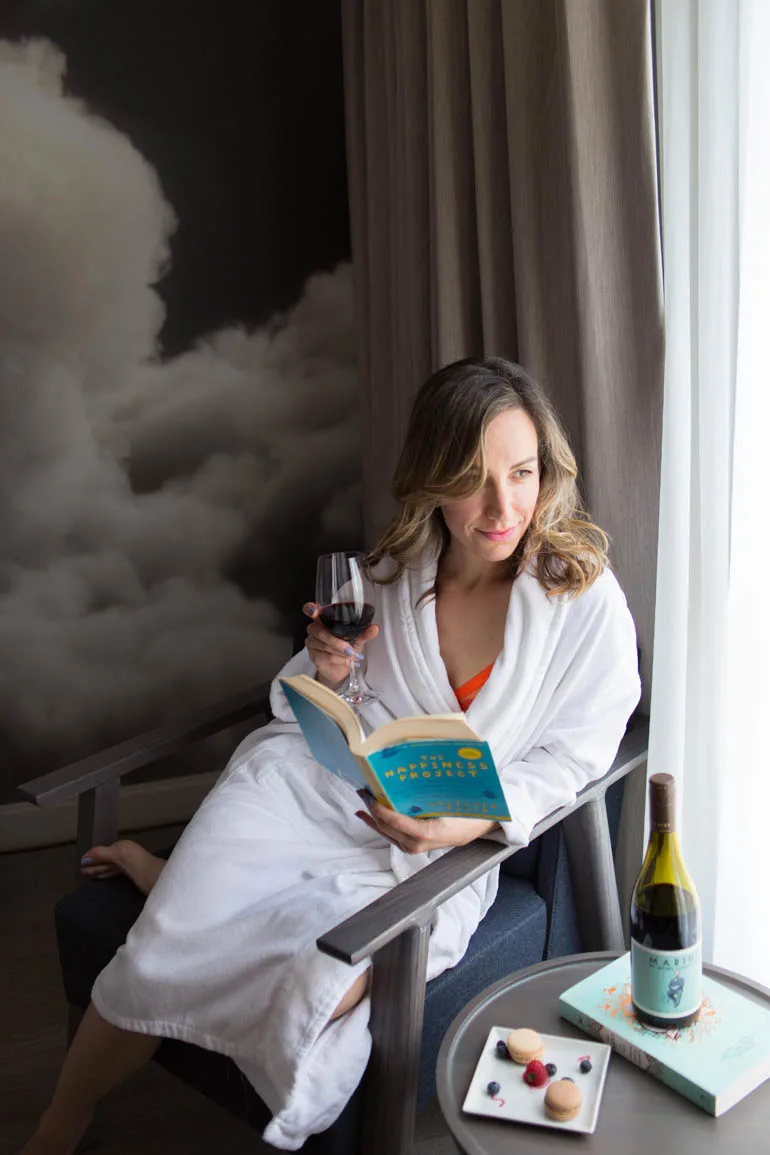 That self-help book that's been sitting unread on your shelf or Kindle? The scandalous story you had to put down because life just got in the way? No excuses, it's time to uncork a bottle or steep a relaxing tea & crack some of these open. Or press play on your e-reader!
I took The Happiness Project (a book I've started yet never finished about 5 times!) & The Nest. Did I finish either of them? Not even close! But devouring a few chapters felt like a small victory to me 😉
If you're in the mood for something more effortless than reading, the Novotel has an amazing smart flat screen TV with a ton of channels & features that you can connect to your tablet or cell phone. The possibilities are, in fact, endless 🙂
5 – Stroll Around the Neighborhood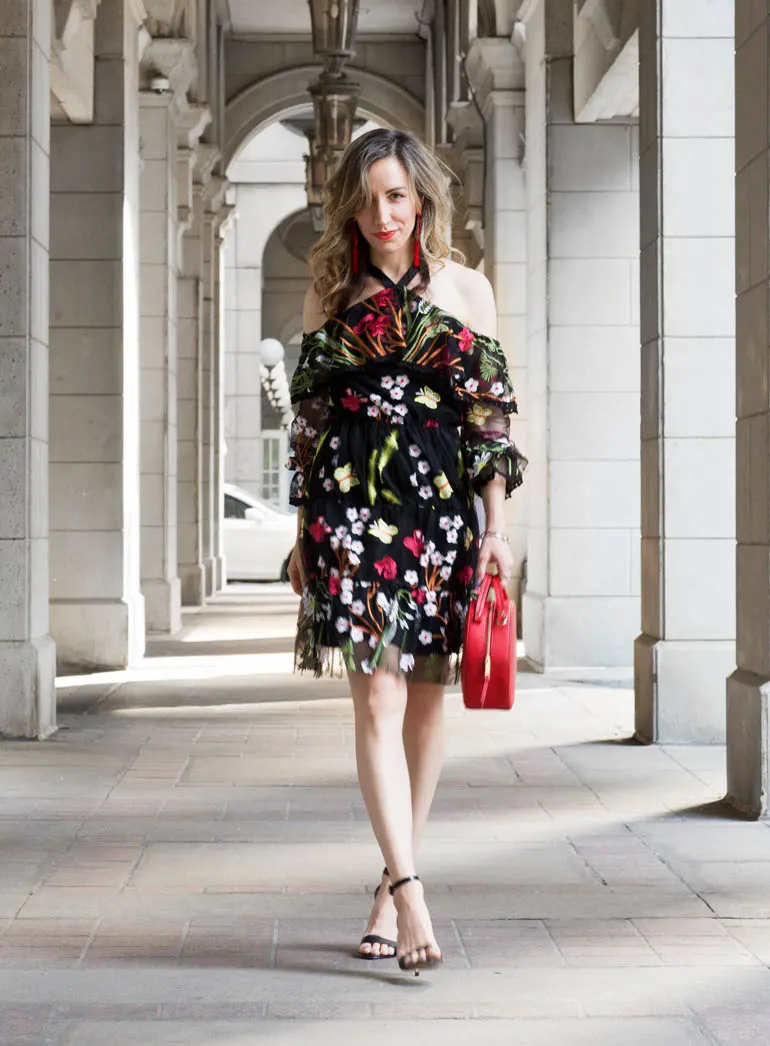 The great thing about booking yourself into a downtown hotel like the Novotel on the Esplanade, is that it's literally across the street from some amazing local hotspots & sights, including (but not limited to) the Saint Lawrence Market & the Distillery District.
I lived near here once, but hadn't walked around this part of town in years. It was amazing to discover how it has all changed (and somehow stayed the same!). It felt like I was visiting a familiar, but completely different city! Which is the beauty about Toronto, really.
6 – Take Yourself Out On a Date
If a solo staycation is all about you, then you're sure as heck going to dress up & take yourself out on a proper date. That means sliding into an amazing dress (this pretty number is from Your Favourite Dresses), then heading out for dinner & drinks. Feel free to put on your highest of heels, since everything you need is a short elevator ride downstairs!
You can choose to have a drink in any of the gorgeously designed lounge areas (the big red couch area with the fireplace is my favourite), then take a few steps into Café Nicole. Café Nicole's new menu, stellar service & completely redesigned look will not disappoint. Just look at that flooring!
7 – Order Breakfast for 2 & Invite a Friend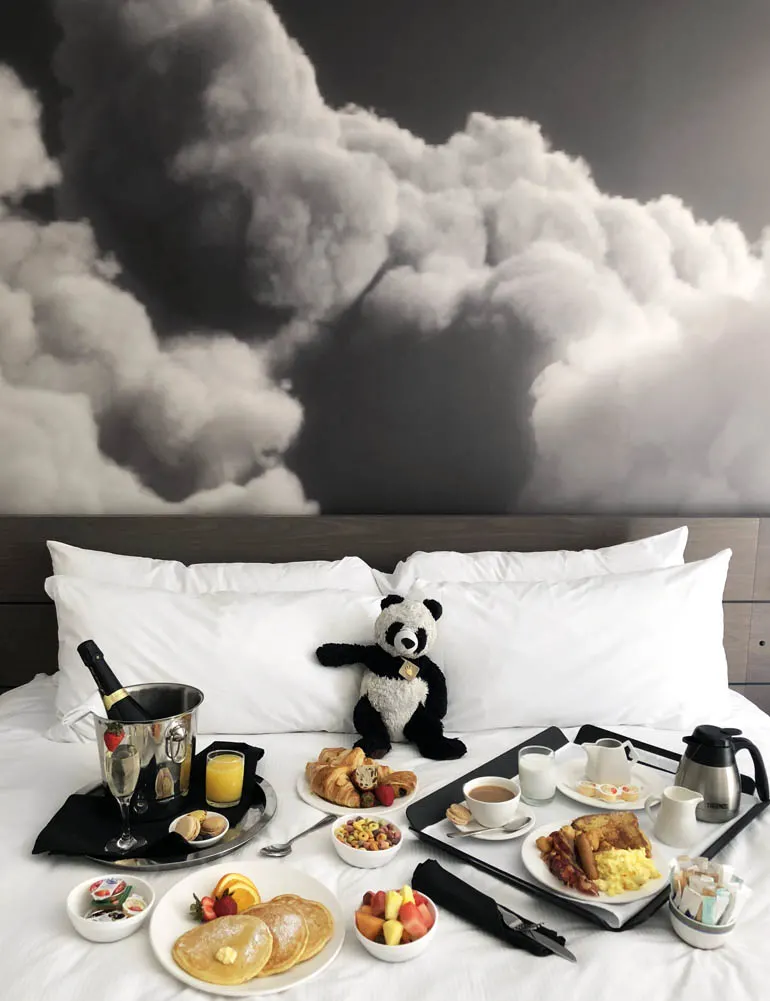 After you've had a decadent, uninterrupted night's sleep in your King sized bed (the Novotel has the comfiest mattresses!), nothing beats a big brunch. So why not order breakfast for 2 (or 3?) & call a friend over to enjoy it in your cozy room? I decided to bring along my silent friend who wouldn't devour my pancakes 😉
If you'd rather get out of your room in the morning, the Novotel Toronto offers a fabulous buffet breakfast downstairs with fresh croissants, pastries, piping hot breakfast fare as well as à la carte options. Their chef just revamped their menu to match their beautifully designed interiors, so worth checking out no matter where you prefer to brunch!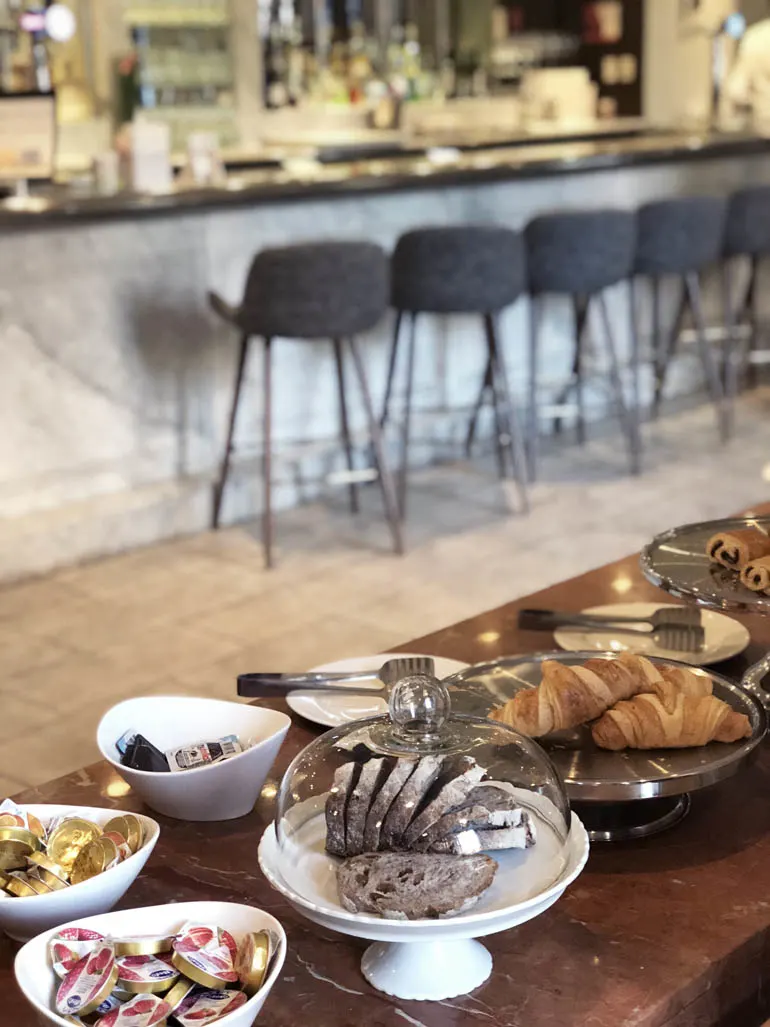 ---
I hope my solo staycation ideas served as inspiration for taking yourself on a mini-break to recharge your mind, body & spirit. And if you're going to be staying at the downtown Toronto Novotel, I can guarantee that even just one night will have you feeling like you've landed — quite literally — on cloud 9!
Feel free to follow long myself @ShoeTease & @NovotelToronto on Twitter.
Photography Credit: ShoeTease & Sweet and Salty Creative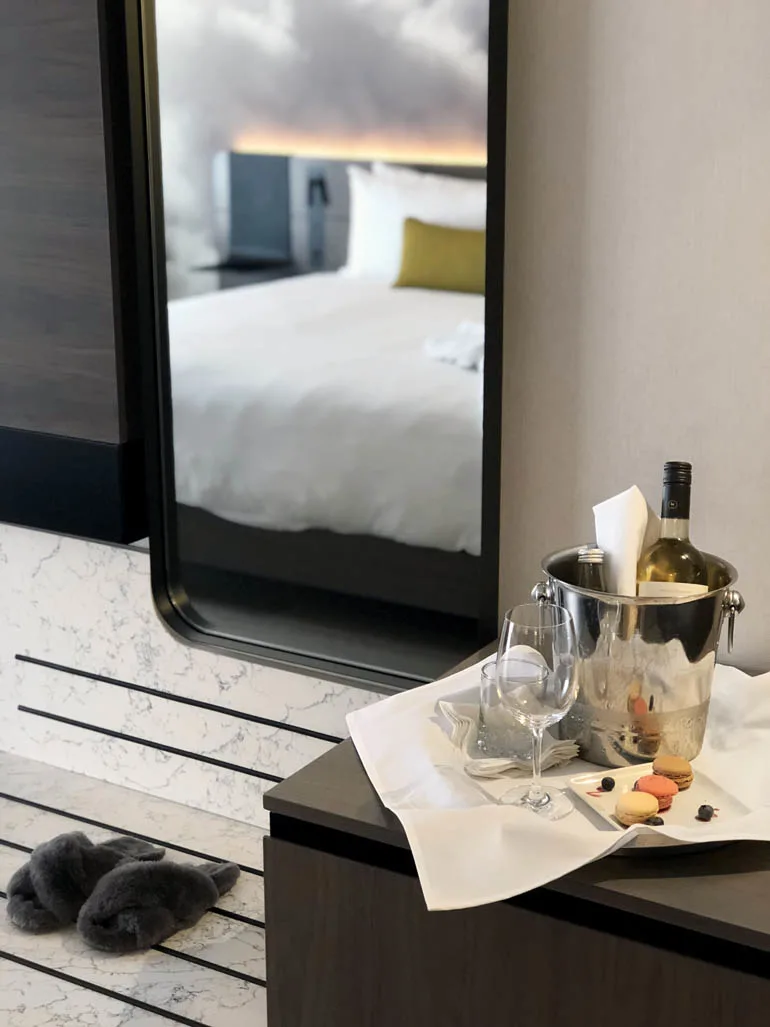 xo Cristina
Cristina is the chief editor, fashion & shoe expert here at ShoeTease. As a seasoned stylist and women's fashion & shoe designer, she boasts over 20 years of experience in the fashion industry. She loves crafting effortless outfits for ladies both online and off and believes that styling advice should be accessible to everyone. Whether you're a styling pro or just starting out, Cristina's here to guide you on your fashion journey! Learn more.