One of the first things I do when I reach for new skincare & beauty products is flip the bottle to check out the ingredient list. Embarrassingly, I look at these more often with face, body & hair products than with the labels on my food!
Best Head-to-toe Natural Skincare Products of Spring/Summer 2018
And don't get me wrong: I don't have in-depth knowledge of every ingredient, but I completely buy into the layman's "if you can't read it, it's probably bad for you" philosophy.
Finding fully clean & natural products is tough. Because if you speak with experts like I have, more often than not there's going to be at least one dodgy, illegible ingredient (likely a preservative). Especially in creams. Since my skin doesn't always take to simple oil blends to replenish moisture (and don't cause a breakout), I sometimes turn a blind eye.
Luckily, I've had the pleasure of attending beauty events over the last few months, as well as perusing the shelves of Whole Foods (my go-to beauty & skincare destination). I've managed to discover & try out new brands & products that give results, with an ingredient list that doesn't make me feel dirty for using them.
The most important element for my skincare products is that it is void of parabens, sulfates & the top toxins that so frequently get mixed into the most innocent looking products. But life isn't perfect & sometimes I can live with it.
For instance, if it's a shampoo, scrub or topical beauty product that isn't going to be absorbed by the skin, well…I'm not as concerned. It's the face creams, serums especially those used daily, that I feel best using "clean" (and I put this one in quotes, because how clean is anything these days, really?).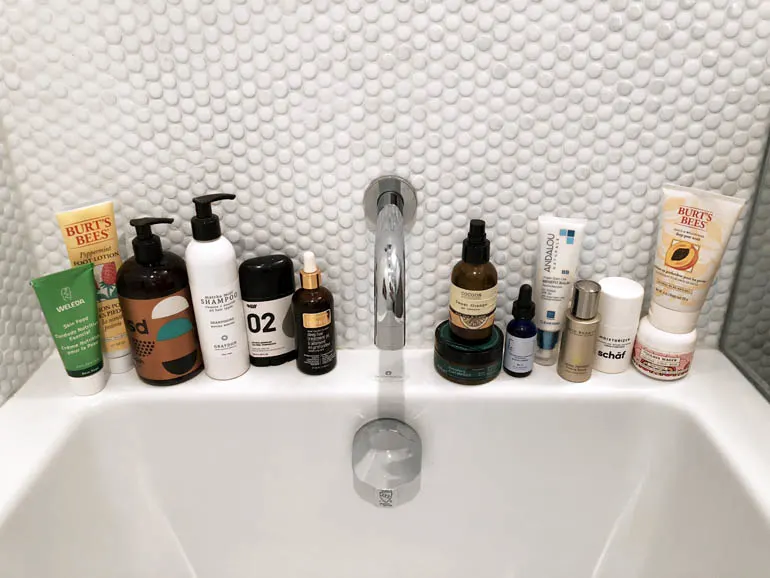 ---
Shop The Skincare Products:

---
Products from left to right:
1 Weleda Skin Food
I've been a devoted Weleda Skin Food cream user for years. And it's literally the only cream I can use on my hands to prevent them from cracking amid the winter dryness. It's thick, but absorbs rather quickly, and unlike other creams, won't completely wash off when you wash your hands.
Plant rich & free from synthetic compounds and toxic chemicals, this cream is great in extra dry areas such as hands, elbows, knees & makes for an excellent foot cream! Cruelty/paraben/chemical/preservative/SLS/synthetic fragrance/phthalate/GMO free. Yep, that's VERY clean, folks!
2 Burt's Bees Peppermint Foot Cream
Speaking about foot creams, Burt's Bees Peppermint foot lotion is one of my favorites. Although I'd give it only an 7/10 in the moisturizing department, the fresh mint scent & tiger-balm tingling sensation it will give you for hours after use more than makes up for it!
Perfect for tired feet & best used after sloughing off dead skin post-bath. This will make it absorb that much better.
3 BASD Invigorating Body Wash, Mint
If you want your body wash to give you a morning jolt or a post-workout tingle, BASD's body wash with a peppermint scent is amazing. Made sans Parabens with Aloe vera juice & organic ingredients such as green tea, it's a winner in my books.
It lathers well for a more natural product, doesn't dry out the skin & I love that it comes in a chunky low bottle with a pump for easy disposal.
4 Graydon Matcha Mint Shampoo
This is a plant-powered, non-toxic, hydrating shampoo that really nourishes the hair with matcha tea, chia, hemp oil and sunflower seed extract. But because I have a naturally oily scalp, it's not the best for my hair type but perfect for my son's slighly dry curly hair.
And it smells more like mint chocolate than matcha mint, so there are no complaints when it comes to bath & hair wash time! It's also a perfect shampoo for those prone to dandruff & dry scalp. Just remember to shake it well, so you don't mainly pump out oils, leaving you with greasy hair (I learned my lesson the hard – or should I say greasy – way!).
5 Way of Will 02 Natural Deodorant
Tea tree antibacterial properties & pumpkin seeds' anti-inflammatory properties make this one the best natural deodorant I've ever used. Smells mighty pleasant too! Some might not love it because it does include baking soda as it tends to dry skin out skin & for those hard-core naturalists, it does contain traces of aluminum.
However, this ingredient doesn't bother my skin & is my daily go-to deodorant. Even when hitting the gym! Not gonna lie, though: for those important meetings or dates, I will still use the toxic, drug-store variety deos. Because…better safe than sorry!
6 North American Hemp Co. Deep Hair Treatment Oil
This all natural, sulphate/Paraben/DEA/Cruelty free & vegan hair treatement made of mix of omega rich hemp, olive & coconut oils. It's a great hair repair oil, where you can add a few drops into hair to add some shine & smooth out any dry kinks. Great for split ends too.
7 Cocoon Apothecary – Sweet Orange Gel Cleanser
Hands down, Cocoon Apothecary's is the best gel cleanser I've ever tried. Gently lathers & doesn't dry out my face. Smells great too! Made from organic ingredients & completely non-toxic. Love the glass bottle.
8 Sukin Detoxifying Clay Mask
This stuff is amazing. I love the Sukin brand personally & this clay mask does everything a clay mask should. Your face will feel as smooth as a baby's bum after you're done! Contains kale, goji berry and bentonite & rose hip, baobab & avocado oils. Really helps me when my skin is extra oily & breaking out.
9 Province Apothecary – Rejuvenating + Hydrating Face Serum
I often layer this oil-based serum over my Juice Beauty or Pure+Simple Algae Serum, when I need to brighten & hydrate my skin in those extra dry months of the year. You can customize their serums to your skin type too!
Completely natural, non-toxic & made from certified organic ingredients. Goes on so smooth & makes my skin glow! Proudly Canadian, vegan, cruelty-free & Green Business certified.
10 Andalou Naturals – Benefit Balm with SPF 30
My staple SPF all year round. All natural & contains Zinc for the SPF factor. Yes, however, natural here does come at a small cost: Zinc goes on white, so you need to use extra elbow grease to blend it all into your skin.
Doesn't make my skin oily like most SPF and gives me a solid sun block. Made from argan stem cells, is 97% natural, vegan, gluten-free, cruelty-free, non-GMO & made from certified organic ingredients.
11 Juice Beauty – Signal Peptides Firming Serum
I've spoken about this amazing aloe-rich serum before in my Murale by Shopper's Drug Mart post. It's light, absorbs so well, makes my skin feel hydrated & soft. Contains a custom blend of sunflower-derived plant lipids combined with rice peptides and pterostilbene-rich wild blueberry extract.
This product is cruelty free & made without parabens, petroleum, propylene or butylene glycol, sodium lauryl sulfates, pesticides, phthalates, artificial dyes or synthetic fragrances.
12 Schāf – Face Moisturizer
This was a truly amazing find. This moisturiser goes on light, really hydrates without leaving any greasy residue or cause breakouts. Love using it with over the Juice Beauty firming serum, mentioned above.
I adore the packaging, easy pump dispenser & minimal, light packaging. Natural, non-toxic, 10-free & made with organic ingredients, in Canada. Get it here.
13 Burt's Bees Peach and WIllowbark Deep Pore Scrub
I'm been a devoted Burt's Bees fan for a long time, and have used this scrub for years. I love it best for my neck & décolleté & leaves my skin smooth. 99.9% natural & free of parabens, phthalates and petrolatum.
14 Better Skin Co. Lava Magik, Face Cleanser/Scrub/Mask
I used to use #13 for my face, but I find Lava Magik works best with my almost-40 skin. You can use it as a cleanser, scrub or face mask (I'm partial to it as a scrub & mask). The volcanic lava scrubs acts to scrub with the tiniest of particles, making you feel like each pore is getting cleansed inside & out to perfection.
Enriched with nourishing calendula, sweet orange and grapeseed oils, cucumber, parsley, chamomile & smells divine. Also part of Shoppers Drug Mart Murale collection. It does contain alcohol (& not "clean" as the other products featured here).
15 Pure+Simple Algae Serum
When not testing out new serums, this algae serum is my go-to. I grab it on sale over at Pure+Simple (love their philosophy & facials!). Perfect hydration for oily/combination skin in the summer.
Contains rich concentrations of vitamins + antioxidants & is free of toxins like parabens, petrochemicals, silicones, phthalates, sulfates, synthetic fragrances & dyes. This brand is a natural, vegan & a gluten free, conscious Toronto brand.
16 Sea Berry Therapy Polishing Facial Cleanser
This is a lovely, antibacterial cleanser gently exfoliates with biodegradable Jojoba seeds, without drying or dulling my skin. Love the pump & light packaging. Packed with Omega-7s, PETA Certified, cruelty/GMO/Gluten-free & made in the USA.
17 Huna Apothecary Nourish Skin Balm
This is a 100% natural moisturizer made entirely of organic oils that somehow doesn't make my oily/combo skin breakout. Rather, it makes it glow. Perfect to nourish during the winter, but works for me in the summer too.
Made with 74% organic, 100% natural ingredients. Likely the cleanest moisturiser I've ever used. All products from Huna Apothecary are made of 100% naturally sourced ingredients, are, synthetic/GMO/cruelty free.
18 Epic Blend, Good Mood Salt Soak, Bergamot & Mint Leaf
This product has taken my salt-soaking rituals to the next level because it smells AMAZING and makes electrifies my senses, no exaggeration! Simply exhilarating & will seriously uplift your body & mood, with no chemicals. Made from 6 natural ingredients. Vegan & not tested on animals.
19 Mineral Fusion Vibrant Balm Hair Beauty Balm
My hair is fried from the highlighting process (aka covering up my greys) & this is the only leave-in product I've found that effectively reduces poodle hair. Yes, poodle hair = frizzy, desiccated hair that just poofs out uncontrollably.
This balm hydrates without weighing down my fine hair & is safe on color treated hair (some leave ins aren't). A little of this goes a long way. I love the brand too: 100% Vegan, gluten free, cruelty Free, paraben free & biodegradable.
---
Shop the Post:

---
xo Cristina