I'd seen Fendi's new Fall 2016 shoes and handbags floating around Pinterest & the like for a while now and became particularly intrigued by these colorful, over-the-top fluffy heels.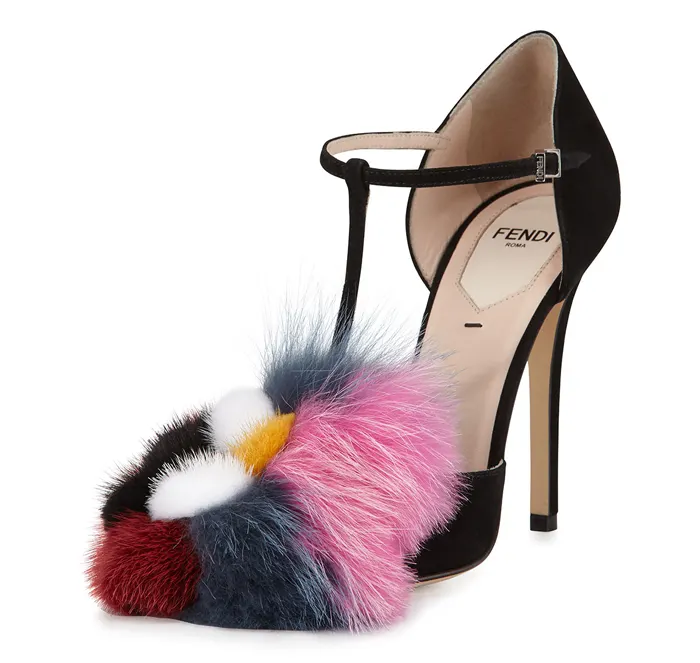 Fendi's been creating a ton of furry shoes, accessories & bag charms for a while now. It is a huge shoe trend, after all! Remember Fendi's crazy footwear concoction from last year? Yep, that would be those pink hairy sneakers. And yes, there was a post written up about it, on this shoe blog 🙂
But as much fun as pom pom shoes & furry heels are, should we draw the line at some point, on the amount of POOF?
Maybe. Maybe not. I guess it's all a matter of taste. I love quirky anything, really, but these heels don't quite hit the spot for me.
I had to figure out why and set out to see them in person. So I strolled over to Holt Renfrew in Toronto to investigate further. And there was is something a little off kilter about them. I do love a good dose of pom pom & fur as much as the next fashion-loving gal, but these just appear to have fur randomly placed, making them look messy.
The worst part is that the fluffiness overflows from the front of the shoe & onto the ground. I mean, if you're looking for mop shoes, then yes, these will do a decent (albeit dainty) job. But a $5 mop is decidedly the more affordable option vs these pricey designer shoes! These Fendi heels will set you back at around 1.5K, btw.
Funny enough, it wasn't until writing up this post, that I stumbled upon the flats version of these same fur high heels. And suddenly I got it. Ding ding ding!
I should have probably grasped it sooner, but this random shoe fluff is actually mean to be a flower. Considering Fendi's Fall/ Winter 2016 collection is all about mutil-colored petals, I should have clued in right away. Oops! Yet to be fair, the crystal middle wasn't at all visible amid all the fur when I saw them in store. The "petals" were scattered also, vs neatly placed.
But what somehow got lost in the high heel version, translated particularly well in the flats, pictured below. I mean these look a LOT more like flowers, don't you think?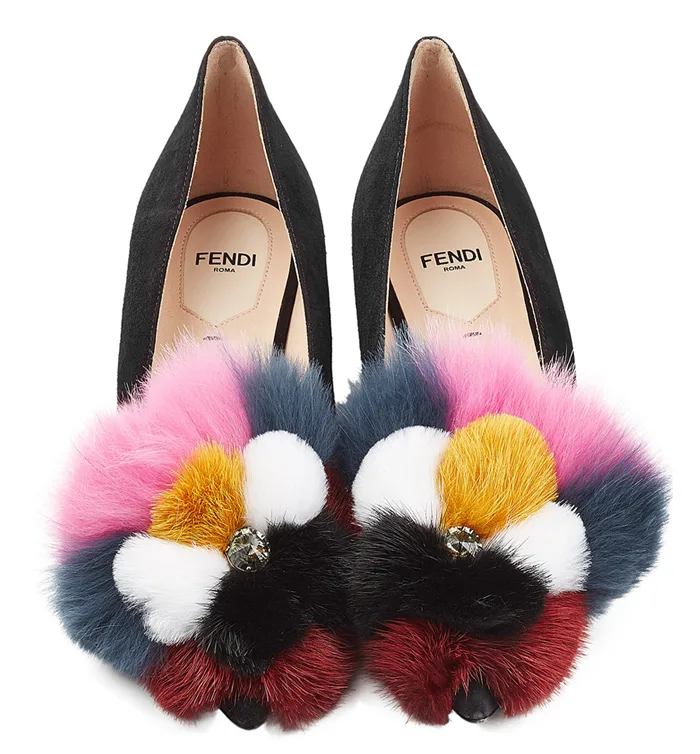 Would you wear these fluffy heels? I would probably give them a try, if only to see people's reactions to them!
Check out more wacky, tacky & just plain weird & ugly shoes <– here!
xo Cristina
Cristina is the chief editor, fashion & shoe expert here at ShoeTease. As a seasoned stylist and women's fashion & shoe designer, she boasts over 20 years of experience in the fashion industry. She loves crafting effortless outfits for ladies both online and off and believes that styling advice should be accessible to everyone. Whether you're a styling pro or just starting out, Cristina's here to guide you on your fashion journey! Learn more.