So I did it, a few weeks ago I finally nabbed those black cage sandals I had been eyeing for ages (I may have even bought them in other colours 😉 ). You've probably seen every fashion blogger & their cousin wearing them, am I right? Yes, I'm a shoe blog writer that came a little late in the game. But for a good reason!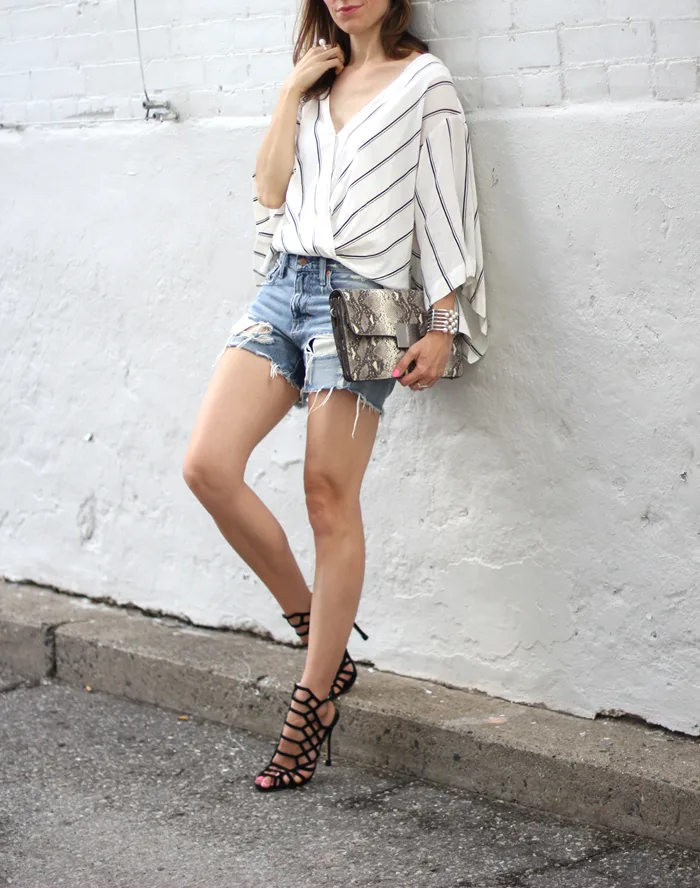 Shop Steve Madden's "Slithur" Sandals

My black cage sandals happen to be the copycat version of Schutz "Juliana" (that version itself more loosely copied from Sergio Rossi's "Puzzle" sandal, so no, I don't at all feel bad!). And I managed to score them 50% off. So, happy me 🙂
Yes, these are Steve Madden's "Slithur" (links to retailers above, many have them on sale!) which aside from a slightly different heel & less high end suede, are the exact same shoe as Schutz's version.
Really, no one's going to know the difference!
Although I'm against fakes, this one makes no claim to be from any other brand that the one labelled on the sandals themselves. Copycat. Fake. Big difference. So if I can save $200 on a special occasion high heel sandal, I can live with that.
Cost aside, they're a pretty easy walk for a 4″ heel. I wouldn't recommend walking marathons in them, obviously, but you'll certainly be able to get a couple blocks of pain free walking in them for sure.
And while everyone's out & about wearing theirs with midi skirts (how are those even a thing anymore!?) I went slightly age inappropriate, styling them with an outfit involving the shortest, most distressed denim shorts I own! Because, why not!? It's summer and my legs need to breathe as long as possible before they get semi-permanently covered up again for the next 8 months *sigh*.
These amazing Steve Madden "Slithur" black cage sandals come in so many fab colours, it's hard to resist buying one in each shade! In true copycat fashion, the newest versions even come with these glorious block heels, just as the new Schutz styles recently released. And I so have my eye on these new babies for Fall!
Do you still like these caged heels or have you seen too much of them already?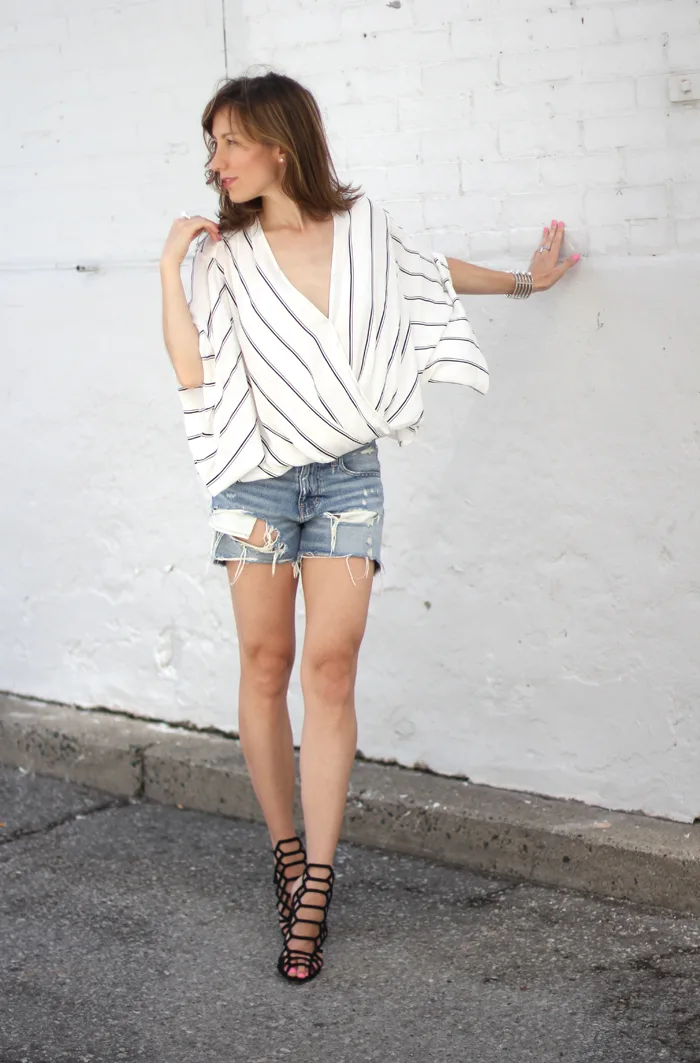 Shoes: Steve Madden "Slithur". Shorts: Ripped Denim Shorts: Denim & Supply. Loose pinstripe shirt: Free People. Purse: Zara. Jewelry: Shop for Jayu & others. Nail Polish: Rimmel X Rita Ora.
Shop the Outfit, below:

Check out more street style posts <— here!
xo Cristina
Cristina is the chief editor, fashion & shoe expert here at ShoeTease. As a seasoned stylist and women's fashion & shoe designer, she boasts over 20 years of experience in the fashion industry. She loves crafting effortless outfits for ladies both online and off and believes that styling advice should be accessible to everyone. Whether you're a styling pro or just starting out, Cristina's here to guide you on your fashion journey! Learn more.