There are so many amazing boot & bootie trends for Fall 2017 that it's almost too difficult to keep track! However, Nine West Canada makes it easy for us by highlighting 3 of their most interesting (not to mention wearable!) shoe trends of the season.
3 TOP BOOT TRENDS FROM NINE WEST CANADA – FALL 2017
In celebration of Nine West's Canadian Thanksgiving weekend sale starting today, we're going to take a look at some of my absolute fave boots & booties from this current Fall/Winter, talk about the best shoe trends & how to style them. The great thing about NW's current collection is the ability for any boot to take your Fall look easily from day-to-night, no matter how simple or ornate it may be!
1) Military Luxe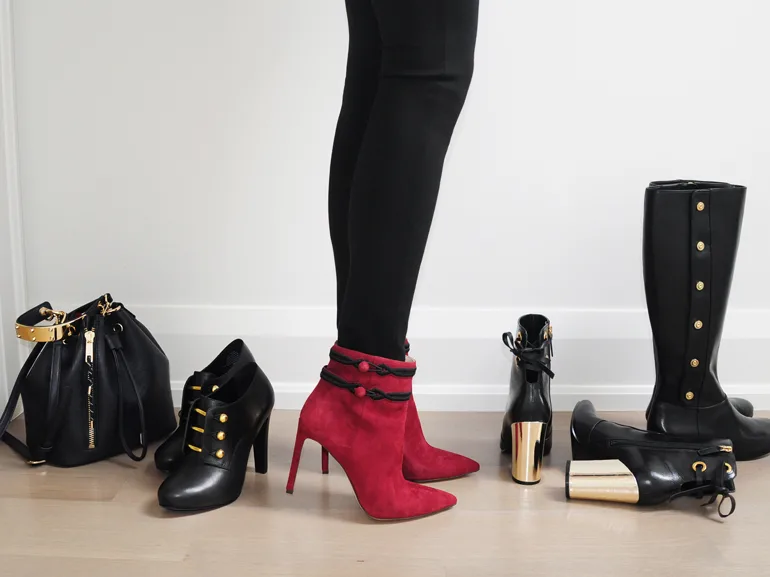 One of my favourite Fall/Winter 2017 shoe trends, which Nine West is really killing it with, is the spin on military chic. The luscious embellishments are what have me salivating the most, like grommets, studs & gold plated accents that add a dose of chic to a slick leather boot or rich suede bootie!
I just love the multiple buttons & snaps that appear on many of the styles from this Military Luxe collection, especially when paired with a complimentary purse. If you're into gold embroidery, contrast piping & brass buttons, this trend is for you!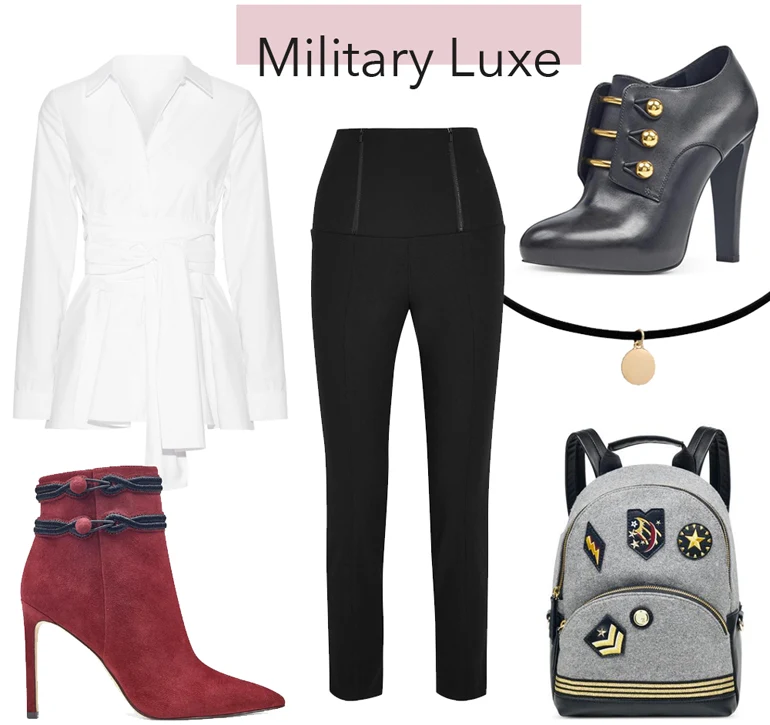 Styling Tip: Sleek is key here! Because the shoes from the Military Luxe trend are so detailed, let them shine by wearing fitted or oversized streamlined pieces to best complement your footwear. Think curve-hugging or wide, straight leg pants or pencil skirts worn with a crisp white shirt & topped with a tailored or moto jacket, depending on your mood.
Complete the look with one of Nine West's seriously amazing bags or backpacks. They have so many great ones, it will be difficult to choose just one!
2) Clean Slate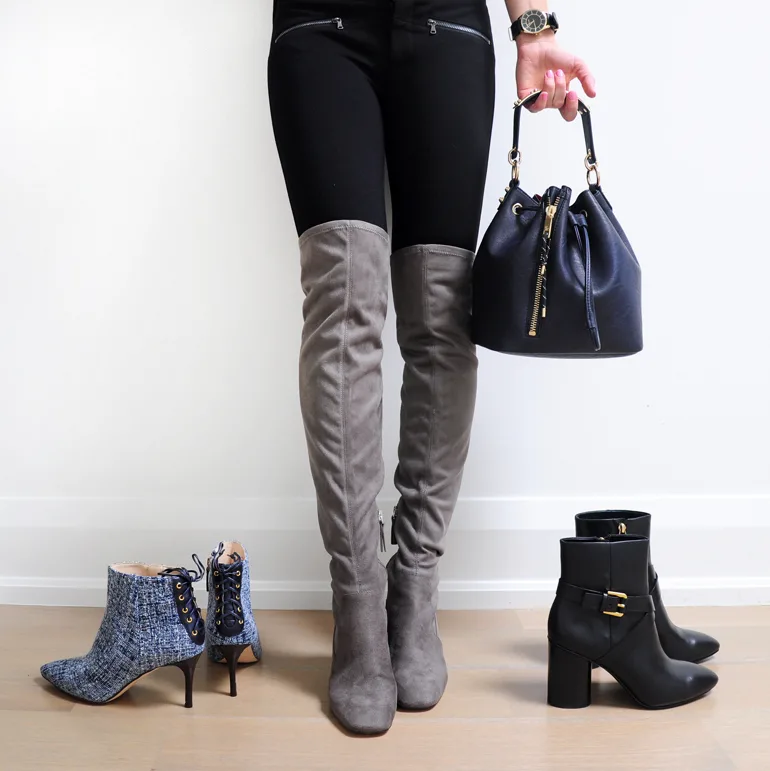 The sister trend of Military Luxe if you will — Clean Slate — is all about a sleek & contemporary feel. Boots & shoes are a slick collection of buttery smooth leathers & deep toned suedes. Hardware is still vastly important, as is heel shape. The cylindrical heel on the Cavanagh bootie (above right) is THE heel shape to reckon with & my personal favorite heel from the entire collection!
Lots of lacing & criss crossing materials in this particular trend, adding an element of interest. The bouclé bootie is another star of the Clean Slate collection, with its textured material. But if utter sleekness is your thing, you must try the Xperian over-the-knee boots (above – they come in both black & grey). With a lower block heel & a discreet square shaped toe, these will be a hit in & out of the boardroom & can be easily worn under a shapely skirt for a legging boot look!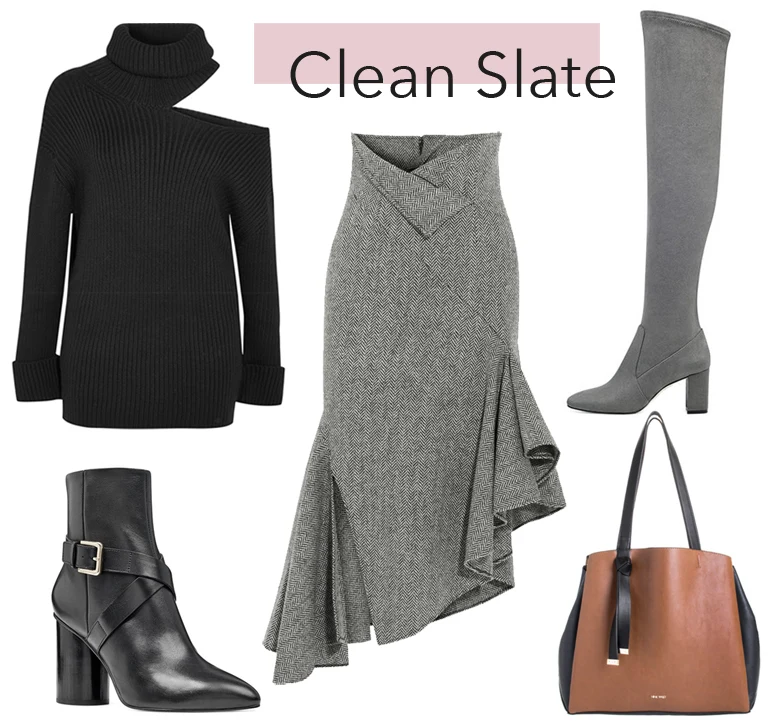 Styling tip: Because of the smoothness of this particular shoe trend, your new Clean Slate boots would look ideal with chunky knits or ruffled blouses & voluminous silhouettes. Think wide sleeved tops with paper bag belted high waisted pants or ruffled skirts to add a little drama to your day-to-night look! Want to keep your look more subdued? Try them with a pair of minimal pants & slightly loose blouse to keep with the sleek look of the footwear.
3) Modern Opulence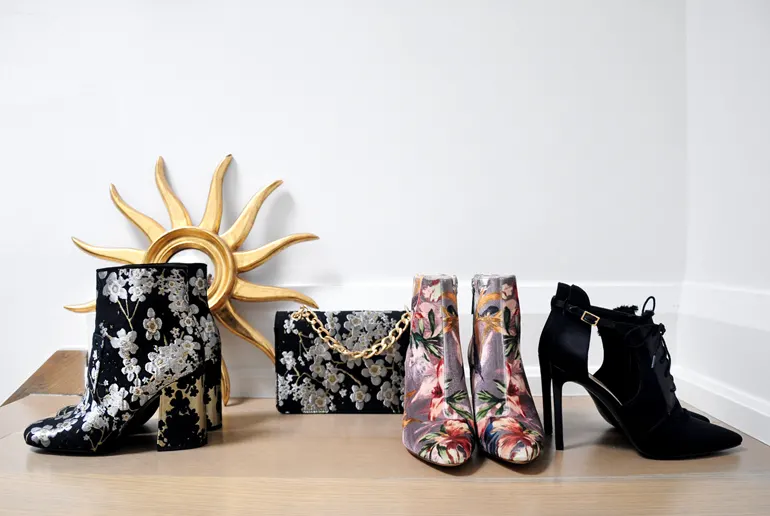 Another shoe trend star is Nine West's take on lavish baroque detailing is their Modern Opulence collection. You've probably seen a few styles on my ShoeTease Instagram as of late & they are serious show-stoppers! But that doesn't mean they're difficult to wear, no way!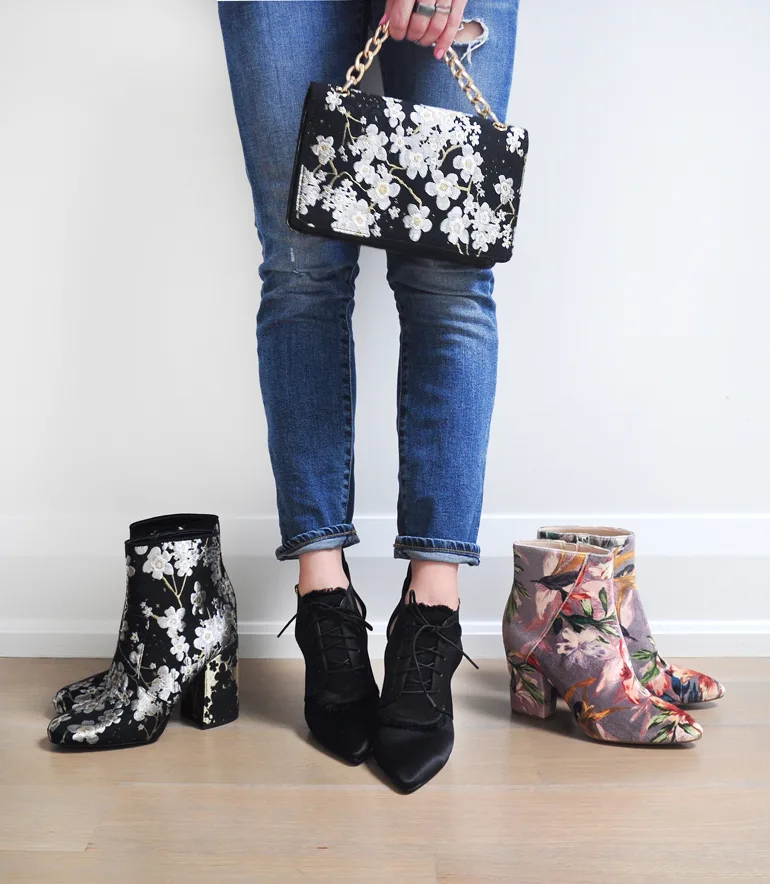 From intricate metallic brocade booties, lush & colorful floral velvet prints, to stunning raw edge silk lace-up styles, Modern Opulence has you covered in the statement footwear department! And I haven't even mentioned the oversized tassels, block heels & decorative details placed upon deep jewel tones & shimmery fabrics. My favorite styles are surely the ones featured above: the Jilene, Takeashot & Savitra.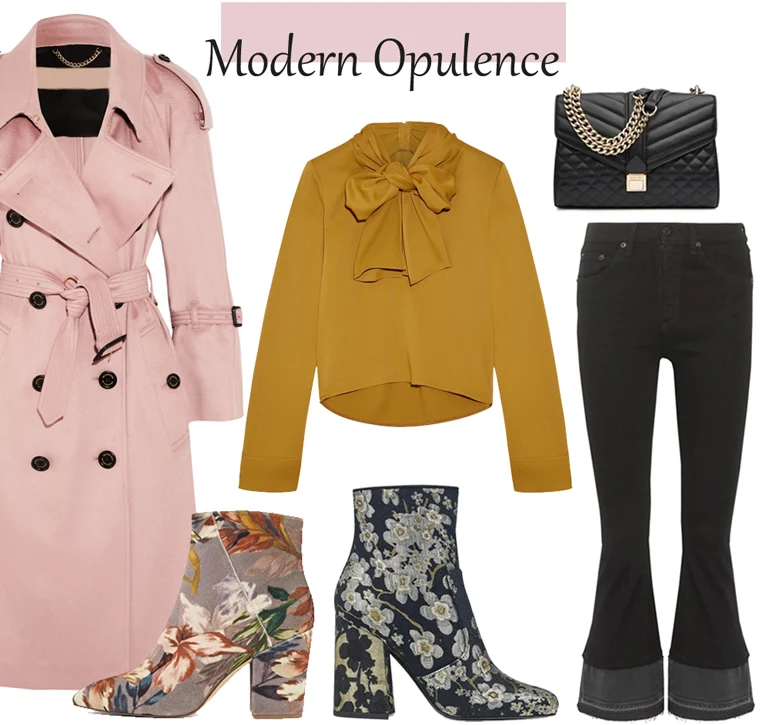 Styling Tip: You might not believe it, but you can easily style this trend in & out of the office with ease. Pair the most colorful & ornate booties with slim-legged split hem flares or skinnies, body hugging top & a satin trench would for a chic ideal look. Or get extra dramatic by adding some trendy Fall colors such as burn orange, blush pink & tops with feminine bow details to complete your look.
Nine West Canada's Thanksgiving Sale

Don't forget to pop into stores or online at ninewest.ca starting today, October 5th/2017 into Canadian Thanksgiving weekend for the Nine West Friends & Fans sale. You will get 25% off your full priced Fall Collection purchase!
xo Cristina
***Thank you Nine West Canada for sponsoring this post. All opinions expressed are my own ***