I love finding out about new shoe brands. Especially ones that are female-driven & incredibly original, like Dondoks, designed by two fabulous Parisian showgirls with flare!
When shoes are this extraordinary, there's usually an exciting story behind them. And Dondoks — a Paris-based, Brazillian-made shoe brand — is no exception, as it was born from a deep seeded love and friendship!
Carmen and Charlotte met while working together in wondrous places: as showgirls at the Moulin Rouge, the Lido in Paris and modelling for Jean Paul Gaultier. And of course, they became instant friends!
Dondoks: When Two Paris Showgirls Make Shoes
Update: Sadly, this brand no longer exists 🙁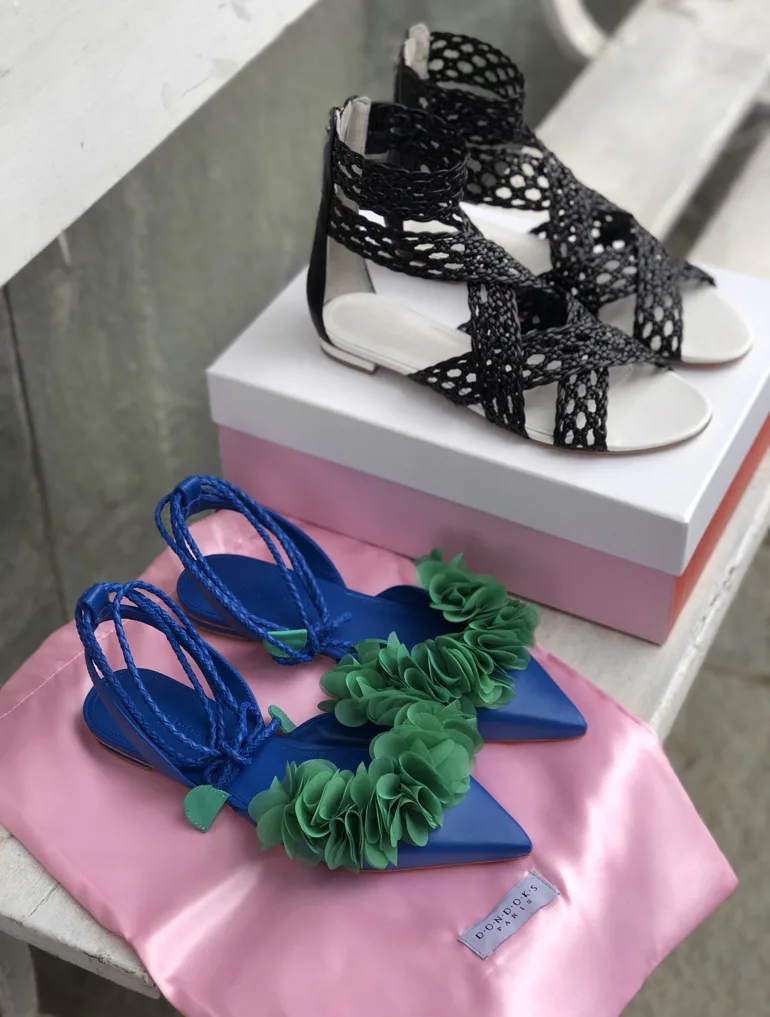 Both ladies are professionally trained dancers from Mexico and France, respectively. Charlotte, while working, was also studying fashion business at ESMOD in Paris, which helped the duo with creating their brand. And of all places, because she and I are fellow alumni!
The ladies' shared passion for shoes, the Parisian lifestyle & a flair for the exotic is how Dondoks was born. And if anyone is curious as per the name, it comes from a Brazilian expression that means "daddy's girl". The brand's motto is high quality and high fun & the resulting product is just that!
Colorful & stunningly creative, Dondoks shoes are not your average ho-hum footwear! The polar opposite of ubiquitous mass production, the Dondoks brand wants to raise awareness of high quality materials & local production and ethical practices.
Handmade from stunning leathers & materials in Brazil by artisans, Dondoks' current Spring/Summer 2018 "Candy Rainbow" collection — composed of 4 shoe designs — embodies fun, glamour & sophistication.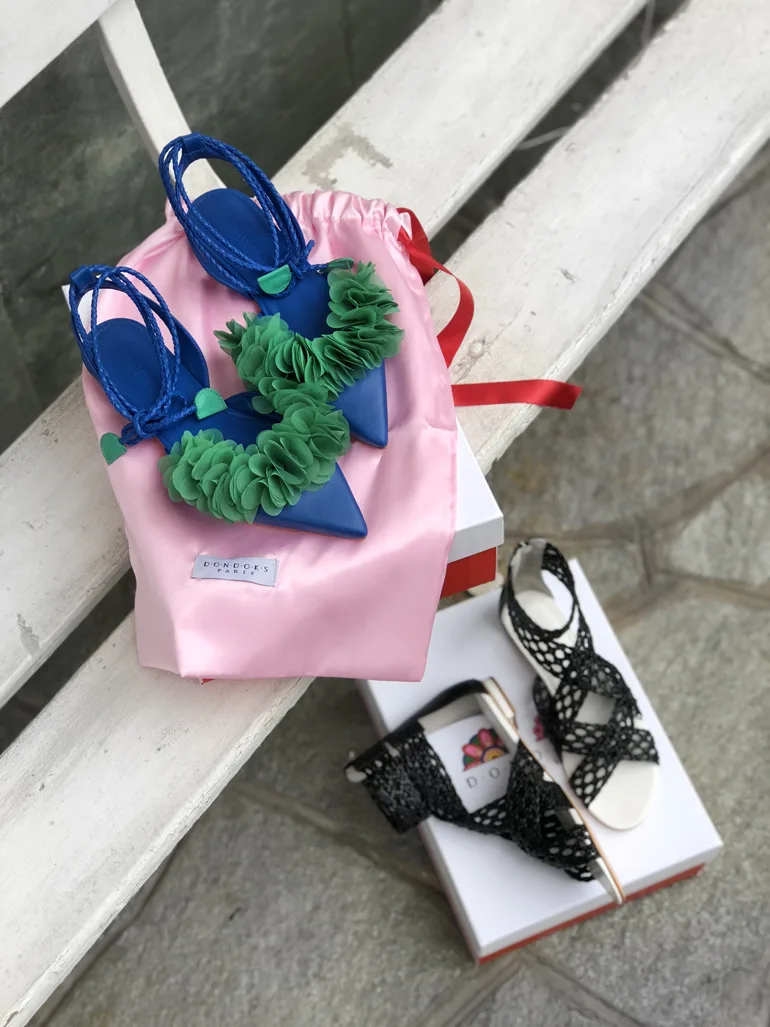 There's a definite Moulin Rouge feel throughout the collection, which I'm totally here for! I love that their designs are whimsical & girly, yet not unwearable.
They have girly pink frou-frou styles, yet you can also achieve the same vibe in more neutral colorways such as black & peach. And as all shoes should, they will add panache to any of your outfits this season!
As per the fit of the shoes, they do work best for a slim to medium sized foot. The black & white Mely sandal fits true to size, while the Frida flat (pictured in this post in blue and emerald), does fit rather small.
I would size up. Each pair of shoes is shipped in a solid color-blocked shoe box & includes a pink branded satin shoe bag.
Meet the adorable ladies & learn more about how their shoe brand came to be, below:
#dressupyourfeet
Cristina is the chief editor, fashion & shoe expert here at ShoeTease. As a seasoned stylist and women's fashion & shoe designer, she boasts over 20 years of experience in the fashion industry. She loves crafting effortless outfits for ladies both online and off and believes that styling advice should be accessible to everyone. Whether you're a styling pro or just starting out, Cristina's here to guide you on your fashion journey! Learn more.