With a vast array of color & embellishment (mirror cabuchons, rhinestones, gold trim, glitter etc etc), there's not doubt that this adorned Dolce&Gabbana shoe bonanza is one of the most over-the-top & colorful pom pom boots, or shoes, I've ever laid eyes on. At least for Fall 2016, anyhow! And what a perfect Freak-Shoe Friday pick right now, being it's Toronto Fashion Week & all?
Yay or Nay? Colorful Dolce&Gabbana Pom Pom Boots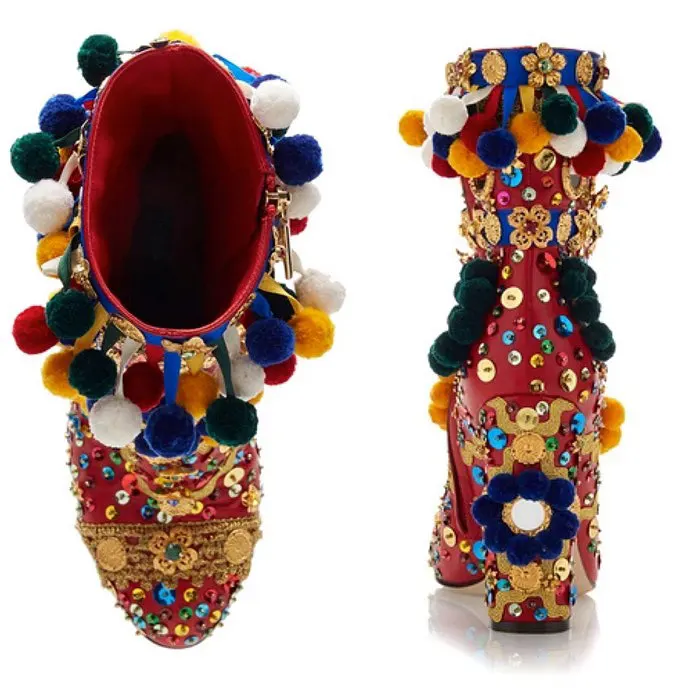 I can totally see one of our very own Toronto fashionistas strutting down into the #WMCFW tents with their little bootie pom poms just dangling (and possibly even jingling a fancy tune lol!). Not only would these be fabulous to take as a street style shoe shot, but how amazing would these high heeled ankle boots be around Christmas time? Yes, ugly sweater, you can move along…there's a new freaky holiday specimen in town lol!
Although these are an amazingly creative shoe, it's a little too arts & crafty to be taken seriously. At least that's my opinion. But I think that's what Dolce&Gabbana were possibly intending. Just a funk, Sicilian folkloric-theme heeled bootie to put a smile on your face & anyone wearing them. Yet the price of said fashion-induced happiness comes at a steeeeeeep price. If you'd been lucky enough to partake in Moda Operandi's trunk show when the shoes were up for grabs, these puppies would have cost you a smidgen under 5K. Yep, and that's in USD prices, my Canadian friends!! Us Canuks would have to shell out almost 8K. You read right, honeys. Playful fashion, like these colorful Dolce&Gabbana pom pom boots, don't come cheap!
What do you think of these overly hand-crafted ankle boots: Freaky, fabulous or plain 'old ugly shoes?! Let me know in the comments below!
Want more pom pom shoes, check out the best of the Spring/Summer 2016 pom pom sandals!
xo Cristina