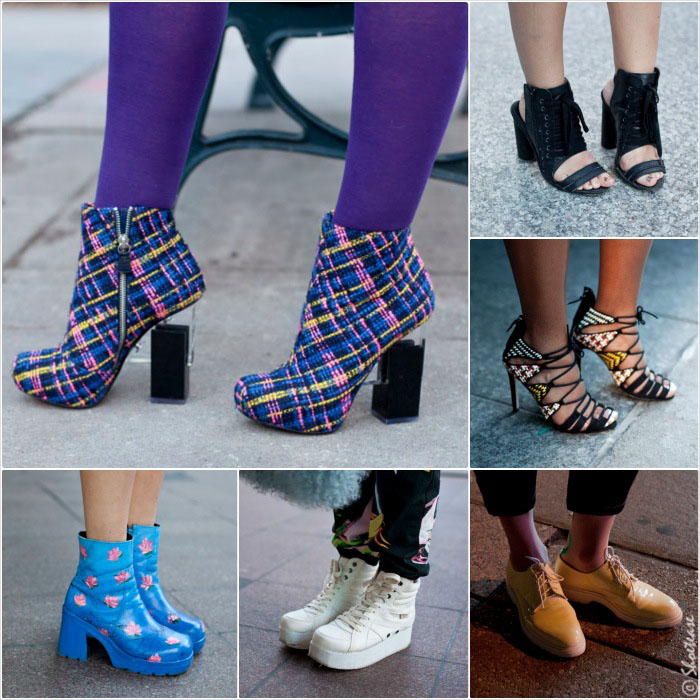 Street Style Shoes at Toronto Fashion Week S/S 2015
The best part of this year's #WMCFW was hands-down the street style & yet again, the shoes at Toronto Fashion Week, Spring/Summer 2014 edition, did not disappoint! But do they ever, really?! From outrageous to outrageously ugly, the fashionistas posed in many a high heel & flat shoe, showcasing some of the most prominent Fall 2014 footwear trends, including chunky heel ankle boots, flatforms, manly brogues & strappy heels. Take a peek at the top Toronto shoes, below!
Chunky Heeled Ankle Boots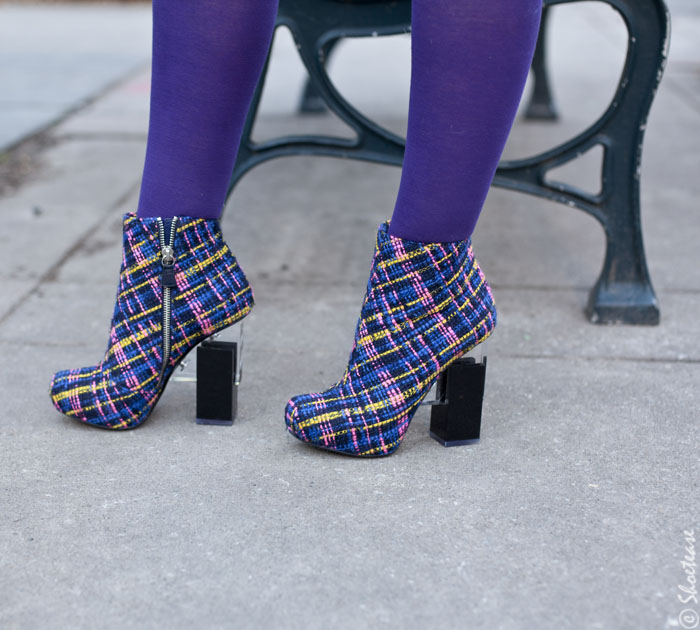 I love these boots for so many reasons! So much color, so much texture, so much perfect mix of everything that renders these architectural, chunky-heeled ankle boots a no-doubt-about-it fashionable statement shoe!
Super Strappy Sandals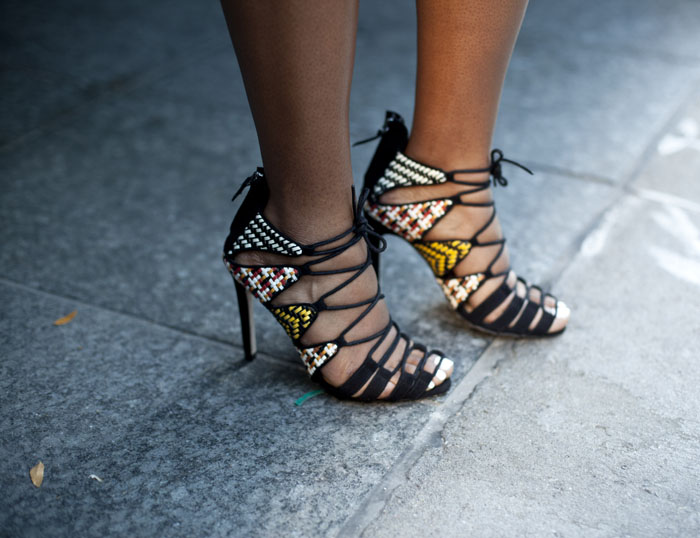 I know these are Zara heels,which went on crazy clearance sale for $20 & whoever got 'em at that price got a fab deal. Maybe this fashionable lady did as well? I just love everything about these lacy strappy high heels, from the criss-cross lacing to the multi-colored weaving on the sides, these heels are just shoe perfection!
Colorful Brogues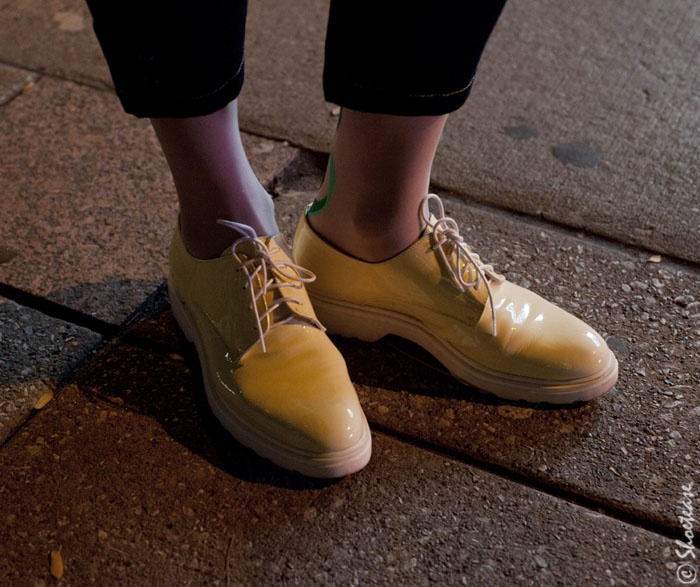 A huge trend for the present fall season is masculine footwear & at centre stage is the brogue, continuously evolving in many colours & finishes. Patent pastels seem to have taken over from last year's ubiquitous metallics, so it's no surprise that we got a glimpse of them at Toronto Fashion week the other day!
White Flatforms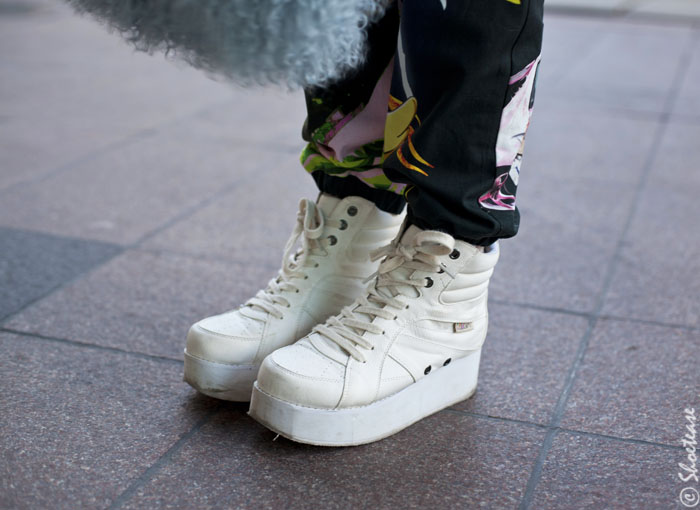 Ah, the flatform; still making its mark in the footwear world & dominating this season are both the flatform sneaker & flatform brogue. I'd never be caught dead in these shoes, but one can't deny that they do make a statement. We did photograph them, right?!
The Cut-Out Hybrid Shoe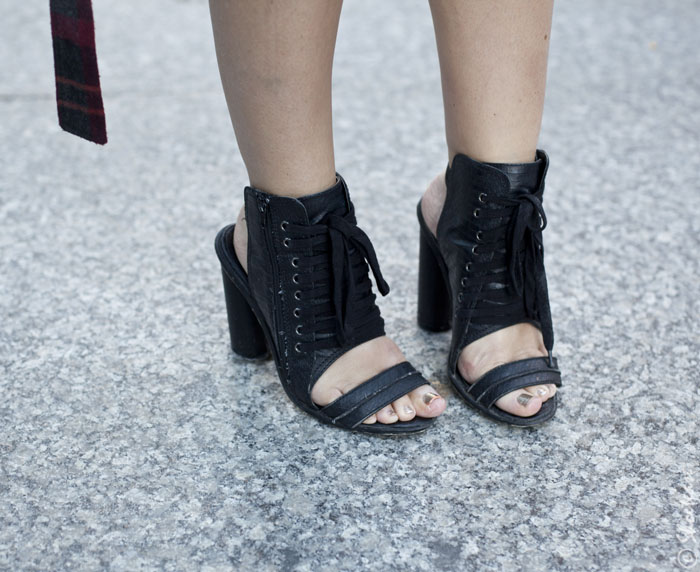 I had no doubt that the I'm-not-quite-sure-what-to-call-the shoe of the season was going to make an appearance! A Sandal? A Boot? No one really knows! This version is pretty fierce with it's black on black wide sneaker-like lacing.
Track Soles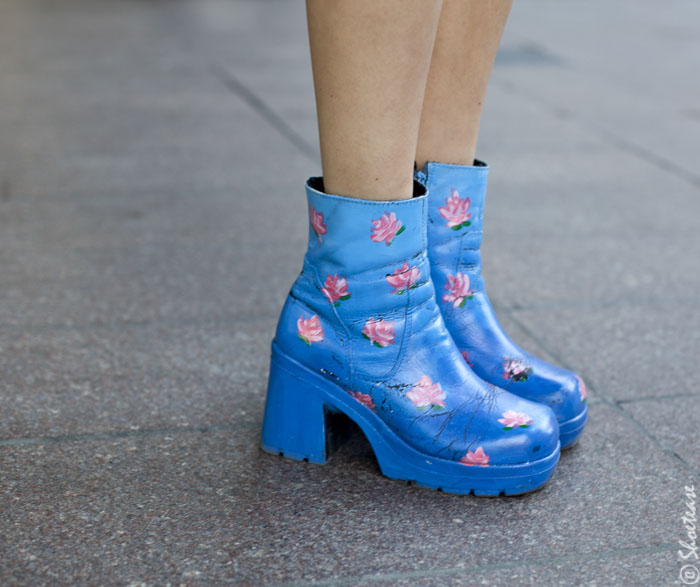 One of my favourite fall trends is the track sole, because it's just a fantastic looking as it is practical. Mind you, this worn-in, flowery smurfette version definitely has nothing else going for it, other than the grippy outsole & block heel, but then again, it does make for a good street style shoe capture & judging from it's appearance, looks much loved!
Which of these Toronto Fashion Week shoes from the concrete runway would you actually wear?
Photography by Hayley Hruska
xo ShoeTease