This post was most recently updated on January 25th, 2015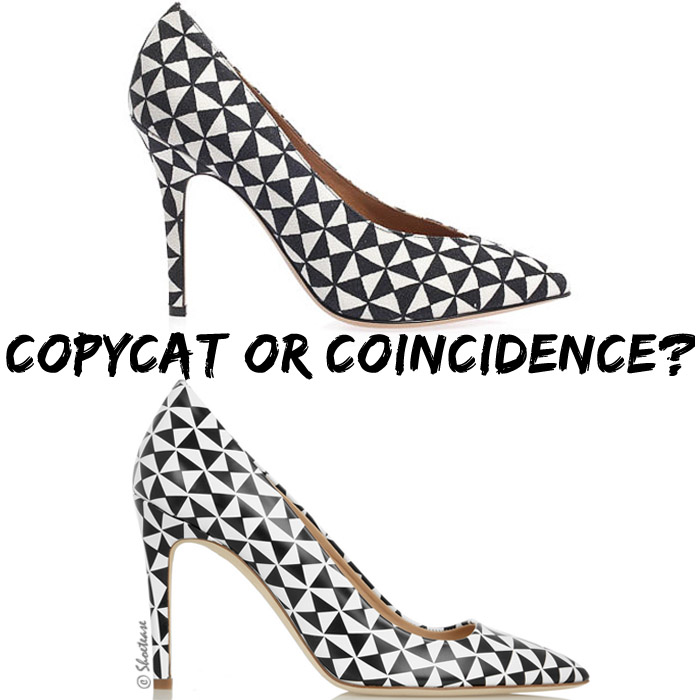 Well, well, what do we have here, folks?! Almost identical triangle/bow-tie prints on a pointy-toe high-heel pump. The top design named "Prissy" by Isabel Marant & the other, pictured below: "Falsetto" by J.Crew. At least we're not looking at the same last & heel this time around, like in the last CopyCat or Coincidence post!
But this kind of similarity is almost worse, as it will, at first glance, look like the same shoe. Now we always know that it's the lower-end design that copies the original, high-end one, but sometimes you never really know. But in this print is kinda standard to Isabel Marant's brand. Still, however, this could be complete coincidence which might be leaving J.Crew either feeling a little silly. Or a little savvy 😉
For those of you that don't work in design, incredibly creative companies put out these amazing trend books each year (& more recently, constantly updated web content) to inspire & direct designers in their trade. We're talking about trend forecasting a few years forward here. Many a time, some fashion houses copy a design they see from the trend geniouses, almost to a tee.  Sometimes two of them do, which often results in extreme similarities in products form two fashion houses during the same seaon. These similarities, however, can also result from blatantly stolen ideas. Yes, as funny as it sounds, fashion spies among the creme-de-la-creme of the design world do exist! And then there is Jeffrey Campbell. But that's a case all to itself.
Yet to the dismay of fashion designers world-wide, everyday fashion lovers rejoice in being able to get similar high-end looks for a significantly lower price. And in this case, J.Crew's $280 version is not only less expensive, but it is also made of leather. Although I would not refuse Isabel Marant's more avant-garde canvas version, J.Crew's sinuous shiny pump is more my style. Nothing personal.
Thoughts?!
xo Cristina M.
Photo Credit: farfetch.com, net-a-porter.com