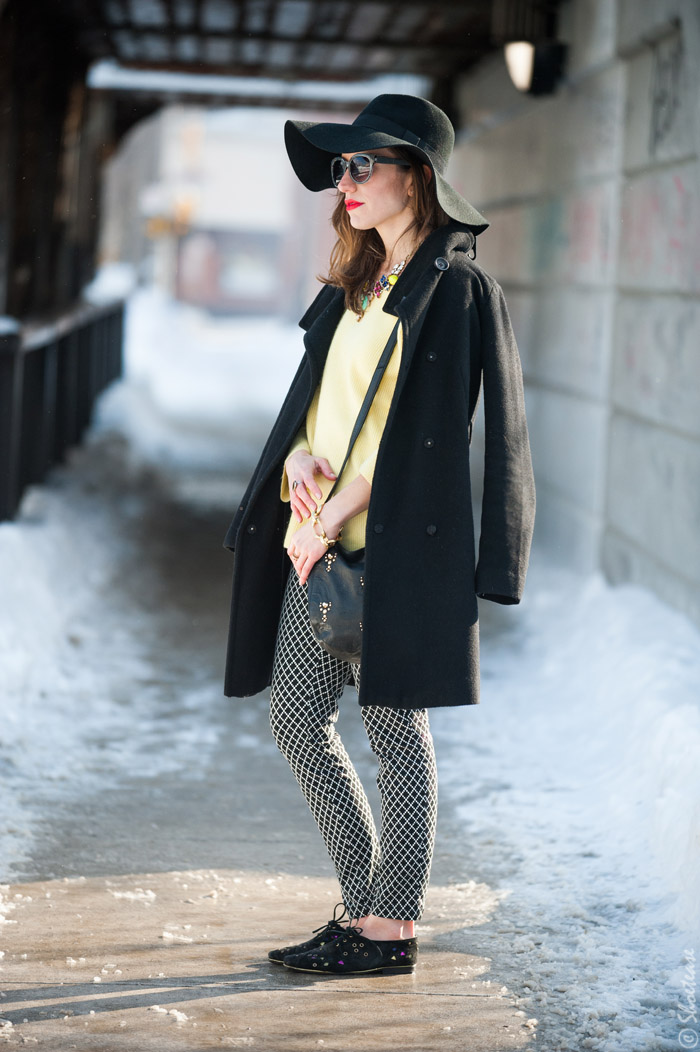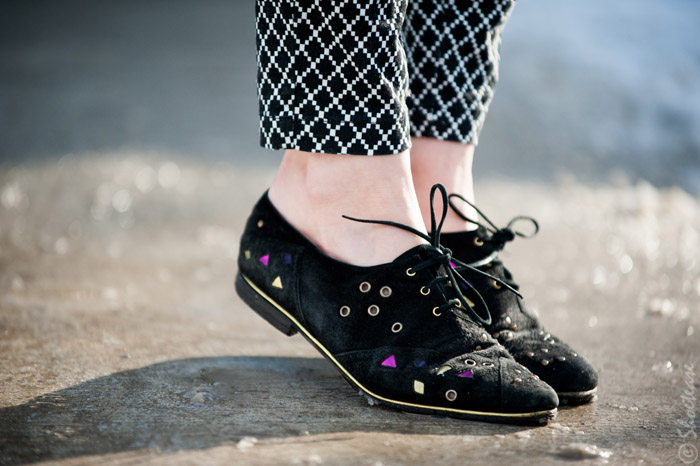 I'm not gonna lie: I love vintage designer clothing, especially those second-hand items gifted from great aunts, moms & kind, older friends! These studded Maud Frison suede brogues are from the 80s; the oversized gold chain/link bracelet, from the 70s.
This vintage Malo cashmere sweater? I practically live in it, yet it's barely pilled & only showing light signs of wear. It's from the 90s, so I'd say it's doing rather well! I have newer items that won't make it past the current season, yet these amazing vintage pieces, that have lasted decades, are still going strong. At the risk of sounding ancient: they really aren't making things like they used to, now are they?!
It's certainly my love of a retro vibe that led me to this 70s-style black floppy hat from H&M & Juicy Couture gold rivet-clad "Topanga" bag, which has a worn-in/thrift store feel to it. Talking about bags, I've got to admit that I'm none too kind to my purses. One could say my treatment of them is borderline abusive. So the fact that this Juicy cross-body bag (which I've carried around daily since December) is still as good as new, really attests to its durability! Not to mention it's the perfect size purse: small enough to be dainty, yet big enough to fit more than the bare essentials. Although I did purchase it with practical intentions, it was likely the soft leather & unusual multi-sized studs that sold me on it (nudged by a severely discounted price!). Here's hoping my current favourite multicoloured rock necklace from J.Crew & black/white diamond print pants from the Gap have the same staying power!
Photography by: Kenneth Chou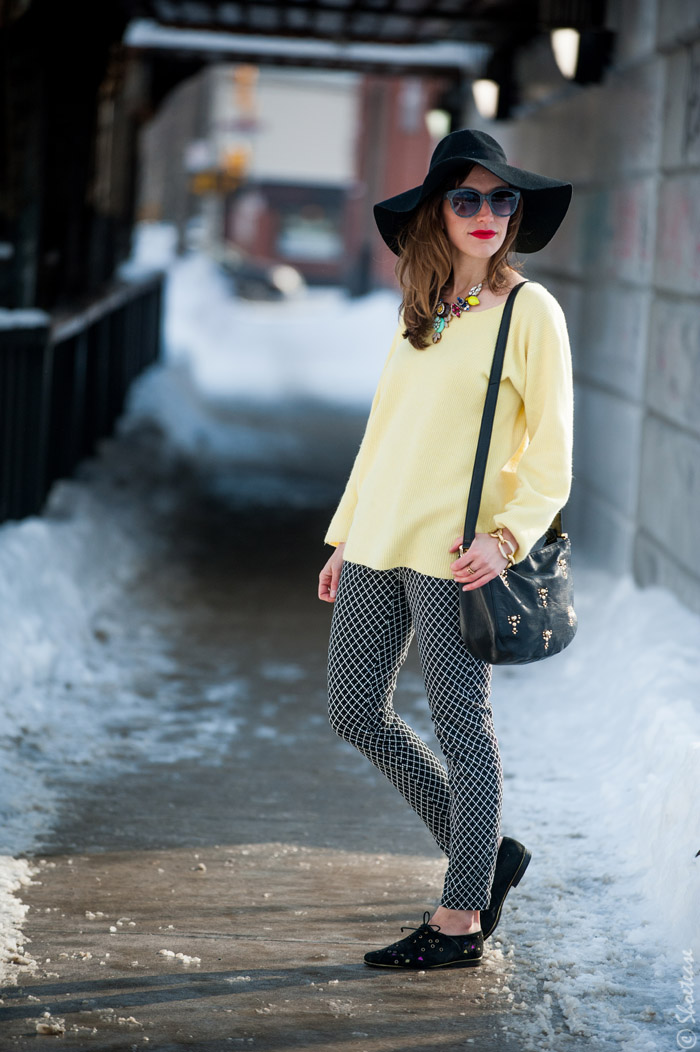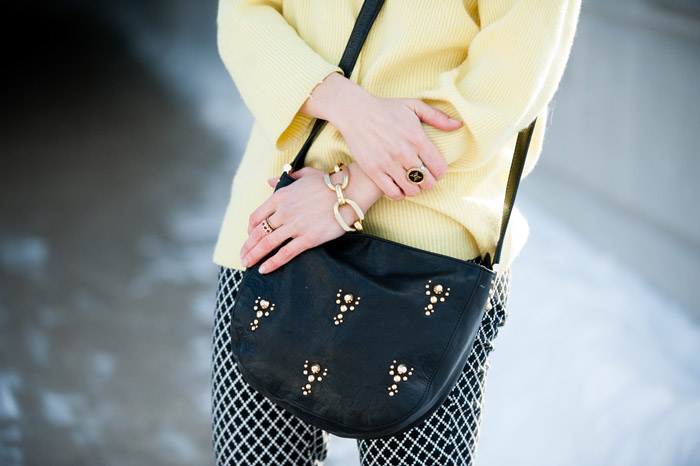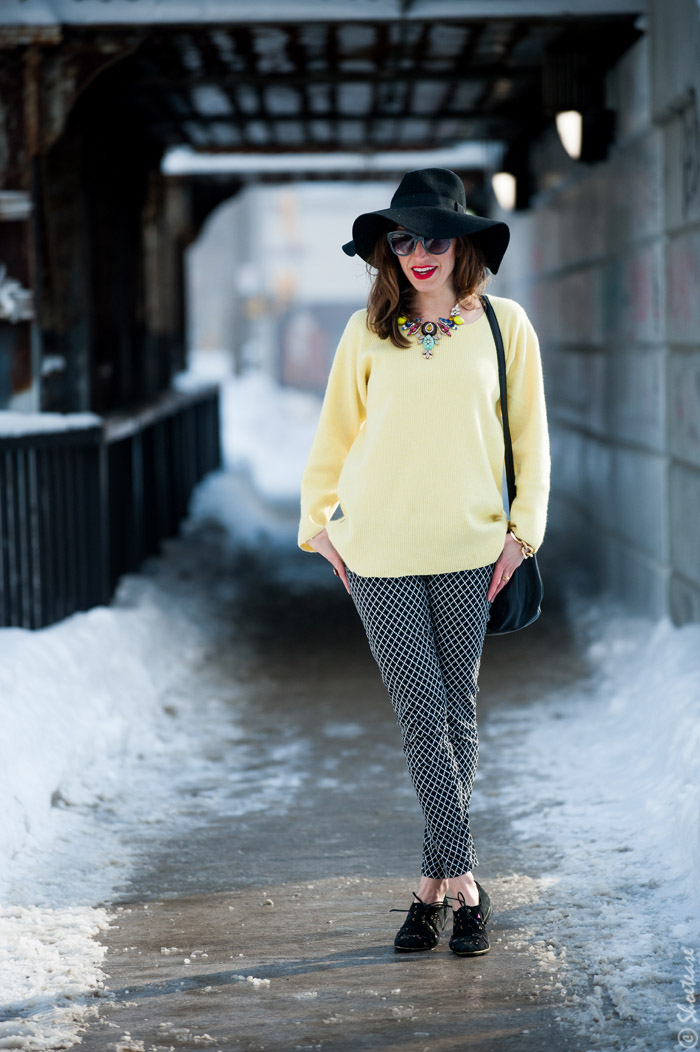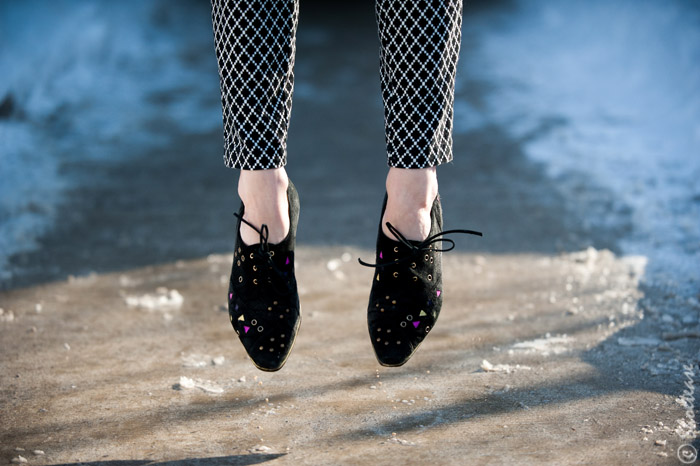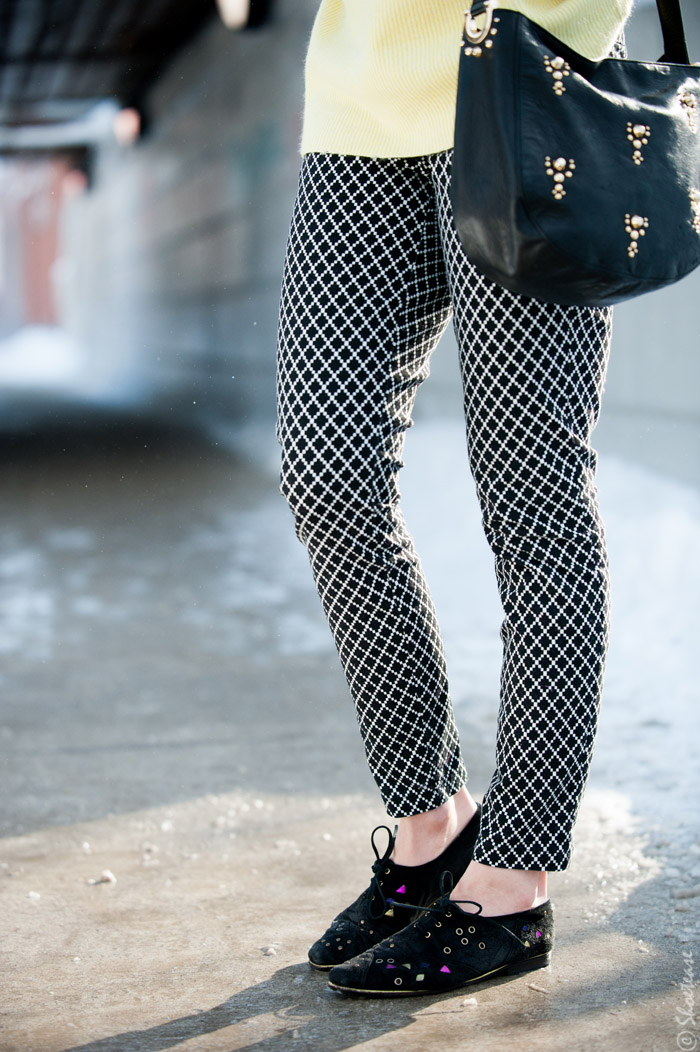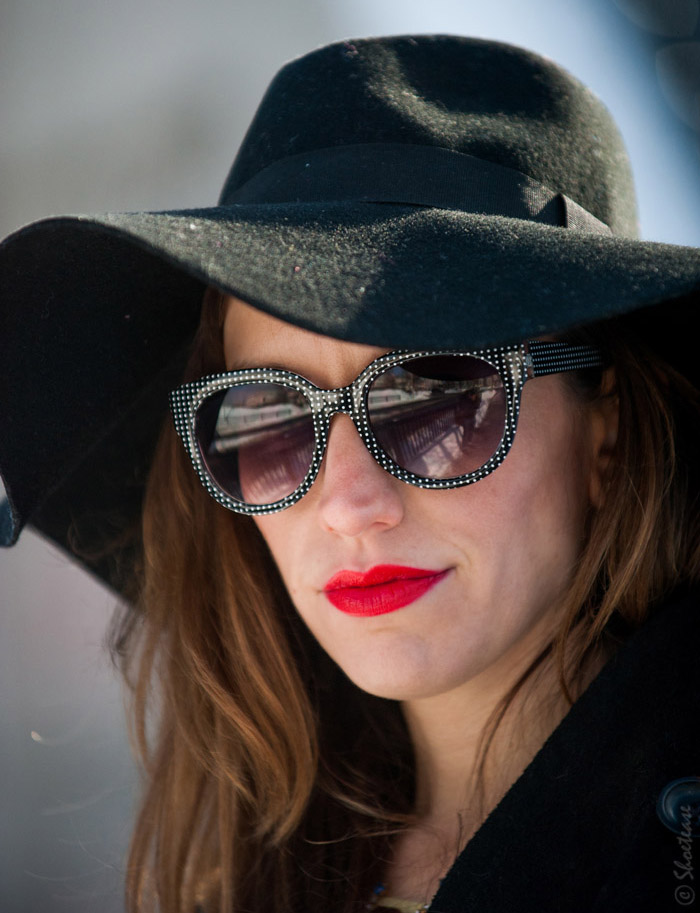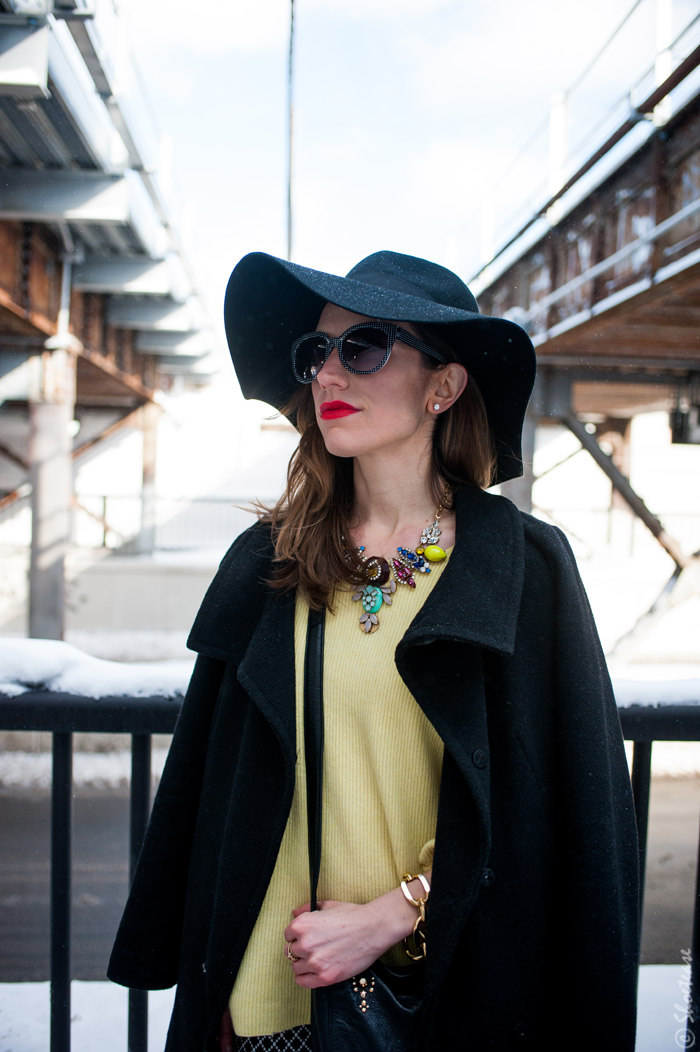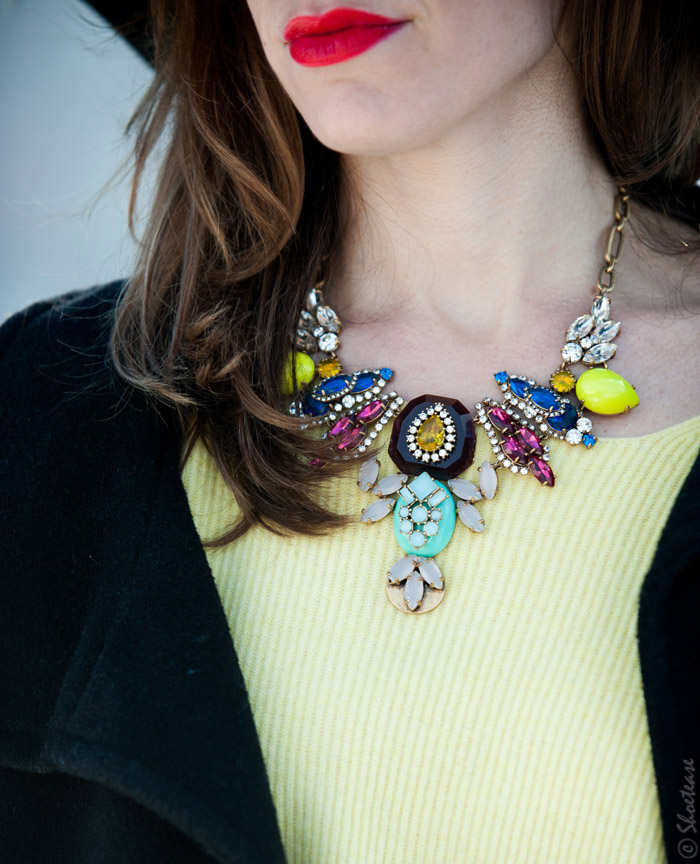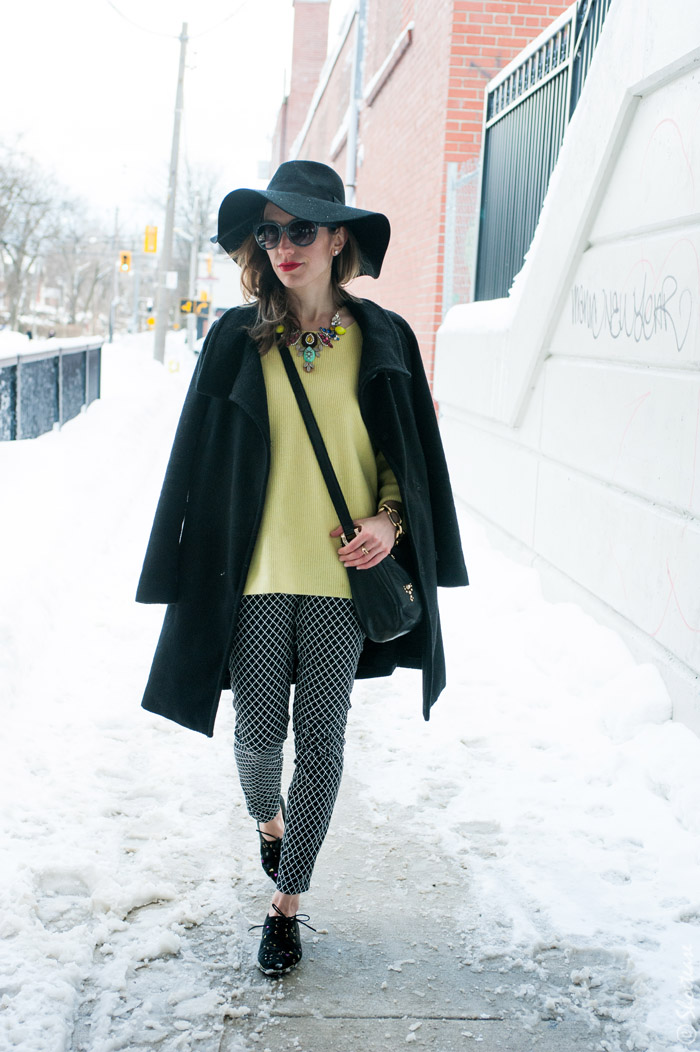 Floppy Hat: H&M (similar). Polkadot Sunglasses: Zara, sold out (similar + love these). Cashmere Sweater: vintage Malo (similar here + high end). Wool Coat: Gap, old. Rock Necklace: J.Crew on sale! Cross-body Bag: Juicy Couture. Diamond print Pants: Gap on sale! (similar here). Suede studded Brogues: vintage Maud Frison. Link Bracelet: vintage (similar here). Zirconia Earrings: old (similar on sale!). Button Ring: similar. Gold Ring: vintage.
Shop the Look
xo ShoeTease