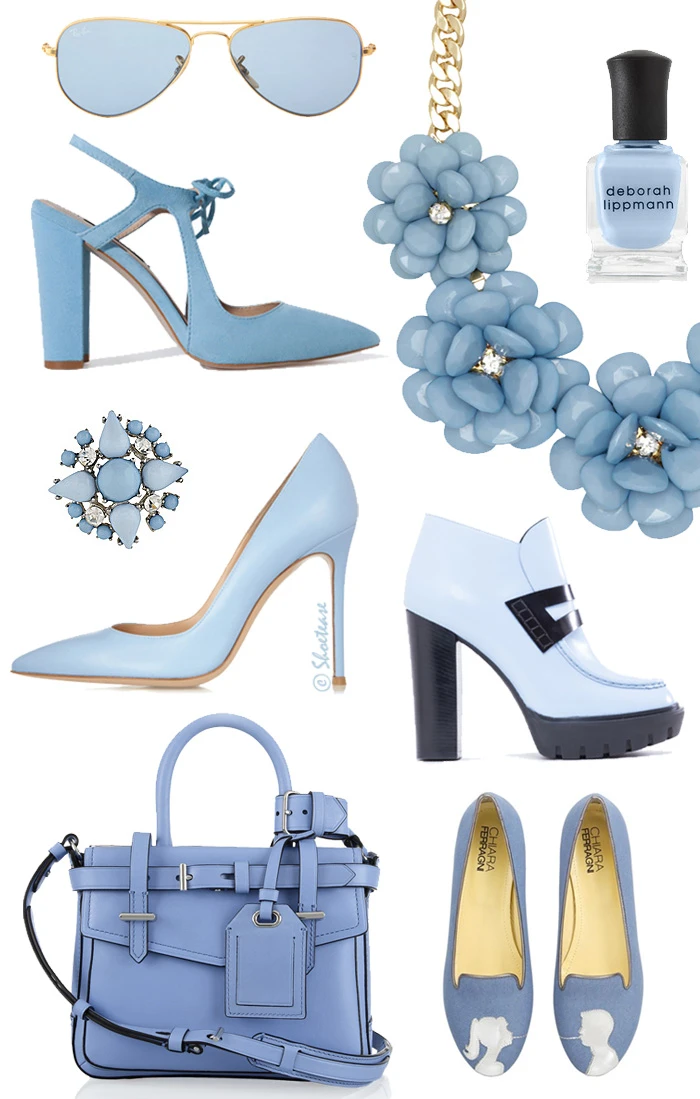 Top to Bottom: Ray-Ban Sunglasses, Deborah Lippman Nail Polish, Aldo Floral Necklace, Zara Heels, Aldo Earrings, Gianvito Rossi Leather Pumps, Kenzo Heeled Loafers, Reed Krakoff Purse, Chiara Ferragni Flats
Pastel Blue. Pale Blue. Baby Blue. Blue Orchid. Whatever you'd like to call it, it's a deliciously sugary Spring fashion & accessories favourite & it's easy to see why! Navy might be classy one & Cobalt might be feisty guy, but this powdery blue hue is the softer, more feminine of the three Big Blues & as serene & beautiful as it sounds.
Now let's talk a little about the shoes, shall we? This gorgeous shade will sweeten up a black outfit & add some soft colour to a white ensemble (I'll pair my blue heels with distressed white denim jeans, thank you very much!). Gianvito Rossi's pointy-toe pump pictured above is one of my favourites from this season, as is Zara's suede slingback Mary Jane which is girly & lovely, while Chiara Ferragni's spaghetti-slurping cameo couple loafers are as cute as can be! And the jewelry, handbags & accessories to match are just as incredible. I've a particular fondness for the blue-gold-diamante floral necklace from Aldo & have been drooling over the above Reed Krakoff leather tote for months. It's going to be a tough choice this season choosing your blue, let me tell you!
Check out my top light blue shoes & accessories picks for Spring 2014, below:
xo ShoeTease
Cristina is the chief editor, fashion & shoe expert here at ShoeTease. As a seasoned stylist and women's fashion & shoe designer, she boasts over 20 years of experience in the fashion industry. She loves crafting effortless outfits for ladies both online and off and believes that styling advice should be accessible to everyone. Whether you're a styling pro or just starting out, Cristina's here to guide you on your fashion journey! Learn more.