I am so happy that my shoe blog & I crossed paths with Toronto-based Outrageously Organic on Instagram! I take foot care seriously & prefer to use natural &/or organic foot cream.
Not only are all Outrageously Organic products completely natural and organic, they're homemade right here in Toronto. Inside Natalie's bathroom. Yes, you read right!
Tired of not finding a shampoo to serve her needs, Natalie Ng (who works as an analyst) started mixing some magic in her bathroom. After testing out new formulas & playing around with natural & raw ingredients, she came up with a what is now a slew of face & body products that she now sells on Etsy.
These products are clean, vegan & are not tested on animals. They're actually are tested on the owner herself. So really, these are solely tested on humans! But do these all-natural products really work to get your feet flip-flop ready? Well, that's what I'll be finding out in this organic foot cream & foot scrub review!
Outrageously Organic Foot Cream & Scrub Review
Organic Foot Scrub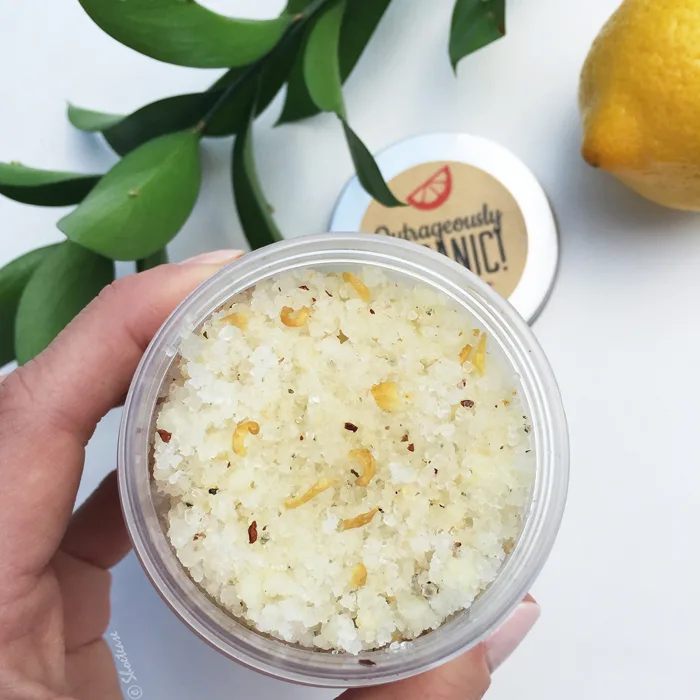 When I first opened the homemade foot scrub, I was expecting a lighter, thinner consistency. But this natural stuff has serious gritty power! It smells like tangy lemonade & I love how you can actually see the bits of lemon zest, cinnamon & tea leaves. So as per usual, I gave my feet a good 15 soak in warm water & then applied the product.
Effectiveness

: 10/10 gritty bits slough off dead skin well. Once you've scrubbed your feet & dried them off, they feel slightly moisturized already! That would be thanks to the shea butter & grapeseed oil.

Scent

: 10/10 If you love zesty lemon, you'll love this sugary sweet smelling lemon foot scrub. Almost makes you want to stir it into some ice water & drink it! But yeah, please don't 😉

Consistency

: 8/10 A little bit on the dry & crumbly side vs what I'm normally used to, so I found it best applied onto very wet feet. Because the base ingredient is epsom salt, the grittiest bits do 'melt' fast. I applied small amounts of the product 2-3 times on each foot to get the most effective scrub.
Foot Scrub Ingredients: Epsom Salt, Shea Butter, Grapeseed Oil, Zest of Lemon, Lemon Essential Oil, Peppermint Essential Oil, Cinnamon Bits, Green Tea Leaves
Shelf Life: Because of these raw ingredients, it's best to use the scrub within 2-3 months. However, it it will last longer if stored in the fridge.
Retail Value: $18.40 CAN for 6.4 oz container
Organic Foot Cream Review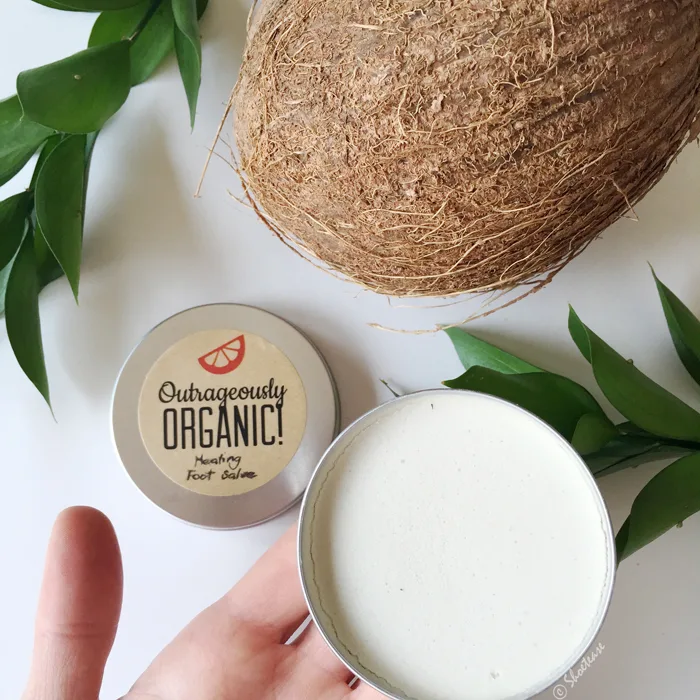 As I frequently use coconut oil as a moisturizer, I was momentarily taken aback by how dense this creamy foot salve actually is! The base is shea butter & beeswax, which makes it very thick. So after giving my feet a good scrub with the first product, I lathered on the organic foot cream. Here's what I found:
Effectiveness

: 9/10 a little goes a long way & it effectively moisturized my feet. The driest part of my foot soaked up the product in about 5 minutes, while it took approx. 40 minutes to completely absorb into the rest. Best to reapply in those pesky dry areas. So unlike the Burt's Bees natural foot cream, you can expect to have sandal-ready, non slippery feet in under an hr.

Scent

: 10/10 A milder scent than the foot scrub, but equally delicious. Kind of like a mild, citrusy peppermint patty.

Consistency

: 9/10 As mentioned above, it's really thick. It took a little getting used to as it makes you work to massage it in! That being said, I love how it's not runny, and a little does go a long way. Perfect spill-proof foot cream for frequent travellers or mess-prone people like myself!
Foot Scrub Ingredients: Shea Butter, Beeswax, Magnesium, Lemon Essential Oil, Peppermint Essential Oil, Eucalyptus Essential Oil, Coconut Oil
Shelf Life: 12 months when stored in a cool, dry place
Retail Value: &17.18 CAN for 3 oz container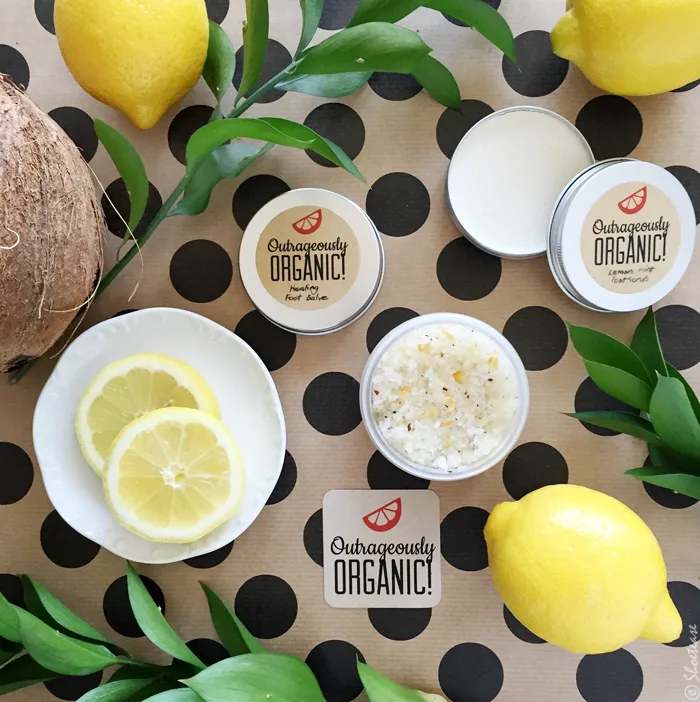 Outrageously Organic's "less is more" philosophy certainly doesn't undermine its foot care products. Each of the foot salve & scrub smell divine & effectively get the job done, without any artificial or chemical additives. I love the rugged, minimal packaging! Great way to buy local too 🙂
All of Natalie's products are made to order & you can find her complete Outrageously Organic line on Etsy. The foot lotion & scrub can be purchased individually or as a set for $33.13 CAN.
xo Cristina M.
**Disclaimer: I received both the organic foot cream & foot scrub courtesy of Outrageously Organic. All opinions expressed are my own**
Cristina is the chief editor, fashion & shoe expert here at ShoeTease. As a seasoned stylist and women's fashion & shoe designer, she boasts over 20 years of experience in the fashion industry. She loves crafting effortless outfits for ladies both online and off and believes that styling advice should be accessible to everyone. Whether you're a styling pro or just starting out, Cristina's here to guide you on your fashion journey! Learn more.