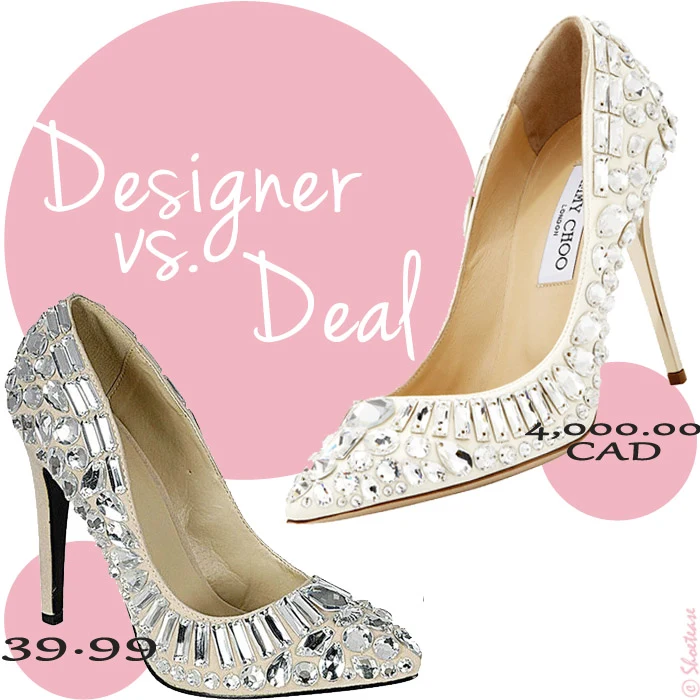 I've seen a few companies (which shall remain unnamed) attempt to copy the absolutely amazing Jimmy Choo Swarovsky crystal embellished "Tia" pumps & fail miserably. So I was quite captivated with this Choo shoe look for less!
There is no doubt that the beautiful heel, pointed toe & stunning rhinestones are difficult to mimic. But as I was perusing Canadian online retailer Shoe Me, these rather fabulous Jimmy Choo copy cat shoes popped out at me & I was actually impressed! Although the toe may not be as pointed & the high heel less dramatic, this is a rather dazzling shoe that can surely hold its own in the style department.
And for $39.99 vs. the $4000.00 pricetag, I'm more than ready to snatch one of the last pairs myself. And you know, attempt to live the dream!
See how Emma Roberts styled the real Tia pumps!
xo Cristina
Photo Credit: shoeme.ca, google.com
Cristina is the chief editor, fashion & shoe expert here at ShoeTease. As a seasoned stylist and women's fashion & shoe designer, she boasts over 20 years of experience in the fashion industry. She loves crafting effortless outfits for ladies both online and off and believes that styling advice should be accessible to everyone. Whether you're a styling pro or just starting out, Cristina's here to guide you on your fashion journey! Learn more.