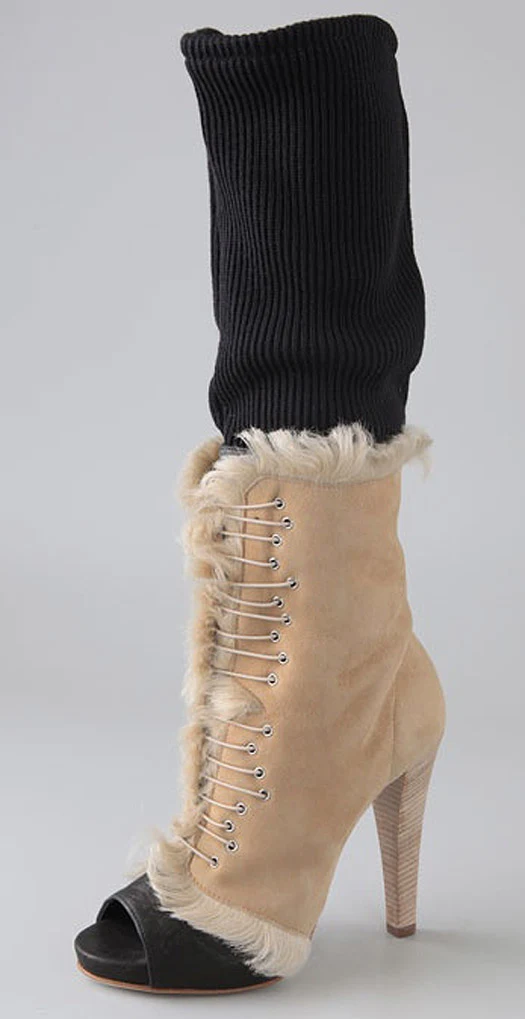 I start my Friday quite upset. Why am I so distraught, you ask? Well, last week it was my love Kirkwood & today it's my Italian shoe designer love Giuseppe Zanotti, now both featured in a Freak-Shoe Friday post. I am perplexed; are the high-end designer Gods becoming unhinged, or have they been keeping unsound, distasteful company?
I mean, come on now, what IS this footwear item? It's incongruous & puzzling. The light wood stacked heel & peep-toe scream summer, whereas the wool sock & shearling trip scream winter. Not a fan of sock-boots for the most part, this creation just depresses me even more as Zanotti (with his usually delicate shoe creative hands) took part in designing them. For Thakoon. Usually so refined & chic in character are his shoes. Could Thakoon be the problem?
Either way, it's not a been a popular item, so I'm guessing a lot of you are with me on this one. That's probably why it's 70% off at ShopBop…
That is all.
xo ShoeTease
Cristina is the chief editor, fashion & shoe expert here at ShoeTease. As a seasoned stylist and women's fashion & shoe designer, she boasts over 20 years of experience in the fashion industry. She loves crafting effortless outfits for ladies both online and off and believes that styling advice should be accessible to everyone. Whether you're a styling pro or just starting out, Cristina's here to guide you on your fashion journey! Learn more.