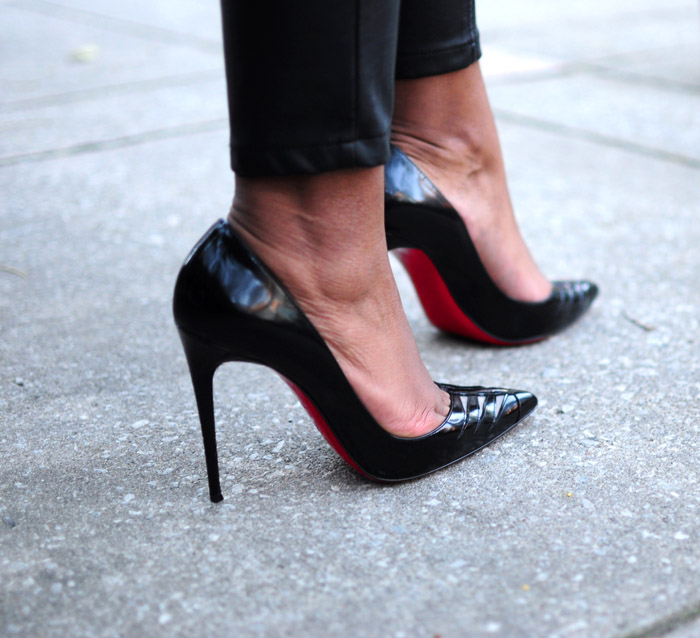 I arrived later than on the other days of Toronto Fashion Week, to witness & capture the best street style shoes. Although I fought a little with the diminishing light, there were so many fun ladies & gents wearing their #WMCFW best & all too happy to dangle their shoe glory into my camera lens! Who did I capture on Day 4 of Toronto's most fashionable week? Well, you'll find out after the jump, now won't you!? 😉
So what are my thoughts on the 4th day of the whole Fashion Week thing? LOADS of fringe, fur (not on shoes thankfully!), ankle straps & red. Glad I ended up making it downtown outside the tents on October 22nd as well, otherwise we would have missed out on the following shoe styling fun. Enjoy these fun Toronto Shoes!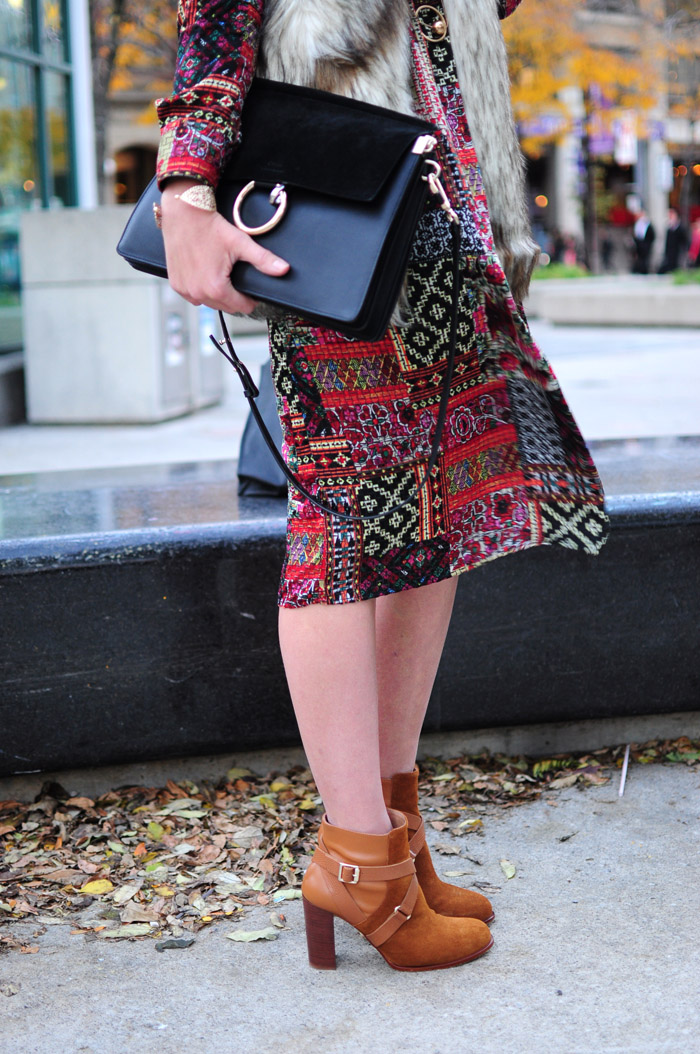 The always lovely Liat of @yomanchic captured for the 3rd time doing what she does best: layers, textures & great shoes! These brown buckled leather & suede booties are from Topshop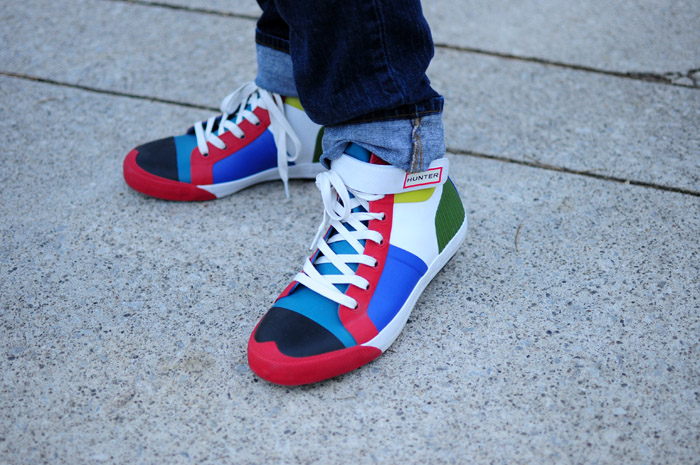 Former stylist come fashion manager Mario @mariovolacci donned one of my favourite shoes of the day: the completely waterproof Hunter hi top "sneakers". Found at one of my top places to score great shoes: Winners!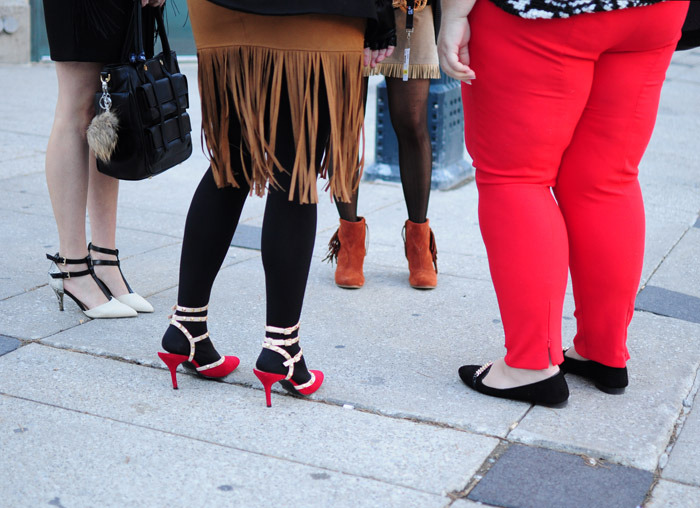 Red & neutral shoe conversations. Left to right: Kayla @shortpresents wearing Kohls black & white ankle strap pumps; Sarah of @bohoandbraids in studded Charlotte Russe heels; Ping of @fashionpingpong wearing Toms fringe booties, Amanda @amanda_monty in ASOS loafers.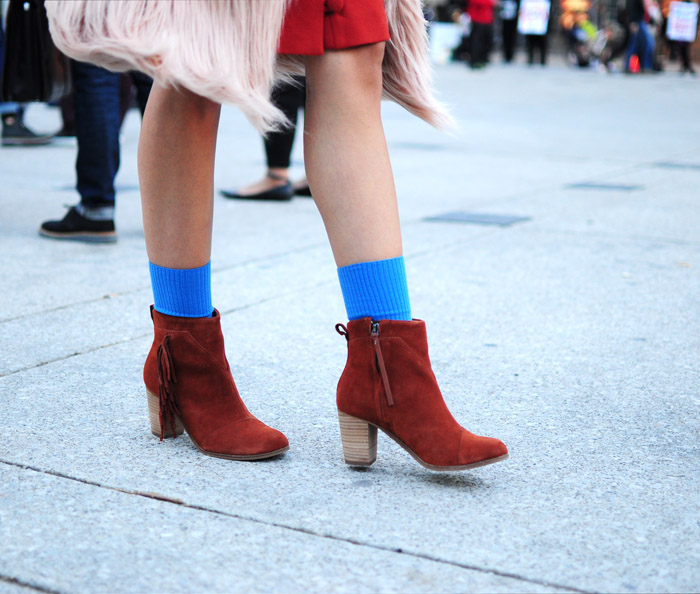 Yep, these are the same Toms as seen above. This time styled by the always amazing Justine of Jet Set Justine @JustineIaboni styling her brown boho boots with bright blue socks & blush pink furry jacket.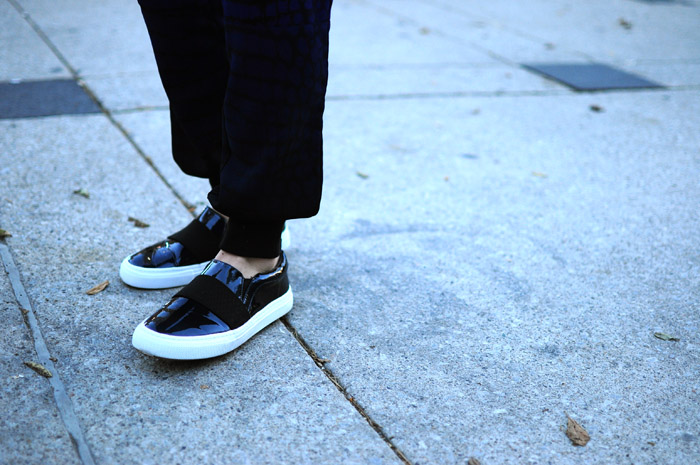 Photographer Elaine @ElaineFancy in patent black sneakers from Zara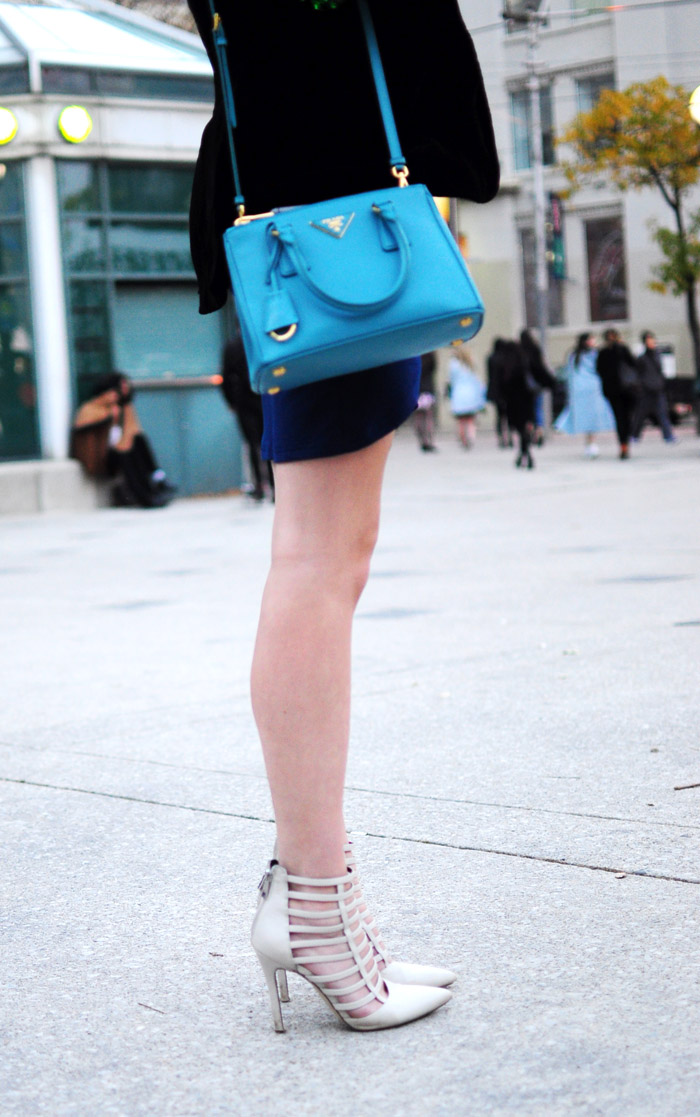 Sabrina @sabrinamaddeaux in beige Aldo cage bootie heels (& I'm really crushing on the Prada purse!)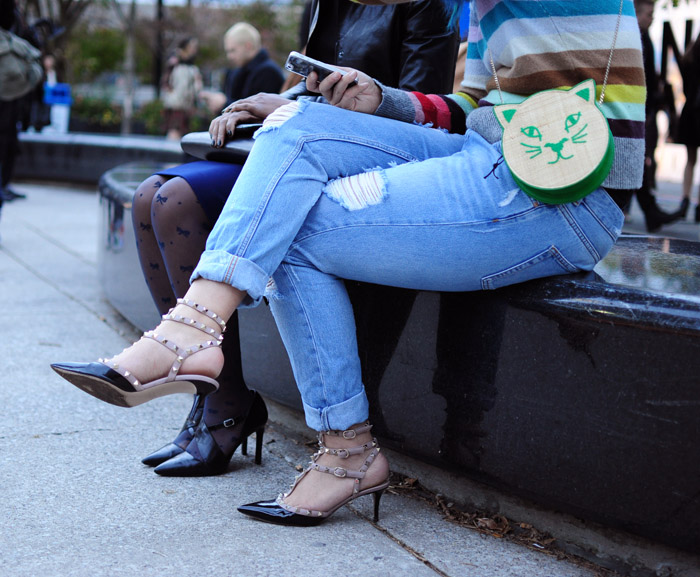 Nelia @styleblogca & her haute accessories: classic Valentino Rockstud heels & Charlotte Olympia Kitty purse. Anita @iwantigot sitting right next to her wears the cutest bow & polka dot tights!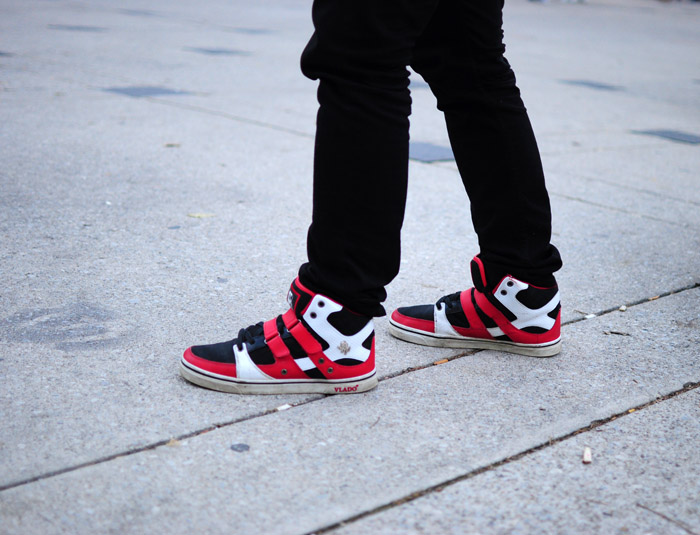 Another photographer in great sneakers! Kameron wears Vlado red & black hi-tops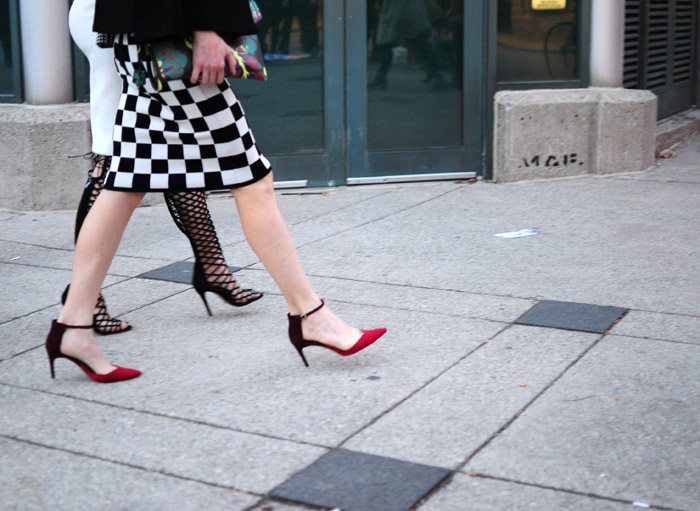 Still working on my street style shoes that happen to be in motion. But even if it didn't come out as expected (like, in focus!), I couldn't exclude this pair of fab ladies & their lovely heels, now could I?! Those black cage boots though…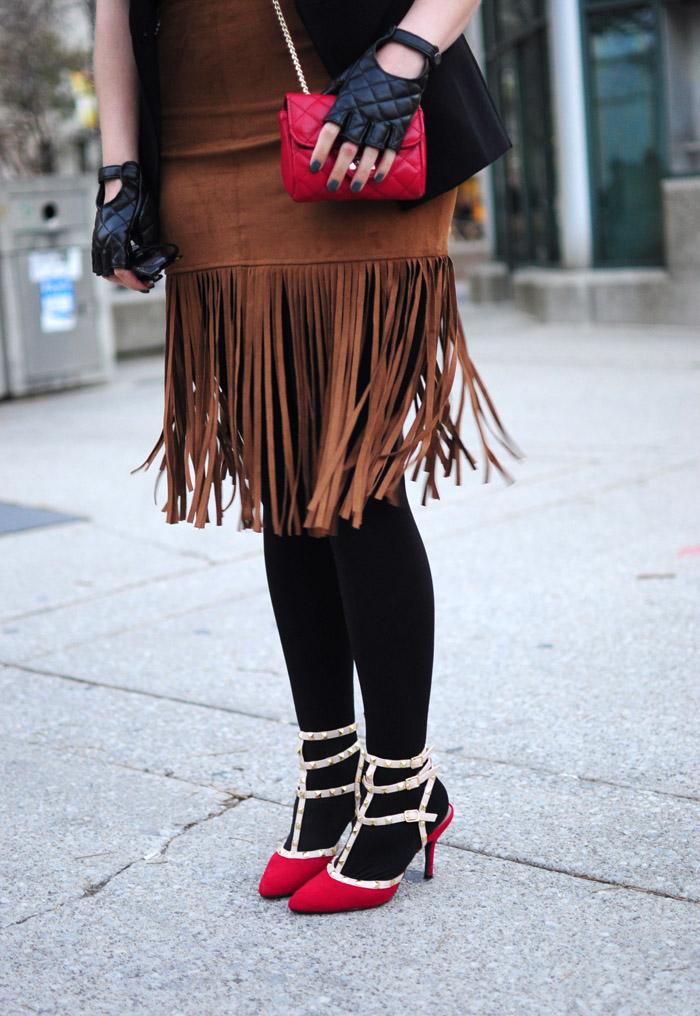 Sarah of @bohoandbraids wears red hot Valentino Rockstud inspired heels by Charlotte Russe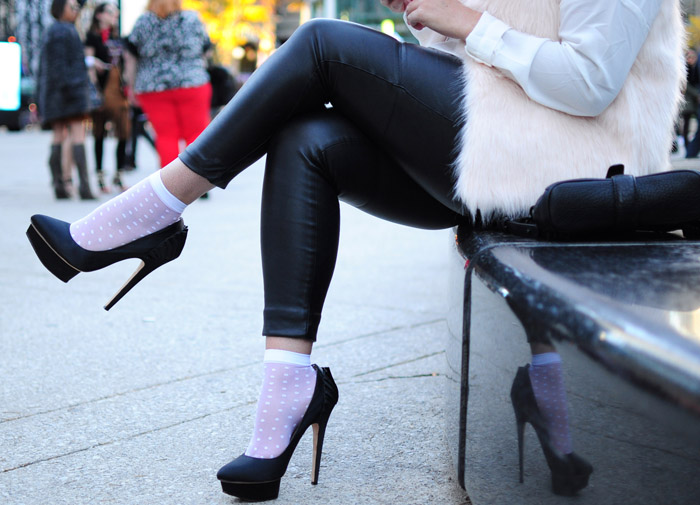 Have't seen a pair of these Charlotte Olympia "fan" platforms in a while, but how great are they with white polka dot socks!?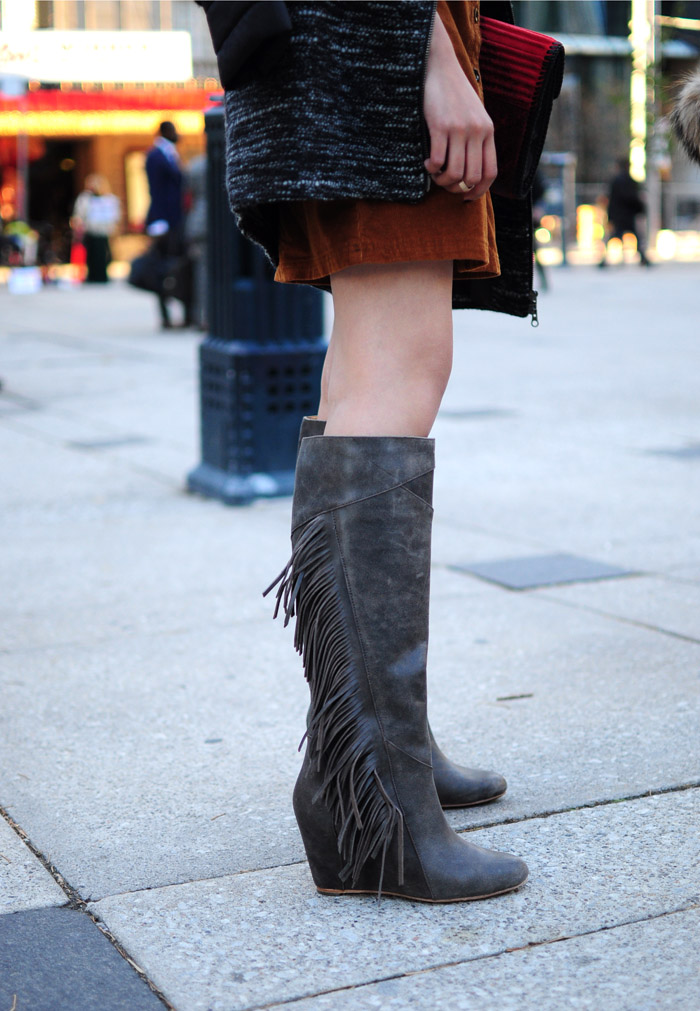 So surprised when I found out these absolutely fabulous wedge boots with fringe were designed by Koolaburra. They used to make ridiculous ugly shoes in the past. Seriously, just look at these. I now desperately want a pair of these after seeing them on Tiffany of @citysleekchic!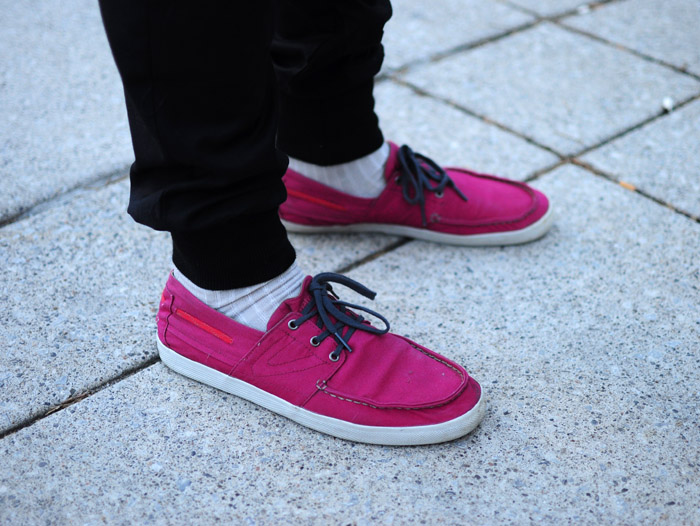 Another WinnersFabFind in these pink Tretorn boat shoes worn by Jordan of @expensivegelato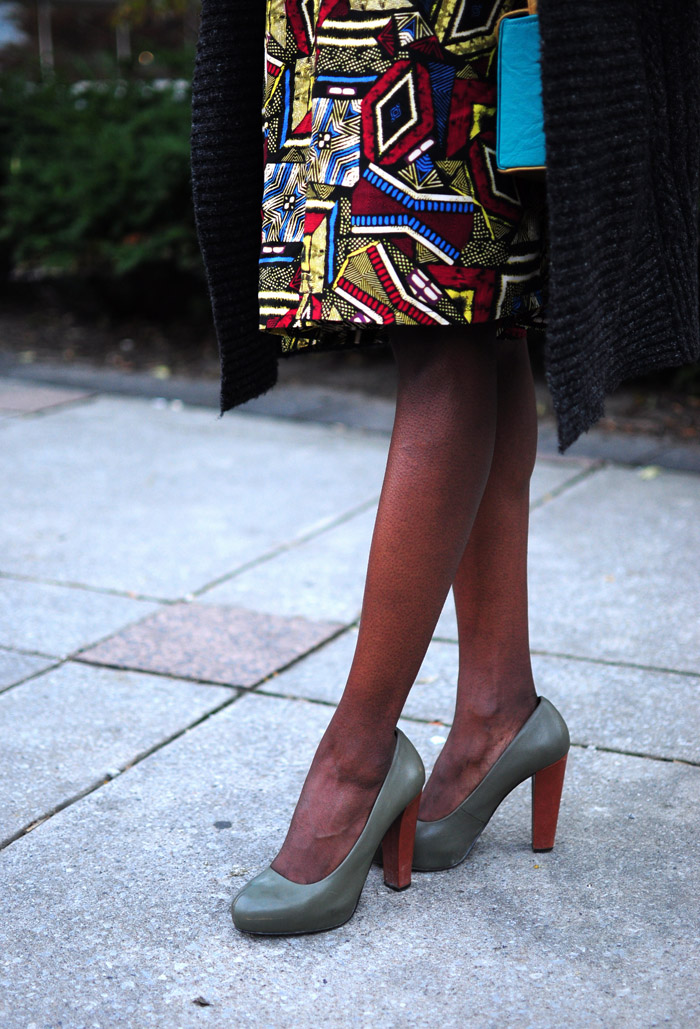 Love the printed dress with these army green platforms. It's not a color you oftensee in footwear & I love it! Sharon wears MRKT heels.
Great pairing: bright red pants with these simple yet chic ASOS flats! Worn by Amanda @Amanda_Monty
If you didn't make it outside the shows to shoe-watch, don't worry. I have you covered on the days of Toronto Fashion Week Spring/Summer 2016 edition with respect to the many street styling shoes:
xo Cristina