I was thrilled to attend the Nine West Spring/Summer 2015 collection preview in Toronto last week. Needless to say, the major Spring 2015 shoe trends were displayed amid a plethora of gorgeous shoes, sexy heels (did I mention how much I love Nine West heels?!), flats & booties.
Spring Trends From Nine West's S/S 2015 Collection
The indoor collection was hosted by the Nine West Canada team at the Gardiner Museum in Yorkville & even though it was freezing outdoors, it was a stunningly curated pink & purple floral footwear (& handbag!) garden party inside. Take a look, after the jump…

The dominant colors of the brand's shoes & handbags this coming season are all or nothing: extra bright primary colors & fashionable shades such as Radiant Orchid, in stark comparison to subdued pastels & quasi-shades of grey. And of course, black & white contrasting shoes are also a big, albeit classic trend. Pointed-toe pumps are still the most prominent shape for next season's heels. But what's even better is that now you can order create your custom pumps from a great selection of different materials & prints! With respect to heels, these are getting chunkier with a few block heels replacing a stiletto's usual place.
The super-strappy sandals showcase chunky heels best & are definitely on my to-buy list. Stilettos themselves have become less pin-like & more sturdy. Fashion sneakers are getting a huge revamp, with intricate uppers & unexpected materials. And let's not forget mules! This shoe type is definitely being given its time to shine. Quite literally! Missing in action, however, was a leopard or cheetah print. So I have to ask: are leopard print shoes on their way out?!
In sum, old trends are taken to new, feminine heights, resulting in fabulous, wearable styles. Here are the 9 strongest shoe trends from the upcoming Nine West Spring collection.
Oh, and they're now starting to be available for purchase. Yay! Scroll down for my favorite styles that are now in shop!
Graphic Floral Prints & Embellishments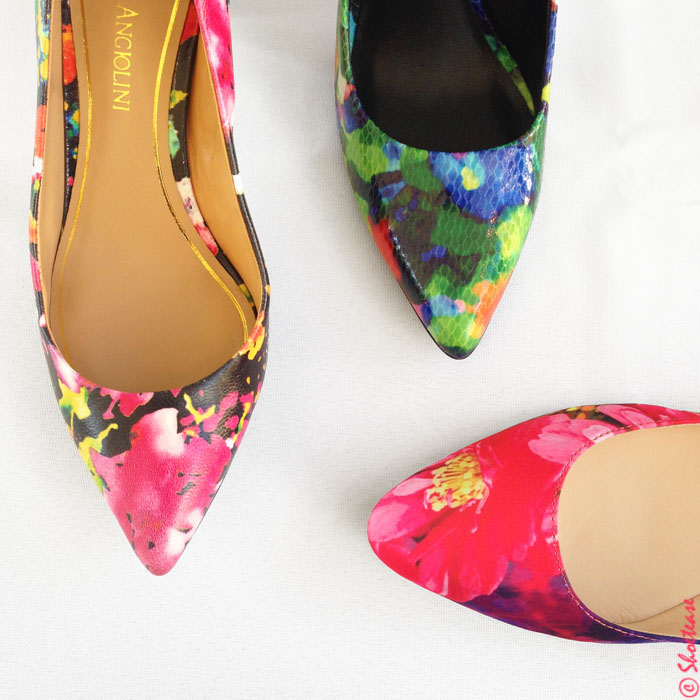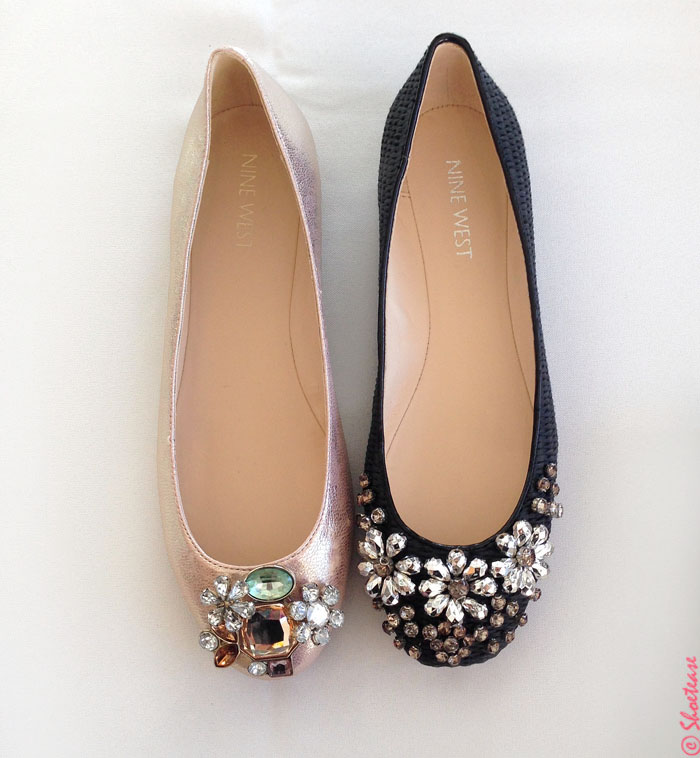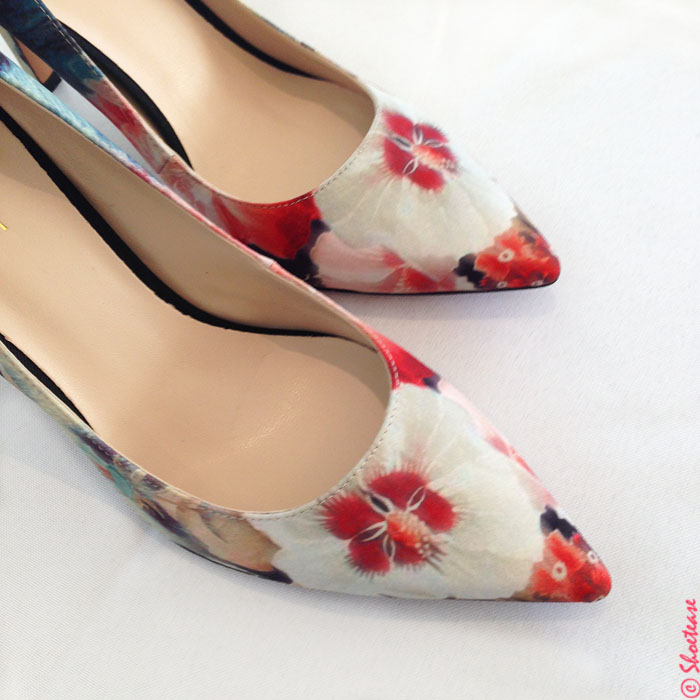 Florals for Spring!? OMG, no WAY! Ok, so this shoe trend is a given. Every Spring/Summer clothing or footwear collection will surely incorporate flowers & floral prints in some way. For 2015 flower motifs continue in painterly & graphic prints. The colors are bold, bright & flowers are seen not only in printed materials, but embellishments as well. I don't know about you, but it's difficult to get tired of florals once the tulips come out & the warm sun is a-shining, right?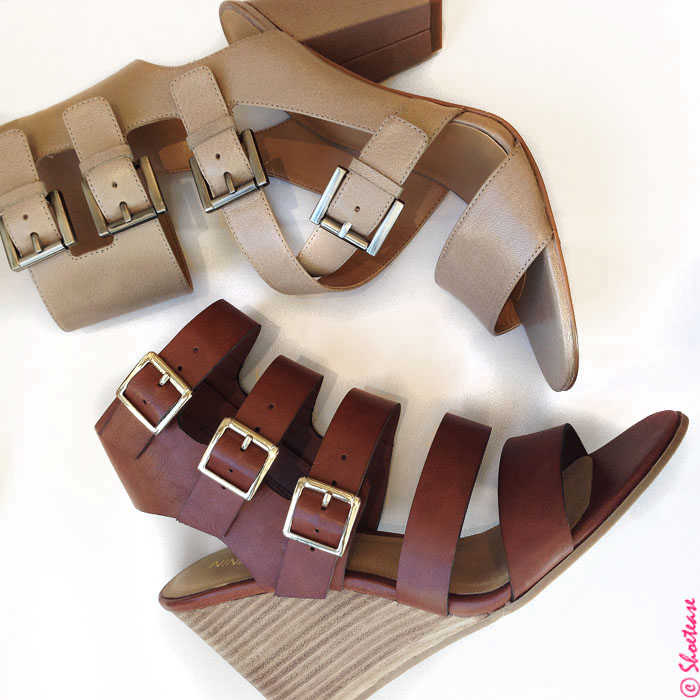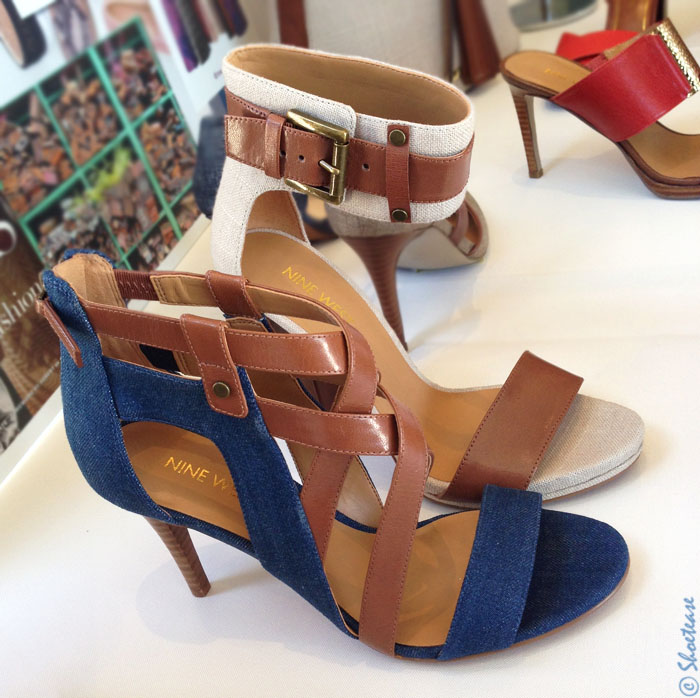 Super strappy styles are a big trend, but unlike the previous seasons, straps have become thicker & are no longer skin-pinching think. These have also become more playful, with criss-crossing & material mixing (such as the amazing denim/leather heel above)! Along with thicker straps come larger buckles, even taking on a purely aesthetic rather than functional use. I'm partial to the tan multi-strap in the image up top: it's a strappy heel that I know will hold my foot in place & I will allow me to walk the distance easily (& look fabulous while doing so!). I'm not going to lie: this is one of the Spring 2015 shoe trends I'm looking forward to most!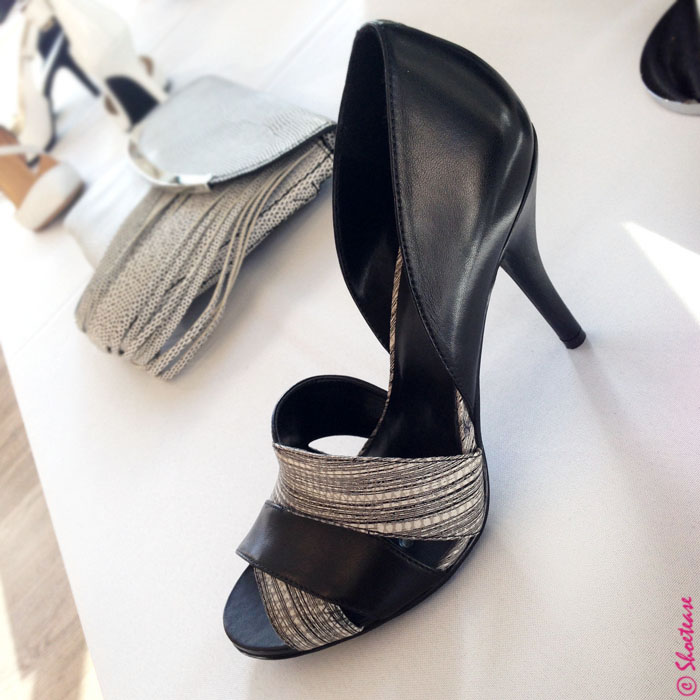 I'm not sure what's more stunning in the faux-reptile print sector of the Nine West Spring collection: the footwear or the handbags! Although a classic snake print will appear next season (in amazing strappy & cut-out styles), some revamped spotted & floral/reptile print hybrids definitely take centre stage. The spotted black & white print, above is my absolute favorite! Just look at the fringe-like detailing of that purse. I die! I'm calling it now: that handbag is going to sell out as soon as it hits the retailer's shelves!
Laser Cut-Outs & Perforations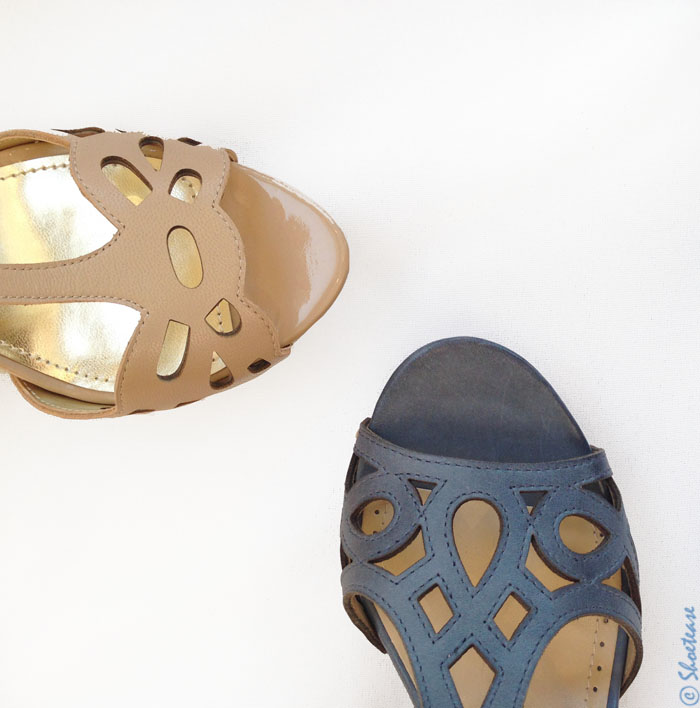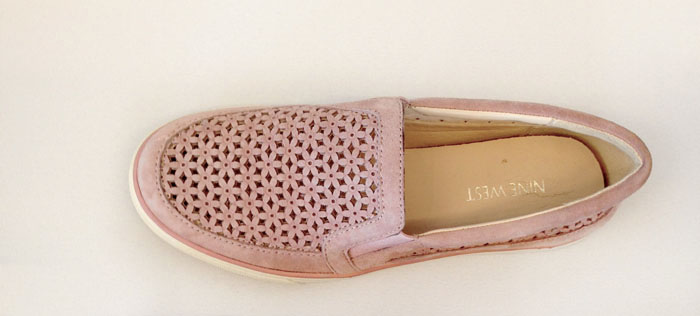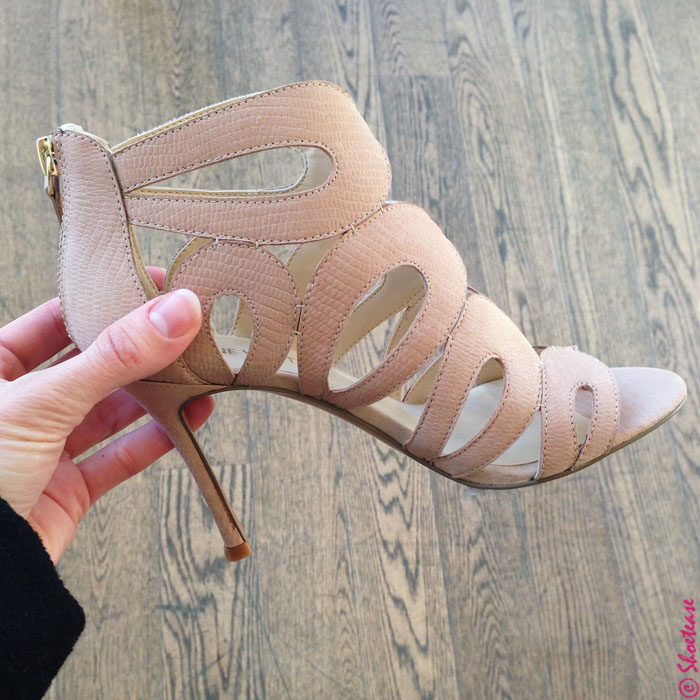 From large cut-outs to teeny, tiny laser perforations, this recurring trend is taking a major leap into all kinds of footwear, including fashion sneakers. I personally love a laser cut shoe in the Spring/Summer not only because the detailing is beautiful but it allows your feet to breathe in the warm weather, even if you're not wearing sandals! Definitely the most understated feminine trending detail in this shoe collection.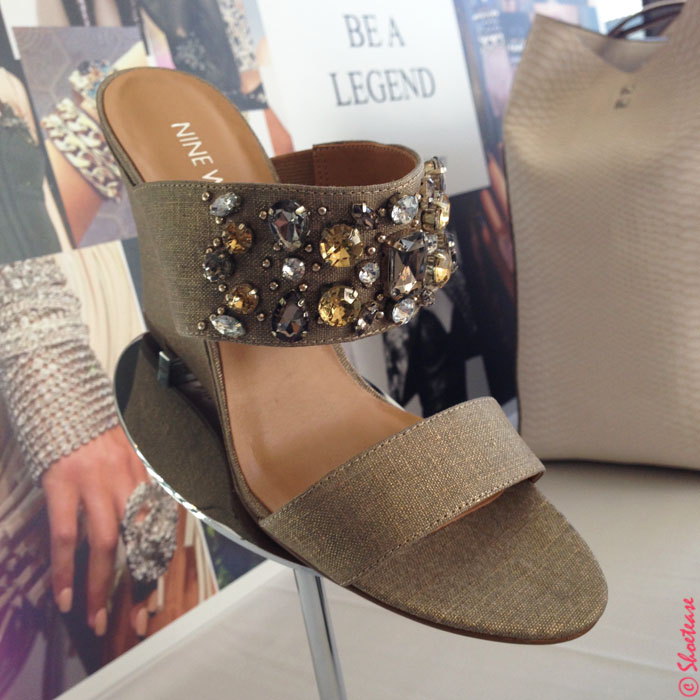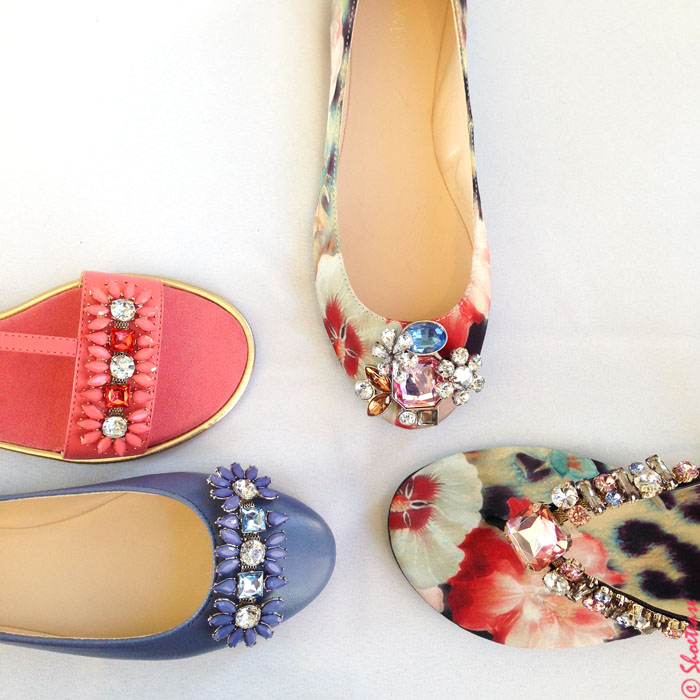 Can't let got of the holiday sparkle? No fret this season, folks, as sparkles & shiny embellishments are as strong as ever this Spring at NW. Most notable are the rainbow of rhinestones, looking more & more like shoe clips rather than permanent accessories. Great choices in this department for wedding shoes & flirty bridesmaids styles!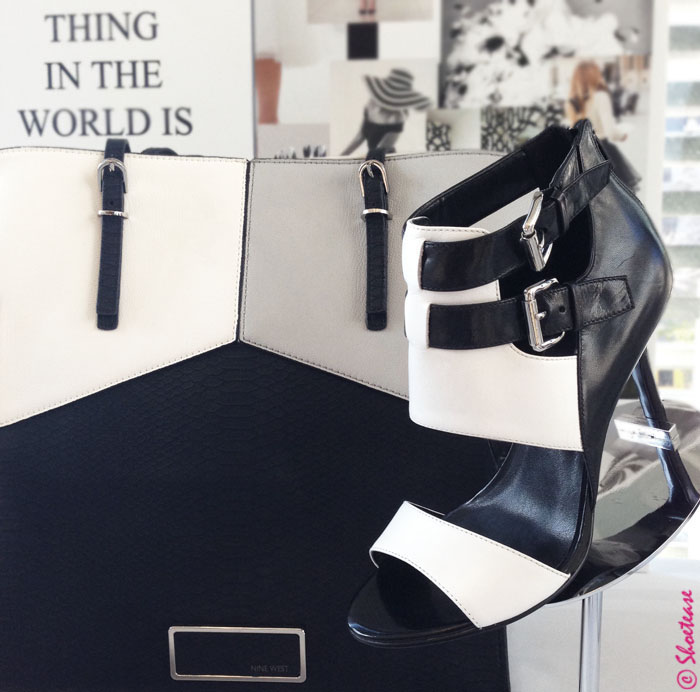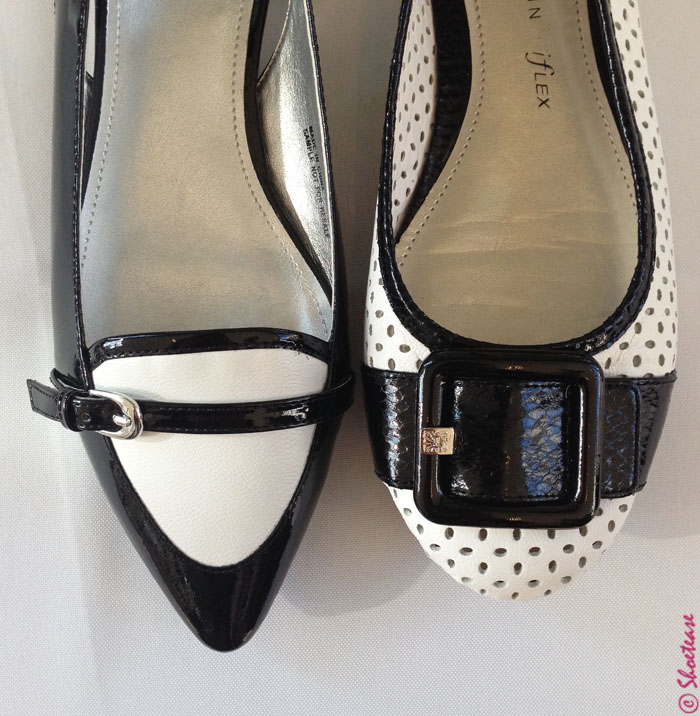 Chanel has made black & white shoes a classic, but the black vs white elements are much more pronounced with buckle overlays & varying materials added to the contrasting shades. Loving the matte white leathers vs. the patent blacks. A great shoe trend for the minimal chic lady & the perfect shoe to wear to even the most corporate office (while maintaining a cool, fresh edge).
Metallic details & Hardware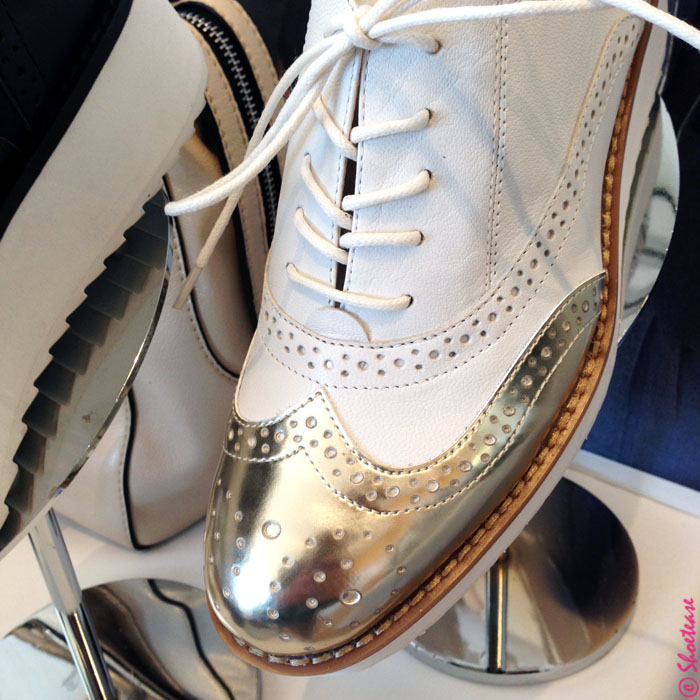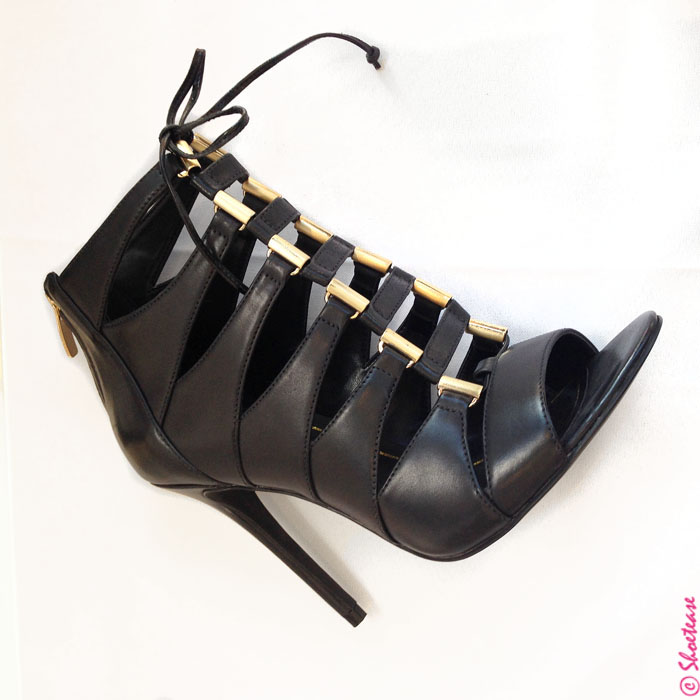 Both metallic materials & hardware are prominent. This time around, the hardware is chunkier, louder & the material accents are appearing in more unexpected shoe styles such as masculine brogues & sneakers, giving them lots of high octave shine! Loving the mini metal studs encrusted in the tassel holder of the brown leather high heel sandal, above. Metallics just make a shoe that much sexier, don't you think?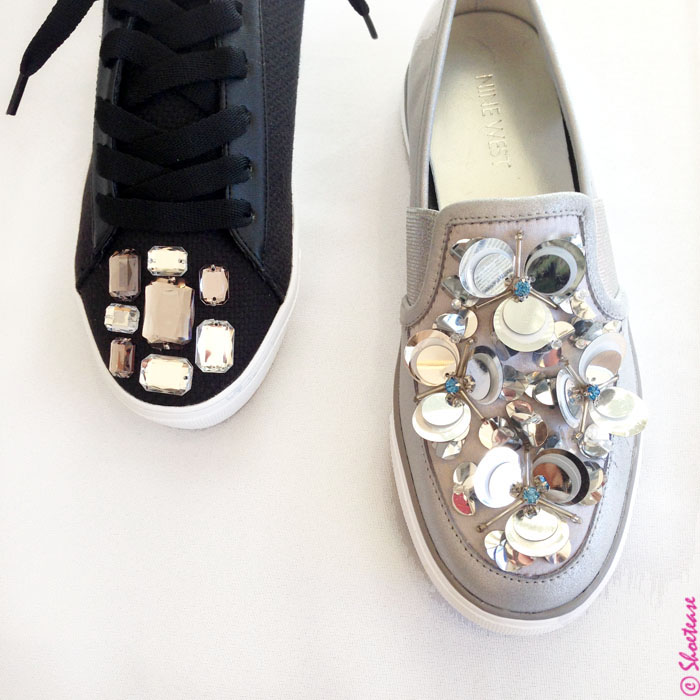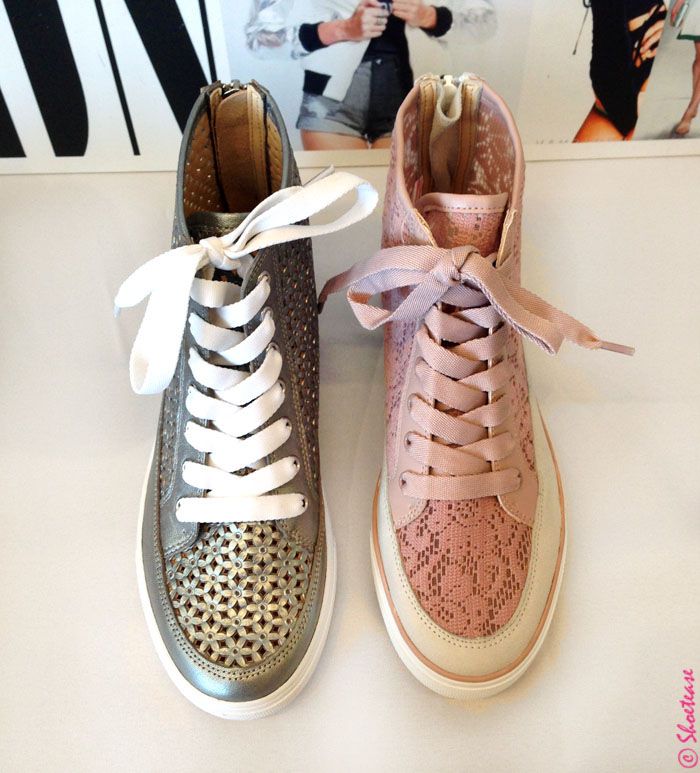 If you thought last year's trendy snakeskin slip-ons & plain canvas sneakers were the cat's pajamas, you're going to love the updated sneakers coming to NW stores next season! Lace & floral laser-cut out & textured metallic materials are as feminine as they are cool (especially in the high-top versions!), while the rhinestone & oversized sequin encrusted styles will definitely give Miu Miu a run for their money. And for a whole lot less, mind you! I'm absolutely smitten with the 3D floral-like silver detailing on the light grey slip-on, in the image above!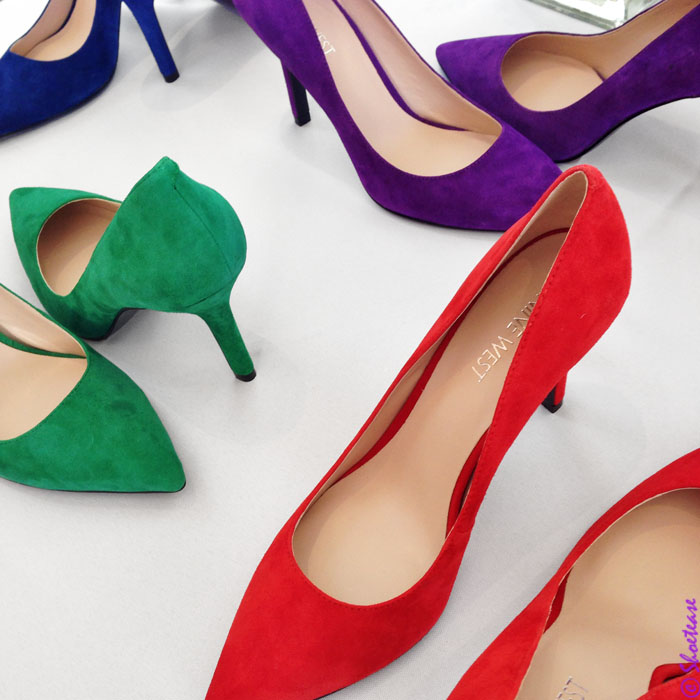 Bold colors in suede styles are VERY brightly saturated colors in the likes of tomato red, apple green, hot pink orchid & other juicy shades. Starting December of this year, the pointed toe pumps featured above will be available for special order in the 3.5 inch heeled version for a limited time at select NW locations in Canada & online. These made-to-order pumps will run you $120 & take 6-8 weeks to arrive. Just like Manolo Blahnik, but at a fraction of the cost! Shop my fave styles, below:

And that about wraps up the Spring 2015 shoe trends I extracted from the Nine West collection! From less flashy trends, to the most eye-catching, there is definitely a shoe for each type of lady in this beautiful shoe mix.
Have you seen the lovely new Nine West Fall 2015 shoes collection that's already starting to coming out to stores near you?
Shop the Nine West Spring 2015 Collection
Shop Spring Flats:

Shop Spring Heels:

xo Cristina