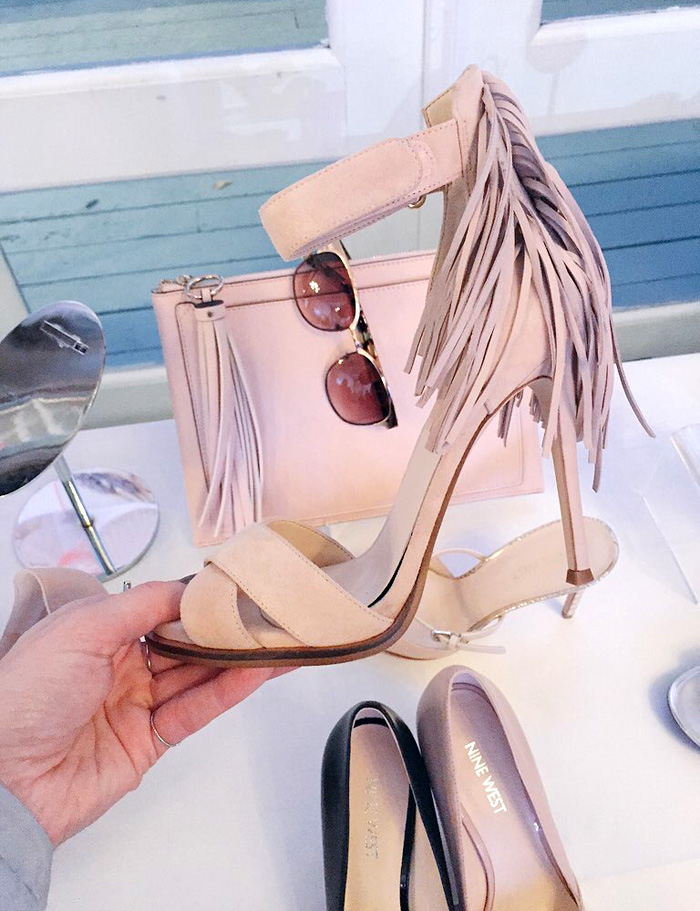 Nine West Spring 2016 Shoes Collection – A Canadian Preview
Another season, another Nine West Canada preview in Toronto! And no, I'm not complaining. Nine West has certainly outdone themselves for Spring 2016, with a variety of lust-inducing shoes & bags for the warmer, upcoming season. And I seriously want them all. Ok, maybe not all of them (that would be greedy), but I'd happily take these 15 styles back home! So come take a peek at the most fabulous heels, flats & sandals coming your way for Spring/Summer 2016. And yes, these include many a coveted shoe trend 😉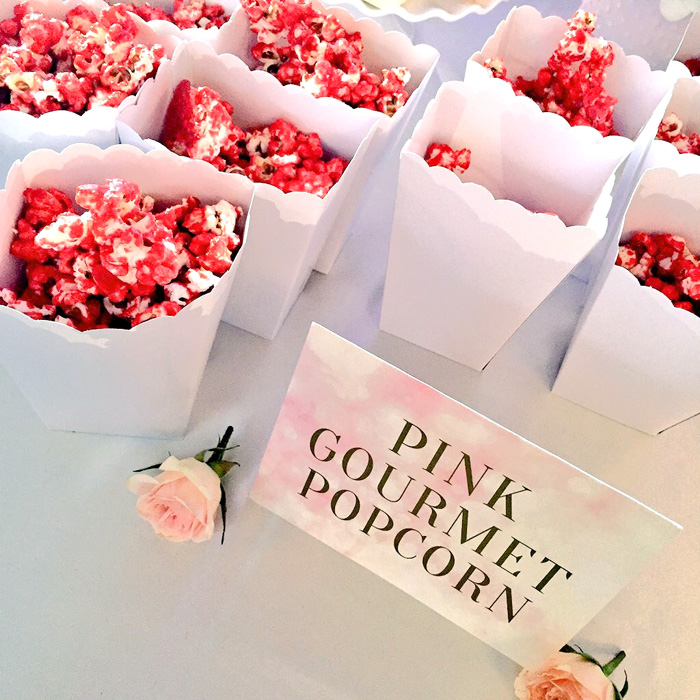 Top Shoes from Nine West Spring 2016 Collection
The main pointers I picked up from the NWC Toronto, Canada preview was what shoe trends are going to be huge (some even again!) for Spring Summer '16. These are the top 5:
Metallic shoes: huge
Fringe is still in. Nope, it's not going anywhere anytime soon!
Busy prints are a statement you might also want to consider. In every shoe type too.
Sky high platform heights are just getting…higher
Menswear inspired shoes such as oxfords, brogues & loafers are still a must-have
---
Shop Nine West Spring 2016 Collection

---
1. Graphic Tatiana Pumps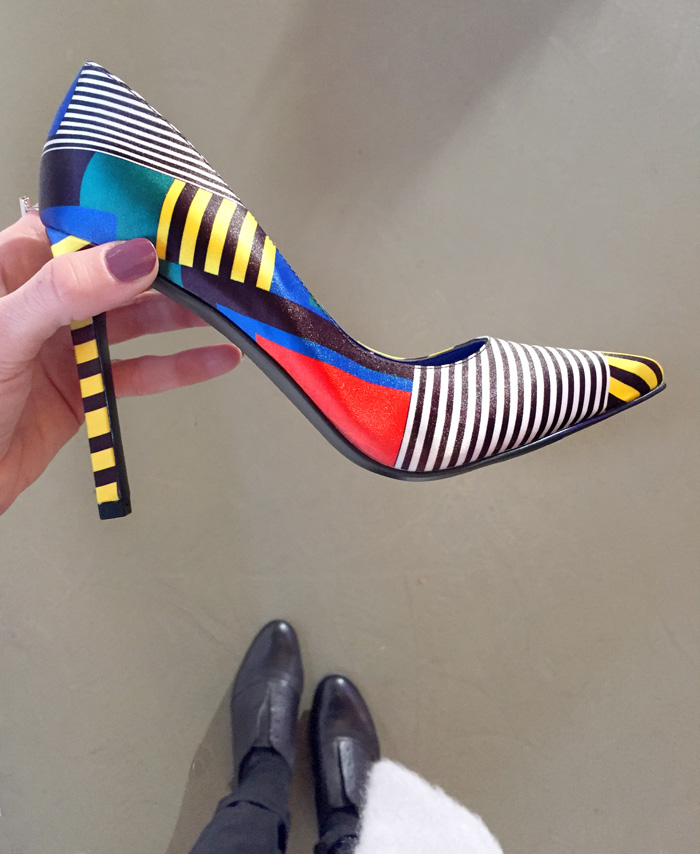 This Mondrian-inspired pump, on one of my favorite Nine West pump styles the Tatiana is everything. Just the perfect statement shoe to wear with that little black dress! Or jeans. Or anything your little shoe-loving heart desires, really!
2. Cobalt Fringe Ankle Boot
Phenomenal fringe bootie with the most perfect almost toe & tapered heel. And in Cobalt blue! Nine West made this one in a tan brown color too, for those color-shy gals out there!
3. Black Leather Pump with Track Sole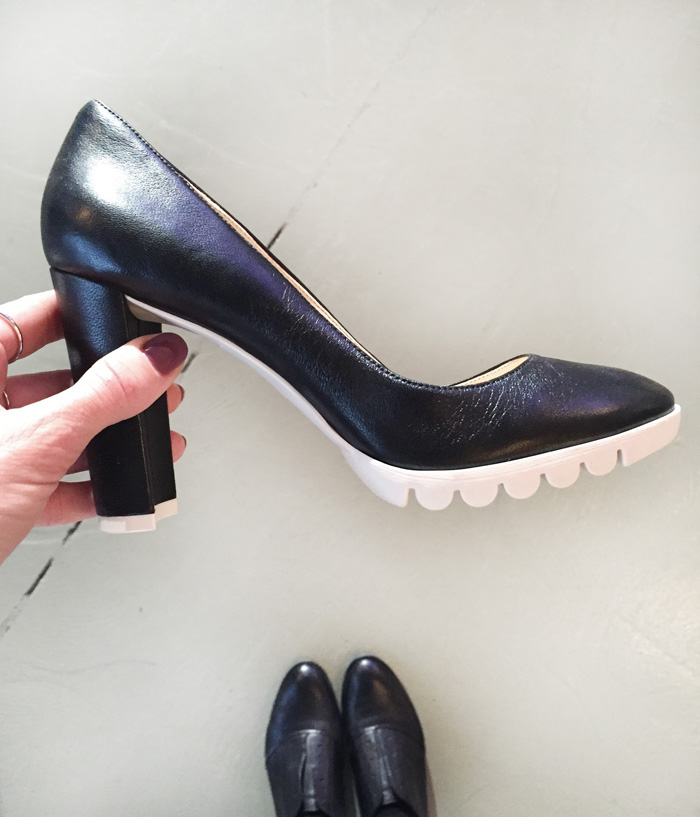 Talking about ladies who prefer colorless shoes, how about these pumps? The track sole is taken to a whole new level with a quirky rounded vs. square shape & the white contrast outsole + heel tip give them a sporty edge. A definite must for a cool as heck office look for Spring 2016! Really liking the rounded heel & toe.
4. Perforated Metallic/Pastel Heels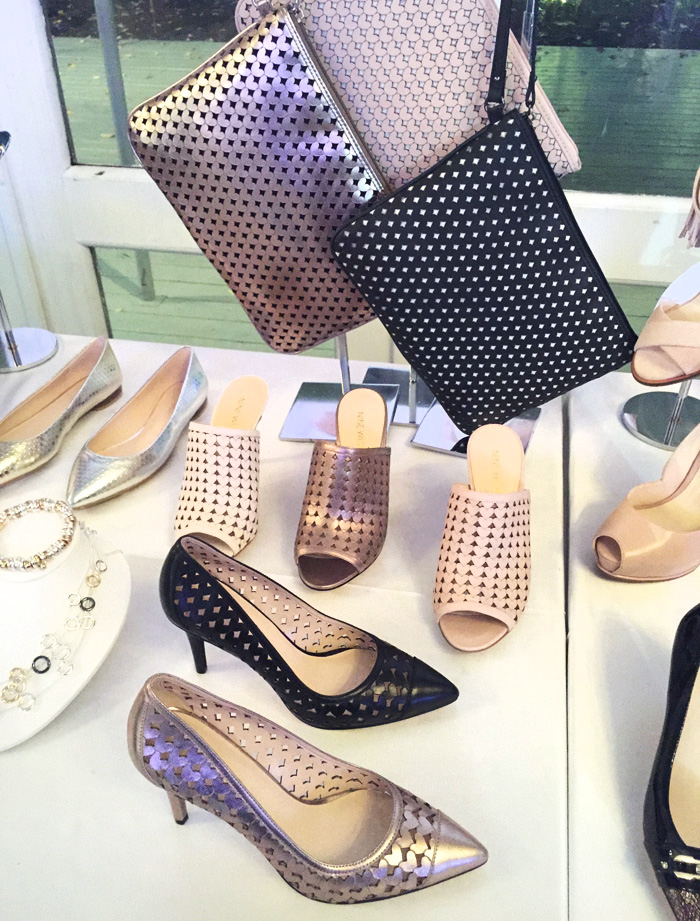 Yeah, so I love all of these, ok? I couldn't just pick one! It's not just the perforations & the metallic or soft pink materials that make these shoes so special. It's the fact that they're perforated (or laser-cut, really) to look like little hearts. How perfect for Valentine's Day, right!? The clutch is too cute as well.
5. Strappy Metallic Snake Sandal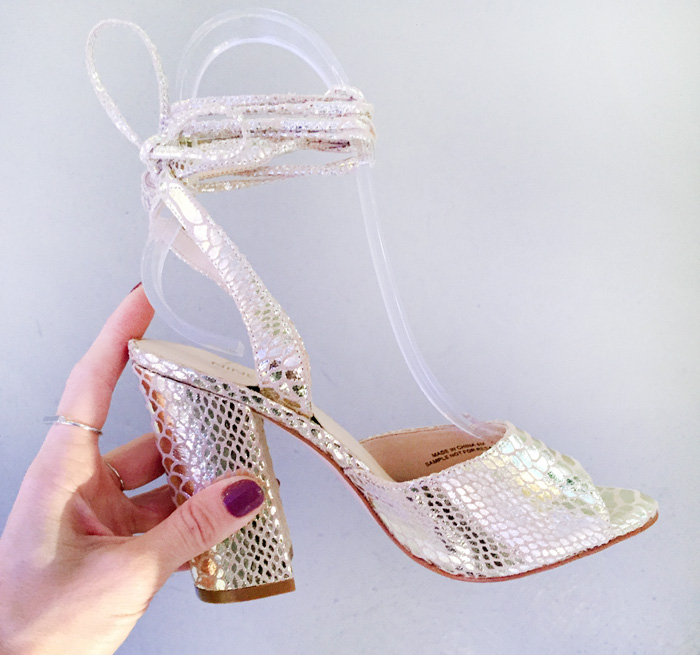 While we're on the topic of metallics, how about this chunky heeled gold wonder with reptile print embossing? Yeah, arrive anywhere in these puppies & you'll be an instant life of the party, disco style! My fave part is the ankle straps that keep going 'round.
6. Nautical Stripe Flats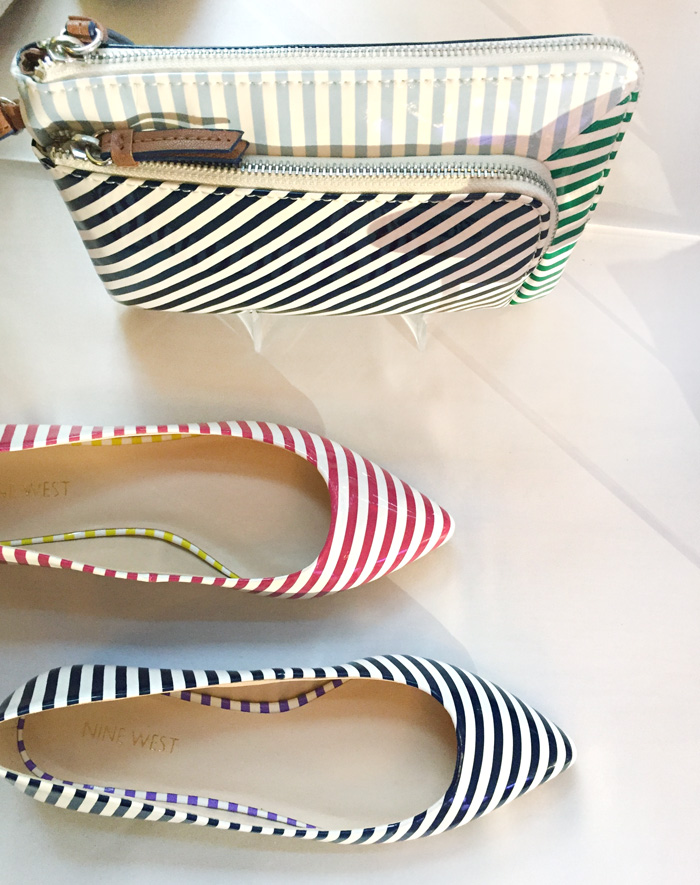 You can't speak about Spring 2016 shoe trends without bringing about a nautical theme. This time, blue & red stripes get a added gloss-over with patent leather. Which gives them a modern, fresh-er twist. Makes for a great pair of flats to wear with those white jeans in the summer!
7. Minimal Rose Gold Sandal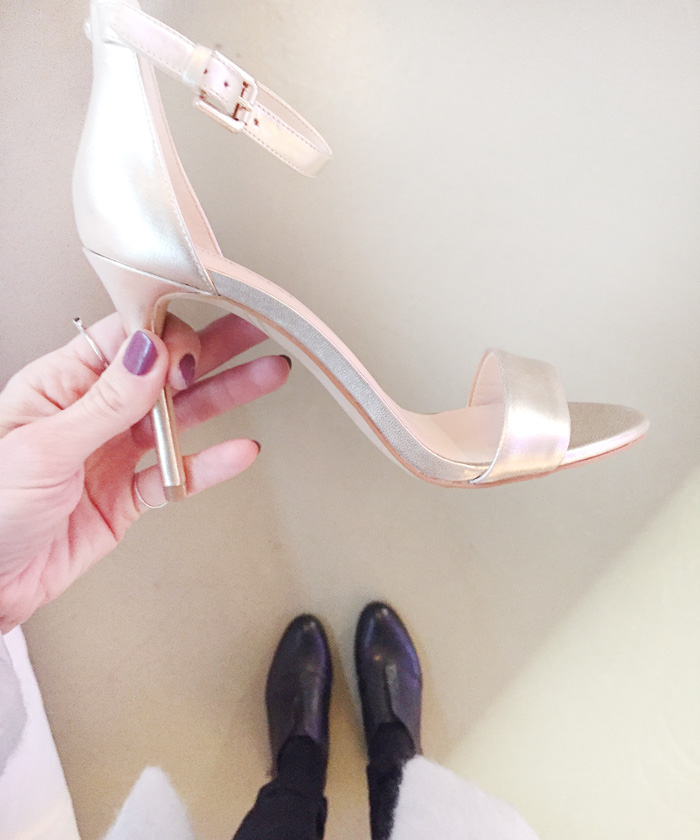 So dainty, so minimal, so fun! Love the rose gold metallic leather on this subtle and classy summer 2016 sandal. So happy Nine West has designed a barely there sandal reminiscent of Stuart Weitzman sandals, the Nudist in particular. 'Cause I really don't want to be paying those prices! Available in many colors too 🙂
8. Clog-Inspired Sandal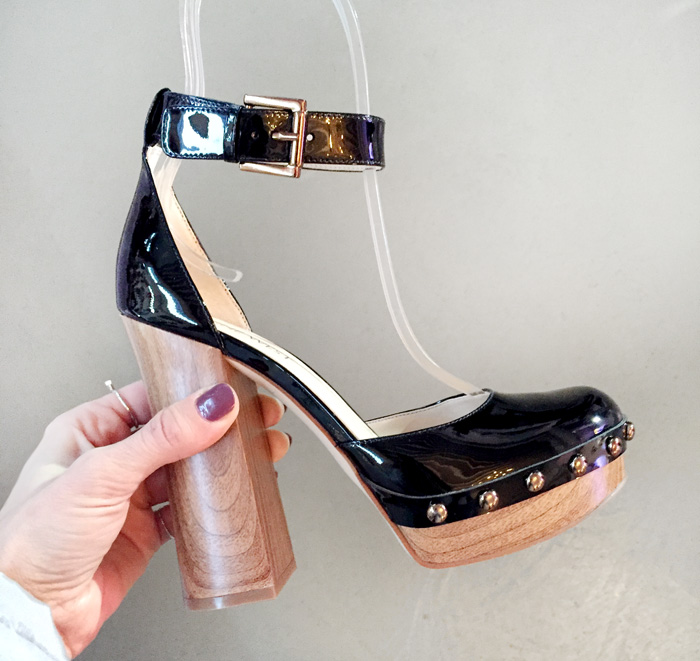 This wooden heel platform stunner is amazingly eclectic & a lot more bohemian than we're used to seeing from Nine West. And I adore it! With studded clog detailing (but nothing close to the clunky ugliness of that shoe trend from a few seasons ago!). With its punky black patent leather edge, there's a solid designer quality to this shoe that makes it so fascinating. Very Miu Miu. Now if they only had it in a printed version!
9. Scalloped Edge Pump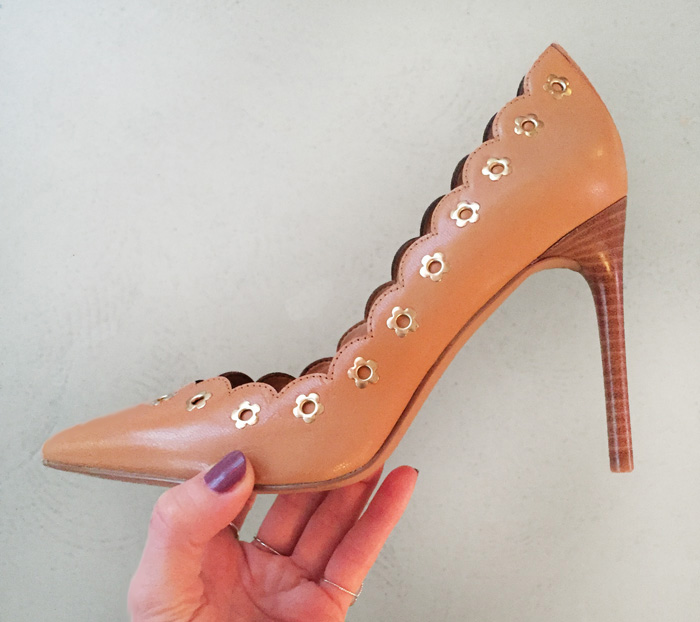 I'm not a brown shoe girl per se, but I do adore this scalloped edge pump with floral rivet detailing. It's definitely a great pump with a bit of girlie quirk that can be easily worn from desk to dinner. A great "nude" shoe for darker skin tones too. That reminds me, I need a tan. Comes in other colors, including black & red.
10. Chunky Heel Reptile Print Sandal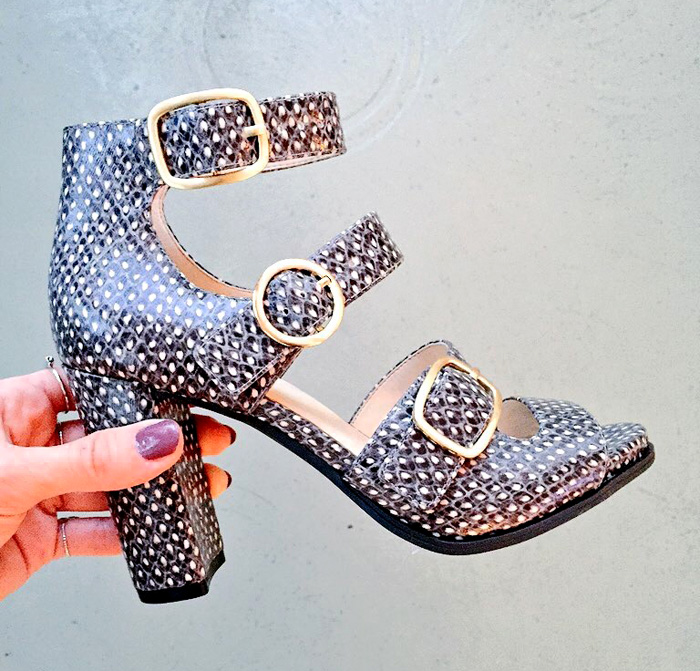 This chunky heeled multi strap sandal is probably my favorite from the whole Nine West Spring 2016 shoe collection. Again, very haute looking & the spotted snake print is just phenomenal. And the buckles in gold? Oh my!! Can't wait to strut these shoes on the streets of Toronto!
11. White Oxfords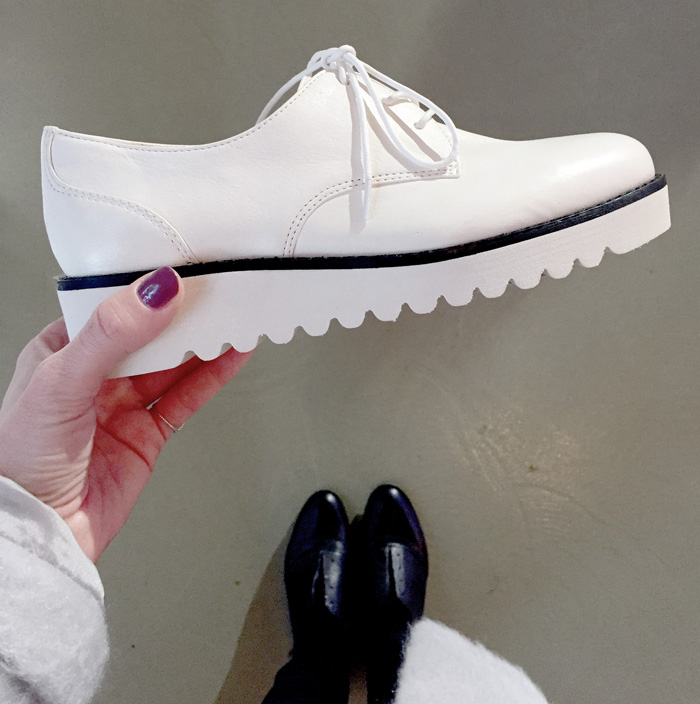 I wasn't sure whether to love it or hate it at first, but I then decided upon the former. Its quasi-geriatric/clinical shoe quality is what attracted me to it the first place, actually. Being so stark white with the black "pop" (if you can even call it that!) will certainly make these the cool girl shoe of the season. And of course, that scalloped platform lug sole is stellar!
12. 70s Print Platform Sandal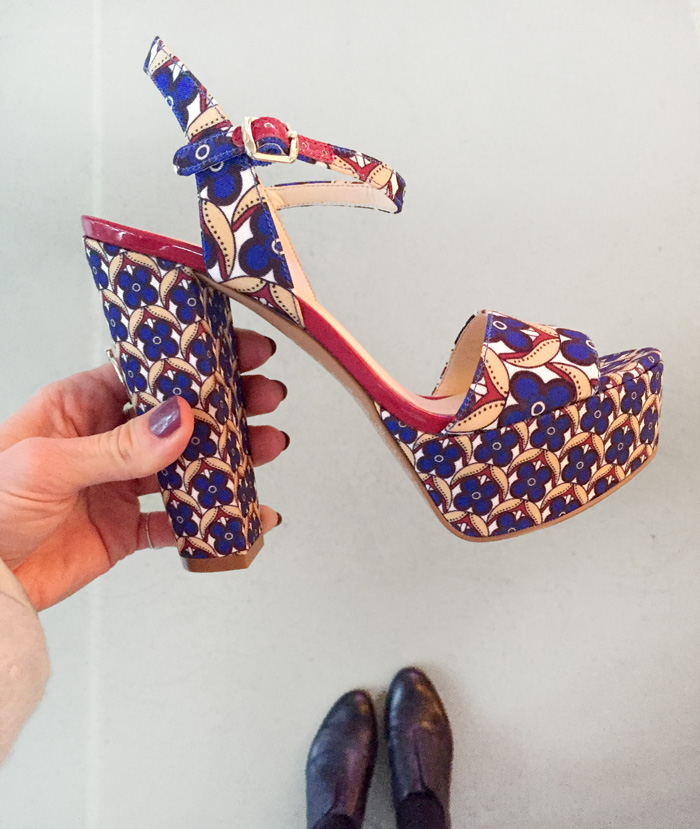 The low quality of this pic (sorry folks, lighting at the preview was not in my favor!!) does not do this 70s style platform sandal any justice. Whatsoever. The print is fabulous & if you've seen my outfit post featuring these sparkly platforms you'll get gist of why I love these high high heels so!
13. Studded Espadrille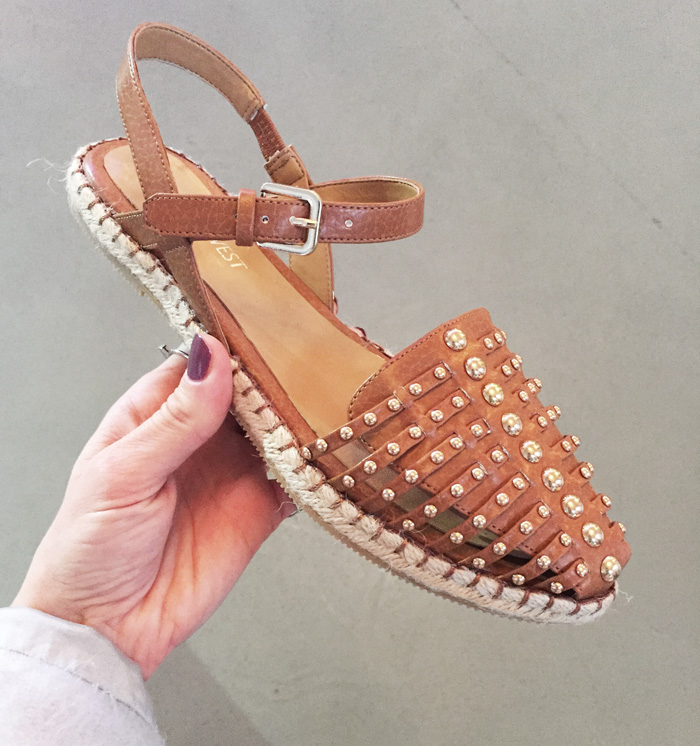 If it has studs, especially in different sizes, the shoe must be mine! Again, not a brown shoe gal usually, but the gold accents & espadrille outsole had me at hello, there!
14. Bucked Metallic Stiletto
The close runner-up to my reptile print favorite, is this amazing tri-colored metallic buckled stiletto sandal. Common feature? Big buckles! So sexy & fresh I just can't contain my excitement (& had trouble doing so at the Toronto preview, ha!). Vaguely reminds me of a Giuseppe Zanotti sandal I lusted over a while back.
15. Blush Pink Fringe Sandal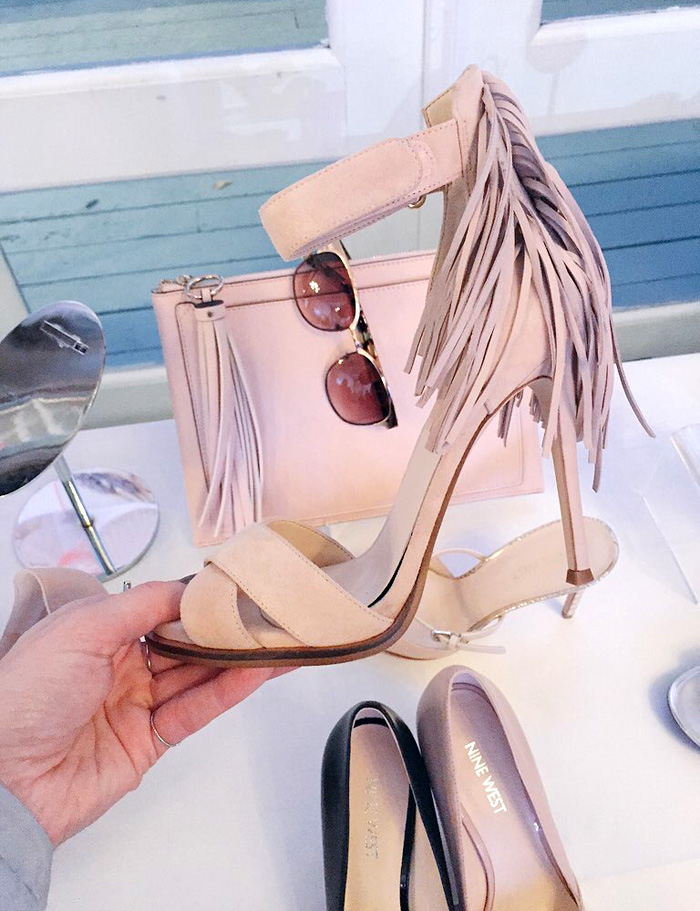 And now we've come full circle on my top 15 Nine West Shoes from Spring 2016 with a top notch heel! One of the two perfect shades of the year according to Pantone is Rose Quartz & this suede sandal hits that specific nail right on its colorful head. The fringe back is amazing; I can imagine how much more so when in motion!
Honorable Purse Mentions from Nine West, Spring 2016
Because what true shoe lover doesn't want the ideal purse to go with!? 😉 I'm a total cross-body purse believer, so these ones were just too good to ignore! And the hats? Pretty cute too.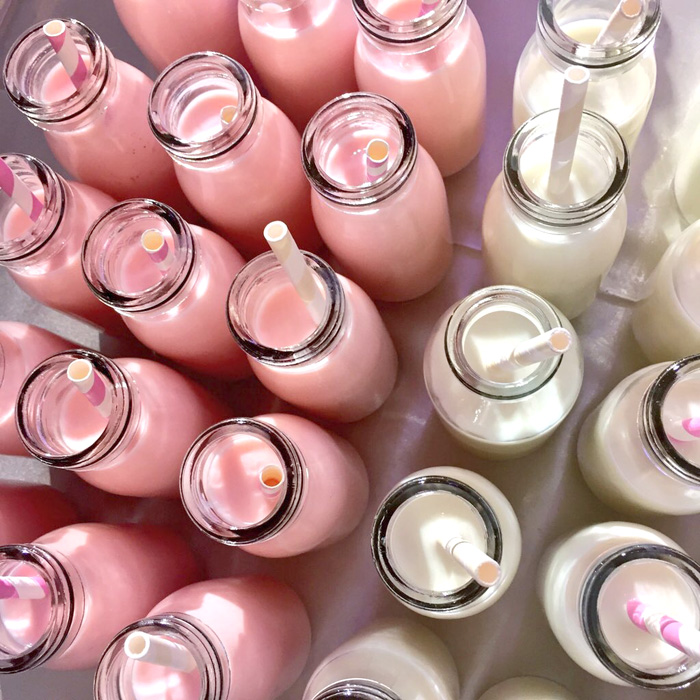 So did you drink it all that up? Well, I certainly did! The Nine West Spring 2016 shoes are now slowly making their way into retailer shops online & off. I've linked the ones that are currently available at the top of the post. If you're in Canada like me, you can shop the collection in Nine West Canada stores & online at ninewest.ca.
Check out my post on the best Spring 2016 shoes from New York Fashion Week & more from Nine West, here!
xo Cristina