Eeny, meeny, miny, moe, which Nine West Canada shoe do you like more? It's a tough call for me this Fall 2016 season, because there are so many lovely, fashionable and affordable shoes! From beautifully detailed ankle boots, vintage inspired Mary Janes & perfect transitional heels, it'll be impossible leaving the store without falling in love with at least 5 styles. That's a ShoeTease guarantee!
Nine West Fall 2016 Favorites
Among all of them (and there are a lot!), here are some of my favorite picks from Nine West's Fall/Winter 2016 collection:
---
Shop the styles, below:

---
Corset Detail Black Booties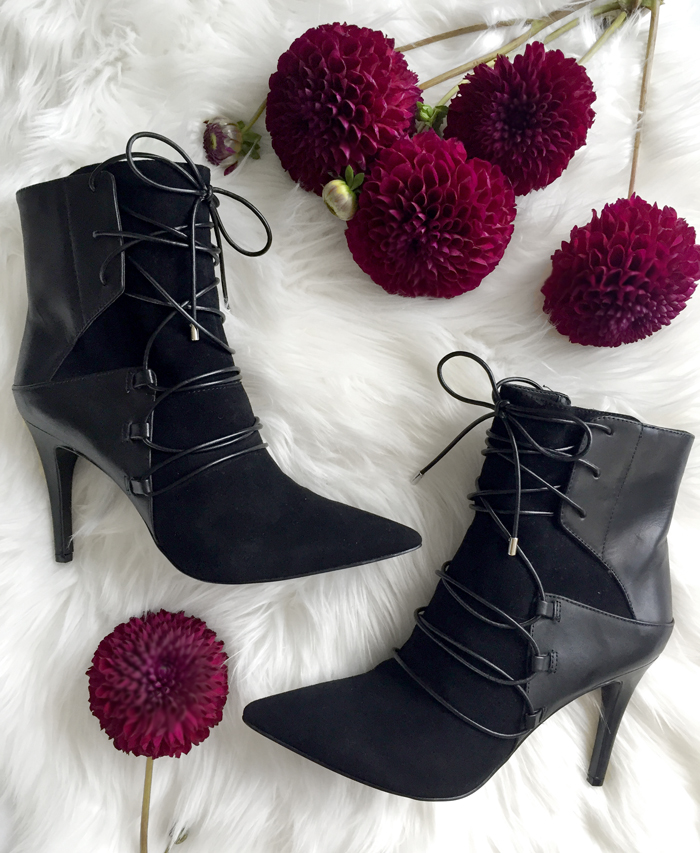 The name "Thisisit" kind of says it all, don't you think? I love this strappy ankle bootie, because it lets us take the lace-up pump trend (a serious obsession of mine!) in the form of a boot, into Fall, & possibly winter depending on the weather. The contrast suede & leather adds a nice touch. Also available in a beautiful burgundy.
Studded Animal Print Pumps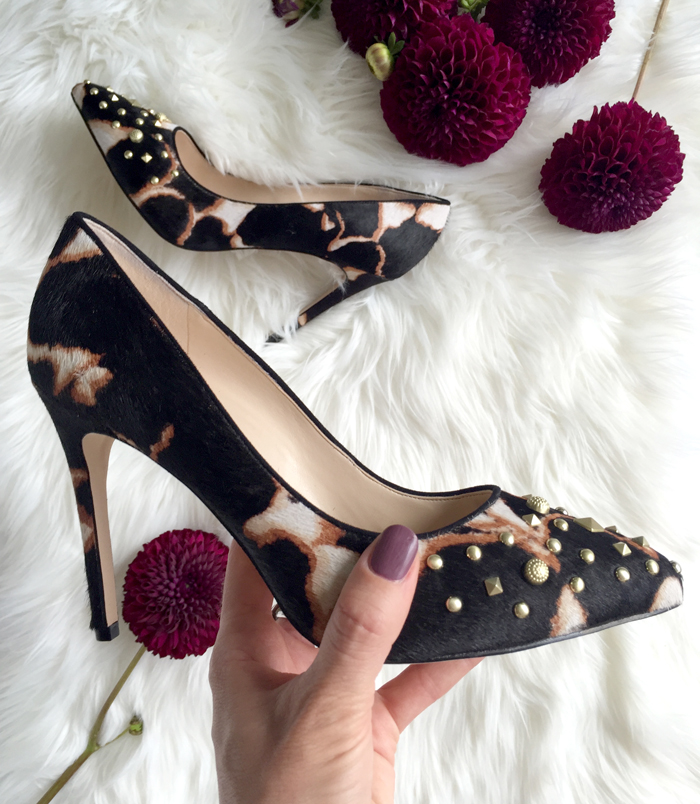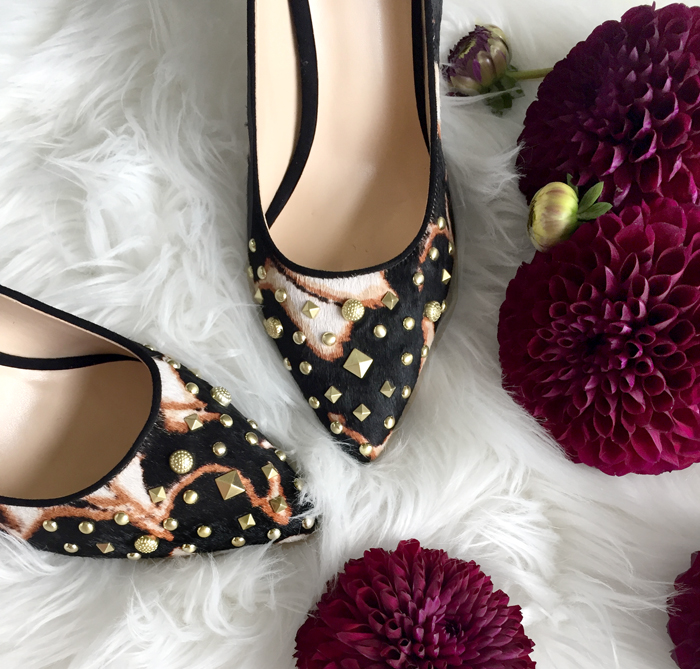 If you thought pumps were boring, you weren't thinking about statement stilettos! Not only is the animal printed hyde lush, but they've bejewelled these "Elenah" heels with not one, not two, but four different gold colored studs.
If you're looking for a detail-rich shoe that can take you from the office to dinner, this is one you shouldn't let slip away! Comes in patent black and glitter gold (the latter is particularly spectacular).
Strappy, Cut-Out Stiletto Sandals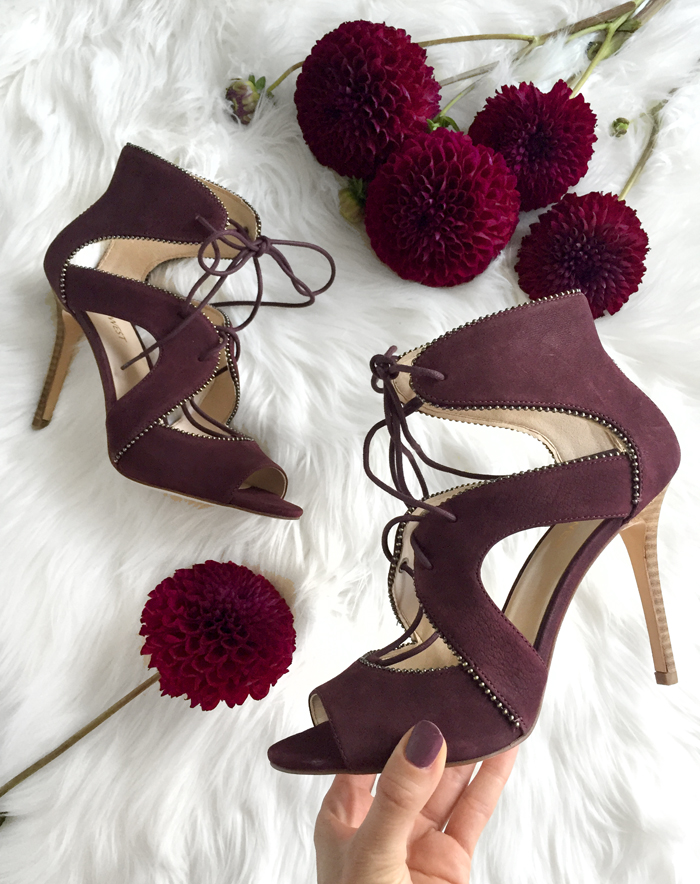 A surefire blogger favorite from Nine West this season: the "Ulimah". This perfect, wear-in-the-Fall sandal is fit for a stiletto queen! Although it also comes in the same pony print as the previous pump, I prefer this rich burgundy shade. The deep tone really makes the details shine, such as the metallic gold piping, laces & contrast stacked heel. The camel colored version just hit stores too! So much choice…so little time 🙂
Floppy Bow Grey Suede Booties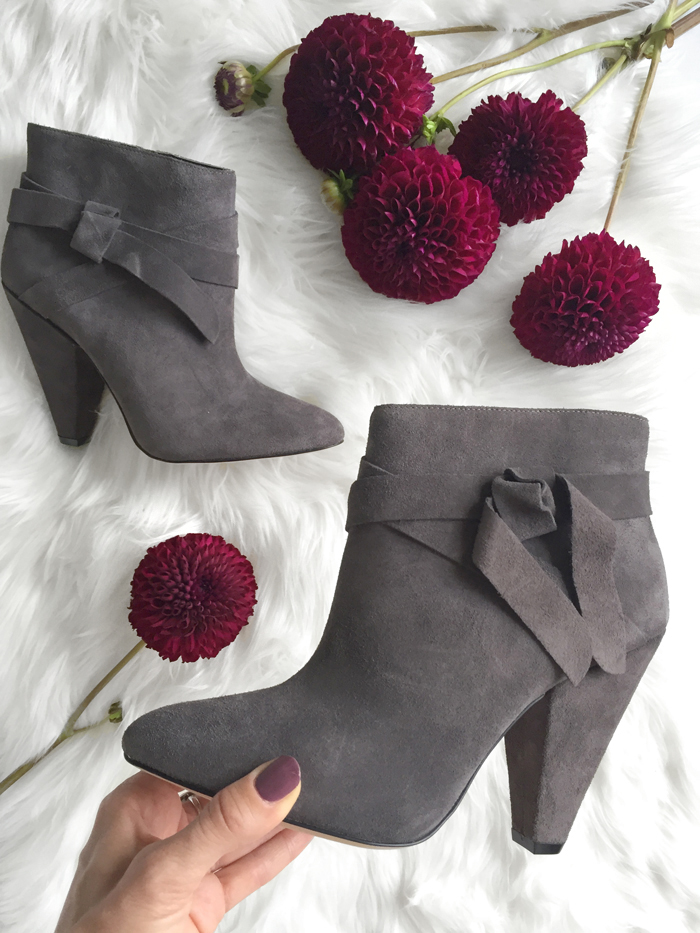 The "Acesso" suede, cone-heeled bootie looks adorable on! With it's extra wide opening & floppy bow, these will look fab with skinny jeans, a boho dress & more. The 4″ heels is perfectly walkable & the almond toe & heel shape are so very sleek. Also comes in black & a slew of other colors in the States.
Double Strap Mary Jane Pumps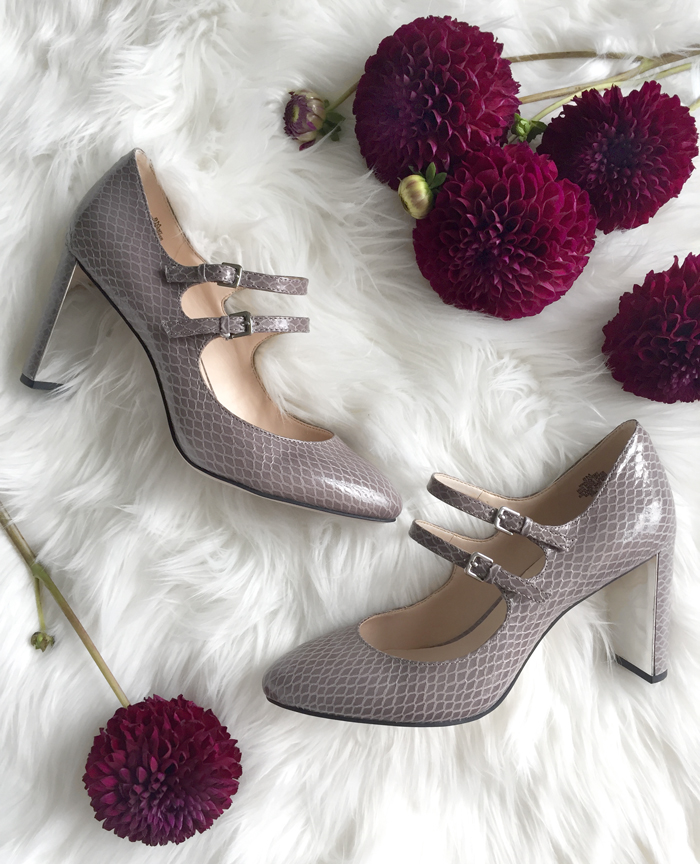 These ones literally make me squeal! Bringing back my childhood Mary-Jane wearing days, these are the perfect grown up version. The grey-meets-lilac hue with it's reptile print is just the icing on the cake.
See the inside of heel? Yep, that's silver mirror metallic right there. The double straps are perfectly on point too. Add a pom pom shoe clip to each & you've got yourself an even daintier Dolce&Gabbana-like shoe! The "Academy" is available in black in Canada & in many other colors in the US & UK.
Block-Heel Ankle Boots with Platform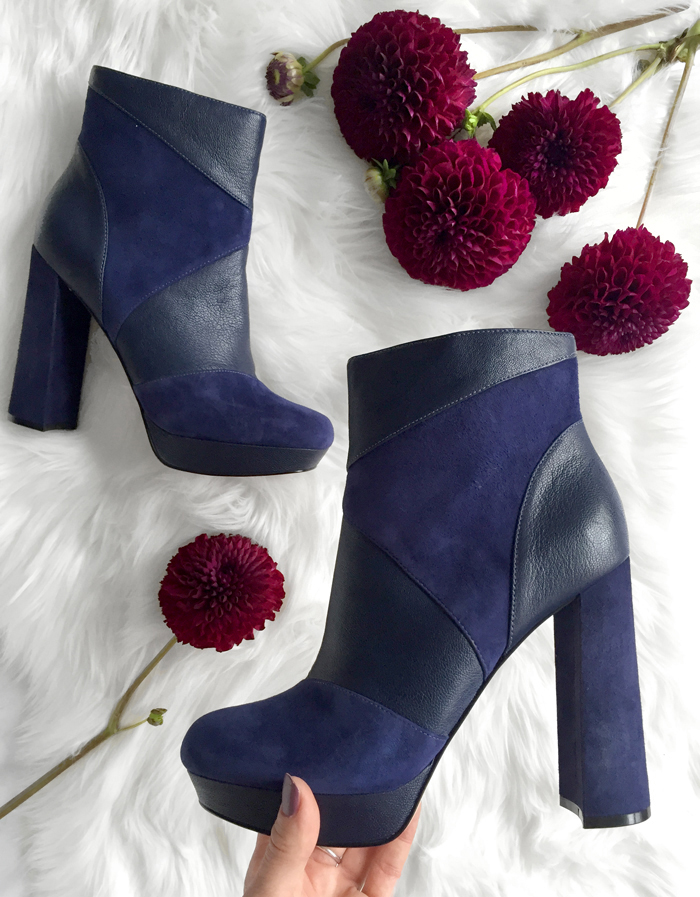 Ok, before you judge….the platform Bowie boot was not only all the rage on the Fall 2016 runways, but if you're been following along with S/S fashion week, these 70s platforms are going nowhere. How to style? Add a flare sleeve dress or a distressed pair of boyfriend jeans.
Of course, these are the perfect boots to wear with flare jeans (even though they'll be mostly hidden underneath!). This "Deceiving" boot also comes in black & burgundy. Yep, these are the shades of the season! I can only find these in Canada right now, but will update the post if/when they get them in the US or UK.
Black & White Chunky Heel Sandals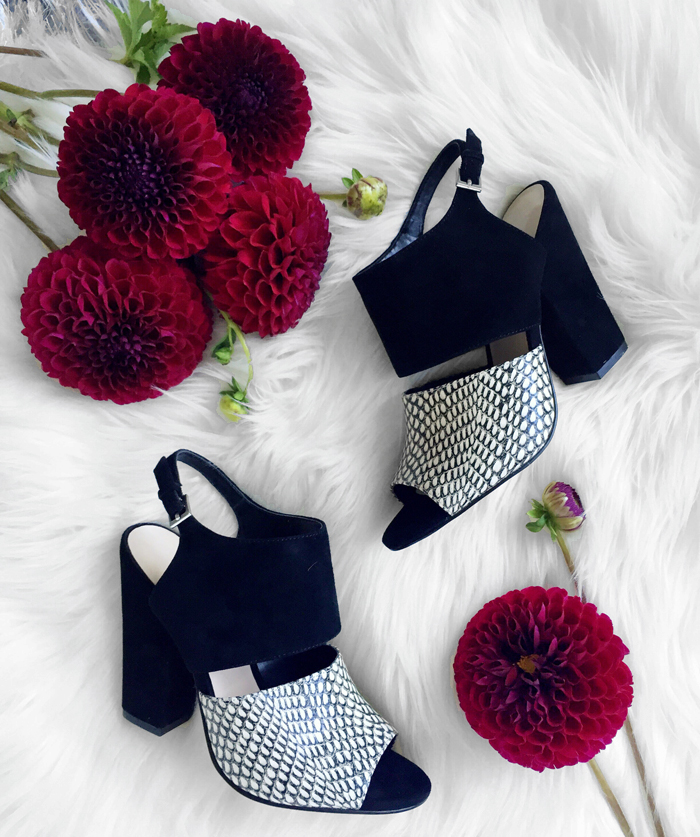 And last, but definitely not least, are one of my absolutely favorites from Nine West: The "Oresah" sandals. Styled in the previous outfit post, they are just something! They feed my complete obsession of black & white shoes with an added bonus of the snake print. The block shapely heels make these so easy to walk in, too.
Although these are some of my personal favorite styles from Nine West Canada for the current Fall season, there are so many more shoes & boots to choose from! Some of the prettiest happen to be online exclusives, so go have a peek at ninewest.ca.
Not in Canada? Scroll up the top of the post for image links to these pretty heels, or click on the pink squares on the image, below.
Now, I have to ask: which shoe from the bunch is your favorite?
xo Cristina