Nine West Nude Pumps, Styled
I believe that shades of nude are absolutely essential in two specific areas of a woman's wardrobe: lingerie drawer & shoe closet. Possibly in the coat department too. Everywhere else, well, you'll just look naked. I love nude heels, especially pumps, along with all the perks that come with them (longer looking legs, among the bunch!). The secret is to finding your actual shade of "nude" in order to play matchy-matchy with your skin tone. And I finally found an affordable skin tone match for moi, in these perfect nude pumps!
Interested? Read on…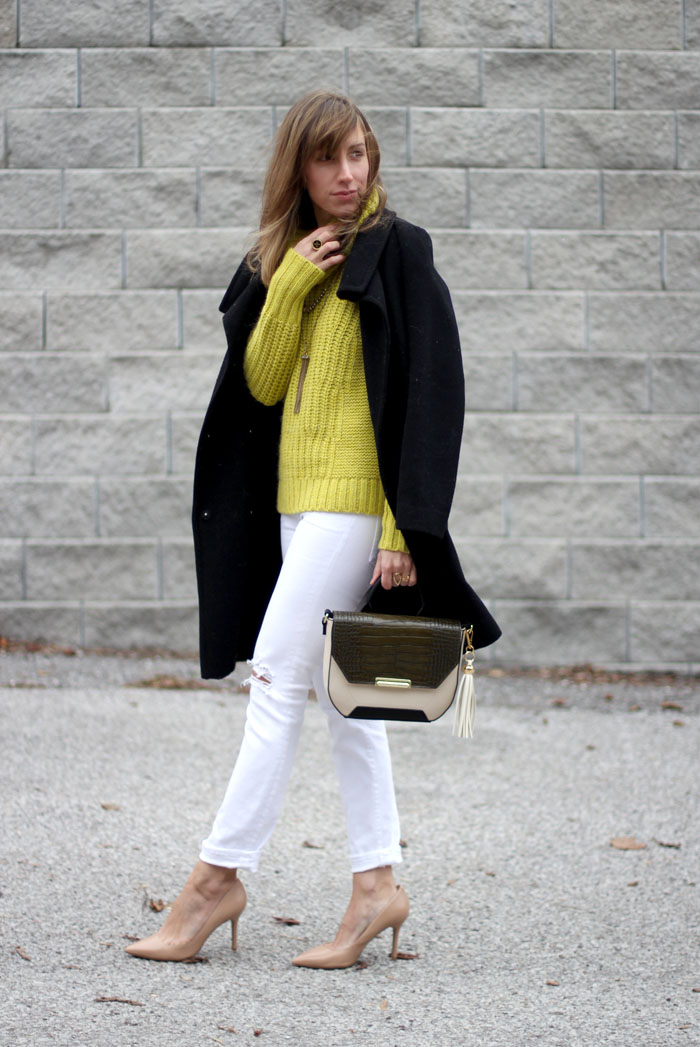 Nude Pumps & croc embossed purse: c/o Nine West Canada. Ripped Jeans: GAP (sale!). Turtleneck Sweater: Banana Republic (sale!). Necklace: Winners. Most rings: Shop for Jayu
---
Shop the look:

---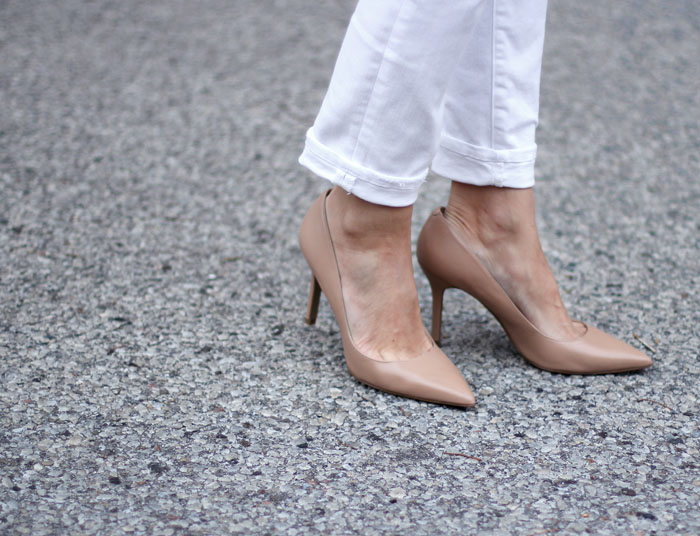 I am, however, not going to lie: one of my biggest nude pump shoe crushes is Louboutin's So Kate. Specifically in blush patent leather (pretty much my skin tone!). Featured in this street style post from fashion week , these pretty pumps with spikey heels may be high-end glamorously gorgeous, but word on the street (quite literally here!) has it that they're anything but comfortable. Dunno about you, but I have trouble with any heel over 4 inches myself, so almost 5 inches without platform "relief" isn't an option for me. Not if I'll be walking anyhow! That being said, at a cost of 8X the Nine West version, Louboutin's So Kate just doesn't make sense for my lifestyle or pocketbook right now! Props to Louboutin though, for creating a larger span of nudes more more than just the pale folk (see my post & shop Louboutin's new nudes here).
Moving on to my new Nine West shoes….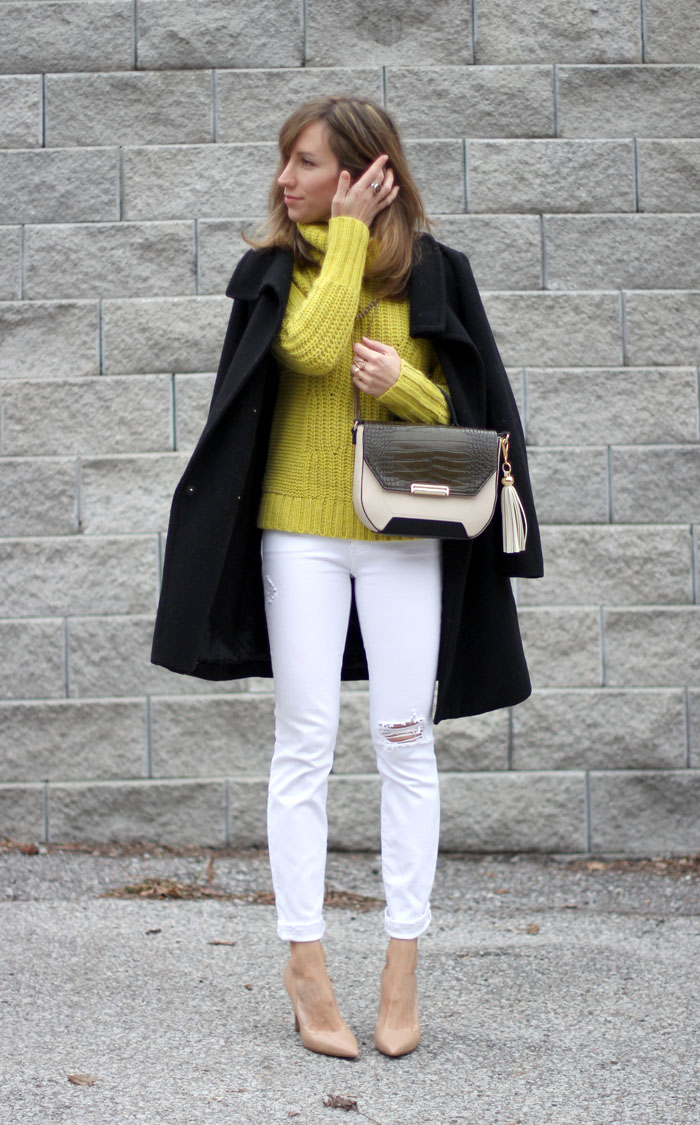 "Martina" Nine West Nude Pumps
This is not my first pair of Nine West Martina pumps (remember how I styled these colorful green heels with black & white?!). With its comfortable 3.5 inch heel, padded foot bed, soft leather exterior & pointy-but-not-toe-crushing-pointed toe, there's a reason this is one of the most perfect, stylish & affordable pointy pumps I've ever come across. And I'm on a mission to collect them in all colors, bwahahaha!
With respect to which "nude" to choose, there are many (most of which are beige, sadly) that don't suit very pale or darker skin tones. Or are come in an unappealing beige or brown color. I personally believe that nude shoes should be either the exact shade or lighter than your skin. Avoid darker. That being said, beige "nudes", like the Nine West nude pumps in the Martina style I'm wearing here, is a tone that looks amazing even if they are way lighter than your naked feet.
The actual shade of these pumps is "Taupe" although in actuality, I find them to be more pink-ish than the actual grey/beige taupe color that comes to mind. Other shades of "nude" in the Martina style are available at the Nine West Shoe Studios around the city of Toronto, are a tad darker & more matte than the taupe version featured here.
Styling nude pumps, once you have your tonal match is rather simple. Perfect for blue or white jeans & more busy outfits. Great with double denim. Fun with a little black dress or little white dress. Really, the possibilities are almost endless…
See more street style & outfits here!
A closer look at these pretty Nine West nude pumps…
xo Cristina