This particular product just happens to be in the realm of one of my favorite topics aside from physical shoes themselves: shoe & boot storage.
I got to test out not one, but two hanging boot organizers with boot hangers from Boottique. And the hanging storage system is pretty nifty!
Interested in getting your boot-filled shoe closet a little more organized? Read all about, below!
c/o the amazing practical shoe lover's shop, I got my hands on Boottique's '"Double Decker Boot Caddy"' includes 12 branded boot hangers, (a great boot travel accessories btw!) and a transparent boot cover to help protect your boots, in the mix too.
Yes, that gets 12 boots off of your floors & neatly tucked into your closet, ladies!
Boottique Boot Organizers with Boot Hangers
---
Shop BOOTTIQUE Boot Organizers & Hangers:

---
1. "Double Decker Boot Caddy" Hanging Boot Organizer
The Double Decker Boot Caddy is a nifty boot storage system that simply hangs on the inside of your closet. Adjustable to fit booties, ankle boots to longer knee & over-the-knee boots, this hanging boot system has you covered!
What makes it so fabulous is its ease of use (no tools required!), along with its versatility. Use it at home, at the office or in your dorm room, it's sure to declutter your boot-laden floors!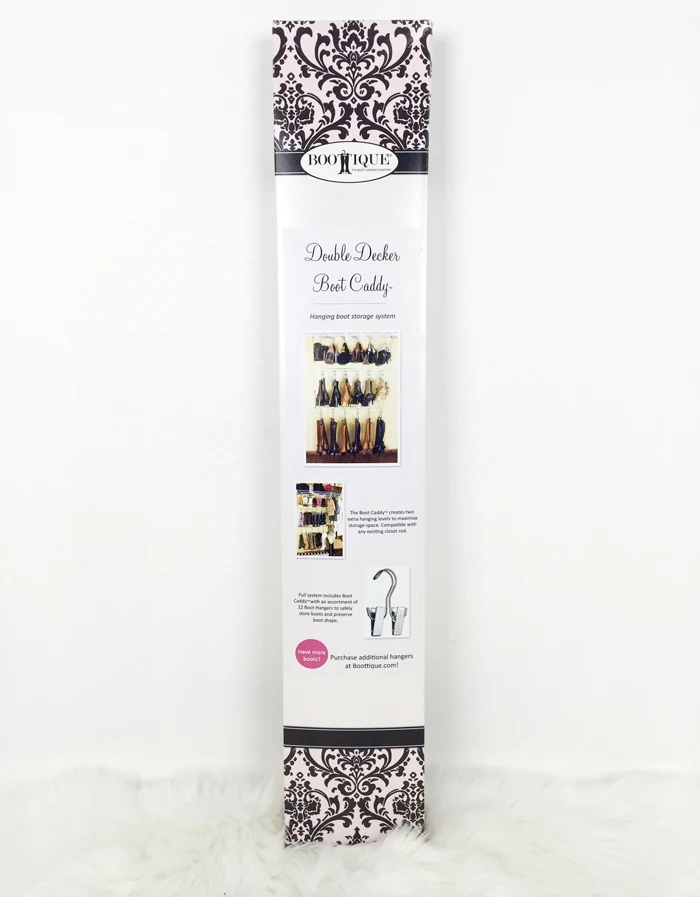 This is what the boot caddy looks like when you receive it. It's packed tightly in a branded Boottique box with simple instructions on how to assemble & what's included, right on the box.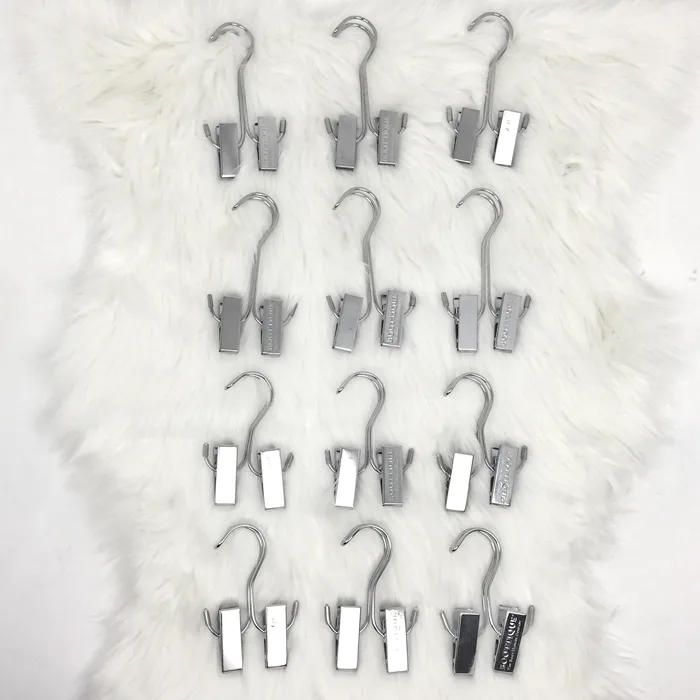 Aside from the 4 metal hanging bars that literally take 30 seconds to put together (trust me on this one, it's ridiculously simple!), included are 6 original "short" boot hangers to clip onto your boots & 6 "short Gripz" hangers.
The "Gripz" have special gripping grooves on the inside portion of the clip to hold up even the toughest & heaviest of boots. These clips are strong & sturdy with embossed Boottique branding. I mean, your boots are special, so why shouldn't your boot hangers be!?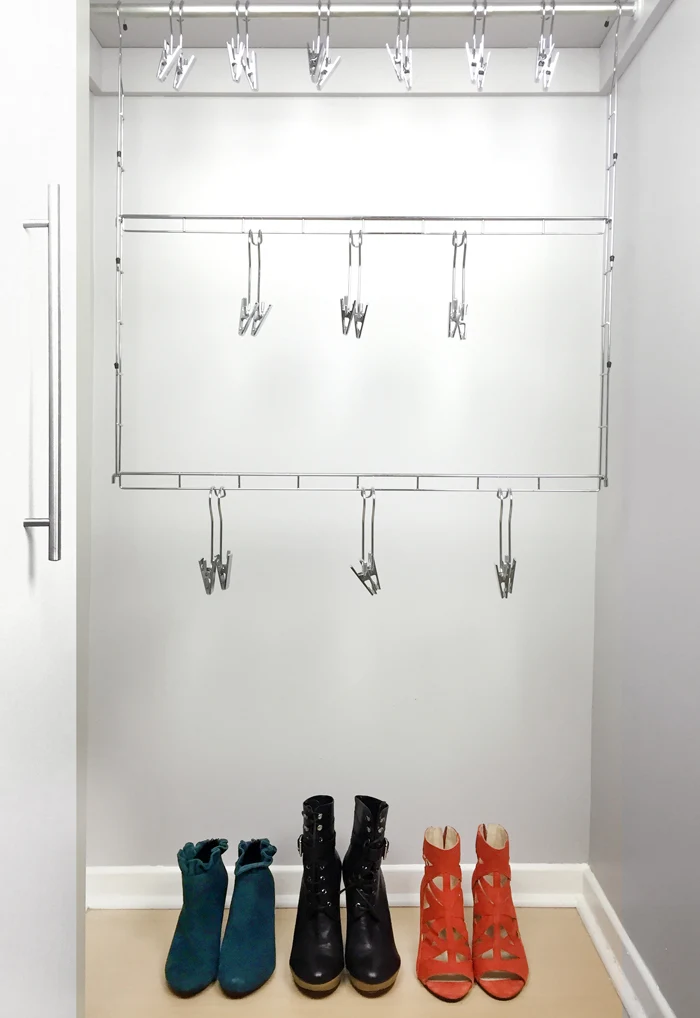 This is what the hanging boot rack looks like naked. Yes, I just called a boot rack "naked". Moving on…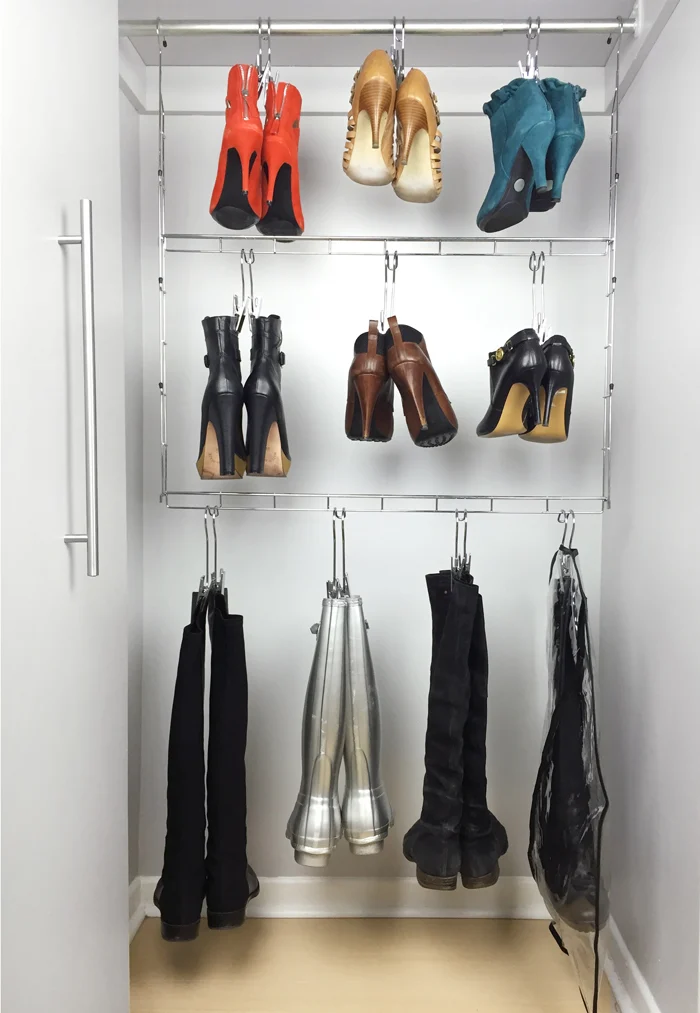 You can level the horizontal hanging rods as you like to accommodate various boot shaft lengths. The ones you see on the bottom far left are my Stuart Weitzman 5050 OTK boots & they fit perfectly. No dragging boots on floor here!
What's great about this system is that if you don't fill up the whole rack with boots, you can hang clothing or purses on it too. Great for kiddie boots as well! This boot caddy can actually hold up to about 20 boots, which is pretty insane!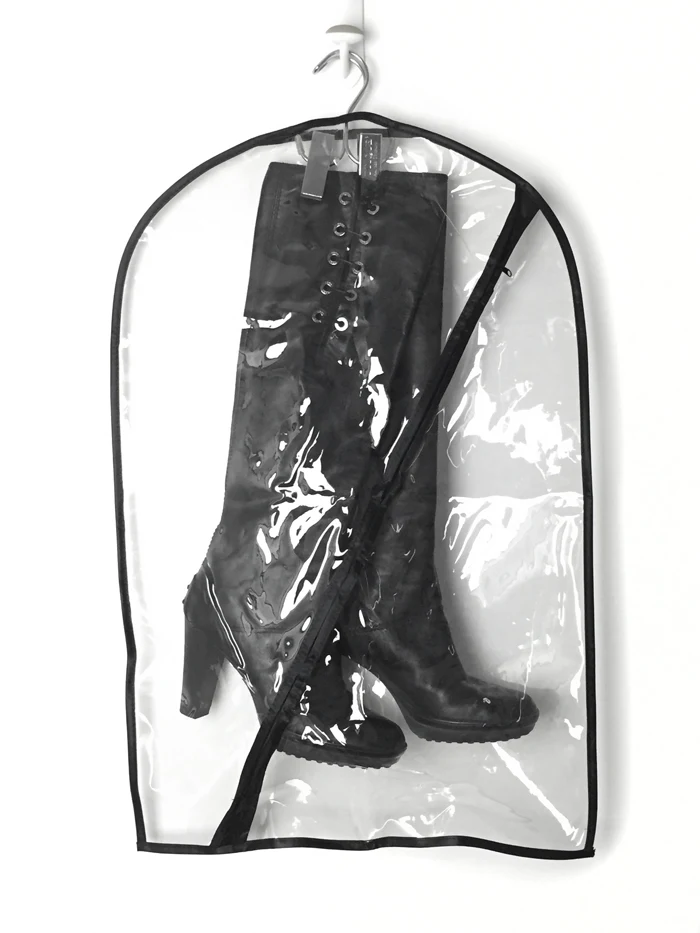 A closer look above at the boot bag, in which you can stores one pair of boots. A great boot accessory for packaging up boots & preventing them from damage & dust during the winter months. If you're "lucky" enough have winter 😉
2. "Boot Stax" Boot Hanging System with Boot Hangers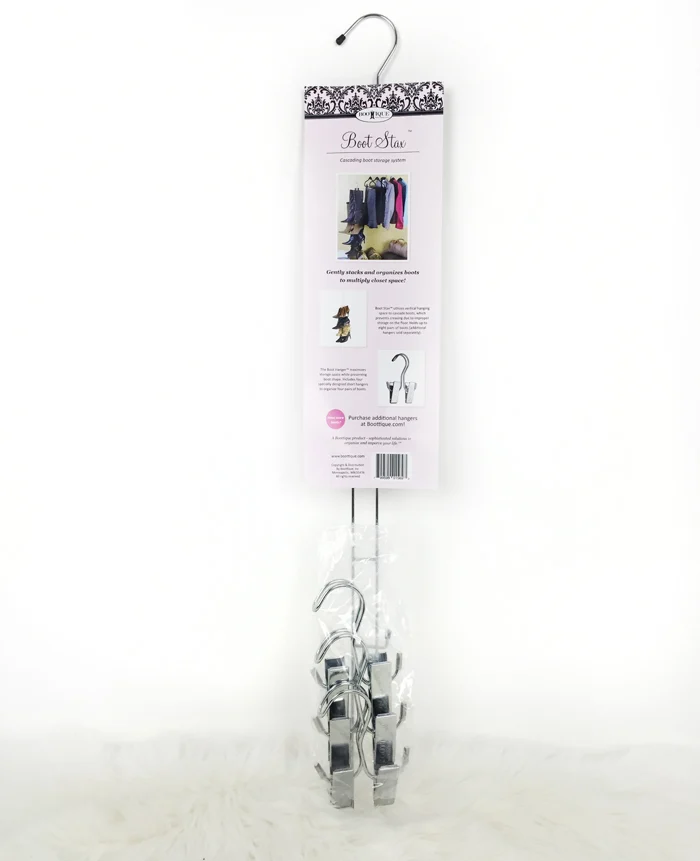 What if you have very limited shoe closet space, you ask? Well, look no further than Boottique's patent-pending "Boot Stax" in-closet boot hanging system. Essentially, this is a 1 vertical rod version of the double decker boot caddy.
It comes with 4 "short" boot hangers & is a great little storage hanger to add to the side of your hallway closet. That's where I use mine! But I also plan on hooking it in my upstairs closet with all boots in their respective boot bags during the summer.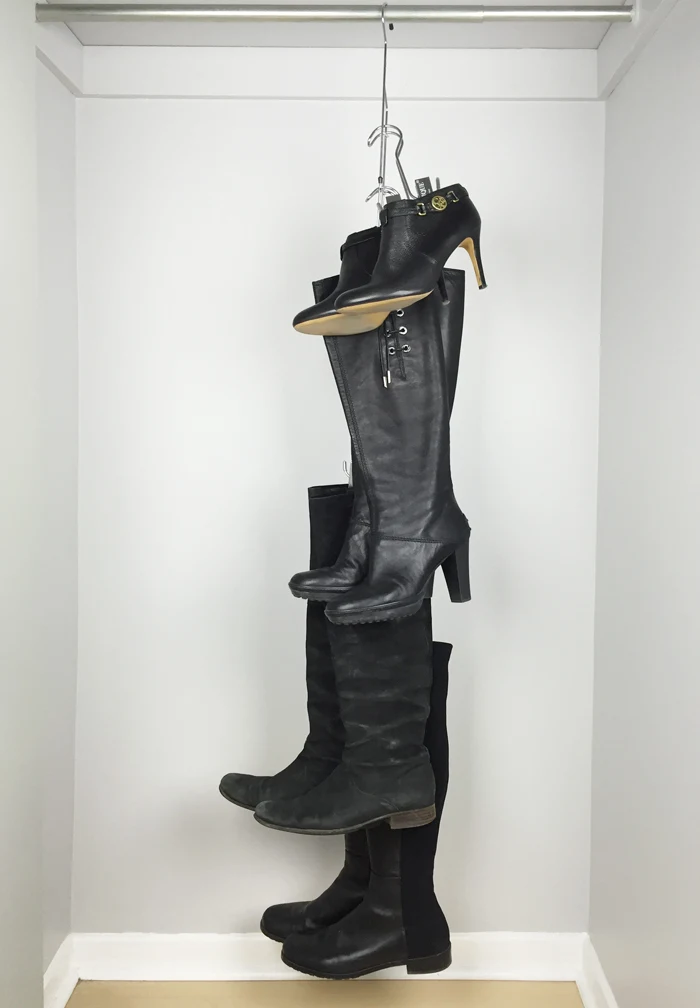 xo ShoeTease