Freak-Shoe Friday: Ride my Stiletto?!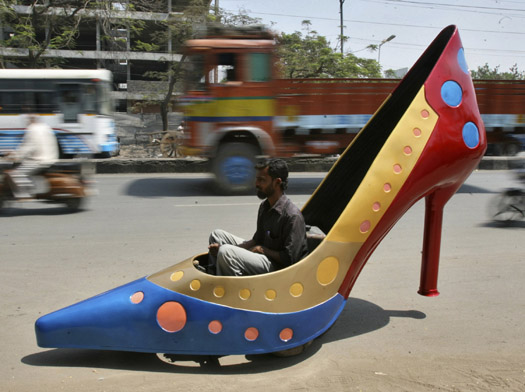 A friend sent me this funny image yesterday, of a worker test driving a stiletto-shaped "car" on a road in Hyderabad, India. This shoe is actually part of a series of creations by Indian car designer Sudhakar Yadav to mark International Women's Day (which was yesterday, btw).
Seeing this wonder on a road anywhere would definitely constitute a WTF shoe moment! And rather sadly, the design of this particular motorized shoe looks much better than most other Freak-Shoe Friday posts!
What do you think? Would you ever drive a shoe?!
Photo Credit: REUTERS/Krishnendu Halder
xo ShoeTease
| | |
| --- | --- |
| | This entry was posted by ShoeTease on March 9, 2012 at 5:30 am, and is filed under Freak-Shoe Friday. Follow any responses to this post through RSS 2.0. Both comments and pings are currently closed. |
about 2 days ago - No comments
It should come as no surprise that someone writing a shoe-based fashion blog has a bit of a shoe problem. If you follow ShoeTease at all on Instagram, Pinterest or Twitter, you'll already know that I also have a slight chocolate/cake/sugar/sweets issue. So to be confronted with a blend of my 2 biggest vices is a…
Comments are closed.