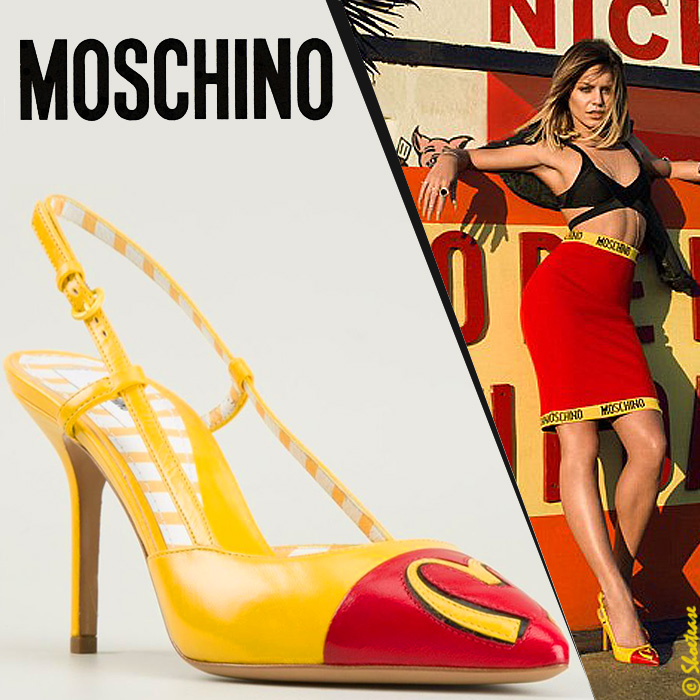 I absolutely love Moschino's (pronounced mos-k-ino!) wacky & tacky McDonald's-themed Fall 2014 collection. I must say Vanessa Hudgens (yep, she's almost unrecognizable in her new bobbed do!) wears it so well, styled here with the double arches logo slingbacks & sporty brand-bearing red pencil skirt in Flaunt Magazine's newest issue. Much less frumpy & tacky when worn without the much loved celebrity fave sweater, don't you think? If I were to seriously consider purchasing an item from this collection, I believe these slingback pumps would be my first choice, even before the cute little happy meal-like purse! Dang, I'm kind of craving a burger & fries right about now, what about you?!
Definitely a good choice of heels for the shoe girl that has every footwear item imaginable &/or is dying to make a fun, frivolous statement. Samples to my mailbox, welcome. I wear a size 38.5

These colour blocked Moschino heels are made of leather & available from Farfetch US and Farfetch Global for approimately $800.
xo Cristina M.
Photo Credit: farfetch.com, flaunt.com