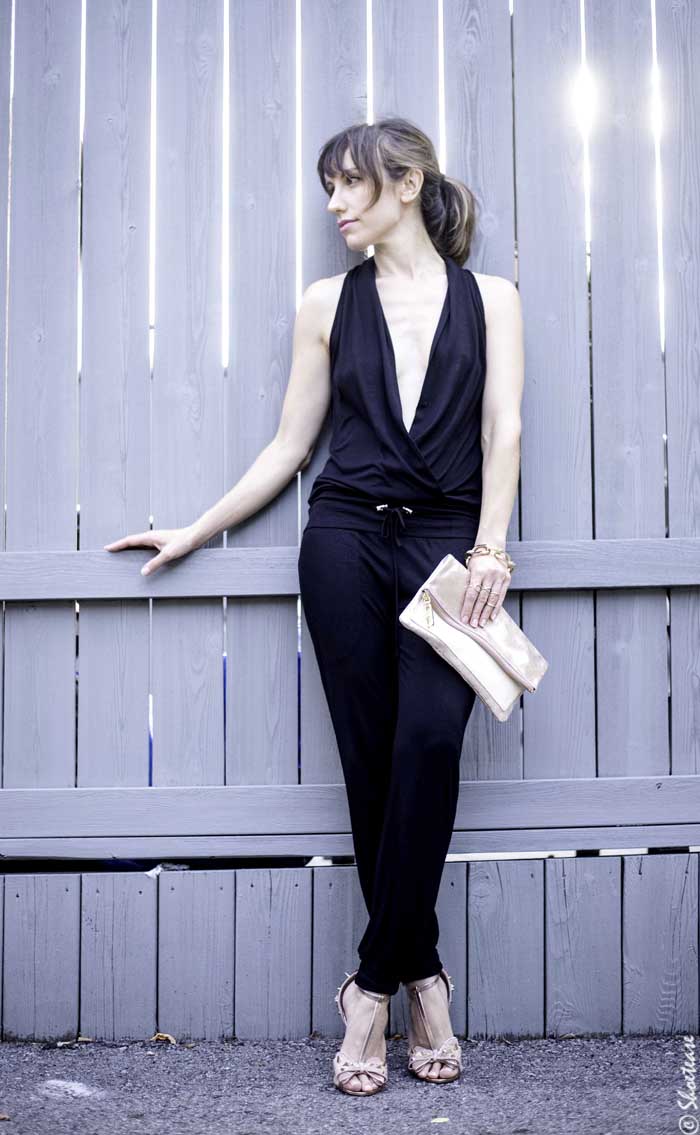 Want to wear a jumpsuit to a wedding? Or to a cocktail party? Can you even? Yes, yes you can! Of course, what shoes you choose to style with said jumpsuit is of utmost importance! Now, I'm a fan of the wearing a simple black jumpsuit when it comes to going to a wedding or a fancy affair. And I'd better know how to do it by now: I've had this black jersey jumpsuit for years & lucky for me, they've become quite the staple fashion item! So why not wear one with dressy accessories & feel a little la-di-da?! The great thing about these full-length rompers is the ability to dress them up for such occasions (as well as the ability to dress them oh-so down!). Normally I love wearing one in lieu of a tracksuit just for bumming around the house, but this time around I decided it was time to dress it up a little.
So enter these towering 5″ rose-gold stilettos by ZIGIny, generously gifted to me by Underground 30 (where you can find shoes for $30 or 30% off & free shipping in Canada!). The detailing on these t-strap stilettos is quite impressive: mirror metallic leather uppers with lace-insert bows & crystal appliqués with multi-size spiked studs. Yeah, that was a long run-on sentence! They're sexy, they're aggressively feminine, but be warned: these are sitting pretty only shoes! Although these heels have a lot going on, the fact that they match my skin ton,e make them subtle & delicate & don't over power the black jumpsuit. Because we're no longer living in the 80s here, people (albeit many would love to beg to differ. That's what the comment section is for!).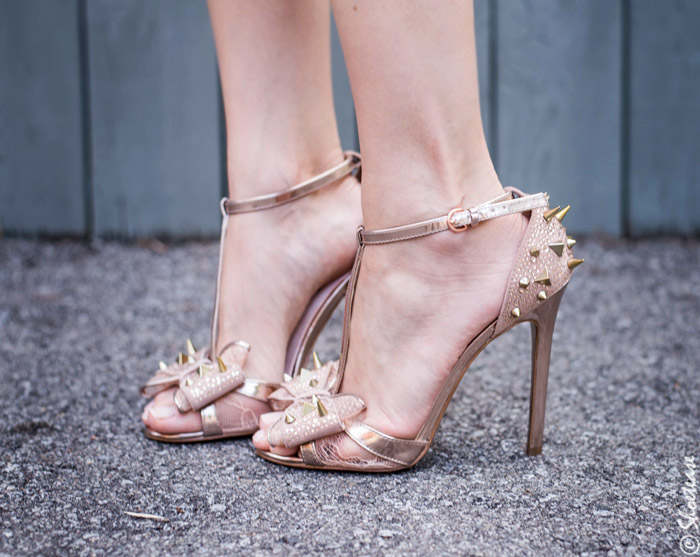 I also played matchy-matchy with a metallic rose gold & beige clutch from GAP, along with a chunky vintage bracelet. I picked up this specific black jumpsuit in Italy from Carla G, but I've found some almost identical alternatives, pictured below (end of post). And yes, thanks for noticing: bras are optional, but not for the faint of heart! I'd suggest a jumpsuit that is not as revealing if attending a wedding or even with a more conservative crowd, or to simply wear a tube top underneath (American Apparel has some excellent choices). So here's my round-up of tips on how to dress up a black jumpsuit for a wedding or special occasion:
How to Dress up a Black Jumpsuit for a Wedding or Party
Do pick a flattering, simple black jumpsuit. Make sure at least the top or pant portion is somewhat fitted. We don't want you looking like you're wearing a black sack!
Stretchy jersey jumpsuits are great as they wrinkle very little & offer unparalleled comfort.
If think you might get chilly, a black tuxedo-like blazer or shawl (pashmina-style) look most elegant.
A high heel style that won't overpower the jumpsuit work best. These minimalist high heel strappy sandals from Stuart Weitzman or Steve Madden are personal favourites.
Steer clear of round-toe pumps or high platform shoes: they'll look too clunky.
Blush tones, simple black or white are the best high heel colour choices.
Pick a medium to small sized clutch that has a some shine or sparkle to it. Texture is even more important if you're opting for a black one to match the jumpsuit!
Photos by HZD Photography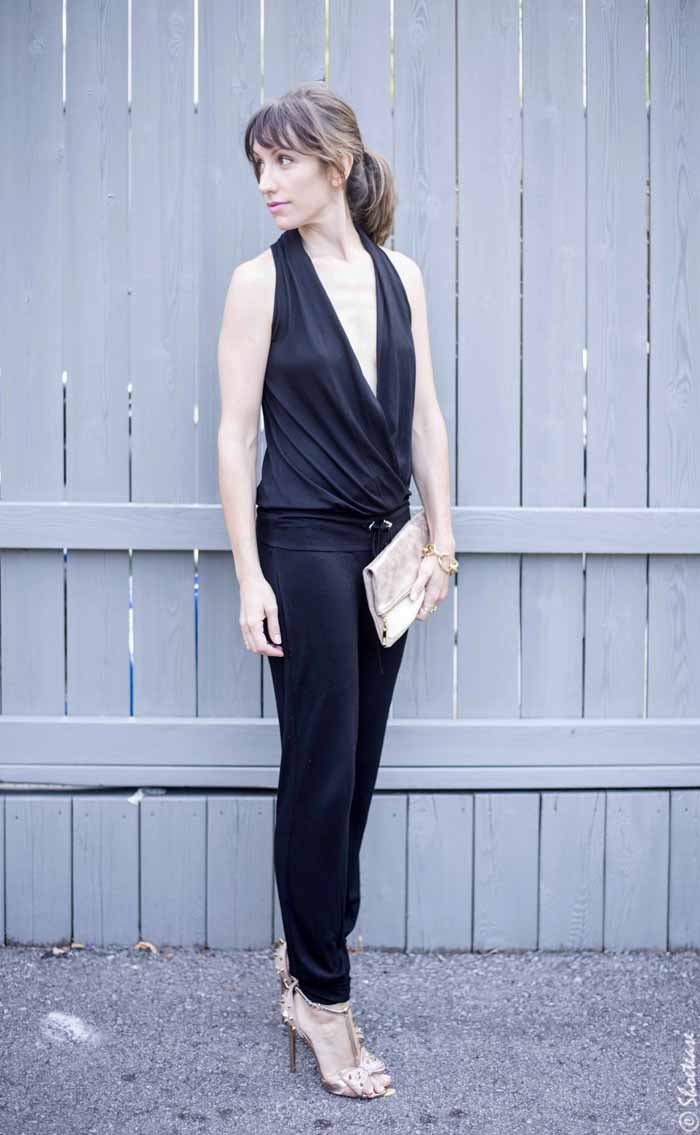 Stiletto Sandals: Zigi NY c/o Underground30. Black Jumpsuit: Carla G. (similar here+ here). Rose Gold Clutch: GAP. Chain Bracelet: Vintage. Gold Rings: Aldo. 
xo Cristina M.