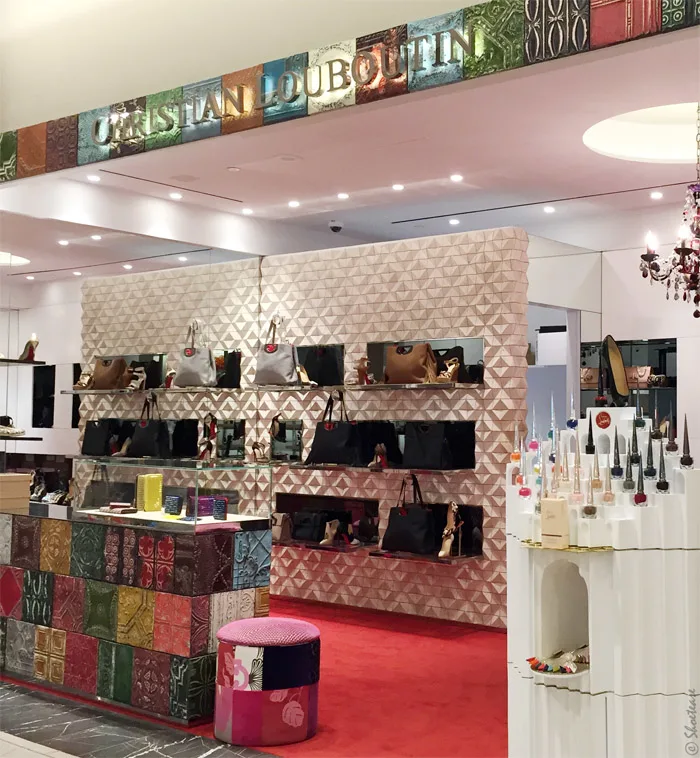 Vying for pair of Loubies in T.O. but don't know where to go? No worries, gals! Here's your complete guide on where to buy Christian Louboutin shoes in Toronto, both in store & online. Some locations may surprise you 😉
Where to buy Christian Louboutin in Toronto
Yes, Europe & the US probably have a more extensive Christian Louboutin collection than we do here in Toronto, with more styles, sizes & colors. But considering how shitty the exchange rate has been as of late & how high those import taxes can be, why not save yourself the moolah & buy your Loubies right here?! Lucky you foreigners visiting the city with your amazing exchange rate. You'll surely get a deal in Toronto, that's for sure!
Let's get to the point. Below are the best places to buy your favorite red sole shoes (new & used) in this fine Canadian city.
1. Holt Renfrew: 3 Locations in Toronto
Christian Louboutin Boutique: Holt Renfrew, Yorkdale Mall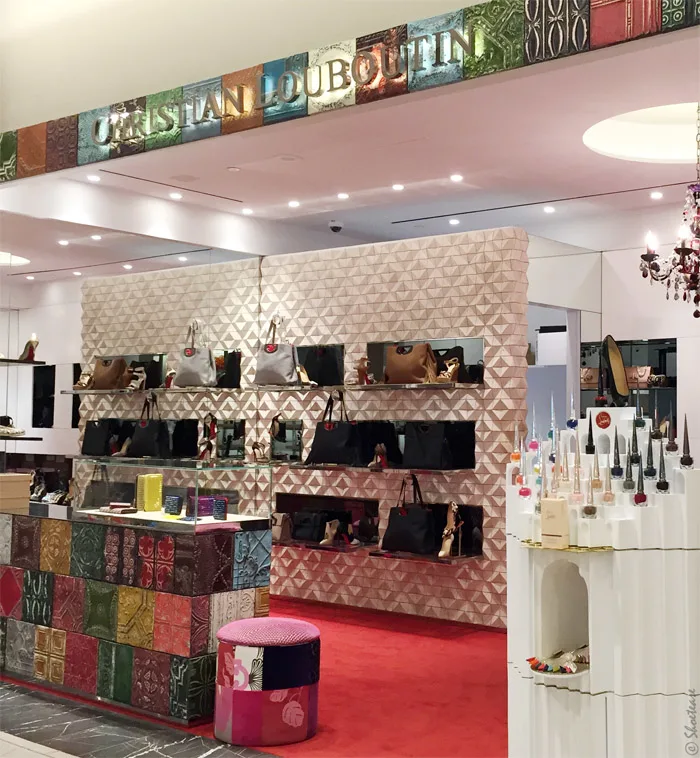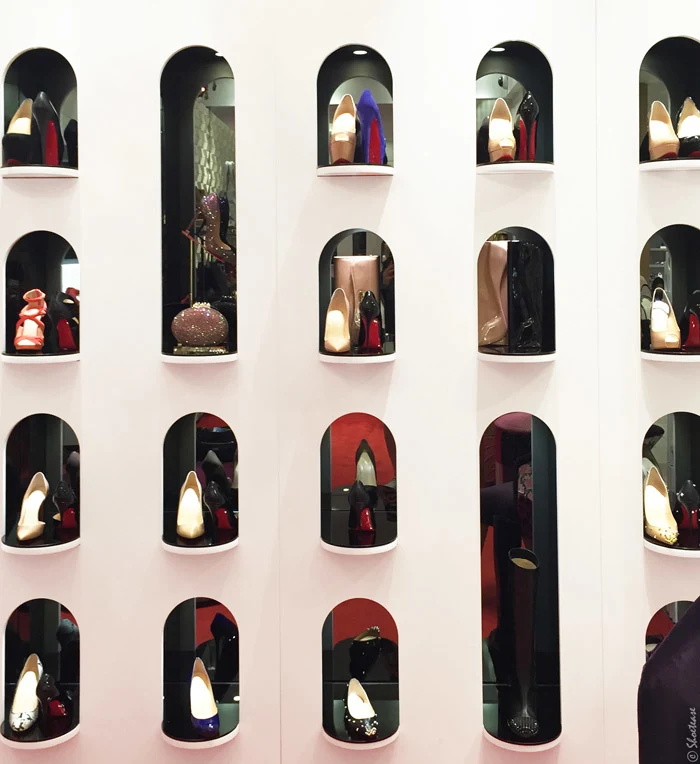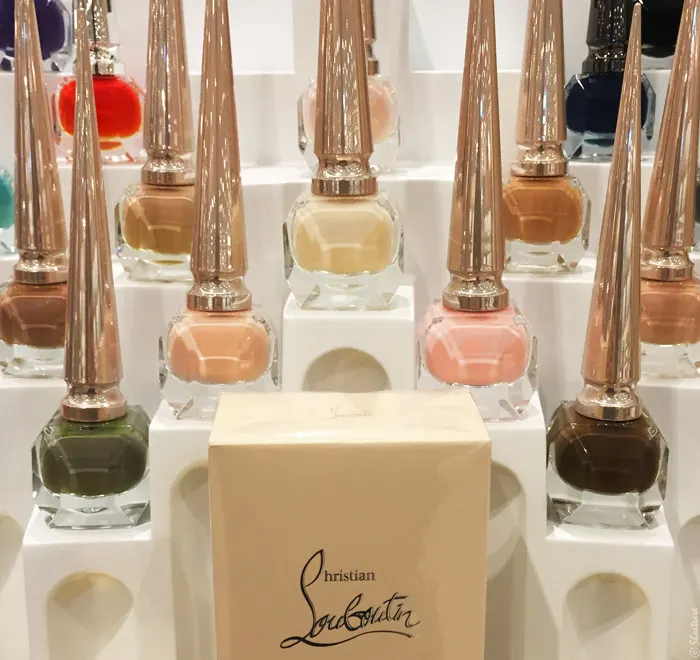 Of course, the first place that comes to mind when thinking "where to buy Christian Louboutin shoes & accessories in Toronto" is the shoe designer's only stand alone store in the city. Just that isn't actually literally. Standing. Alone. Let me explain:
Nestled inside Holt Renfrew's Yorkdale Mall location in its 10,000 square foot women's shoe floor, you will find Louboutin's eclectic Toronto boutique. It's actually quite tiny, but saturated with Loubies displayed in what look like little "windows" along the walls, as the picture I took above. Cute & all, but the styles are actually difficult to see without close inspection. Which might actually be the point: you have to pick them up to clearly see them!
Fun to note that the store design–similar to that of Louboutin's 'apartment' in London's Selfridges–has been actually modelled to mimic Louboutin's own home in Paris. Because this is a Christian Louboutin owned store, expect there to be a variety of shoes & handbags that are exclusive to the boutique. Also: so many Louboutin nail polishes! I was actually taken aback by just how many colors the Vernis is offered in. Seeing them all together makes me want to buy the whole selection! Below is the boutique's location & contact:
Yorkdale Mall – 401 Dufferin Street
Toronto, ON M6A 2T9
(416) 789-6641
Email: hryorkdaleboutique.ca@christianlouboutin.fr
Opening Hours: Monday-Friday 10AM-9PM, Saturday 9:30AM-9PM, Sunday 11AM-7PM
Holt Renfrew, 50 Bloor Street West
Of course, you can also find a vast array of Louboutin shoes, along with many other designer styles at Holt Renfrew's Bloor St location in Yorkville. Details below:
Holt Renfrew Centre – 50 Bloor St W
Toronto, ON
(416) 922-2333
Holt Renfrew – Sherway Gardens
Sherway Gardens, 25 The West Mall
Toronto, ON M9C 1B8
(416) 621-9900
2. DAVIDS Footwear: 2 Locations in Toronto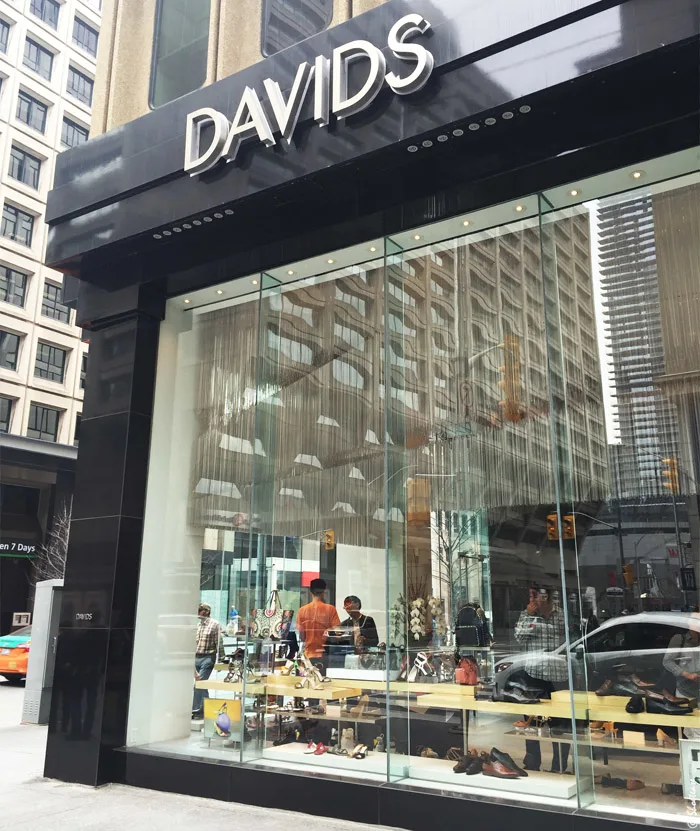 Christian Louboutin at DAVIDS, 66 Bloor Street West
I love DAVIDS & am most familiar with it's Bloor St. store, pictured above. The retail space itself might be small, but jam-packed with amazing shoes & handbags. DAVIDS' Christian Louboutin collection is exclusive to 2 of the stores that carry the brand & styles sell out fast!
DAVIDS Footwear – Bay & Bloor
66 Bloor Street West Toronto, ON
M5S 1L9
(416) 920-1000
DAVIDS Footwear, Bayview Village
Bayview Village Shopping Centre
2901 Bayview Avenue
Toronto, ON
M2K 1E6
(416) 512-9009
3. Hudson's Bay – The Room
Hudson's bay has an amazing array of designer shoes & clothes. But recently, The Room specifically now only houses Christian Louboutin & Alaïa shoes along with the rest of their . right in the downtown core of Toronto. Worth mentioning: their KILLER end of season sales! The Room's shoe room does carry a selection of Louboutins & is located at the following address:
176 Yonge Street, The Bay Queen Street
Toronto, ON M5C 2L7
Platinum Suite Concierge
(416) 861-4491
4. Christian Louboutin Shoes on Ebay.ca
Yes, you read right: EBAY!
Holt Renfrew, the Louboutin boutique, DAVIDS & The Room at The Bay are all authorized Christian Louboutin retailers. That means the Loubies they sell are legit. Ebay isn't authorize. But it's a retailer!
Ebay is a legitimate online store in & of itself. Whether the seller is is actually selling authentic Louboutins is another story! Although Ebay has decent buyer protection against frauds & scams, the smartest way to go about shop for Louboutin shoes online on Ebay is three-fold:
Knowing how to spot a fake Louboutin (read about it here)
Buying from sellers that have: over 98% rating; actual pictures of the product; will happily answer questions
Price factor: Even a used Loubie is never going to go for $50, or even $100 for that matter. You know what they say: If the 'deal' seems far too good to be true, it probably is!
If you're informed, know how to spot fakes & are smart about it, you may be able to find some great prices on new or used Louboutins on Ebay. Try to shop from a Canadian seller, so that you don't have import duty tax or customs worries, which can both be a serious pain in the derrière.
5. Louboutins on Kijiji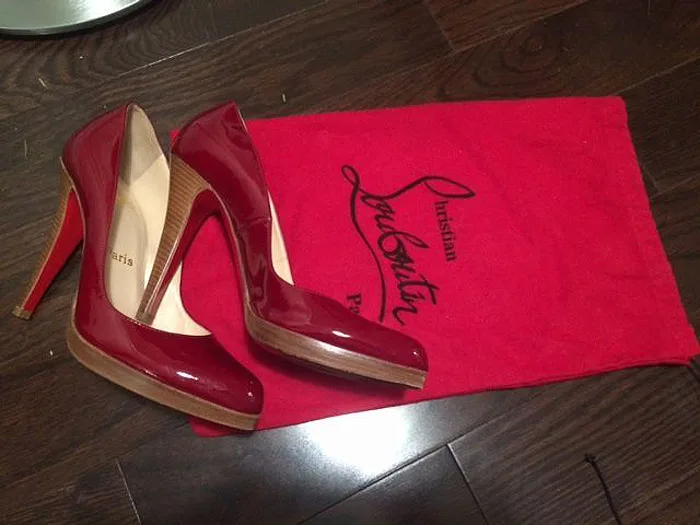 Of course, not everyone has an Ebay account or feels like setting one up. So Kijiji, even Craigslist for that matter & to some extent, may surprise you. Much more of a risk for getting scammed of course. That being said, as with Ebay, if you're knowledgeable about the product & use your common sense, you could find a fabulous pair of Louboutins for a fab price. I have put up designer items for sale on these sites myself, so why not try to buy?
My advice is to only deal with Toronto locals that let you inspect & try on the shoes before you decide to cash out. This seems like a bit of a no-brainer, but you'd be surprised at some of the 'restrictions' some sellers will place on their items, such as not being able to try them on before buying. Red flag right there, folks! Also, people who are selling tons of similar items & tagging a ton of designer names unlikely legit & likely trying to sell you inauthentic designer merchandise.
Soooooo, if you live in the city or are just passing by, these would be the top 5 places where to buy Christian Louboutin shoes in Toronto in my books!
Where do you buy your Louboutin shoes?
xo Cristina M.
Cristina is the chief editor, fashion & shoe expert here at ShoeTease. As a seasoned stylist and women's fashion & shoe designer, she boasts over 20 years of experience in the fashion industry. She loves crafting effortless outfits for ladies both online and off and believes that styling advice should be accessible to everyone. Whether you're a styling pro or just starting out, Cristina's here to guide you on your fashion journey! Learn more.