Toronto Pinterest-Inspired DIY Shoe Closet
How many of you oooh & aaah at those amazing Pinterest shoe closets & DIY shoe storage ideas floating about? I know I do! But like me, you've likely yet to implement your fabulous shoe storage inspiration. But not this lady from Toronto! In addition to a shoe & boot shelving closet insert, she's taken the very much loved crown molding shoe organization idea from Pinterest & literally pinned it to her wall. Even better are the vast array of pumps & peep-toes hanging on it!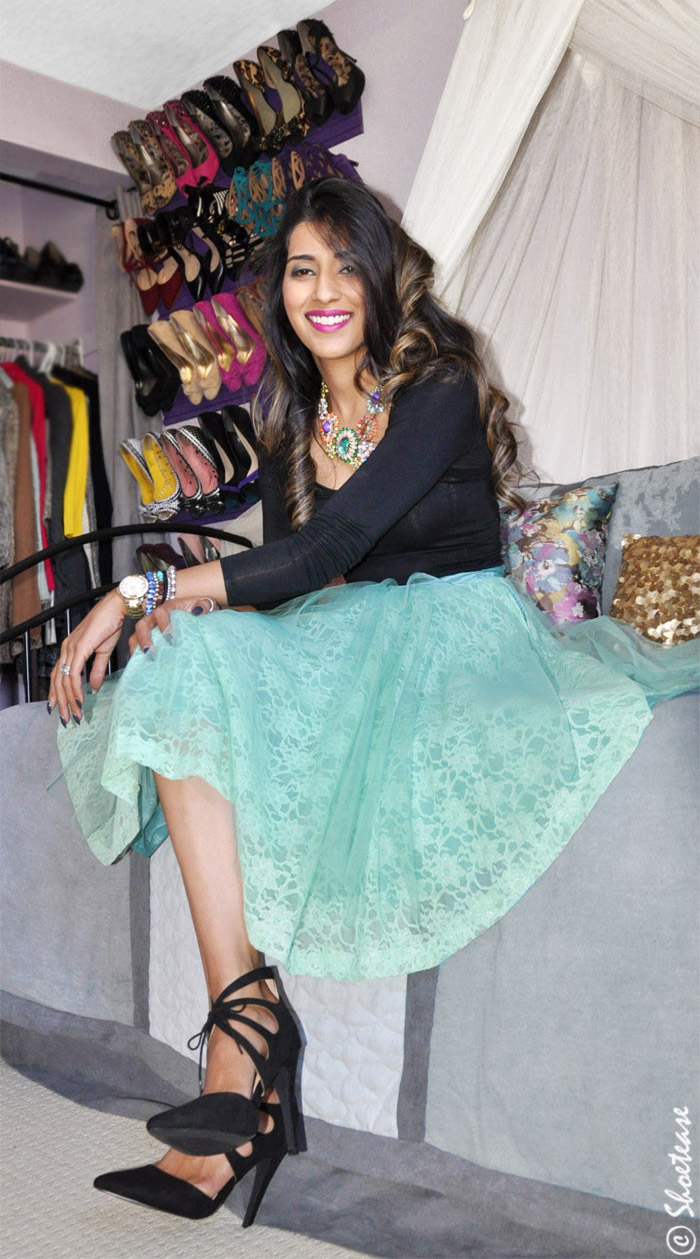 I've known Torontonian & executive assistant/model Razia aka @lonelyshoez–a particularly devout Canadian shoe lover–via my shoe blog's social media channels for years now & our bond for high heel shoes & fashion remains untainted! Needless to say I was VERY excited to take a peek into her recently renovated shoe closet. One thing is certain: Raz values her shoe organization as much as she does her amazing collection of 150 pairs of sandals, boots & towering heels. She definitely gives Skinny Dip blogger Simone's stellar Toronto shoe closet a run for her money! As Raz doesn't believe in over-spending on a pair of designer shoes, she's always on the hunt for a high heel deal & let me tell you: she's found a heck of a lot of good scores! As a result, she's bought her favorite shoe styles in multiple colors & patterns. A tame shoe-shopper she is not! From leopard print shoes, hot pink heels & pumps adorned with crystals, rhinestones & spikes, this is not a shoe closet for the dull & dreary gal. Then again, Raz is none of those things!
After having had fun playing shoe-dress up, we went for a walk in our heels to discuss shoes via a quick Q&A, below, after the shoe closet gallery jump…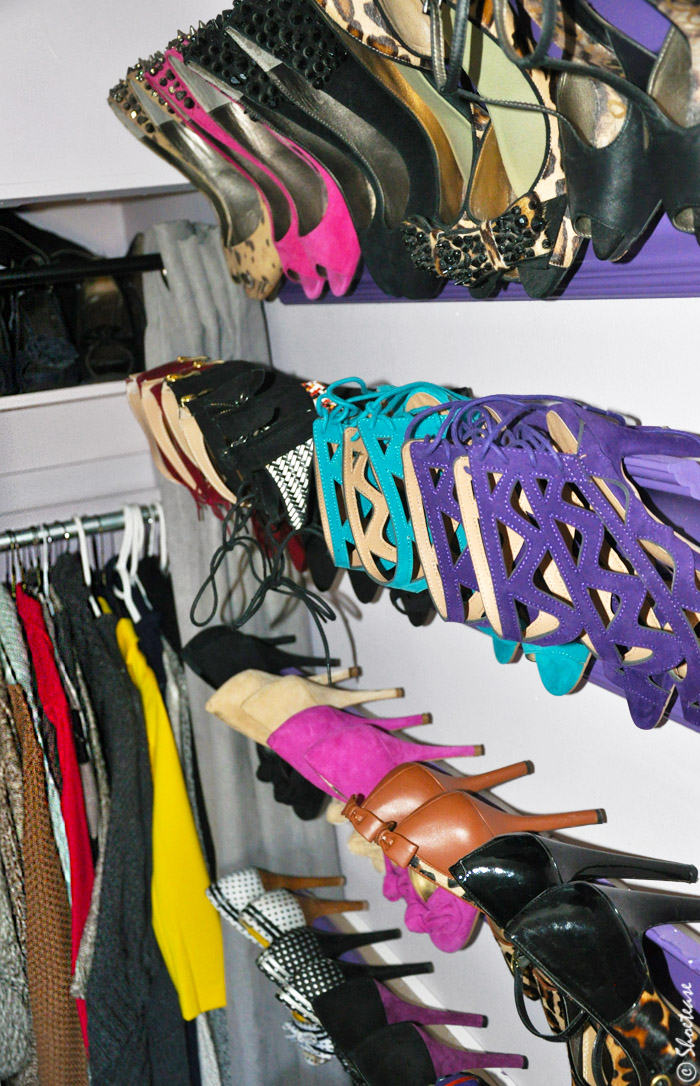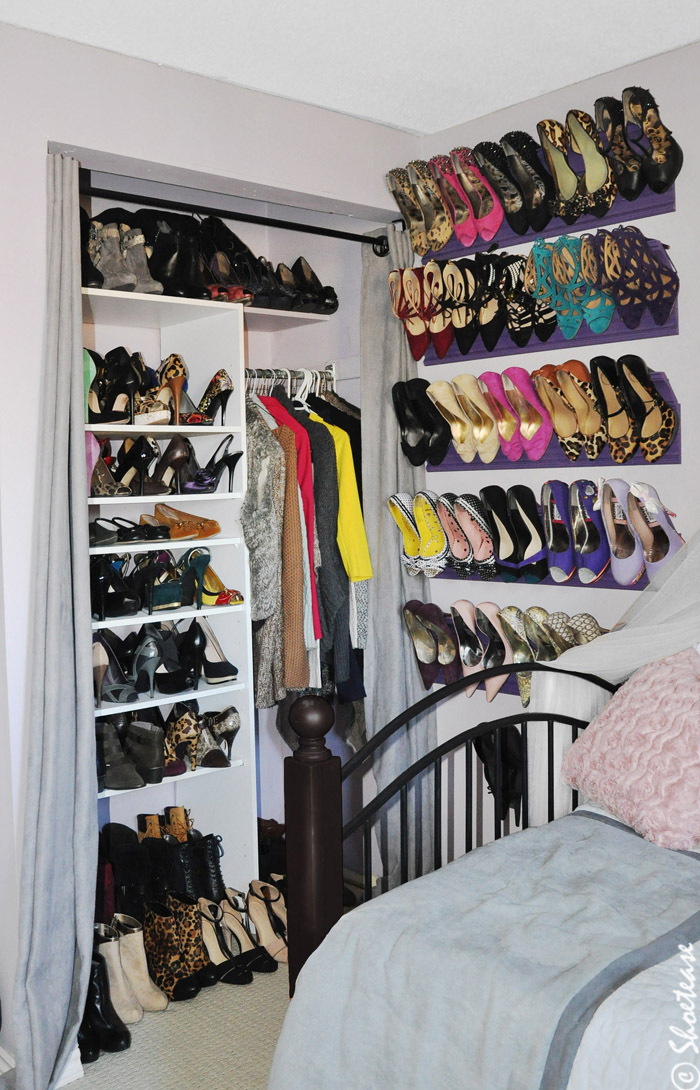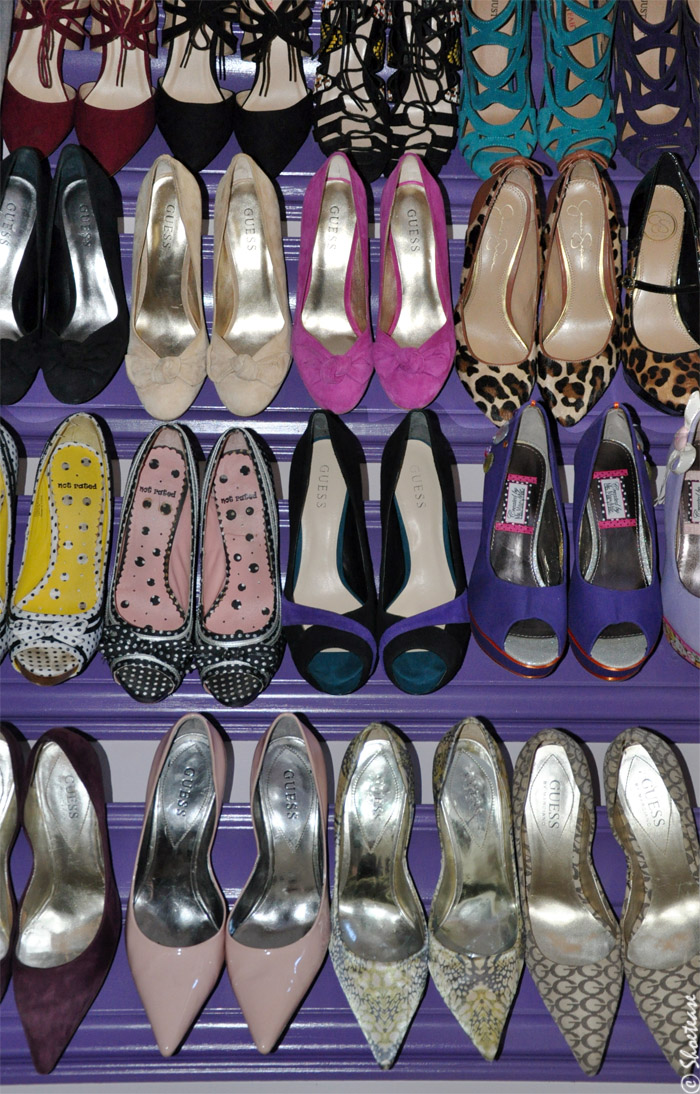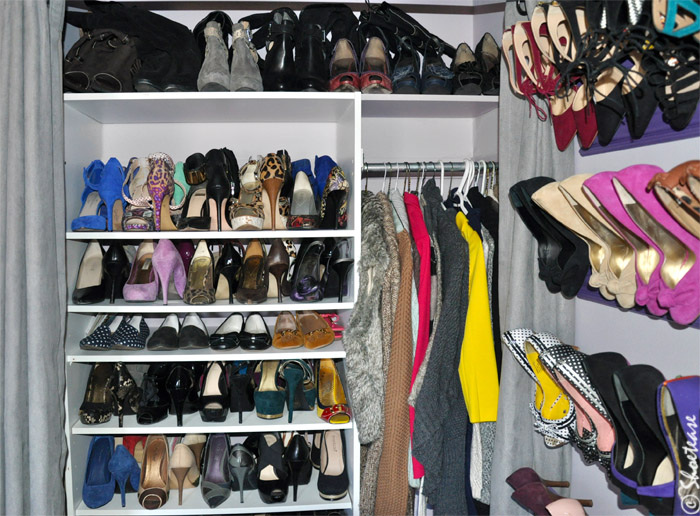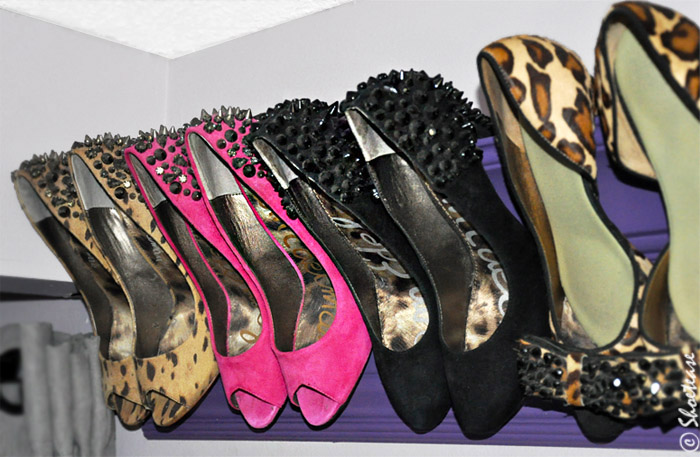 Q&A: The Scoop on the Shoes in Raz's Closet
What's your favorite footwear brand?
Although Raz has a penchant for Guess shoes, you'd almost think she doesn't have just one particular shoe designer fave. Alongside her Guess styles, a ton of Sam Edelman heels ("Lorissa"s in particular), Just Fab, Nine West, Not Rated, Irregular choice & Jessica Simpsons line her shoe closet shelves. Bows, polkadots & quirky detailing are repeatedly spotted, but each style is always as sleek & it is sexy! So it's not surprising that pin-up inspired brand Guess takes the cake!
What's your biggest challenge when buying shoes?
Like me, Raz has a skinny ankle & slim foot. This is often a bigger problem in terms of finding an aptly fitting shoe, than having a wide foot. Most shoes are actually made for medium to wide feet, so us slim footed ladies are left to dry. Unless, of course, you're partial to Jimmy Choo & Manolo Blahnik: these high-end designer shoe brands do, in fact, cater to a slimmer foot. But as Raz won't succumb to paying the extraordinary shoe prices associated with these labels, she opts for pumps rather than booties & any heels with ankle straps are sent to a leather repair store to have extra holes punched into them.
Which is your favorite pair of Shoes?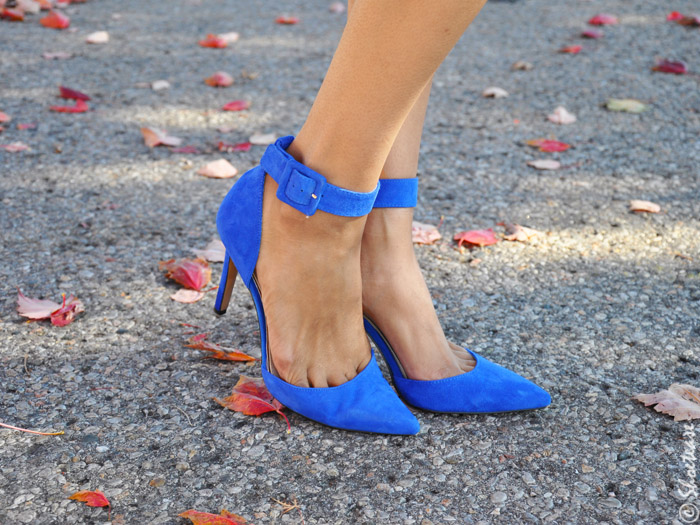 This was a tough one, but ultimately, these suede cobalt blue pumps by Jessica Simpson top Raz's current list. And why shouldn't they? Equipped with a pointed-toe stiletto heel & ankle strap (Raz's IT shoe detail at the moment) all wrapped in a punchy color, what's not to love?
What's your most recent shoe purchase?
As well as being the newest pair of shoes in her closet, these chunky heeled Timberland boots are also her biggest splurge. A great Fall footwear choice it is, as not only is a block heel all the rage right now, but this feminine (but not tacky à la JLo) twist on the classic Tims boot is as on-trend & versatile as it is practical. The rubber heel & track sole make it easy to walk, rather than skate, on hidden patches of ice & are steady in the rain. And to top it all off, they are incredibly comfortable! Perfect for our fickle Toronto weather.
Which pair do you have on highest rotation?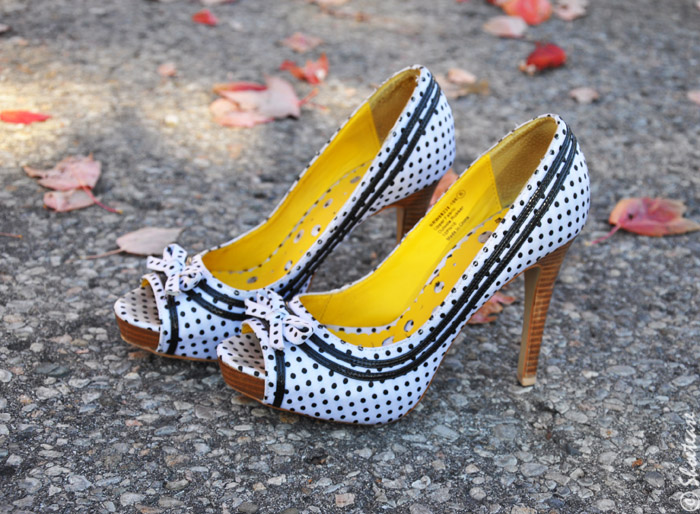 These polka-dot Not Rated heels are probably not going to be worn as often now with Fall arriving & all, but they have been Raz's most worn shoes as of late. Aside from the cute bows, she's got a thing, a BIG thing for polkadots! So it's no surprise that her other quasi identical pair with white dots on black fabric, have been on high rotation as well.
The best shoe deal you've ever scored?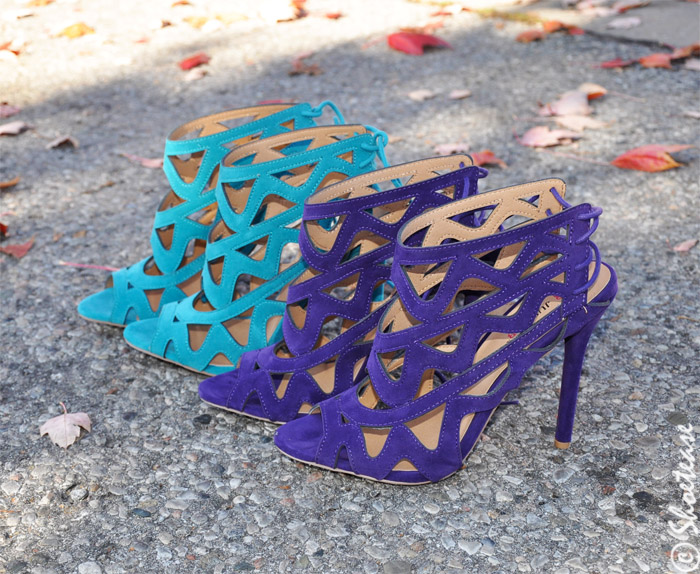 Surprisingly, these laser-cut suede sandals from Just Fab were a fraction of the price I'd have thought. Bought during an amazing sale a few weeks ago, these Nicholas Kirkwood inspired heels were $20 a pop! The 2-for-1 sale was so amazing, in fact, that she also bought this other pair of black (and not pictured – burgundy) cut-out pumps for the same price, pictured below. Not a bad shoe deal for the pretty look of these shoes, right?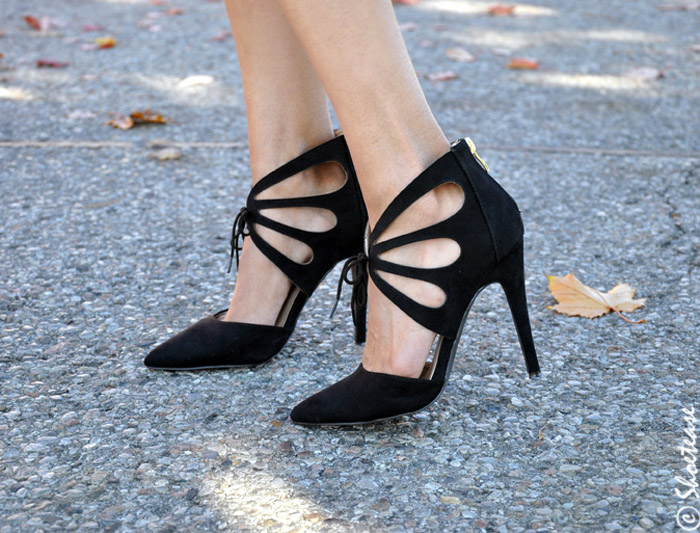 The pair you just can't part with?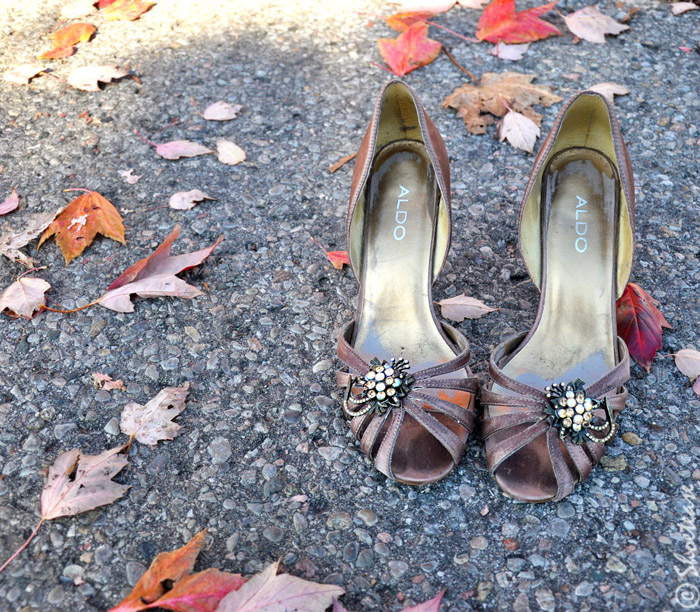 Ah, an old and dusty favorite! We all have that pair in our shoe closets that we just can't seem to dump in the trash; our little hidden gem that we have difficulty parting with! These Aldo shoes, bought a few years back for a wedding have been gathering some serious dust bunnies in Raz's other half's closet. Nope, they don't even get coveted space in her new shelves! To be nice to these heels, they are actually pretty cute. I can see how the satin muted wine color & shoe-clip like metallic bling does make them hard to let go of. Question is: will the dust let go of them?!
Hope you had as much fun reading this shoe closet post, as I had creating it!

Do you have a great shoe closet like Raz's that you think we ought to feature? Whether it's custom made by the closet pros or a great DIY shoe storage result, we don't discriminate: if it's awesome, we want to see it! Contact me here, or at shoetease(at)gmail(dot)com.
xo Cristina M.