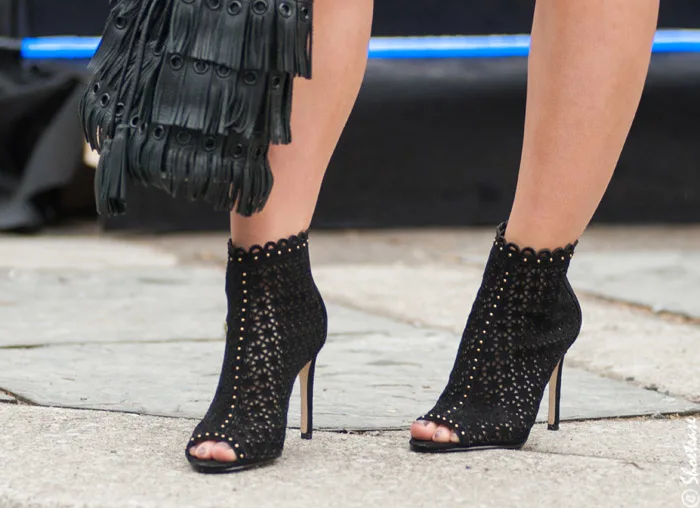 It was another fantastic shoe-spotting season of the runway spectators inside & outside the tents at #WMCFW during the Fall/Winter 2015 shows. Toronto Fashion Week street style shoes this time around were even better than the shoes from last year's Fashion Week event. I mean, forget the fashion: these Toronto shoes made quite a bold statement in & of themselves!
Not to mention that many of them were on-point when it came to shoe trends for the current fashion season. So here for your viewing pleasure, are 5 footwear gems spotted last week at Toronto's David Pecaut Square.
5 Toronto Fashion Week Street Style Shoes
1. Black Laser-Cut Booties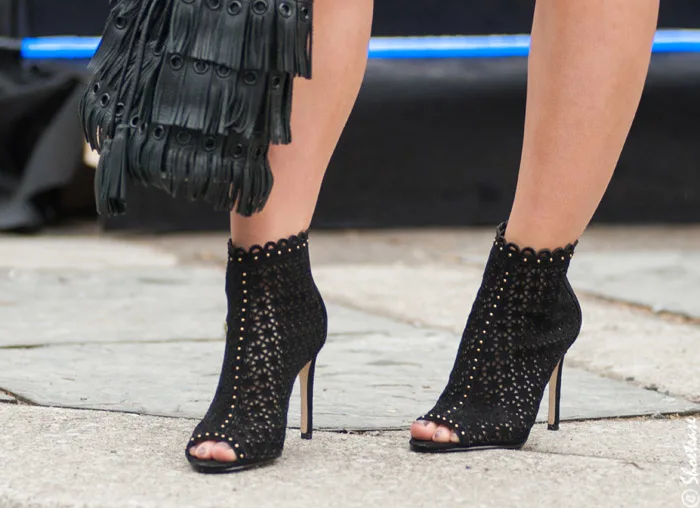 These detailed high heeled peep-toe booties with scalloped & studded trim are absolutely gorgeous!! The fringe purse complements Karen Michelle's Marc Fisher shoes beautifully. I could stare at them for far longer than I'd like to admit!
2. Silver Sandals with White Socks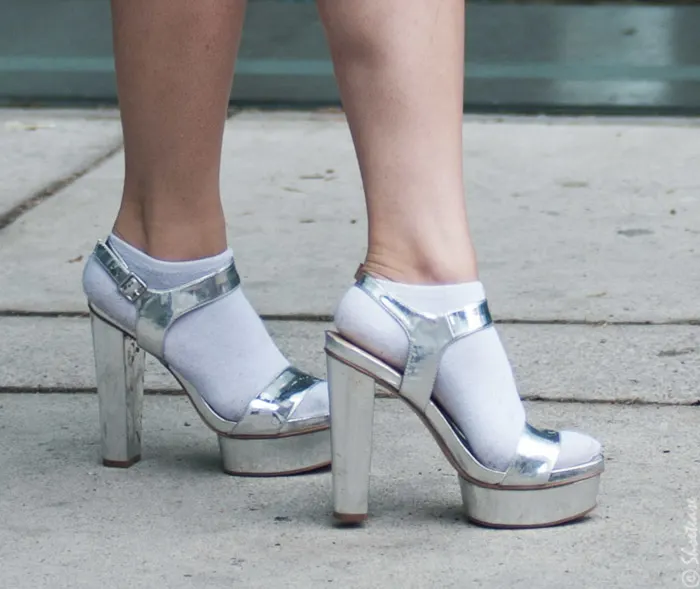 Yes, someone had the audacity to style their socks with sandals & I couldn't be more proud! It's a huge fashion risk to take (especially in the conservative city that is Toronto) but Mel Wang from melinpired.com totally killed it. It certainly helps that her Top Shop sandals hit the shoe trend mark 3 ways: platform + block heel + metallic material. Take a peek below at the entire ensemble, complete with color-blocking & voluminous skirt, to get the full effect of the sock & sandal look.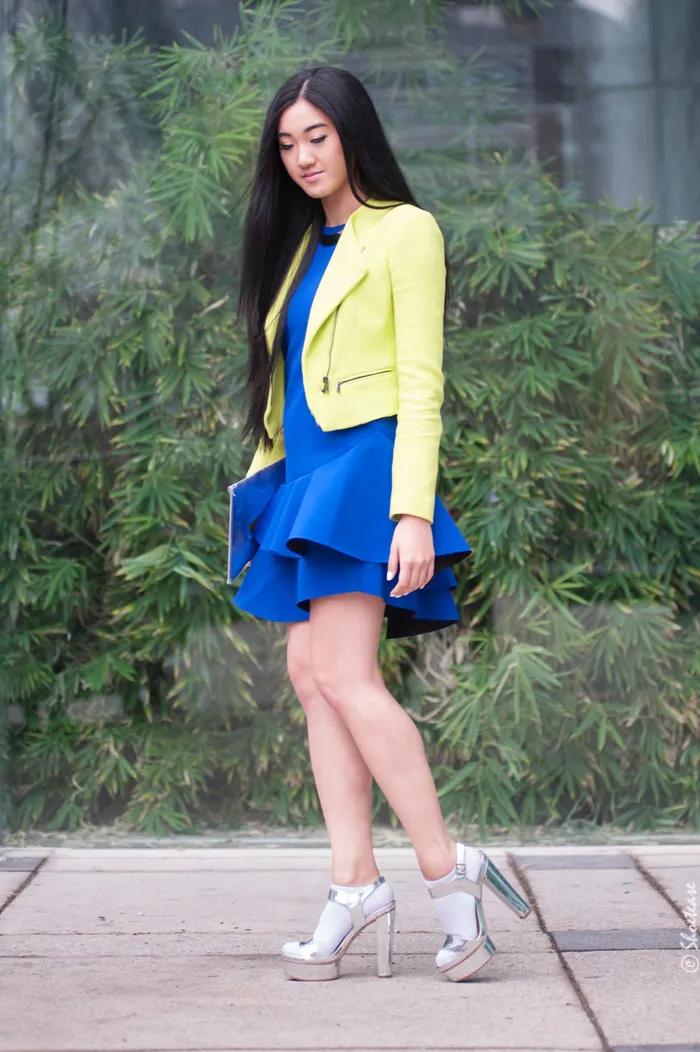 3. Glitter Heels
This goes to show that glittery shoes aren't simply reserved for New Year Eve & evening galas! I just love how the purple glitter doesn't cover the entire shoe. And how Alice styled them with black opaque stockings! As per the shoe itself, it's the open back, metallic gold ankle straps/heels & unusual upper toe shape, that make them extra special. That's why they're branded Lanvin, folks!
4. Animal Print Ankle Boots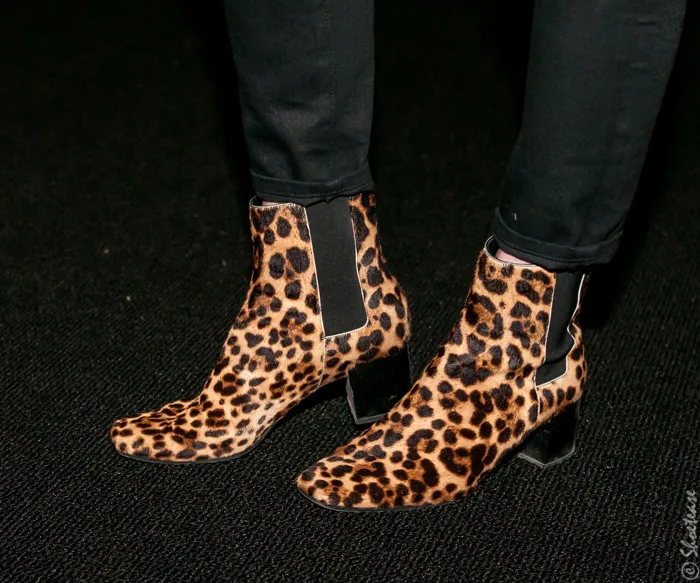 60s-inspired block heel Chelsea booties at their best. I'm still smitten with leopard print shoes & even more so when the material is displayed on such a trendy boot. Kudos to Vicky Shaughnessy from Pink Tartan for wearing these funky Pierre Hardy booties styled with black skinnies, making the boots resonate even more!
5. Black & White Booties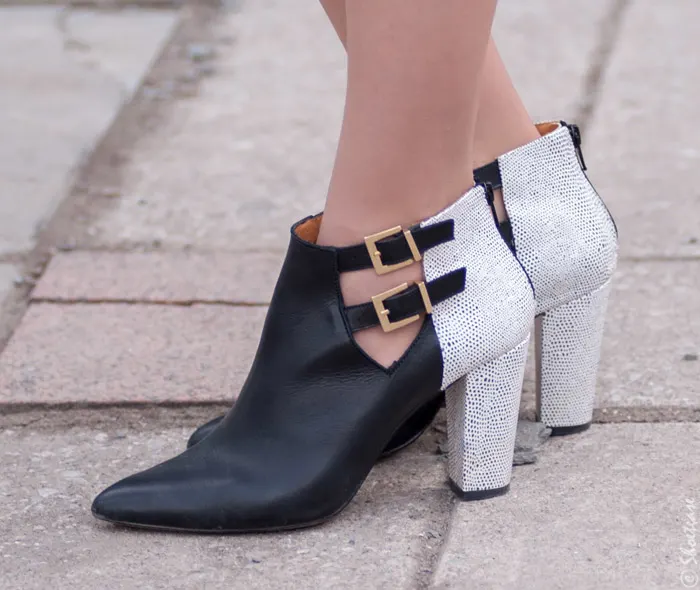 Black & white is so hot this season! The block heels & embossed white material add great texture to Monika's French label Eram booties. The cut-out detailing & double buckles take them to another level entirely, don't you think?
This sums up the best & brightest of Toronto Fashion Week's street style shoes, spotted at the Fall/Winter 2015 shows of this trendy Canadian city. We're so happy to have bumped into these fabulous ladies to get the scoop on their drool-worthy shoes!
What do you think of this year's WMCFW street style shoes?
Shop Fashion Week-inspired Shoes

xo Cristina