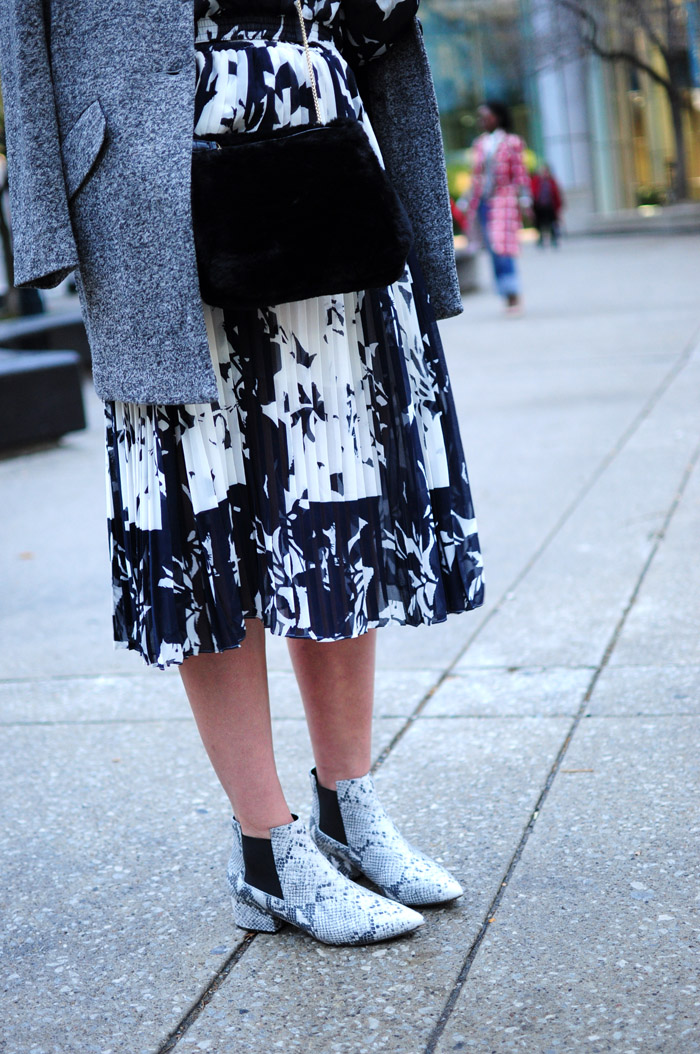 Days 2 & 3 of #WMCFW S/S 2016 edition came about & so did the rain. Capturing the best street style footwear at Toronto Fashion Week outside the tents was a bit of a creative struggle to say the least: fighting the light, the water & more. Yikes! But the few Toronto fashionistas who preferred to strut their style vs. keep warm & dry inside (thank you kindly!) didn't disappoint. Loads of fab sneakers, towering wedges & quirky heels were captured by my lens. Take a look after the jump & see for yourself. Maybe you even made the cut 😉
Sometimes the shots I took of some great shoes & accessories at David Pecaut Square didn't make it to these street style posts. Nothing to do with bad styling or "meh" shoes, might I add! I'm still working on my photography skills, so not all snaps came out as I intended them to. Speaking on photography, I'm really impressed how haute the sneakers & shoes of some of the professional photographers have been thus far. There to take pics vs getting snapped themselves, some of their footwear & fashionable sneakers literally outshone those of the fashion crowd themselves. Not that the fashionable men & women attending the shows in Toronto didn't look phenomenal, bien sur! Below are some of the best street style shoes I spotted during Day 2 & Day 3 outside the Spring 2016 shows at World MasterCard Toronto Fashion Week.
Toronto Fashion Week – Street Style Footwear Day 2
Day 2 outside of the shows was all about sneakers, futuristic footwear & many a fantastic pair of sneakers. And just in case you get offended, socks & sandals left their mark on October 20th as well!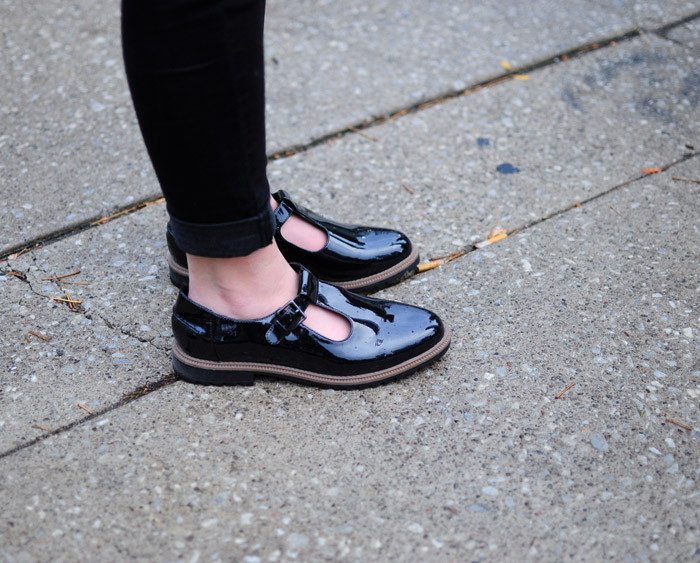 Janine @janinemaral wearing black patent Clarks Shoes t-strap Mary Janes: too cute & remind me of little kid shoes with a stylish edge (literally, around the outsole!).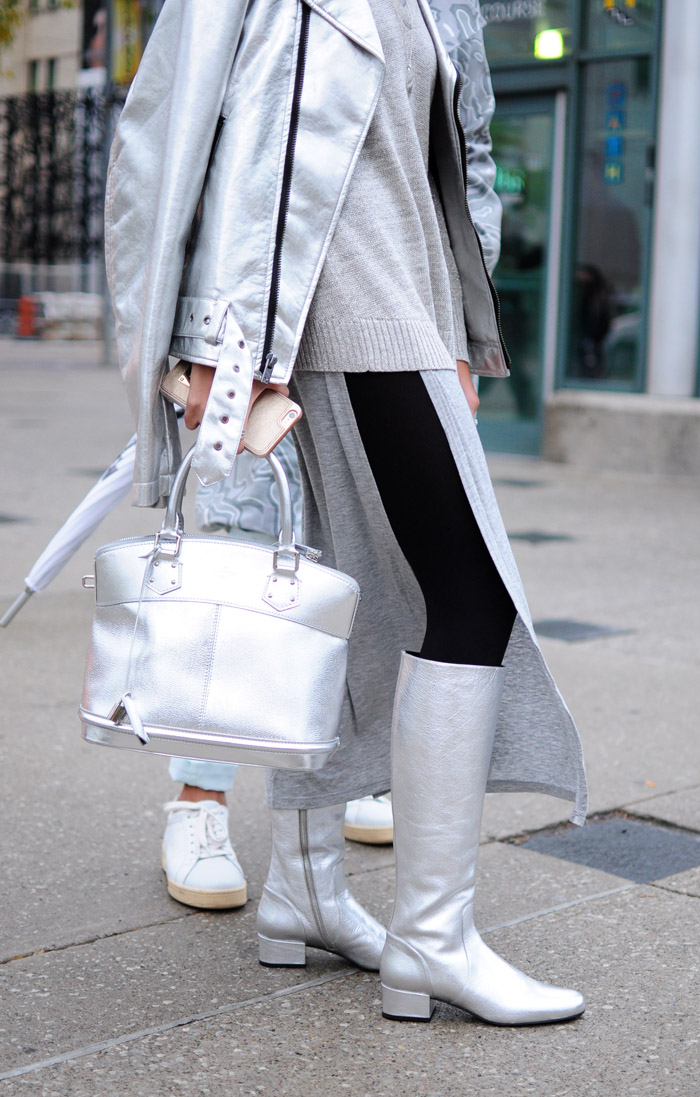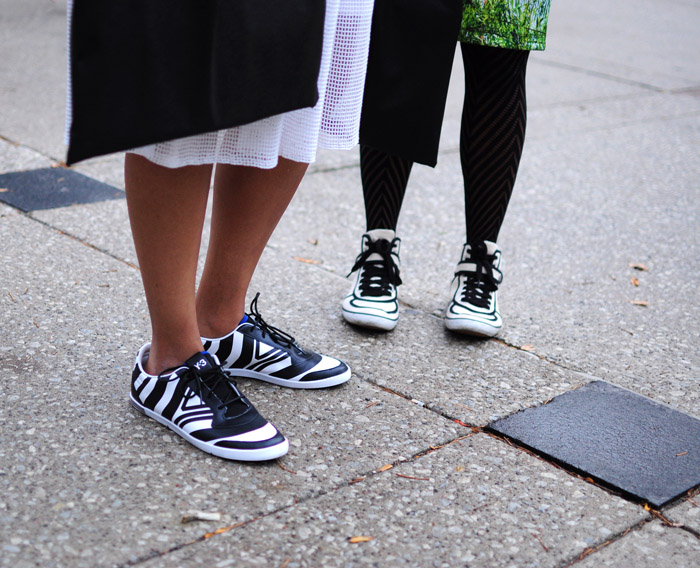 Y-3 black & white stripe sneakers, left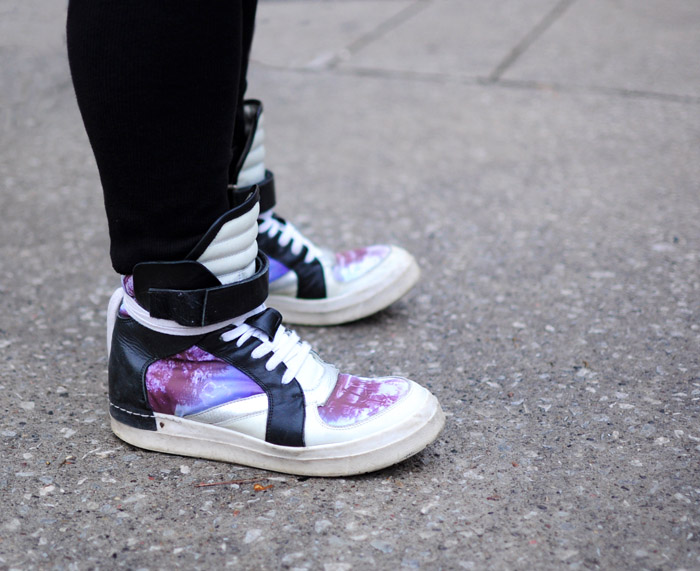 Fabulous CA by Cinzia Araia hi top sneakers worn by Photographer @fish.sammy.liu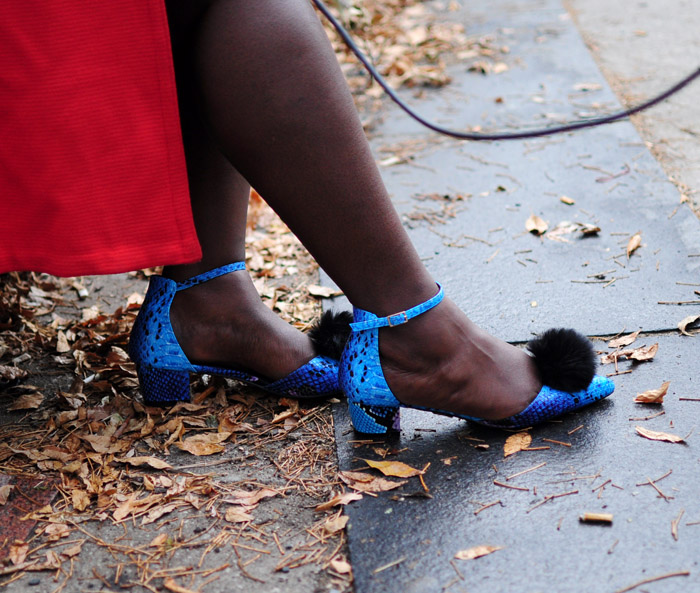 Cobalt blue block heel pumps with black pompoms. Amazing! Mo from @misslionhunter in Asos pumps.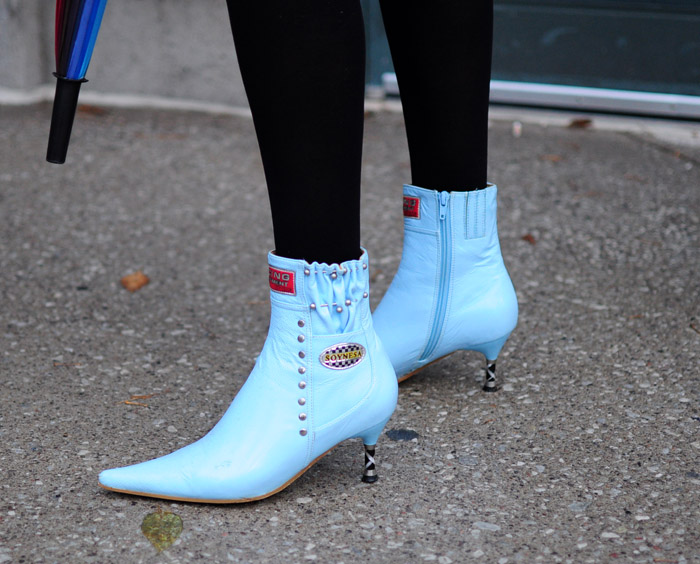 Love 'em or hate 'em, these insanely pointy-toe baby blue kitten heels are…something!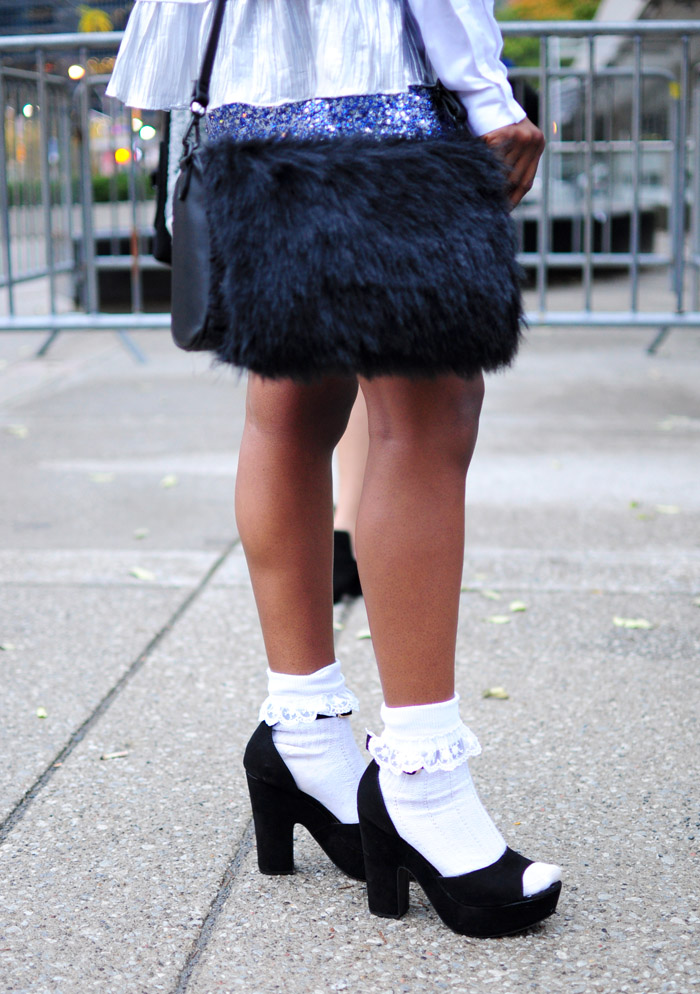 If you're going to do socks with sandals, a little frilly roll down sock won't hurt! Primark sandals worn by Prescylla of @prescyllav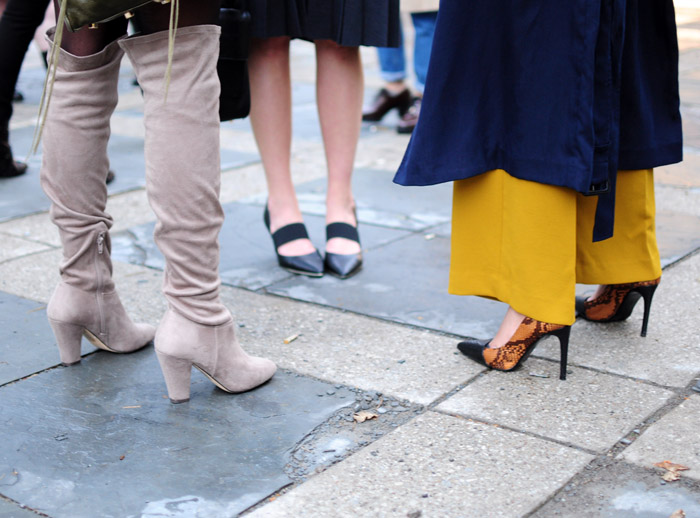 Candid fashionista shoe conversations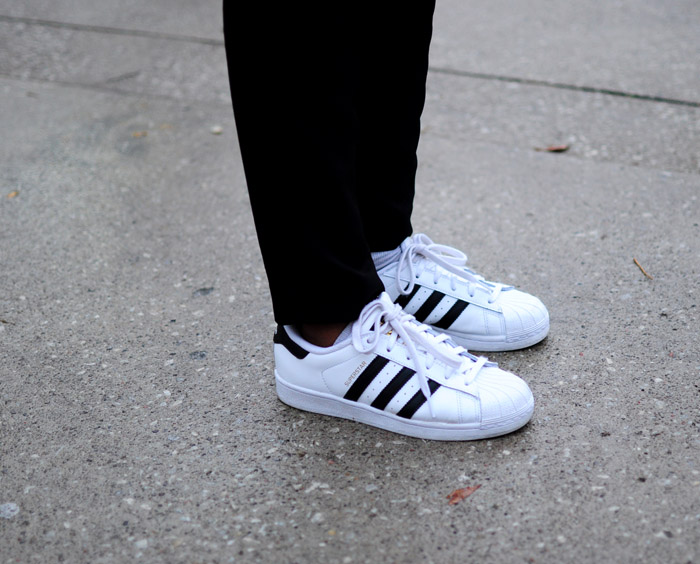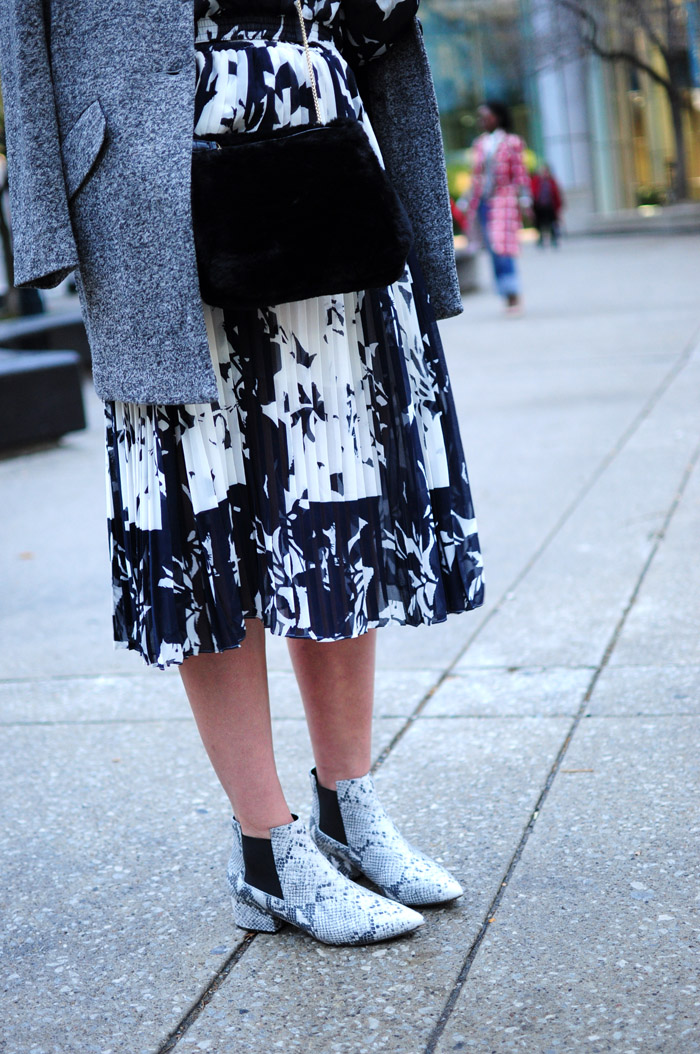 Liat of @yomanchic wearing monochrome French Connection reptile print Chelsea boots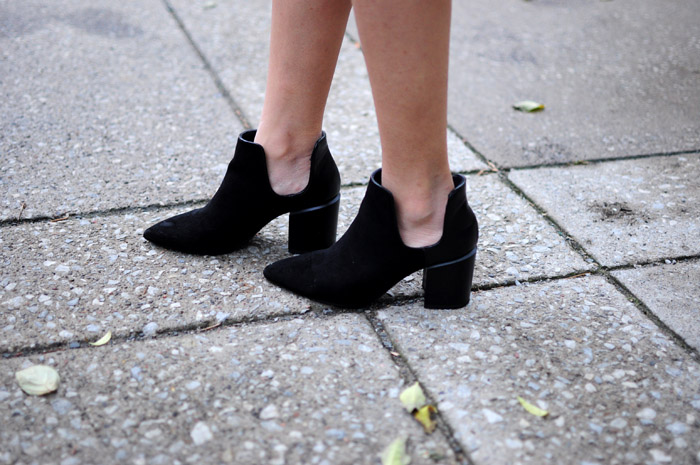 Zara cut-out black booties on Melissa from @melissaedre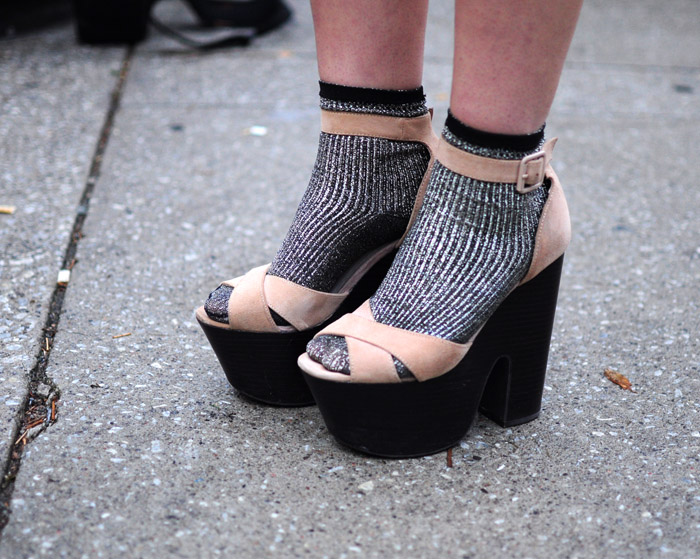 Topshop sandals & metallic ribbed socks looked fab on Yazmin @yaz3ashley
---
Shop the Shoes

---
Have you seen the best shoes spotted on the concrete runways of Toronto Fashion Week on Day 1? Take a look at all the shoes from the first day here.
xo Cristina