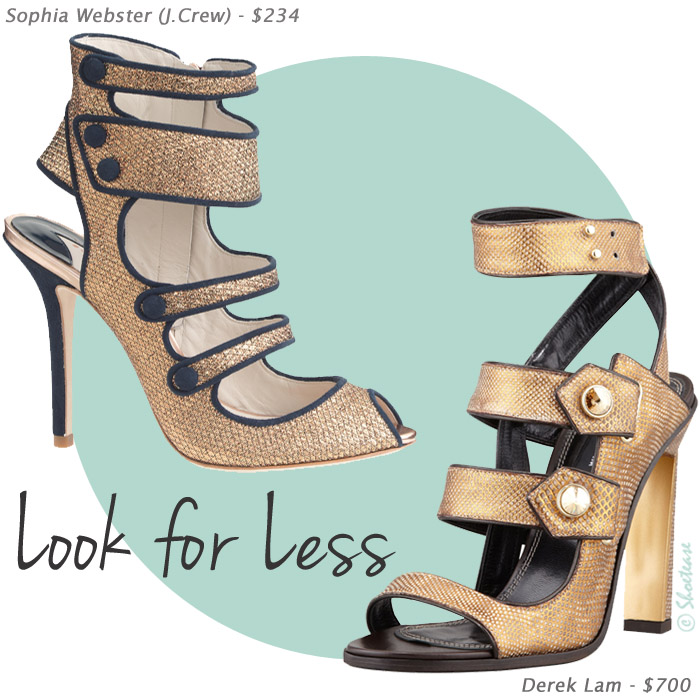 Both designer bronze strappy sandals have 4 inch heels, but only one gets you the shoe for under $250! Yep, these Sofia Webster for J.Crew heels give you these Derek Lam designer heels for less than $250 when using The Crew's extra 40% off sale code right now: SALENEWS.
Derek Lam's thicker strapped version is the most updated of the two styles for Spring 2015 with its chunky heels, but it's quite the splurge in comparison to its $700+tax price-tag. Although in designer shoe land (with certain heels & boots easily reaching prices far above 1.5K!), these could almost be considered affordable designer shoes.
Webster's on the other hand has a more feminine curving to it & has a slight vintage, Victorian era feel, especially with it's higher ankle strap & old fashioned buttons. I've actually been eyeing these bronze strappy high heel sandals with navy contrast piping for a while now & right now seems the right time to go get 'em!
Bronze Sandal Look for Less Detail Comparison
Derek Lam Bronze "Beatrice" Snakeskin Strappy Sandal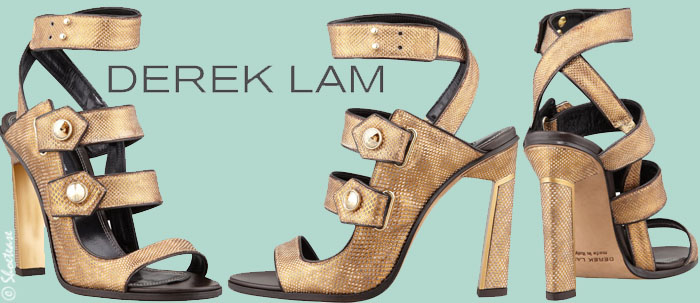 Heels: 4 inches/ leather wrapped with metal plate
Upper: Snakeskin embossed leather with black leather trim
Lining & Insole: black leather
Details: Crystal buttons
Made in Italy
Sophia Webster for J.Crew Bronzed Canvas Sandal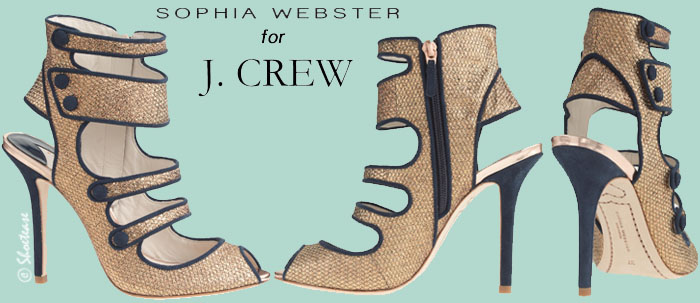 Heels: 4 inches/ leather wrapped with metal plate
Upper: Jacquard fabric & suede with navy piping
Lining & Insole: tan leather
Details: navy suede covered buttons
Made in China
$234 from J.Crew (with 40% discount code SALENEWS)
Check out more shoes & heels that have that same look for less (and in certain instances, much less!).
xo Cristina M.