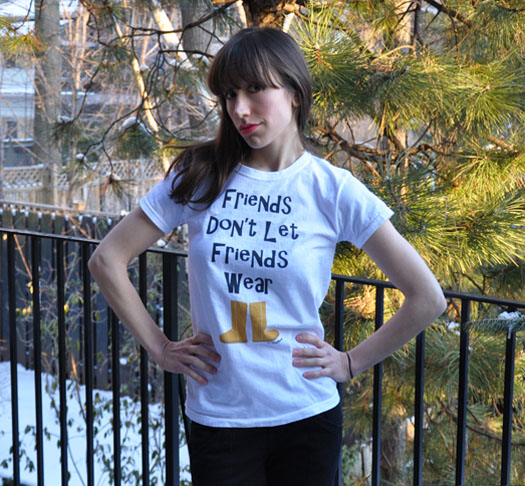 By now, most of you know that other than blogging my little heart out about shoes, I also design shoe tees. You know, shoetease. Get it? Ok, silly obviousness aside, it's about friggin' time to love all you fine readers back by giving something, uhm, back, in the form of what I do best! So sit back and enjoy the first giveaway…
ShoeTease Giveaway

: Friends Don't Let Friends Wear…
So what do you get? A fine organic cotton white or grey Women's or Men's cut t-shirt in the size of your choice. Shipping included, of course! You'll also get loads of smiles & snickers from passersby. Trust me, it happens to yours truly all the time 🙂 Oh, and I deliver almost world-wide, so none of this "must be a US or Canadian resident" nonsense! And best of all, it's crazy-easy to enter: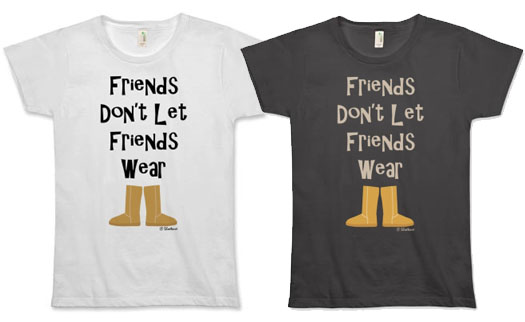 How to Enter

to Win:
1) Leave a comment on this post with your email address
2) Follow ShoeTease on Facebook
THAT'S IT 🙂
Gain an extra entry for each of the following:
1) Following ShoeTease on Twitter
2) Tweeting: I want to win @ShoeTease's First #Giveaway! https://bit.ly/fkHVy3
Giveaway is open from now until midnight Monday March 21st. I'll post the randomly selected winner here & email them too. GOOD LUCK 🙂
Psst! While you're waiting, why not check out what other shoe-lovin' items ShoeTease has in store?!
& the random.org generated WINNER is: Chiara! Congrats 🙂
A large THANK YOU to all those who participated! But if you're still hung up on winning, The Shoe Girl is hosting a ShoeTease giveaway right now! Click HERE to enter!
xo ShoeTease