If you read the previous post on my Toronto-based fashion & shoe outlet mall challenge, then you'll know that I've been sent on a fashionable retail mission! So last week I made my way outside my DT Toronto bubble over to Mississauga, to engage in a little clothing & shoe shopping at Dixie Outlet Mall. And you'll never believe all of the stylishly affordable shoes I found!
Shoe Shopping at Dixie Outlet Mall
With 11 shoe-specific retailers, discount shoes at affordable prices were aplenty! Many retailers such as Winners, Sirens & Urban Planet among others, carry a shoe collection themselves. Since this was my first time shopping at Dixie, there were a few things that surprised me. Here are my top observations:
Dixie Outlet Mall is HUGE. I mean, this is something I kind of knew from passing it on the Gardiner Expressway, but boy, experiencing it from the inside was a whole other story. Good thing I wore my comfortable ankle boots!
The discounted shoes are plentiful & very much on point. You'll find trendy styles along with the classics in all sizes, not just the teeny or massive ones.
It's actually very easy to get to, from downtown Toronto. Which means a lot coming from me, because I'm a nervous driver & have a habit of being led astray by my iPhone's GPS!
The sales associates are the kindest, most PATIENT employees I have ever encountered. Anywhere. And I've lived in a lot of cities!! I highlight "patient" because I am possibly the most indecisive person when it comes to shoe & clothes shopping. So a huge thanks to the wonderful guy at Aldo (whose name escapes me, sorry!), to Sara B. and especially Erikah at Guess who put up with my hefty doses of "I'm overwhelmed & can't decide" craziness!
Most of the outlet retailers also carry the current collections, in addition to their outlet/discounted items.
The Guess Factory Store is enormous! So. Many. Jeans.
The food court has a great selection. I read a review on Yelp stating the opposite, so honestly I expected the worst. But seriously, there's everything you could want & more. And yes, in my indecisive ways, I had trouble picking only one place where I to eat lunch too!
8 Best Shoes Deals from Dixie Outlet Mall
Warning: Copious amount of shoefies & Toronto shoes ahead!
1. Nine West Sneakers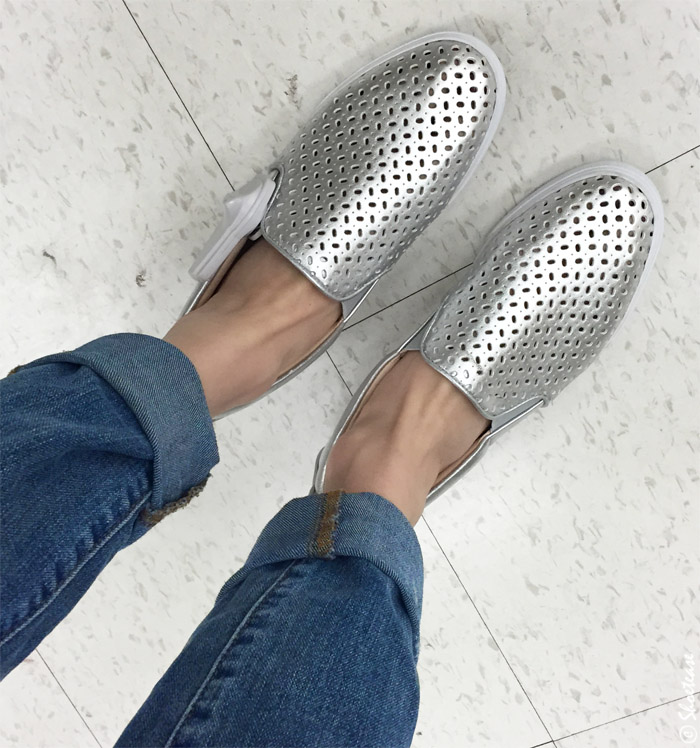 I found these perforated silver slip-ons by Nine West at Winners. This is a pair I've been eyeing since last year & made a repeat into the retailer's stores this season, so it was exciting to find them at a discounted price.
2. Blowfish Sandals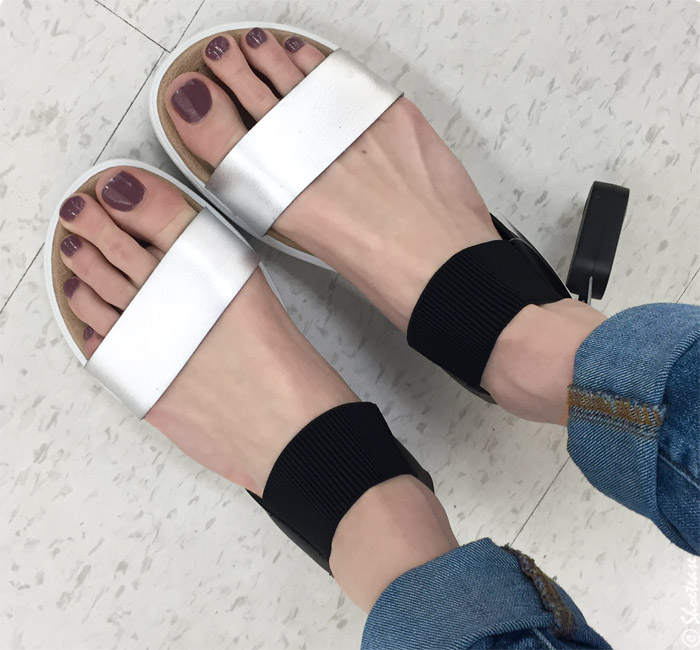 Another find from Winners were these fabulous-fitting Blowfish flats with a slight white flatform. The comfort factor was huge & hugged my extremely narrow feet perfectly. Perfect for Spring 2015 (and were only $34!).
3. Aldo Platform Wedges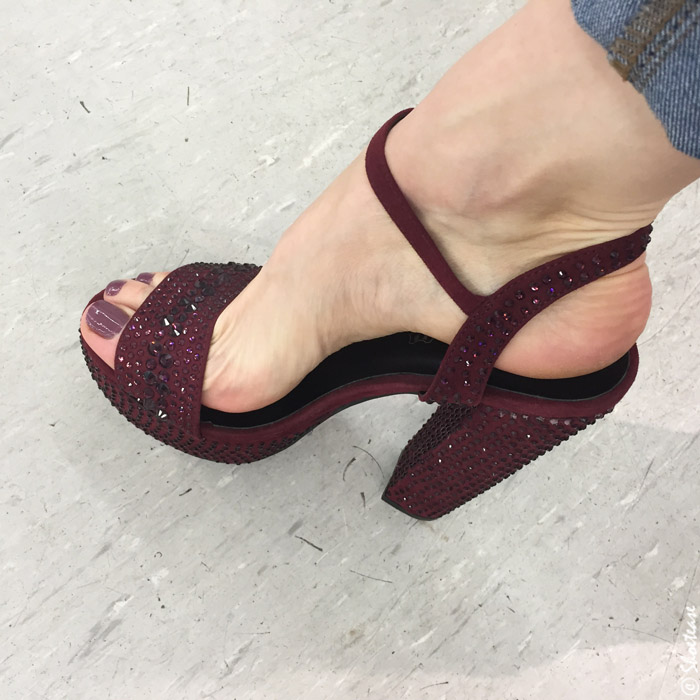 My girlie crush at the mall was this pair of wine-hued Aldo "Levata" sandals fully covered in sparkles. With 70s shoes coming into vogue, these really hit the shoe trend spot, for me!
4. Aldo Glitter Boot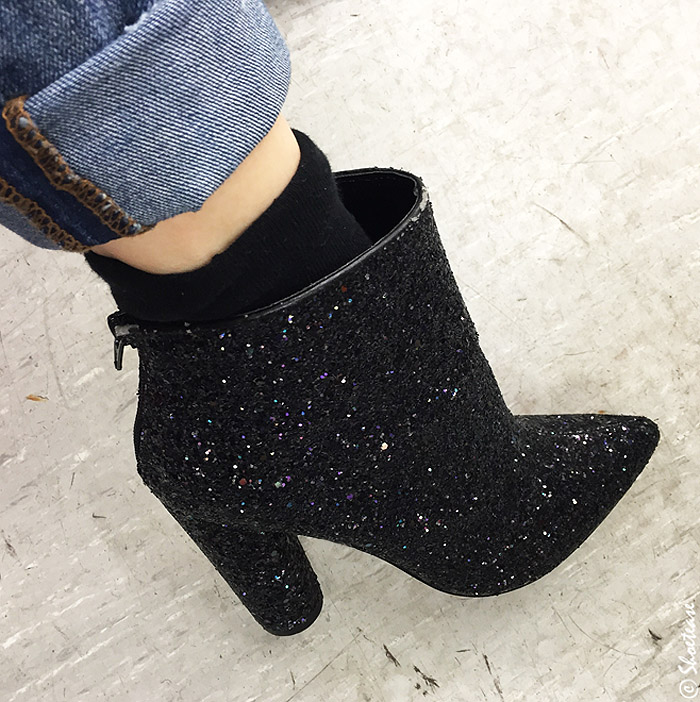 This other pair of flashy heels from Aldo, the "Fahlstrom" bootie, caught my eye. Hmm, wonder why!? So much glitter & that cylindrical chunky heel! Worth mentioning that these two styles along with all other clearance shoes at Aldo were an extra 50% off the already reduced price. Although sizes were scarce in this section, you could score footwear at up to 80% off the original price-tag!
5. New Balance Sneakers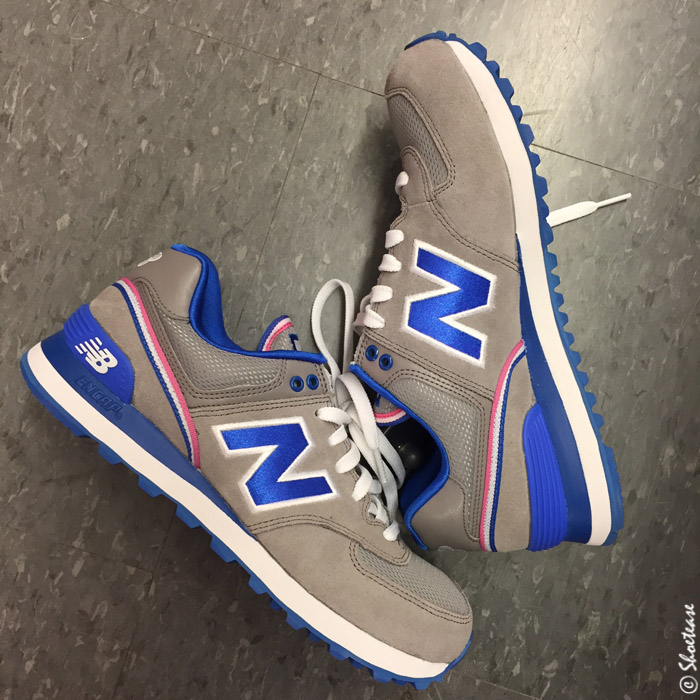 These New Balance kicks from the FootLocker outlet were love at first sight! With their vibrant cobalt color atop a perfectly greige base, what's not to love? Especially when they come in your size & are under $50!! This pair certainly allow me to join the rest of Toronto street-styling in their bright New Balance sneakers!
6. Naturalizer Striped Pumps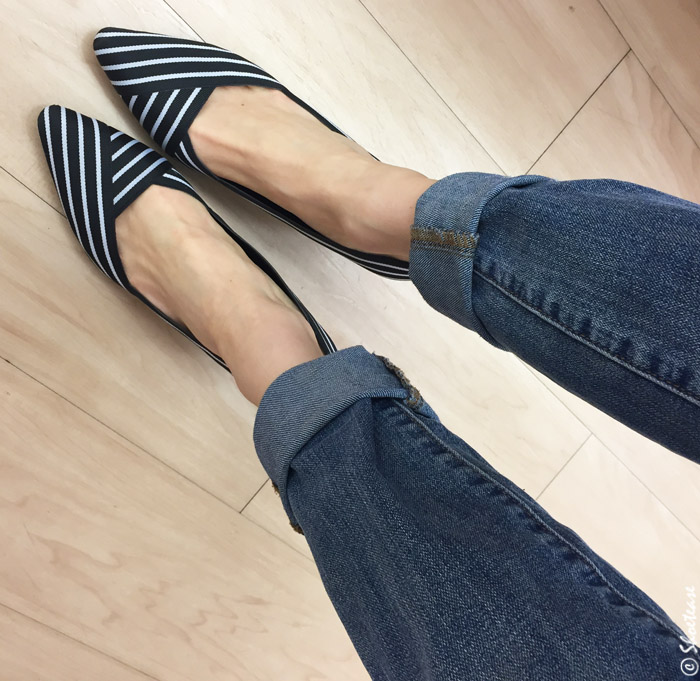 For the more "down to Earth" & let's face-it, often frumpy shoes that Naturalizer tends to carry, these nautical striped pumps along a handful of other heels, really surprised me! I absolutely loved them not only for their fun, striped criss-cross upper, but the comfort was really something. I would expect no less from a shoe brand keen on keeping things comfortable!
7. Kate Spade for Keds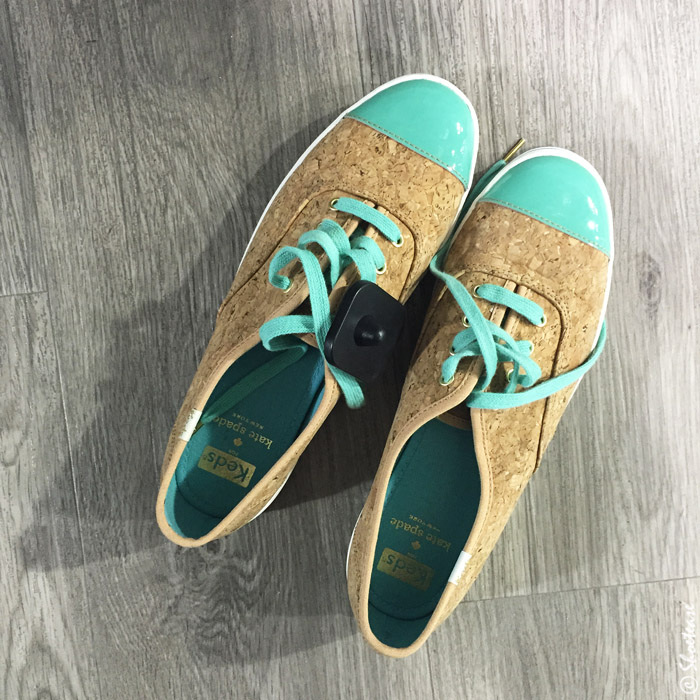 These pretties might be from last season, but who cares? With their cork upper & patent mint green toe-caps/laces, these Kate Spade for Keds lace-ups are a perfect choice for summer! Found at Shoe Ware House.
8. TownShoes Brogues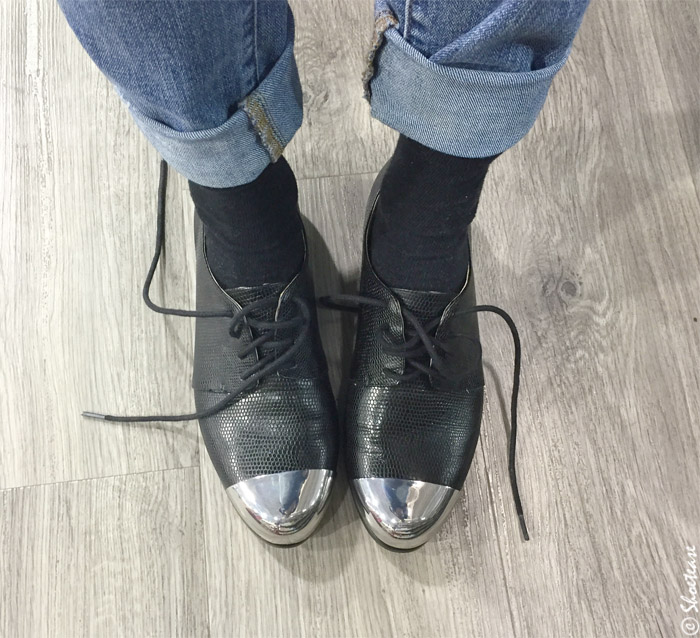 I must have had something with cap toe shoes when I stepped into Shoe Ware House! These TownShoes private label brogues with metal cap-toes & embossed black upper are so comfortable & cute. Not my usual shoe style, but these would be a welcome change to my daily sneakers & ripped jeans look.
Of course, I didn't simply engage in shoe shopping at Dixie Outlet Mall. Since the "She Who Hunts Finds" blogger challenge includes a head-to-toe outfit, I ventured into many of the clothing & accessories stores too. Daniel Leather was a salivating experience: with so many pretty purses, leather jackets & clutches, this was another Canadian retailer I had a field day in! Guess & Jean Machine had my favorite picks for denim, whereas Aeropostale had some great basics.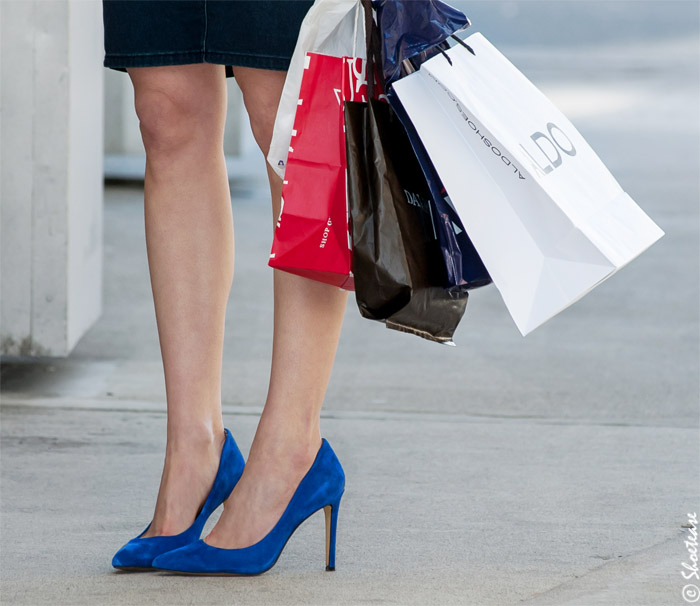 So what shoes & outfit pairing did I choose to purchase in the end? Keep following the blog & ShoeTease on Instagram to find out soon!
xo Cristina
Photography by Che Rosales (1st and last photo)
**This post is brought to you in collaboration with Dixie Outlet Mall. All opinions expressed are my own**