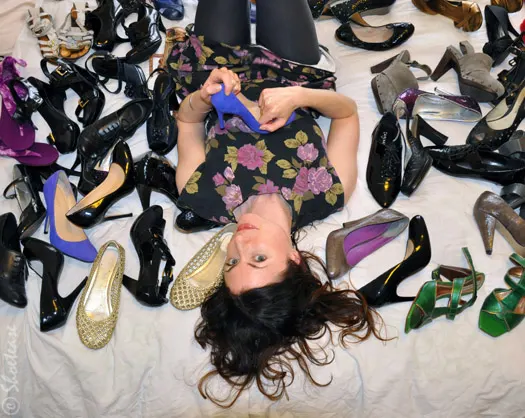 Last week, I got the chance to sneak a peak at the fabulous shoe room, or rather shoe closet the lovely Toronto-based Simone of Skinny Dip fame; her cheeky blog about life, love, sex & relationships! Not only did I get the skinny (sorry, couldn't help myself!) on the contents of what appears to be more of a shoe boutique than a shoe closet, I also got the scoop on the stories behind some of her flat & heeled favourites 🙂
Simone shared (unfortunately, figuratively, not literally!) her latest purchases & frugal treasures from great shoe sales that, *shame*, even I didn't know about! Oh, and Skinny Dip's closet holds a little nifty frugal secret on how to keep your boots from flopping around. Interested? Read on! At the end of it all, I must admit that I deeply suffered from shoe envy! Take a closer look if you dare to feel the same way about Simone's shoe closet!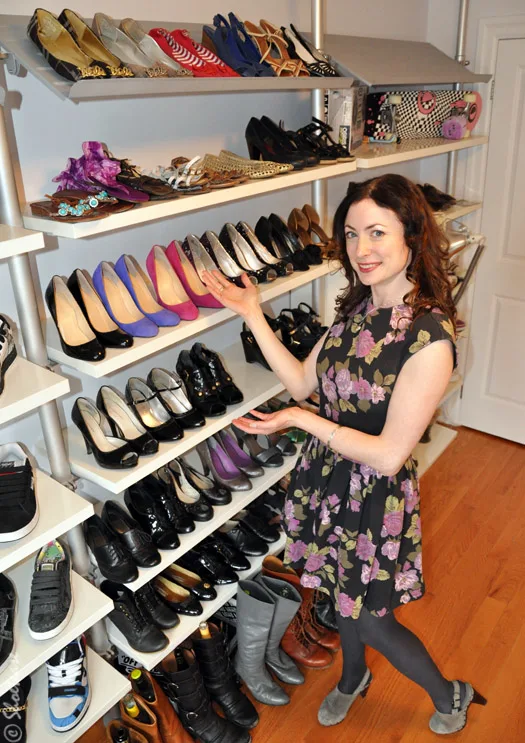 Dipping into the Shoe Closet…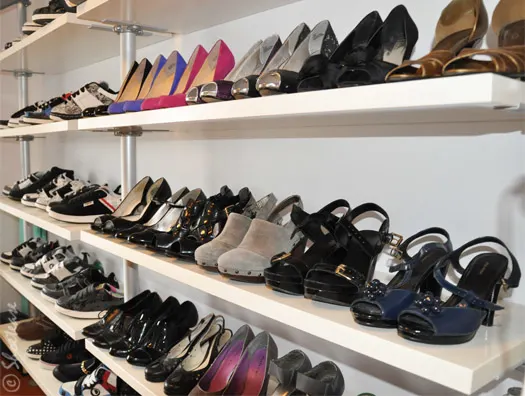 Simone's Shoe Stories…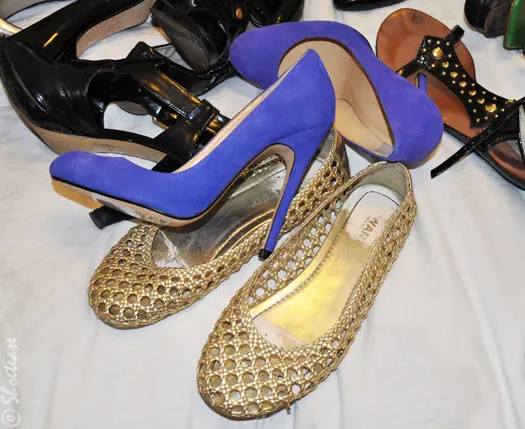 Simone says: "these represent some of the most uncomfortable and comfortable shoes I own (both in killer colors!). The gold basket weave ballet flats are one of my favorite go-to shoes for summer. They work with almost every outfit and there have been many summer afternoons that I have spent in them wandering around the city. The nice thing about the gold shoes is that they were a sample that never made it to production so, I'm pretty sure they are the only pair out there. The electric blue suede pumps have yet to be worn because frankly, I can't figure out how to walk gracefully in them. But, I plan on keeping them anyways because they are blue suede shoes!"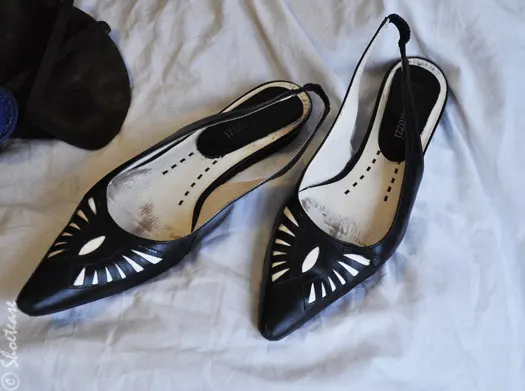 Of these Piero Strozzi slingbacks, Simone says she used to wear them lots with fitted black pencil skirts or cropped black skinny pants. Although she now finds them too pointy, she keeps them 'cause the black & white leather pattern is really unique. I really love these shoes; they have such a great vintage quality and classic feel!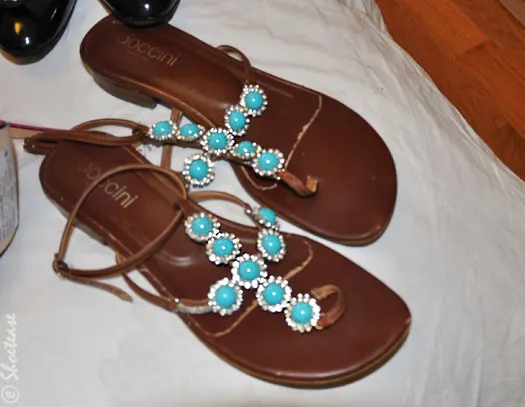 These gladiator-style sandals are made by Doccini, which were bought a few years ago while on vacation in Greece. As soon as Simone saw them in a small shoe store in the Plaka (market) in Athens, she knew she had to have them. She describes this sandal find as, "love at first shoe!". They were deeply loved all over Greece. Great to wear to add a little exotic boho touch to simple summer outfits. I absolutely love the turquoise with the diamante "pave'". One definitely can't find anything like these around Toronto nowadays!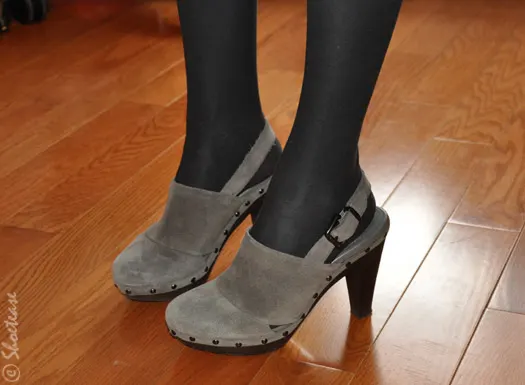 Most frugal & comfy find: $27 Banana Republic suede clogs! I actually saw them last weekend, but they sadly didn't have my size 🙁 Maybe some of you will be a little luckier, but get there fast, as they're almost entirely sold out.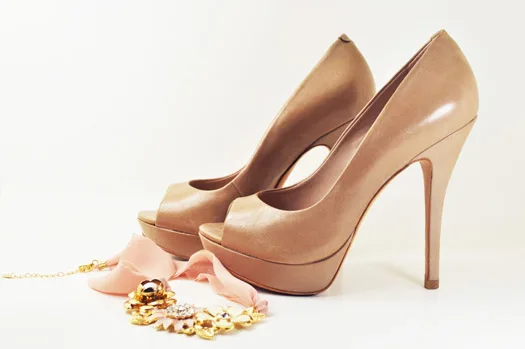 Latest purchase: bone-colored peep-toe platform heels from Aldo (photographed by Simone). Seriously lovely!
Standing Boot Trick: Cheap Way to Keep Your Boots Upright!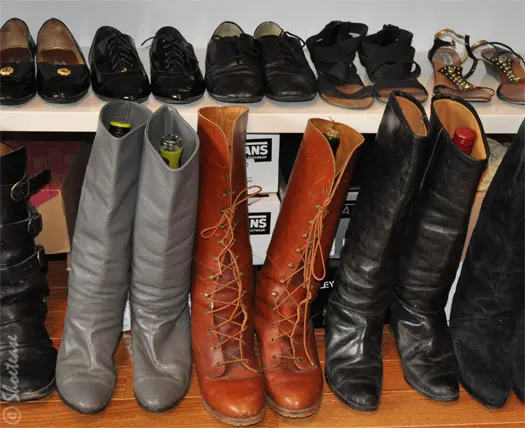 Having Trouble keeping your boots from falling over? Empty wine bottles will do the trick! Bottoms up 😉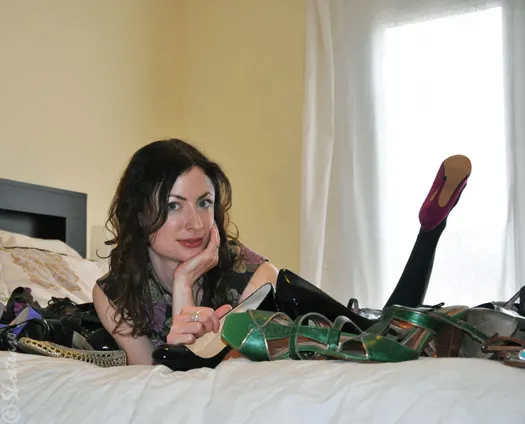 Be sure to check out Simone's blog at skinnydip.ca for a dose of relationship & love hilarity! Seriously, you're in for a treat!!
As well, check out a more recent Toronto shoe closet post featuring a Pinterest-inspired crown molding DIY shoe rack idea & build your own in 10 easy steps!
xo Cristina M.