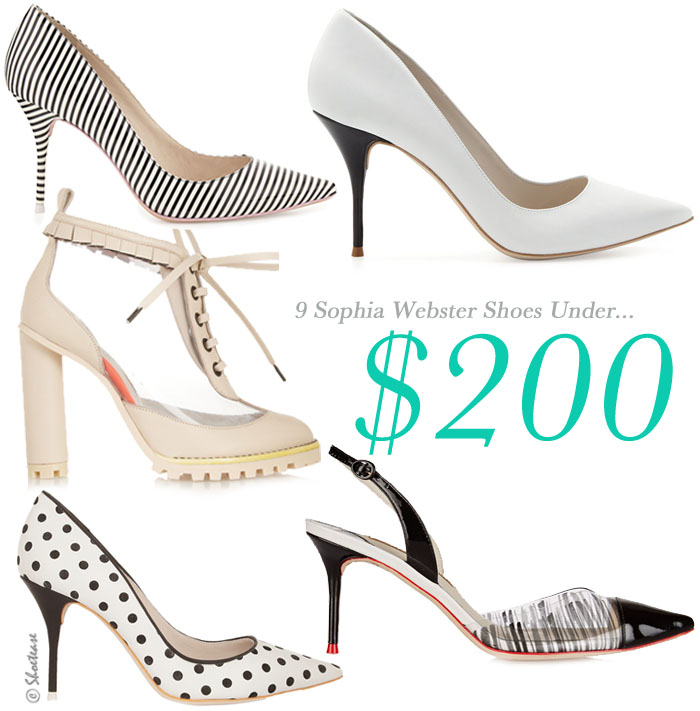 Yay, for a shoe sale! And I'm finding some incredible online deals on this particularly quirky British designer. Many an online shoe store is selling Sophia Webster shoes for under $200! Which is incredible, because these are even cheaper than the ones she designed for J.Crew!
9 Sophia Webster Shoes Under $200
The simply designed, but no less stylish lower heeled shoes are the "Lola" pumps. With their comfortable 3.5 inch heel & perfectly pointed toe can be yours for less than $200. As can the pretty PVC insert sling-backs & track-sole bootie.
Yes, you're reading this correctly! I'm a huge fan of black & white shoes, so I'm torn about which pair constitutes a more fashionable footwear item: the striped heels or the polka-dot pumps. Then again, a bright white pump is a great shoe to have come the Spring/Summer season. Hmm…decisions, decisions!!
It's difficult to decide, but at these prices, why not get yourself two pairs of this shoe designer du jour? Ah, I love me an amazing designer shoe sale. Even more so a Sophia Webster sale! Did you see my last post on Ms. Webster's bronze strappy sandals for under $250?
xo Cristina